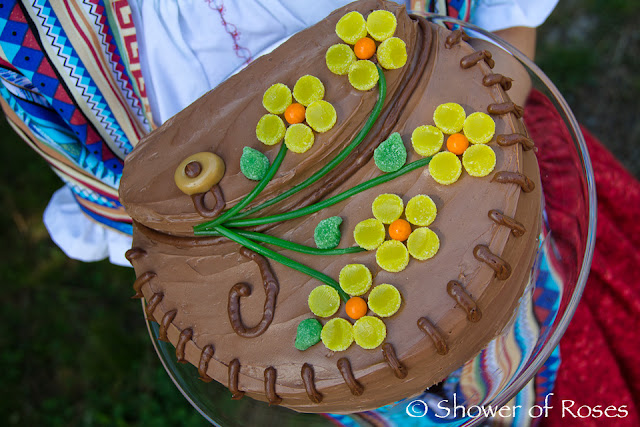 "She walked across, picked the primroses, and tucked the stems in her pouch. She let the yellow flowers stick out so that they wouldn't be crushed."
~
Meet Josefina
Yesterday we celebrated Chiquita's 8th Birthday! This year she requested a "Josefina" party theme… After a busy week, I was exhausted and still not feeling well on Friday so we actually picked up a "Caramel Tres Leches" cake at Costco as a back up to the cake I had originally planned on making. Thankfully Saturday morning I was starting to feel a little better and managed to pull together her requested theme!
I'll be back later to share the rest of the pictures from her special day, but first I wanted to post pictures of her cake! The cake was
inspired by Collette at The Art of Being Mama
. Collette was kind enough to answer a couple questions for me and I was so very excited with the results and happy with how quickly the cake came together. So was the birthday girl! 🙂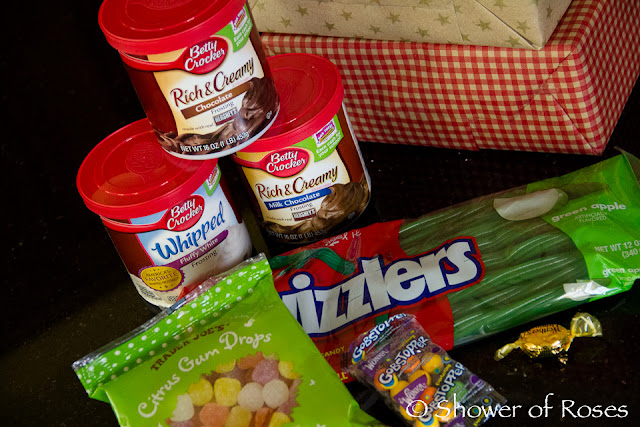 Supplies:
2 – 9″ Round Cakes, baked and cooled
1 can Chocolate Frosting
1 can Milk Chocolate Frosting
1 can White Frosting
1 Werher's Caramel Candy
Yellow Citrus Gum Dropsy
5 Orange Gobstoppers or Sixlets
Green Gum Drops or Spice Drops
Green Apple Twizzler Pull-n-Peels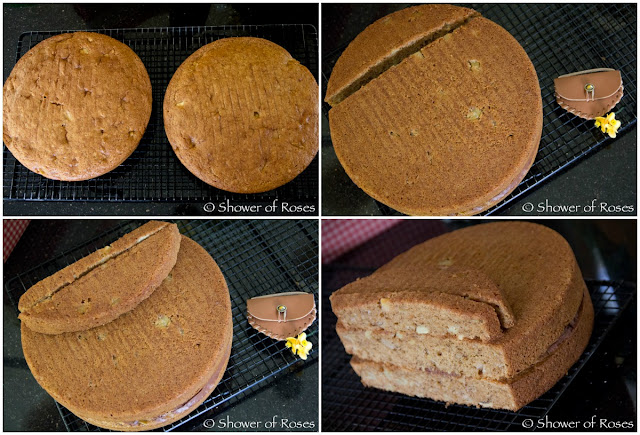 Starting with 2 – 9″ round cakes, I trimmed the tops to make them level and then stacked them on top of each other, filling with extra frosting, flipping the top cake over so the flat bottom side left a smooth flat surface for the top of the cake. I then cut one end off to create a flat edge to the purse. Using the scraps to create a flap, I added one of the cut sections to the top. I wasn't quite happy with the size of the flap so I trimmed some of the remaining cake to add to the flap as well. (This worked out fine covered with frosting.. At least until I tried to place the candles along that edge!)
I mixed about 1/2 a can of white frosting into a full can of Milk Chocolate frosting (which is already lighter than the regular chocolate frosting) to create a light brown. I then frosted the whole cake with the light brown frosting. Using a Pampered Chef Cupcake Decorating Bottle and tip (
similar to this set
) I piped on the darker chocolate frosting to create the leather stitching around the edge (going back and adding a loop for the button and the tie after I had finished creating the flowers).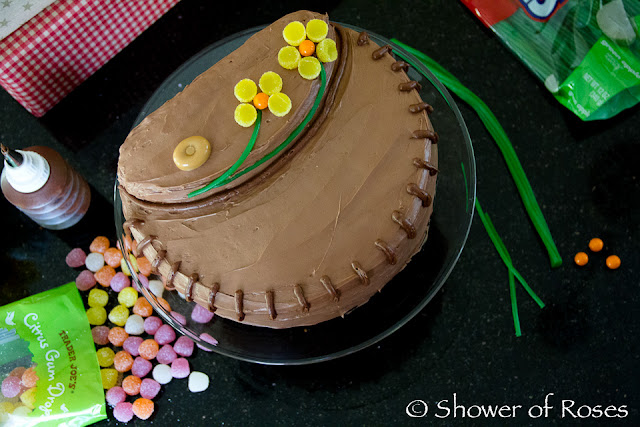 To create the sprig of yellow evening primroses I cut the yellow gumdrops in half to create the flower petals with an orange Gobstopper in the center. The stems were made with strips of Green Apple Twizzler Pull-N-Peels, and the leaves were made with green spice drops cut in half diagonally and then pinched into a leaf shape.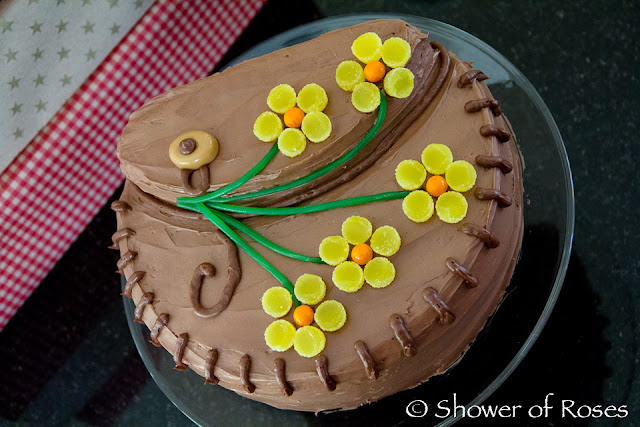 Feliz Cumpleaños Chiquita!