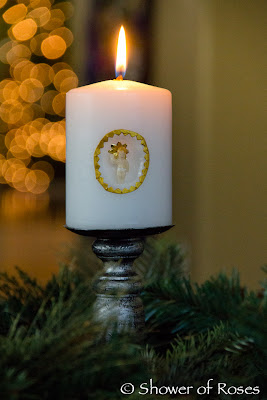 Our 2012 Christ Candle on Christmas Day
Outside my window…
the ground is covered with snow and my awesome little brother was outside early this morning, changing the master bedroom outlet breaker for me – the one that would trip nearly every time I turned on the treadmill for the past year, requiring a trip outside usually in the dark. I'm so excited that it is fixed!
I am thinking…
about how much I miss having Sean home. Why does it always get so crazy around here when he is gone? Thankfully we are nearly through the first week, of three… Is it really Thursday already?
I am thankful…
that I didn't need stitches last night, after cutting my thumb. Ouch! I need to slow down a little bit… I knocked over that pretty soap bottle while washing the dishes and stuck my thumb right into a sharp piece of glass when putting more of the broken pieces into the trash can. I didn't need stitches, just a Steri-Strip and a Tetanus shot late last night. Now I just need to keep it clean and dry for the next four days…
Learning all the time…
This week didn't get off to a very good start, but that's always the case after a break, right? We have gotten through the essentials, but I am really hoping we can get back to The Alphabet Path (letter D), Science (I've been nervous ever since the Tooth incident), and finishing up our Civil War Unit Study these next couple weeks. Thankfully everyone is right on schedule with Math, Language Arts, and Latin.
Celebrating the liturgical year…
I spent some time pulling out some of our saint books for January and updating the sidebar. I'm hoping to get back to organizing all of our books and categorizing them sometime soon. (I started last fall and never finished.) Other than another Tea on the Feast of Our Lady of Altagracia and incorporating something in honor of St. Agnes, I don't have many plans for the rest of the month.
From the kitchen…
Thirteen different flavors of jam! I had been collecting them for awhile with the intention of making an Epiphany Tart. After spending so much time in the kitchen on Saturday, preparing our Twelve Days of Christmas Dinner Party, followed by an early morning driving Sean to the airport, I was just too tired. At least we are stocked up on jam for awhile! And maybe we will still make it eventually… We'll see.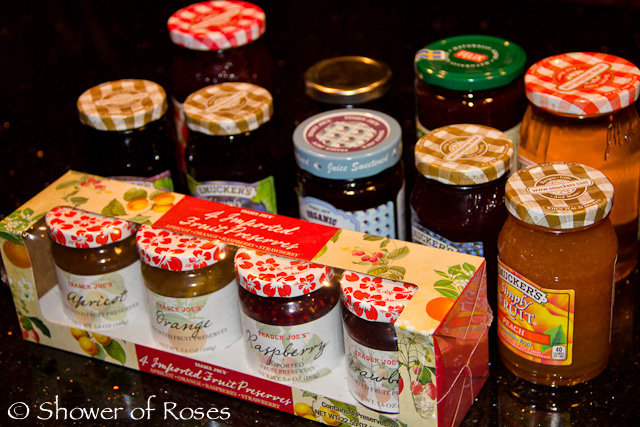 I am working on…
potty-training Rose. It's (past) time! Monday I woke up to a couple sick children and after uncountable dirty-diapers (Bud) I gave Rose a bath and decided not to put another diaper on her. Unlike in the past, I thought she was finally ready! We haven't had any daytime accidents, and just one accident last night (which is probably because I wasn't home to put her to bed). She is doing great!
I am creating…
a new budget. I knew the Dental Insurance we signed up for was going to start coming out of my husband's paychecks this month, but I wasn't prepared for just how much (tax increase too?) his paycheck dropped… I usually preschedule bill payments and I ended up having to raid all the kids piggy banks and make a late night trip to the ATM on payday this week. Thankfully it all worked out, and I didn't bounce anything, but it was way too close. Whew!
I am going…
to try and continue catching up on emails! I finally have it down to "only 100" emails sitting in my inbox from the last year waiting for a response… That's progress! 😉
I am hoping…
that the scale starts going down a little bit. I've been walking/jogging every day this year and it still hasn't budged… I keep telling myself that I am gaining muscle and the scale will start coming down eventually. Still, it has been discouraging.
I am praying…
that next week isn't nearly as "eventful" as this week has been!
I am reading…
excellent posts on discipline over at Like Mother, Like Daughter. I'm often asked "How do you do it all?" It is a difficult question for me to answer (My first thought is "I just do… and I don't get to everything that I'd like to!"), but I think it all comes down to well behaved and obedient children, in addition to thinking and planning ahead. We have required and trained our children to be obedient since they were babies. They are still children and get into arguments with each other and have to be reminded to do their chores frequently, and it is always a work in progress, but they are great kids. A couple Sundays ago I had to take the baby out of Mass and Hubby had to also leave for a few minutes – the remaining six children sat in the pew and paid attention to Mass. The usher came up to me in the back and said "My kids would never have done what your kids are in there doing, if my wife and I had left them there by themselves! I've never seen anything like it." I was a very proud momma at that moment! 🙂
Here is a great post to start: Six-to-eleven year olds need less patience from you. Then maybe move on to The Reasonably Clean Kitchen starts with rules for the kids.
Pondering these words…
from Auntie Leila's post on Destruction-proofing your family:
"And they don't realize how necessary forming habits in their children is to future happiness. They let them grow willy-nilly, pacifying rather than disciplining, leaving family culture to the four winds and then wondering why things are so unpleasant. "Later, when we're older, we'll think about how we want our family to be.""
I am listening…
We are still listening to The Lord of the Rings, and we are now on the second part of The Two Towers.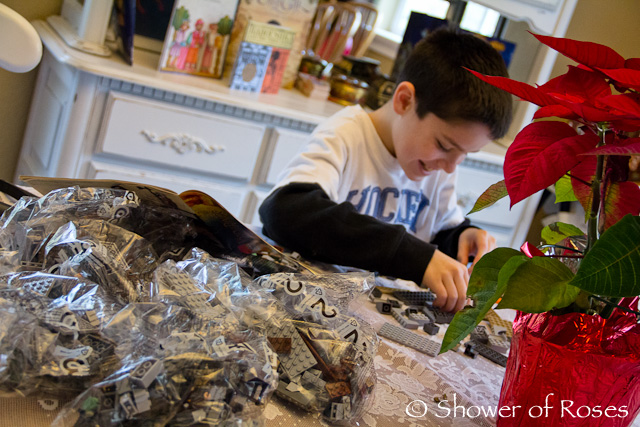 On Sunday afternoon Rascal started building his new Helm's Deep lego set. He had it finished by dinnertime!
It's been fun to see all their new creations, incorporating some of their old sets as well.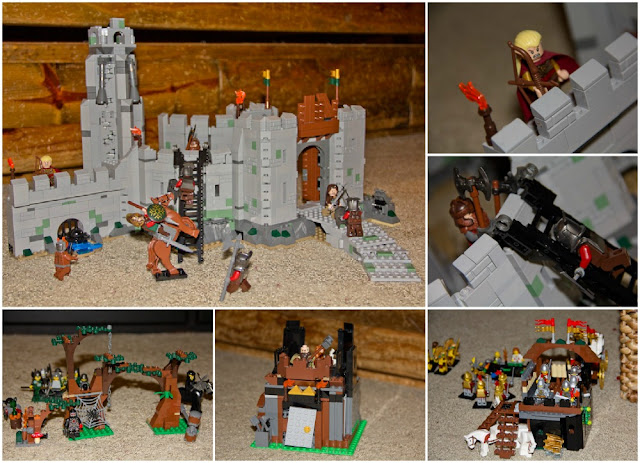 Around the house…
there are still signs of the Christmas season, even though we took down our tree this last weekend. We will leave our Nativity out until Candlemas.