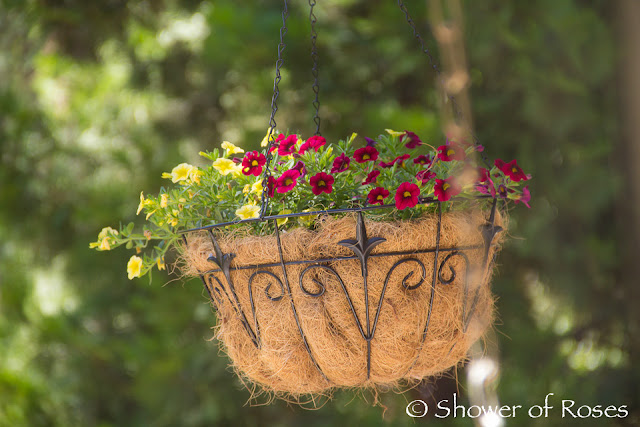 Outside my window…
We keep spotting a couple birds sitting on the edge of one of the hanging flower baskets. I just realized, after seeing the mess on the deck, that they are actually taking the lining to build a nest somewhere!
I am thinking…
about Legos. The new catalog arrived on Saturday morning, almost immediately after I had told the boys that I didn't want them to look at any Lego catalogs that they find in the mailbox for the next couple months. (Basically until after our summer birthdays.) It was pure torture for them to carry it up the driveway and hand it over to me without peeking at "Over 60 New Sets!" They have been obedient though, and it will be fun for them to discover a couple new sets without having seen them first. Now to decide which to purchase… Snuggles had asked for a "Lone Ranger" themed birthday (without knowing that there are new Lone Ranger Legos!) so that's easy, but the hard part is choosing which of the new Lord of the Rings Lego Sets to choose for Captain who has asked for a LOTR themed birthday… I also love the new Coast Guard Patrol Set, and the Treehouse Creator Set, and the new Castle sets… It's a good thing I've been saving up my Amazon Visa Reward points! Still there are just way too many options! How am I ever going to make up my mind? 😉
I am thankful…
that I have been able to sell almost all of our Teaching Textbooks materials on Cathswap! (All I have left is the workbook for TT #7.) Now I can put that money towards all the new school books I have been purchasing for next year!
Learning all the time…
tomorrow we have our last meeting with our charter school ES followed by an End-of-the-Year party at the park. We have already finished up nearly all of our studies for the year and our "school" days this week consist of assembling a few unfinished Lap Books. (The younger ones are finishing up their Papal Lap Books and the older boys just finished their Industrial Revolution Lap Books.) Over the summer we plan to study WWII and the 20th Century, continue with Math and Spelling 3-4 times a week (to get a head start for next year), and I will also continue Primary Arts of Language with Snuggles.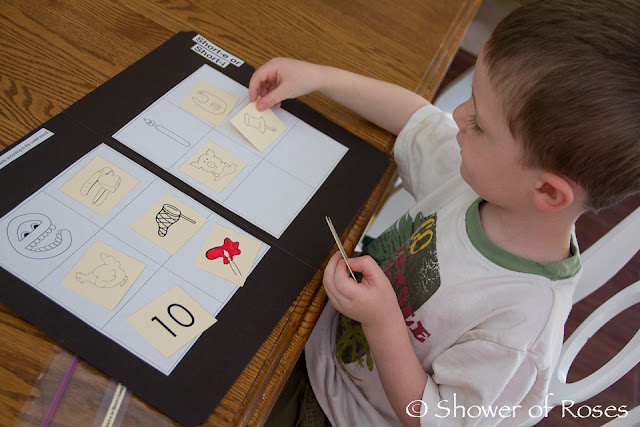 Snuggles playing the "Short-e or Short-i" game this afternoon
Celebrating the liturgical year…
The month of June is dedicated to the Sacred Heart and this coming Friday is the Solemnity of the Most Sacred Heart of Jesus. We are planning on attending morning Mass and then decorating cookies in the afternoon. We'll also decorate some for Saturday's feast in honor of the Immaculate Heart of Mary!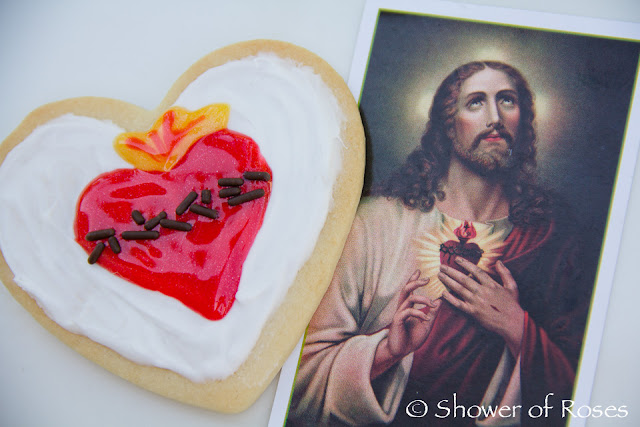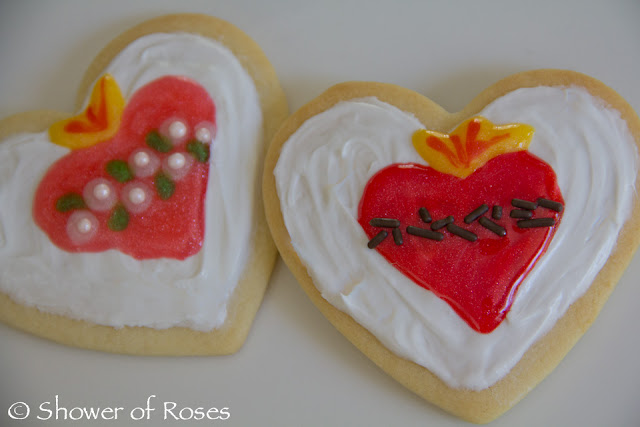 From the kitchen…
lots of tamales! Our parish youth group had a fundraiser on Sunday and we ended up purchasing a couple dozen.
I am working on…
a post with pictures of the boys' Civil War Lap Books… Sometimes taking the pictures and blogging about our projects seems like more work than the actual projects themselves! 😉
I am creating…
Summer Bingo Cards!
I am going…
to take all the empty ink cartridges I've been saving to Staples tomorrow, to recycle for rewards, after our Dentist appointments.
I am hoping…
to carve out some time over the next few evenings to work on my next submission for the Catholic Digest Celebrate/Quiet Moments section. My deadline is this coming Monday and I haven't started yet! I'm also hoping to have a chance to read the June/July/August Issue. My copy disappeared and I finally found it in Rose's bedroom. She loves this last edition for some reason!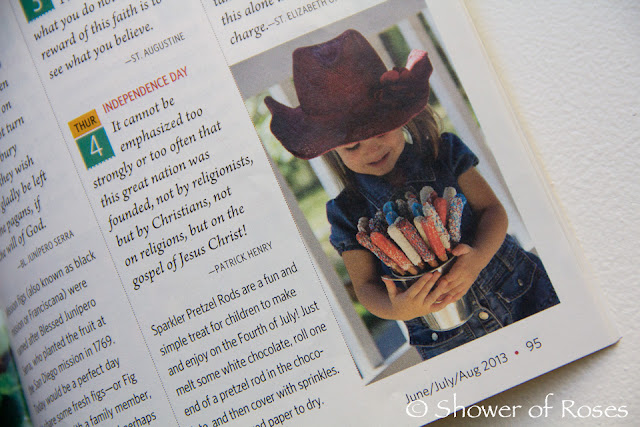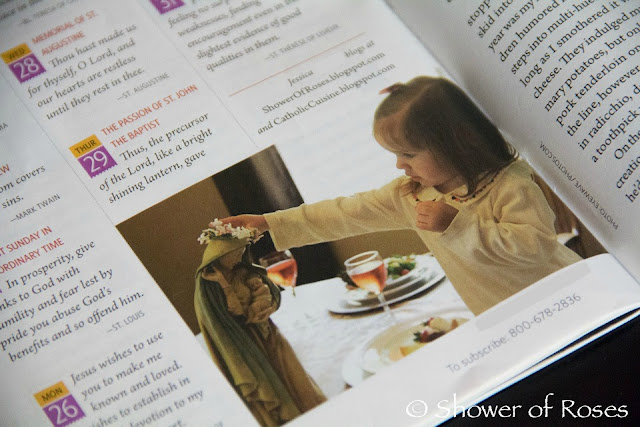 I am praying…
for a couple dear friends.
I am reading…
The Saint and his Bees! This sweet book was written by Dessi Jackson, an Eastern Rite Catholic and online friend. It is about the Celtic St. Modomnoc (Little Dominick) of Ossory and his work as a beekeeper.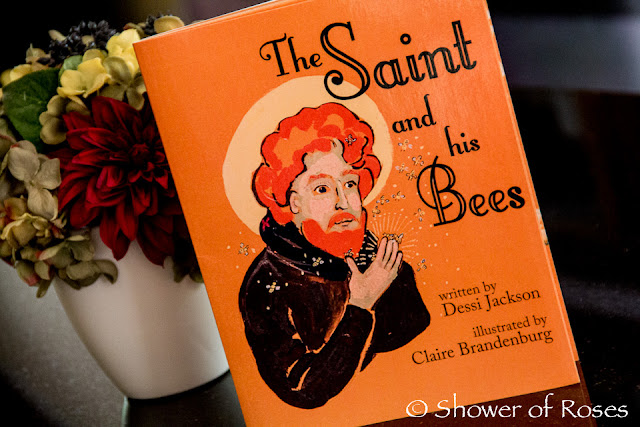 I purchased a copy of the book when it was first available on Amazon last week (It wasn't on sale when I placed my order, but it is now!) and I have already making plans for some Saintly Summer Fun incorporating the tale of this saint!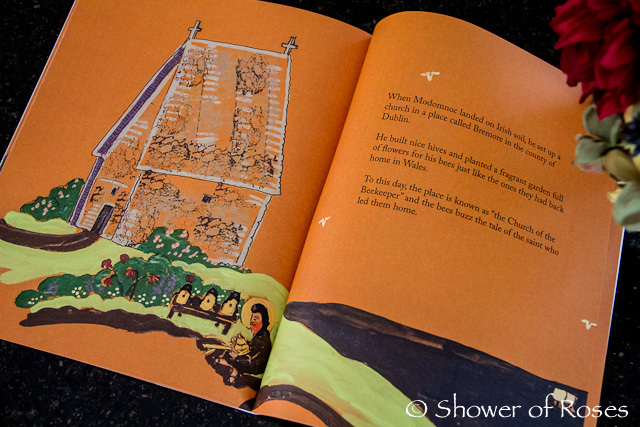 Pondering these words…
from Blessed John Paul II:
"In the Sacred Heart every treasure of wisdom and knowledge is hidden. In that Divine Heart beats God's
infinite love for everyone, for each one of us individually."
I am listening…
to Sean read another chapter from Snow Treasure. They all love it when their Dad reads to them before bed.
Around the house…
lots of library books! I just requested a few more, including Keep the Lights Burning Abbie for the girls to read as a followup to their study of Maine. (Thank you for the recommendation KelLee!)
One of my favorite things…
boxes of new school books! This box just arrived from
Sacred Heart Books and Gifts
. I've been reading through the
Classically Catholic Memory Alpha Year Teacher's Manual
and so far I am loving it all and looking forward to implementing it next year.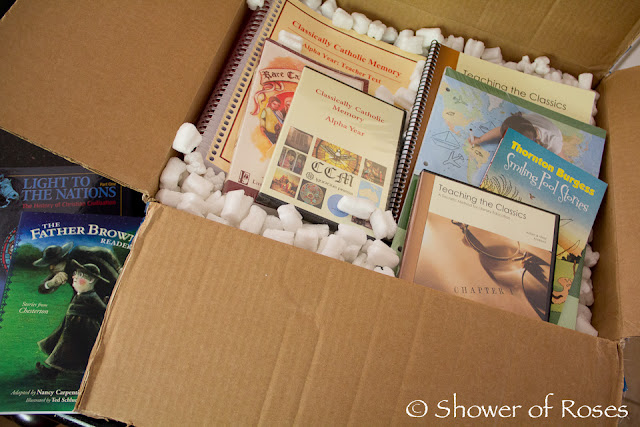 This week's plans…
Wednesday :: Tutor for an hour in the morning, End-of-the-Year School Party at the park, and four more Dental appointments in the afternoon.
Friday :: Morning Mass on the Solemnity of the Most Sacred Heart of Jesus
Saturday :: Young Hunters Day
Sunday :: Sunday Mass
A little peek at the last two mornings…