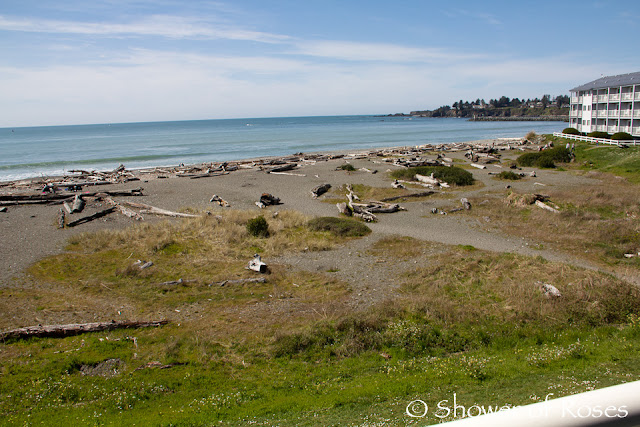 We just got home last night from spending one night and two beautiful days at the coast to celebrate Sean's 40th birthday! I started writing this post at the hotel but never did get around to adding pictures and posting. Now to finish unpacking, start the laundry, and finish our Spring Cleaning before the Triduum begins. I hope you all have a very blessed Holy Week!
Outside my the hotel window…
we can see the Pacific Ocean!
I am thankful…
that we were able to plan a last minute mini-vacation to celebrate Sean's 40th birthday! He had made me promise to not plan a party for him, but on Saturday morning when I suggested a drive to the coast to attend the Latin Mass for his birthday/Palm Sunday, he thought that sounded perfect! Even though it is Spring Break we were still able to reserve a Family size Room at a hotel for Sunday night, so once again we had to leave the house bright and early to make it to the 8am Mass over two hours away!
I am thinking…
about getting older, and how fast the years are passing… Aren't we still in our 20's?! On the drive over to the coast I kept teasing my husband…
Learning all the time…
After Mass we took Father out to breakfast and then we drove down to the harbor before heading north to our hotel. I asked Sean to swing back around so I could snap a picture of the Coast Guard Ship. I never did get that picture, since we got a little distracted by all these sea lions and fur seals!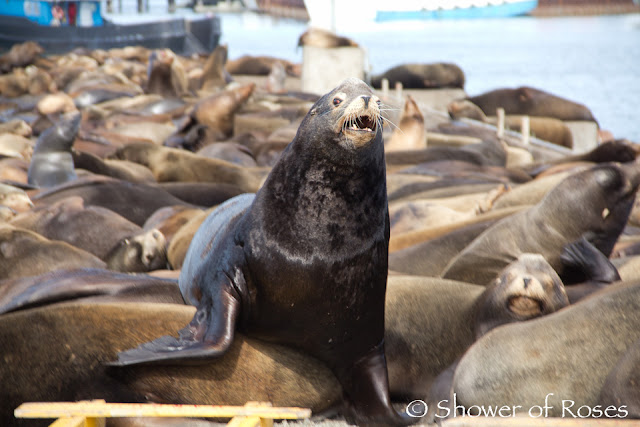 Don't let the pictures fool you… These Sea Lions stink!
As we drove away we overheard Snuggles say "That almost made me throw up!"
Celebrating the liturgical year…
It was so nice to attend a Latin Mass on Palm Sunday! Father even asked the boys to serve. There was a visiting priest as well, who offered confessions after Mass. I've been extra overwhelmed lately and was very happy to be able to go to confession one more time before Easter. I also loved the penance he gave me: "Give hugs to four of your children and tell them that you love them!"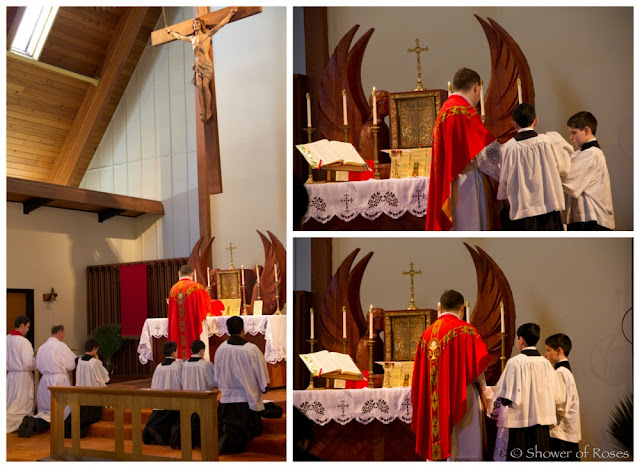 It was the perfect day to sneak in lots of hugs!
From the kitchen…
To keep the cost of our trip to a minimum we avoided eating out for the most part. I had packed water bottles, juice boxes, peanut butter/jelly/bread, snacks, muffins and oatmeal and then we picked up some fresh fruit and a birthday cake at the grocery store once we arrived. We did pick up a pizza to take back to the hotel room for dinner – half BBQ chicken and half Garlic chicken, as requested by the "birthday boy."
I didn't think about how much smoke those 40 candles were going to create… I'm just thankful that we didn't set off the fire alarm in the hotel. That could have been really bad! 😉
I am working on…
strengthening my lungs again after that awful cold! It was so heavenly to be able to go for a run on the beach with my husband! We snapped a couple pictures during a break at the tide pools during low tide.
I am creating…
a check list for Easter! I picked up a couple other small items at the gift shop across the street from the hotel for Easter (a red dragon for Snuggles, since it goes so well with his Knight themed books, along with some cute little purse size note pads with butterflies and peacocks on the cover for the girls) and also ordered one more book for Rascal since one of his books is on backorder. I've also been making a grocery list and I think our Easter dinner will be pretty similar to last year.
I am hoping…
that the kids are all healthy again by Easter. Some of them are still coughing pretty badly, especially at night, but I think we are finally reaching the end of this virus.
I am praying…
for a special intention.
I am reading…
Charlie and the Chocolate Factory to the children. We have never let them watch the movie (and don't plan to) but they have been captivated by the story and keep begging for more. Even little Rose keeps asking for "just one more chapter!" Twinkle Toes forgot to bring a book on the trip so she has started over at the beginning to read it again.
Pondering these words…
from my page a day calendar. How interesting, considering the penance I was given. I wonder if Father has the same calendar! 😉 I doubt it…
I am listening…
to very excited children! One of them has already asked for an "ocean" themed birthday party for their next birthday. They are all having so much fun! We have also started a list of "things to bring" the next time we are able to come over to the coast: A kite, shovel, sand buckets, frisbee, etc…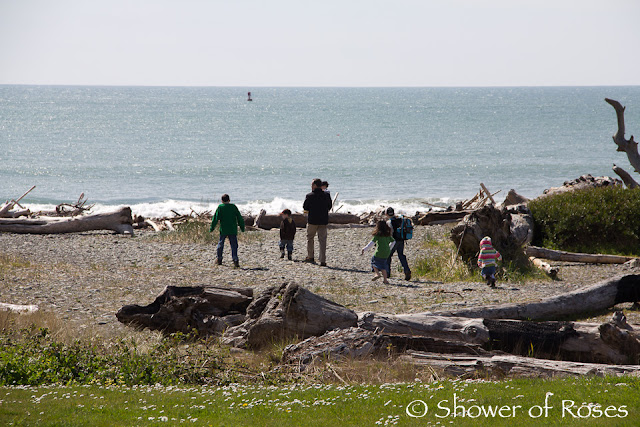 Around the house hotel room…
Traveling with a big family is difficult and expensive, so we usually avoid it when ever possible, opting for a summer camping trip or day trip for our family "vacations."
This trip actually worked out well though and I am hoping we will be able to do it again! We booked the "L shaped Family Room" which had 2 queen sized beds, a queen size pull out couch, and we asked for a roll-away. The girls had one of the queens, Rascal and Snuggles had the couch/bed, Captain had the roll-away, and we bought a pack-and-play for Bud!
Here are a few more pictures taken during the afternoon, in the hotel room and on the beach.