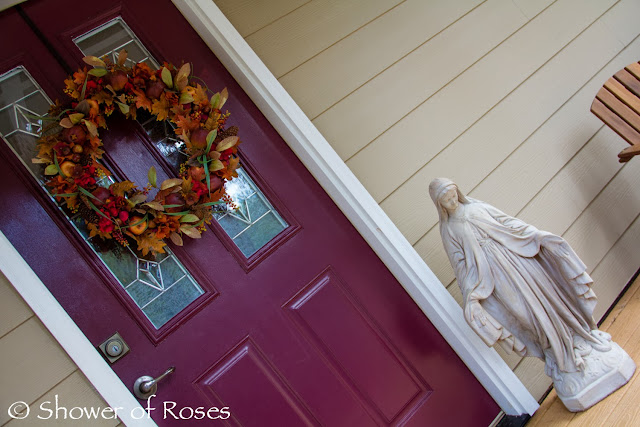 Outside my window…
after a record-setting rainy September, we have finally been enjoying some beautiful fall weather!
I am thinking…
about ways I can reduce our monthly expenses and help supplement our (lack of) income, during this government shutdown, in addition to the commissions I currently earn through Amazon and other affiliate links here at Shower of Roses. Thank you all for your support in this way, and for each and every purchase you all make through my links! It all adds up! It may not be enough to pay our house payment, but it is enough to help buy groceries and hopefully stretch the little we have in savings (that we had hoped to use as a down payment on a larger van) for a couple months if necessary.
I am thankful…
for video chat. The other morning my little baby boy pulled his daddy over to the computer, pointed to the screen and said "MAMA?!" Oh, I miss that little boy of mine! It was the second time this week we have been able to use the video chat. What a blessing!
Learning all the time…
I am also thankful for the wonderful (Catholic!) tutors I have for our children, through our local homeschool charter school! Even though the younger children were gone Kathleen spent her usual 5 hours here on Thursday afternoon teaching the boys their next couple Math lessons, reviewing their Latin and Science, and building various circuits with them using Snap Circuits. She is such a blessing!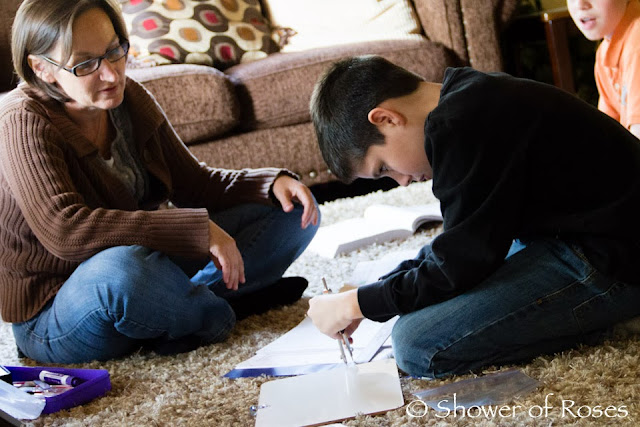 This week the boys also really enjoyed learning how to use a compass.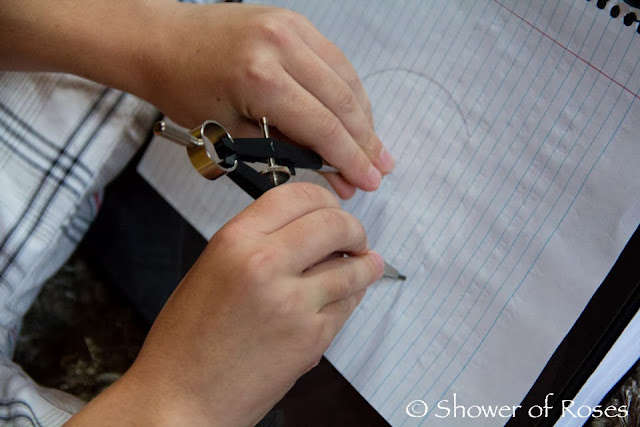 Kathleen brought her own college Staedtler Compass along and said they are the best. I will have to get one for the boys sometime soon – apparently they will be needing one to complete their upcoming lessons.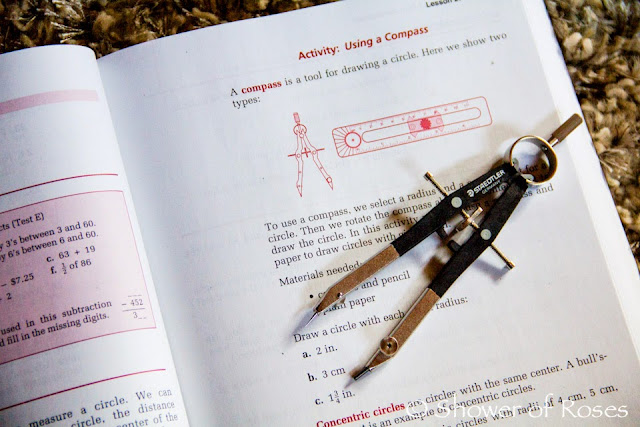 Celebrating the liturgical year…
The feast of St. Teresa of Avila is coming up on Tuesday, October 15th, and the boys and I will be celebrating with an evening "Welcome Mass" for our new Archbishop! Our oldest had the opportunity to meet him at his summer camp, but the rest of us have not had the privilege. We are very excited! You can find a few additional ideas for the feast of St. Teresa of Avila in the archives.
From the kitchen…
My brother Brian is awesome! I've been working on cleaning and organizing my closet this past week and asked if he could come over and cut open the attic access in the ceiling of my closet. My hope was that I might find a little storage space. No such luck there – just lots of insulation and the furnace – but he did bring us dinner!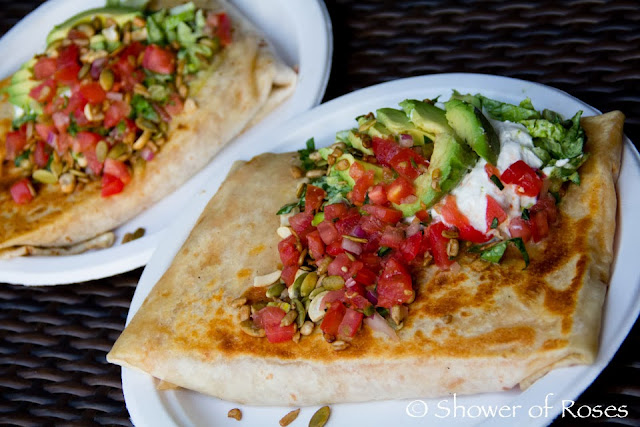 I am working on…
a "Media Kit" for Shower of Roses. I have been turning down blog "sponsors" for years, only listing "affiliate" links and offering some reviews and giveaways from time to time, but now I am reconsidering this as an option. My biggest hesitation has been that it would influence the way that I blog and change my blog in a negative way. I've been blogging long enough that I don't think that will be an issue. I also plan to be selective in the businesses that I allow to advertise in the sidebar, making sure they are businesses I would purchase from myself and recommend to friends. I'll be adding a button to the sidebar soon for my first advertiser, Catholic Embroidery, and you all know I highly recommend them already and have their beautiful products sprinkled around our home!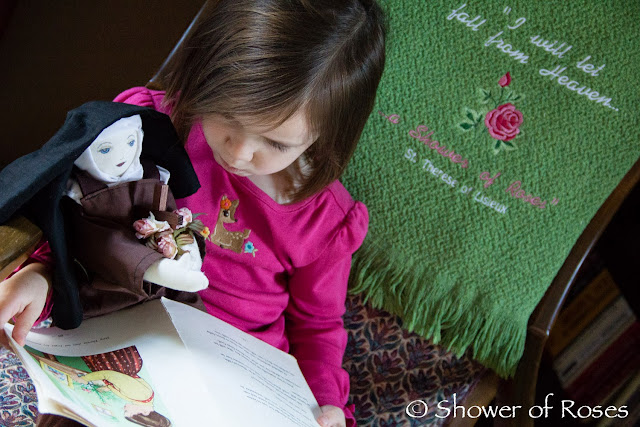 I am creating…
lots of little angels for a Jesse Tree Ornament Swap, with craft supplies I already happened to have in my closet. I was so excited to see it fill up (along with a 2nd swap as well) so quickly!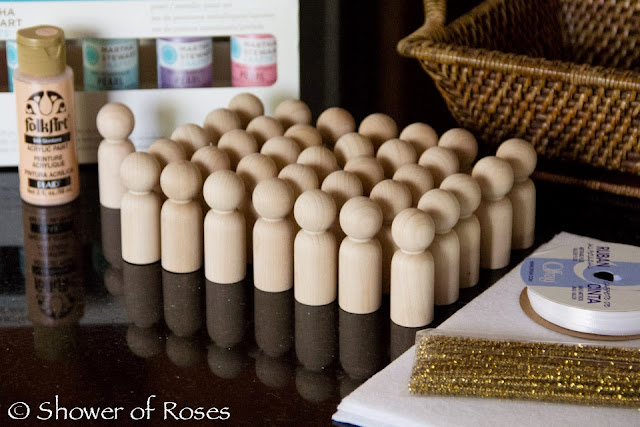 I am going…
to try and finish up on a few blog posts I've had in my drafts folder – a few State-by-State Pages, Making Marshmallow Molecules, decorating Art Portfolios, and more. I always have so many posts I begin and never have quite enough time to complete!
I am hoping…
to finish deep cleaning and organizing the house before all the little ones get home. It is taking longer than I thought it would, but will be so nice once it is done…
I am praying…
for all those who have asked me to pray for them, and especially for the safety of my family while we are separated. My husband's parents live in a rather dangerous border town, and last night a border patrol helicopter was shining a light into the next door neighbors yard, with additional agents on the ground with guns and flashlights. Not exactly what this worried mama wanted to hear…
I am reading…
and sorting through all sorts of paperwork as I clean out all the boxes that had been stored in my closet. I stayed up way too late the other night after discovering these "CWOD" Magazines from my college days at Christendom. Does anyone recognize the illustrator? 🙂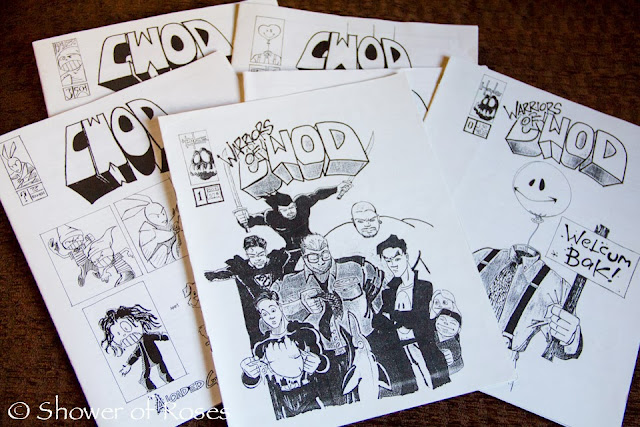 Pondering these words…
from the Catholic Digest Quiet Moment for today:
"We shall steer safely through every storm so long as our heart is right, our intention fervent, our courage steadfast, and our trust fixed on God." ~ St. Francis de Sales
I am listening…
to Angels and Saints at Ephesus. Every single hymn on the CD is beautiful and inspiring, but one of my favorites is "A Rose Unpetalled" – a poem of St. Therese of the Child Jesus and the Holy Face, set to music. I also love "Dear Angel Ever At My Side!" Both are perfect for October!
Around the house…
baskets filled with warm blankets. It has been chilly lately!
One of my favorite things…
spending time with my children. As much as I (we all!) miss the little ones, I am sure enjoying this special time at home with just our two oldest boys!
This week's plans…
Start planning this year's All Hallows' Eve/All Saints' Party – it is coming up so quickly!
Mrs. M tutoring Math on Tuesday
Welcome Mass for the Archbishop Tuesday Night
Party (Ladies Night) at my house for anyone who would like to come on over! 😉
Mrs. W tutoring on Thursday
Welcome home the rest of the family as soon as the arrive – most likely sometime between Thursday and Saturday!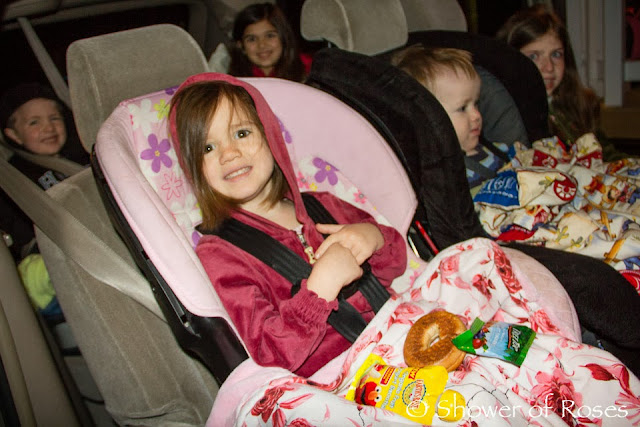 Early Monday morning – Day 1 of a 2 day (22+ hour) drive to visit grandparents!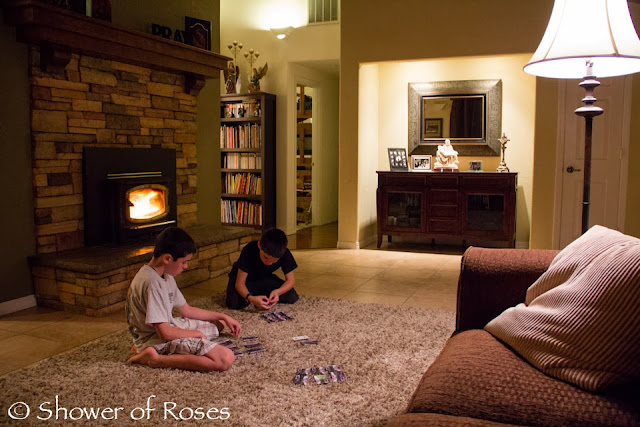 It has been
soooo
quiet in our home! Last night the boys and I enjoyed our Saturday evening playing cards, eating gluten-free chocolate chip pumpkin cake
(the boys made it using the recipe on the side of the Namaste Vanilla Cake Mix)
, and staying warm near our first fire this fall.