~ Capturing the context of contentment in everyday life. ~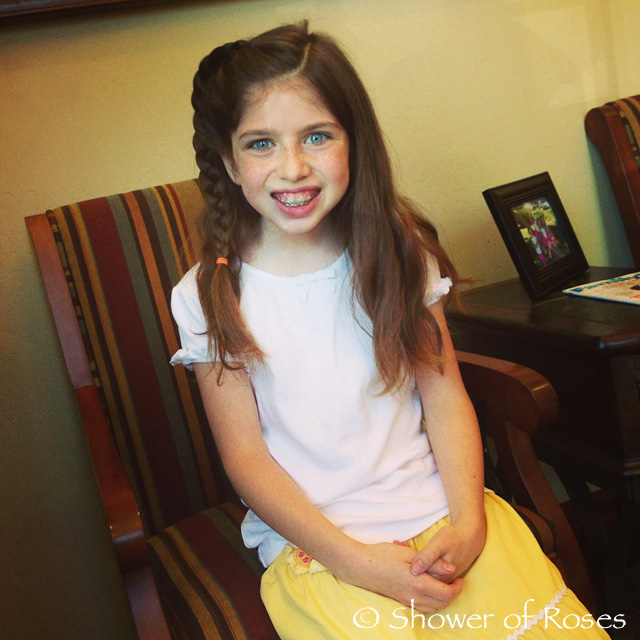 At the Orthodontist just before her braces were taken off!
This morning Twinkle Toes told me that right before she woke up she dreamt that she heard my footsteps coming towards her bedroom and then I said "
Wake up! Today's your lucky day, Baby!
" (in the voice of the cocky rooster from one of
Chiquita's new favorite audio books
…) Yes, she was very excited about her orthodontist appointment this morning! Today her braces were scheduled to come off! Her braces
were put on during the first week of school
and taken off during the last! The purpose of the braces (this was phase one of two) was to make room for her other teeth to come in naturally and avoid having oral surgery and/or permanent teeth pulled when she is older.
(This "lucky" daughter of ours inherited my teeth… I had braces for 5 years and a total of 10 teeth pulled – 2 baby teeth, 4 permanent teeth and then the 4 wisdom teeth. My husband, on the other hand, has never even had one filling! I'm hoping more of our children take after him!)
She loves having the braces off, and is now adjusting to wearing a retainer!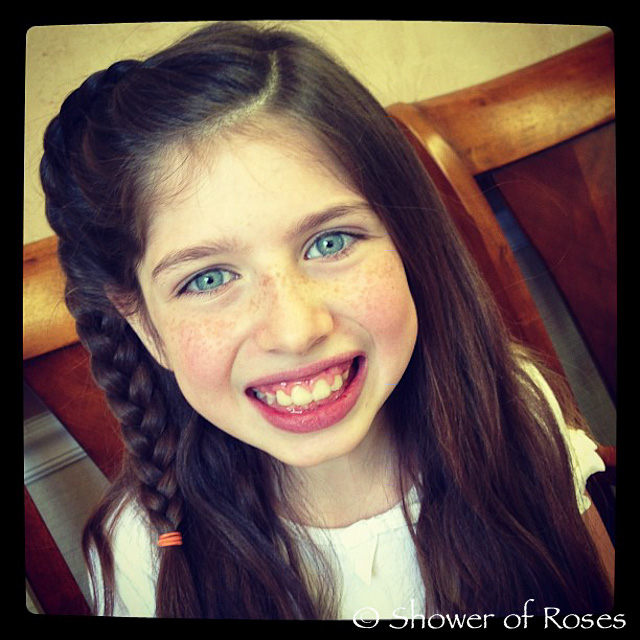 Beautiful Smile!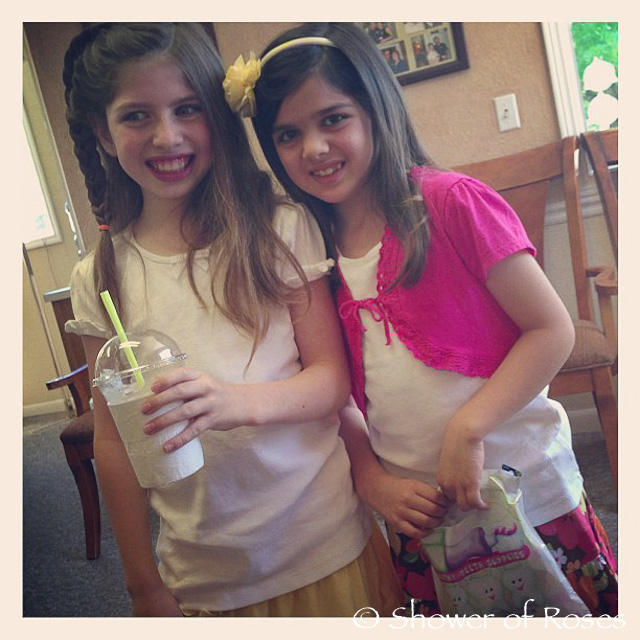 Chiquita's First Dentist Appointment & Cleaning
Chiquita also had her very first appointment with the dentist this afternoon. The hygienist was very pleased with her brushing and said that she is doing a great job! I was so happy it was good news, especially since we had put off taking her to see the dentist for so long. I'm also so happy that we finally purchased dental insurance! After the amount of debt we wracked up last year between the braces and Rascal's broken tooth, we couldn't afford not to have dental insurance any longer…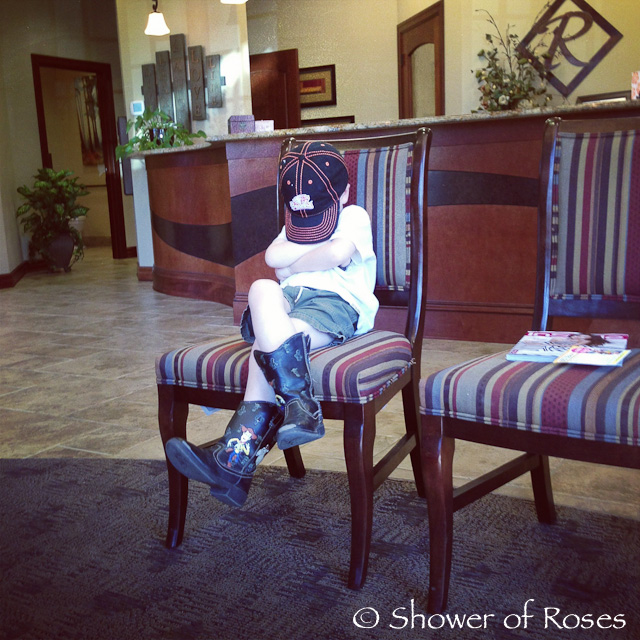 I helped the girls with their hair, but I probably should have checked Snuggles choice of clothing and shoes before heading to town! He cracks me up…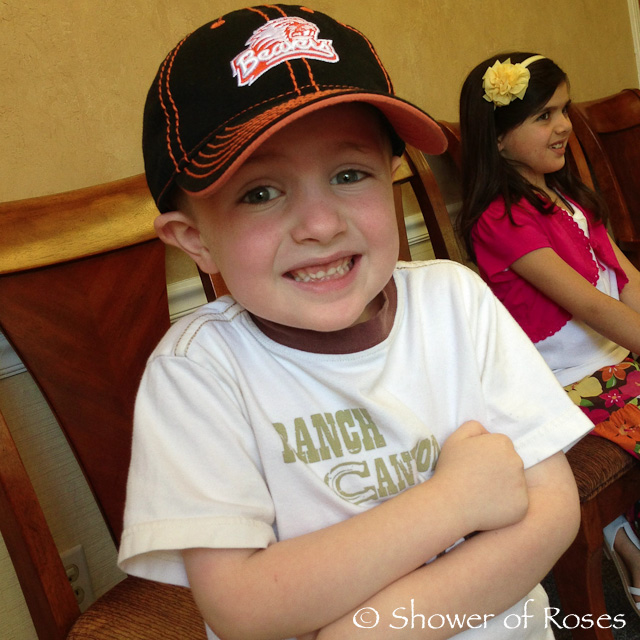 Still not sure what to think about seeing the Dentist for the first time…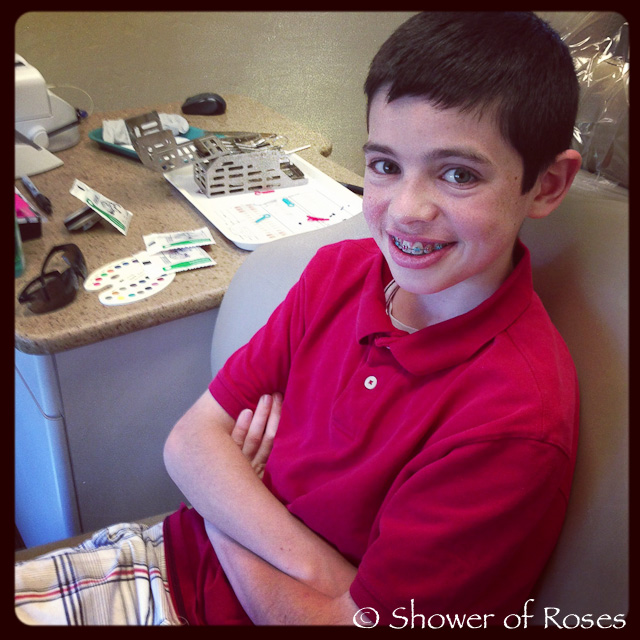 It was a crazy day – with four stops at the orthodontist (Captain-wire removed, Twinkle Toes-braces off, Captain-wire replaced, and Twinkle Toes-pick up retainer) and three at the dentist (cleaning for Captain, Chiquita and Snuggles)! They were overlapping at two different places at pretty much the same time, which ended up creating about six trips for me, from one to the other, over a couple hour time period… I was ready for a nap by noon the time we made it home!
And yet I still managed to take pictures through it all, thanks to my new iPhone! I had been counting the days (all 20 months!) until I was able to upgrade my Droid cell phone and it (finally!) arrived yesterday! I didn't waste anytime getting down to the store and picking up my new phone… I've been having so much fun setting up iCloud and syncing it with my computer and iPad! I've been reading through my copy of Paperless Home Organization: How to Create a Digital Home Management Binder (recommended by a friend) and am looking forward to (hopefully) getting a little more organized. I hope you all have a great weekend!