~ Capturing the context of contentment in everyday life. ~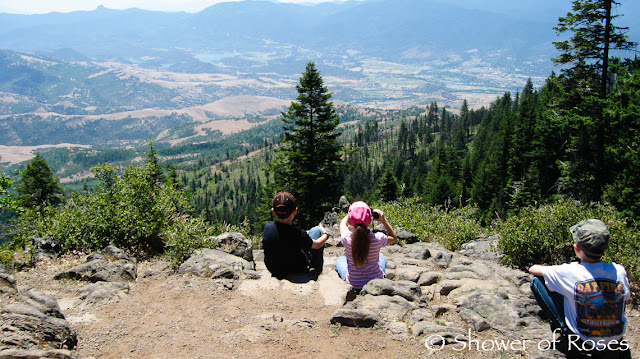 The weekend before last the three oldest went hiking with their Dad! It was the first time that Twinkle Toes had hiked this particular peak and she enjoyed it so very much.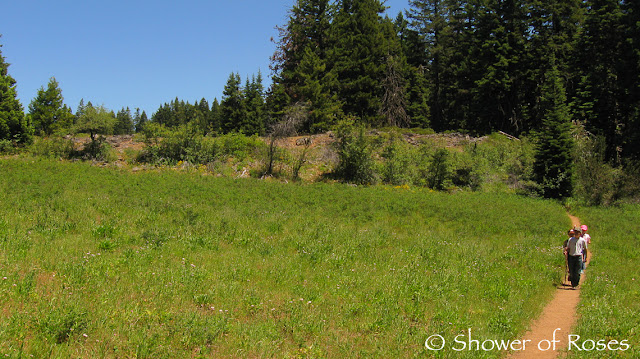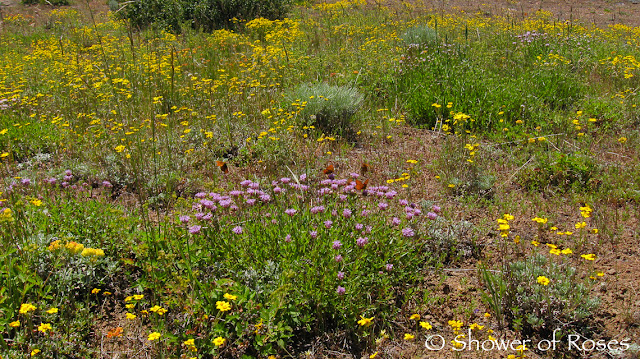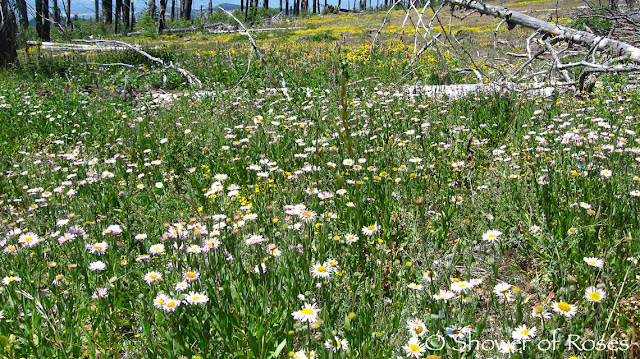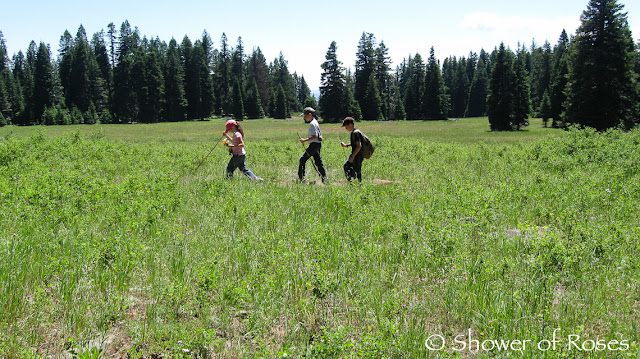 Late that night I discovered this beautiful vase of flowers on my dresser which she had picked!
She is always so sweet and thoughtful…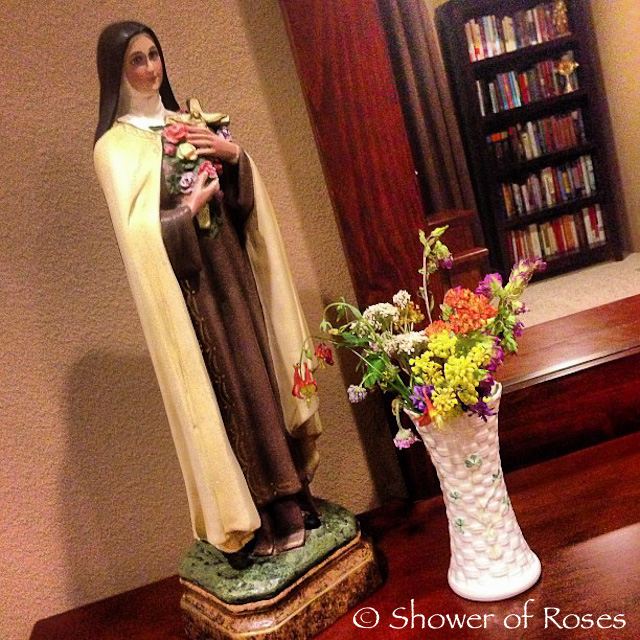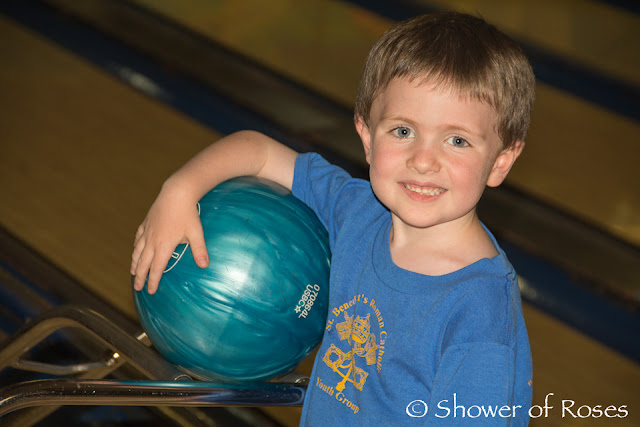 During the girls sewing class last week I took the rest of the children bowling! The boys had won four free games during golf camp this year and the nice gentleman behind the counter let Rose bowl for free as well!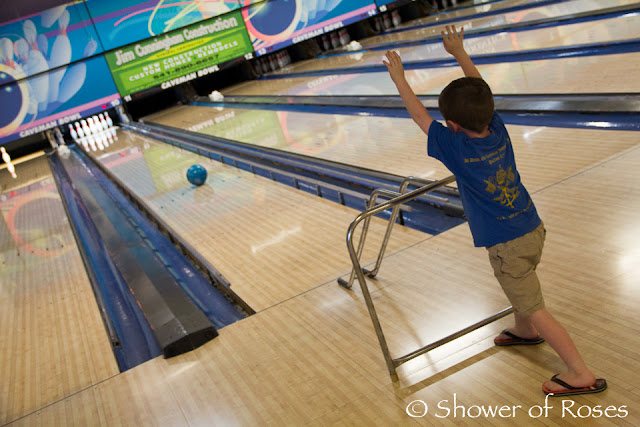 Trying to imitate her older brother, as usual, she was hilarious to watch and actually ended up with the highest score of all!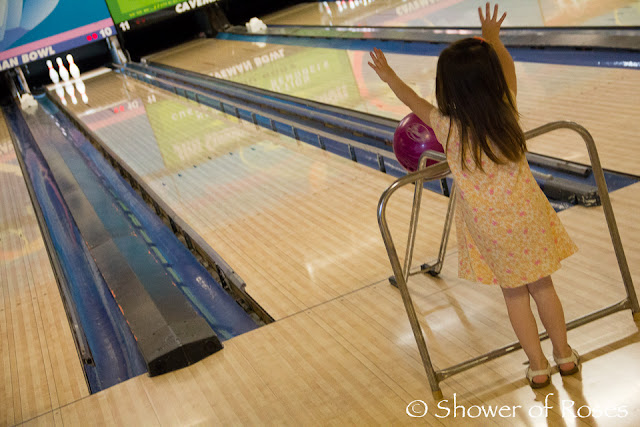 In the meantime, Bud had a blast watching the "BALL!!!"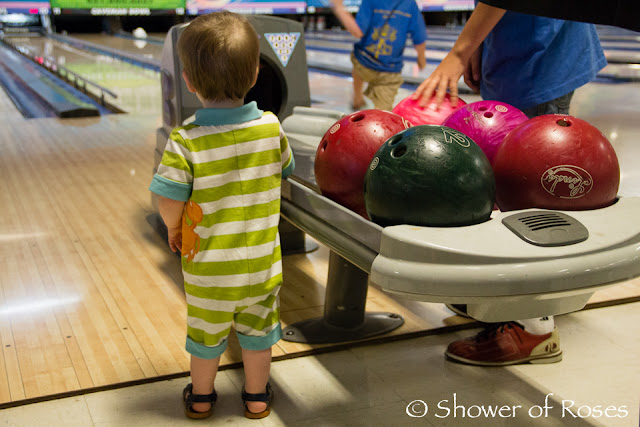 Oh! And guess who tried eating lettuce for the very first time on Wednesday night?!?! This picky picky eater of ours (who literally starved himself as an infant rather than eat foods he didn't like) noticed that his little sister was enjoying her salad and decided to give it a try. He was pleasantly surprise that it "tastes like nothing!" The texture was still a challenge for him, but with the promise of a scoop of ice cream for dessert he finished a whole leaf of green lettuce.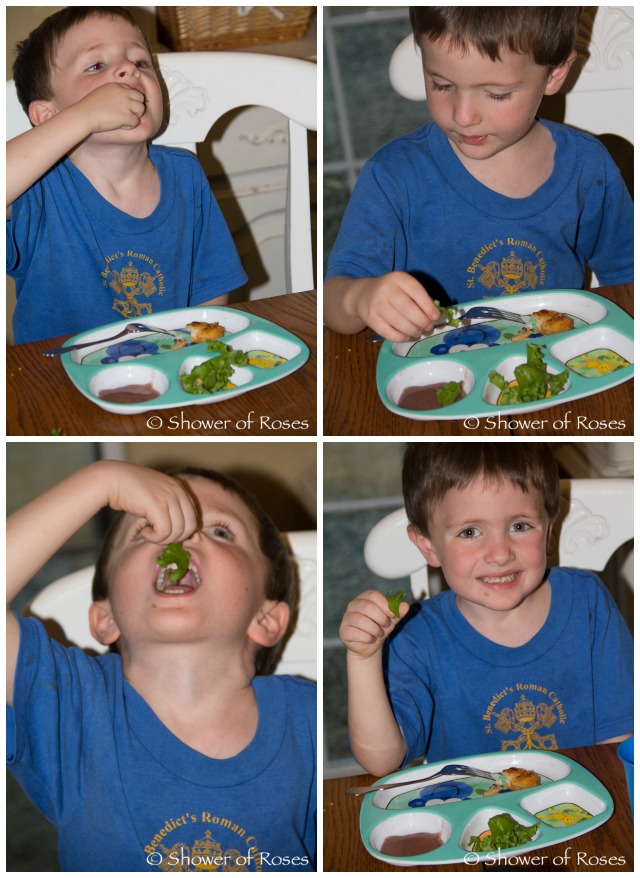 Hip, hip hooray!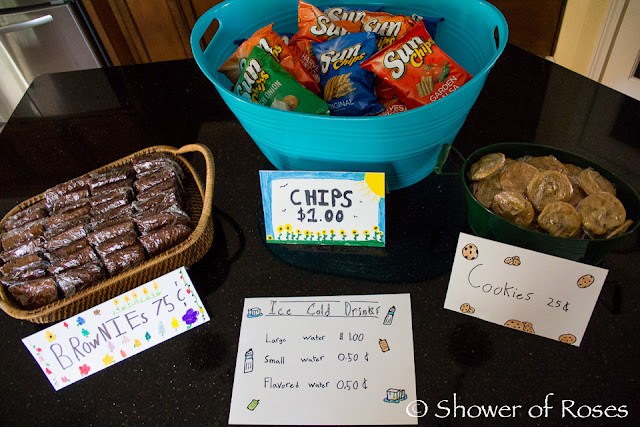 Early last week (after splurging on a new bunk bed for the girls using "Bill Me Later") I decided to have a Yard Sale! We live a ways from town on a dead end road and I wasn't sure if it would be much of a success, but I figured it was worth a shot… As I was working on decluttering our home, our older children were busy with their own preparations!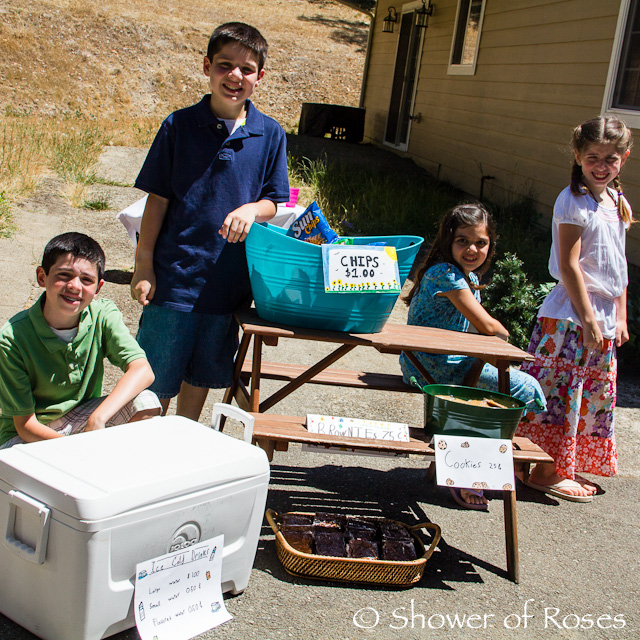 From Instagram on Friday afternoon: I sell something for 75 cents and they wait for their 25 cents in change…. The kids sell a large bottle of water and 2 fudge brownies for $2.50, the customer gives them a $5 and says keep the change! Whatever. 😉
I tend to make a huge mess when I "organize." This is what my living room/entry looked like early last week as I started piling up everything to sell.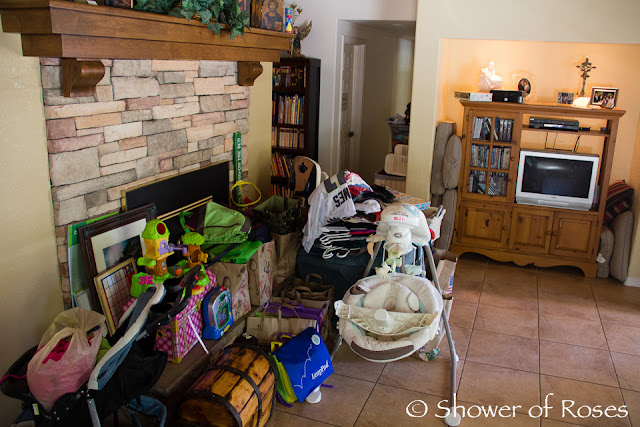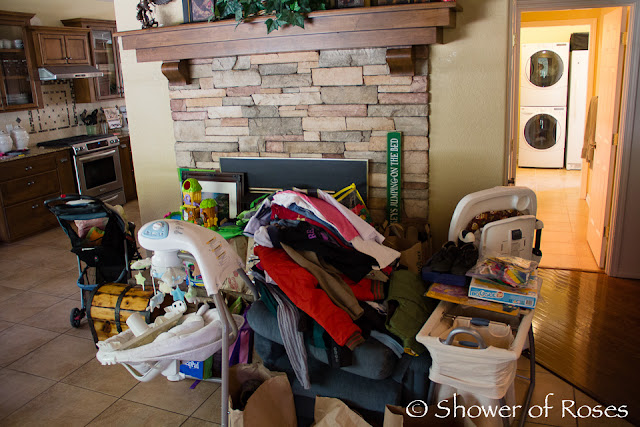 The kids started to get a little nervous, especially when I decided that I wanted to sell the entertainment center and TV too! (I purchased the entertainment center for my apartment when I was single. The television was from a neighbor and the only one we have ever purchased.) We don't have any television reception where we live, and have never had cable, but we do have a Wii and a DVD/VHS player. I was just getting so tired of answering the constant "can we watch…" questions!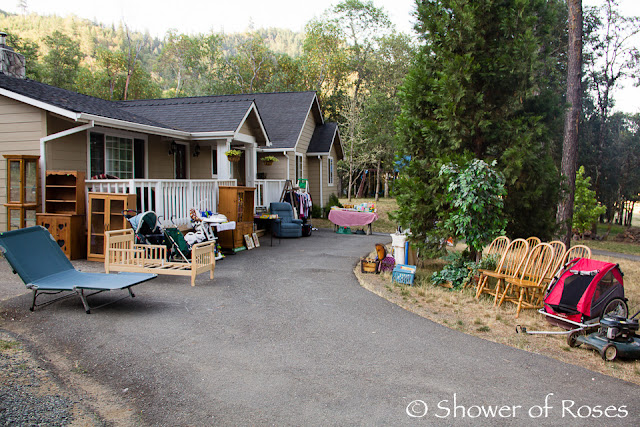 I decided to have a two day sale and set up everything out front on Thursday. Sean had to work both Friday and Saturday but was able to put up (and take down) the signs all along our road on his way to and from work.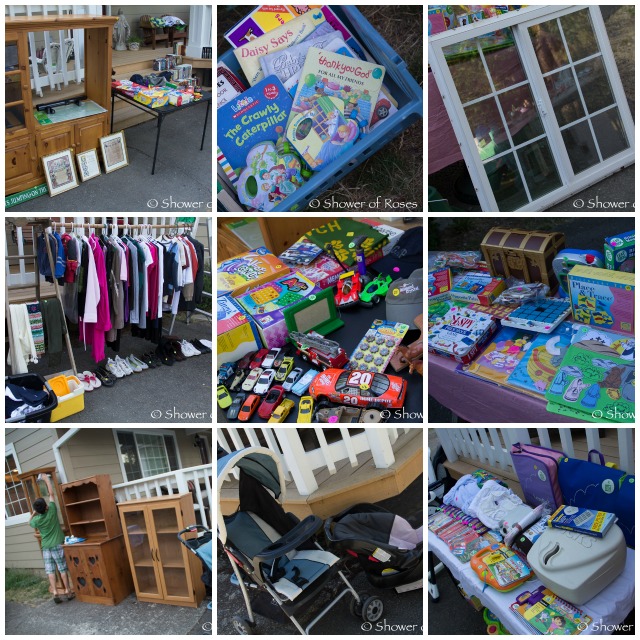 The boys helped me put
little price tags
on everything and we made a large "FREE" pile as well. (It seemed that everyone who found something in the Free pile would then try to also find something to purchase as well!) We had the same about of traffic (45 cars according to our tally marks) each day but Friday was the most successful with $305.50 in sales! Saturday I sold another $209.25. Then on Sunday a woman from Mass gave me $100 for the remaining entertainment center, TV, Bookshelf with glass doors, track light, and blue recliner, for an over all total of $614.75!!!
The children also made $15.50 in sales from some of their own toys plus another $46.00 in baked goods and water!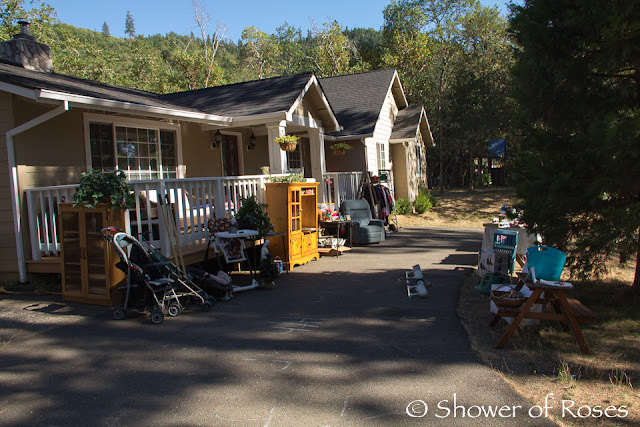 Overall I'd say it was a huge success and definitely worth the work! Between the yard sale and what I already have saved in my Paypal account I have almost enough to pay for the bunk bed!!! I still have a basket of skirts (though I did pull them out for a couple ladies to look through) to list on ebay and am also planning to host another Online Curriculum Sale Blog Hop here August 1-7th for all who are interested.

It will probably be replaced at some point, but so far we haven't missed the TV and the new question I keep hearing is
"Can we listen to…"
which I don't mind at all! The boys have already finished the first four books of
The Ranger's Apprentice series
and the girls are currently listening to
Anne of Green Gables
!