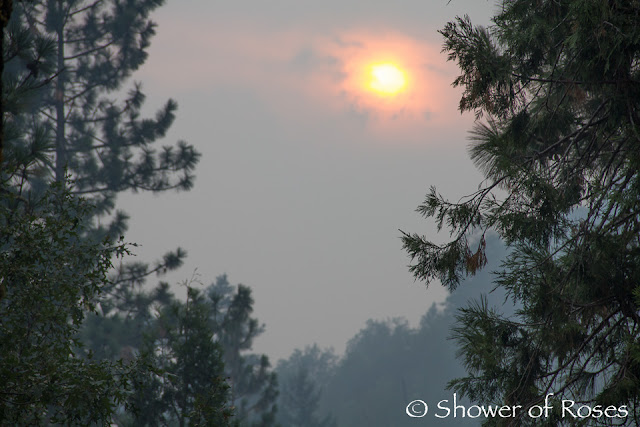 Outside my window…
Smoke… Way too much smoke. We have been dealing with a thick choking layer of smoke in our area, due to severe wildfire smoke, which has been causing unhealthy to extremely hazardous air quality. We had a very short break from the smoke last Friday, and it wasn't nearly as bad as it had been over the weekend, but it is back. All the local outdoor activities for summer, including the swimming lessons the kids were taking, have all been cancelled or postponed indefinitely. We have dealt with smoke from wildfires before, but it has never been this bad. Please continue to pray, especially for the safety of the firefighters, including my husband.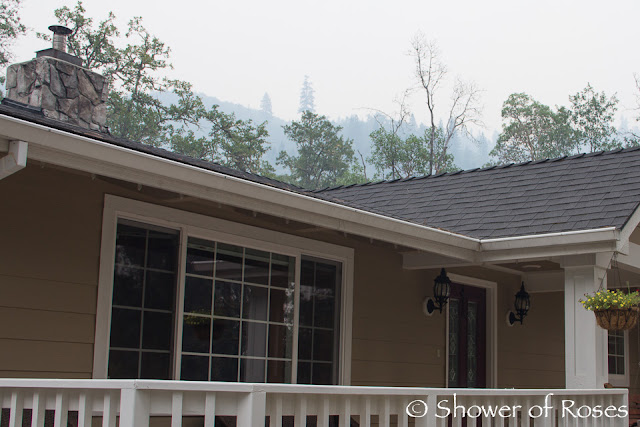 August 6th – Not as bad as before, but still "very unhealthy"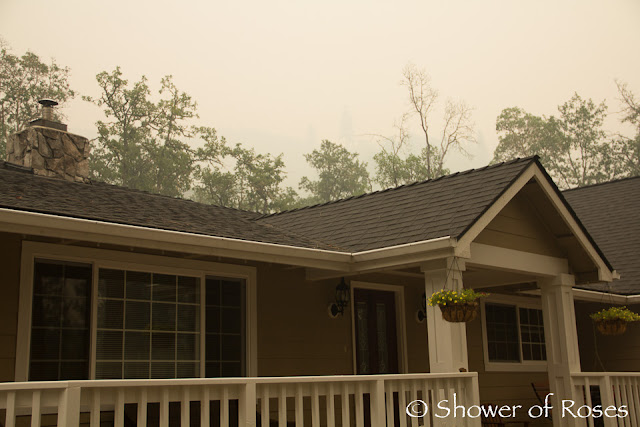 July 30 – Hazardous (Highest Level, the most dangerous/harmful on the Air Quality Index)
I am thinking…
it is going to get worse before it gets better. Thunderstorms are on the forecast all week, and the last couple days/nights we had hundreds of lightning strikes in our country which have ignited some new wildfires. We currently have a "Red Flag Warning" for our area, which means that "critical fire weather conditions are either occurring now, or will shortly." Hopefully the storms will at least clear up the smoke for a little while. I am so ready for fall.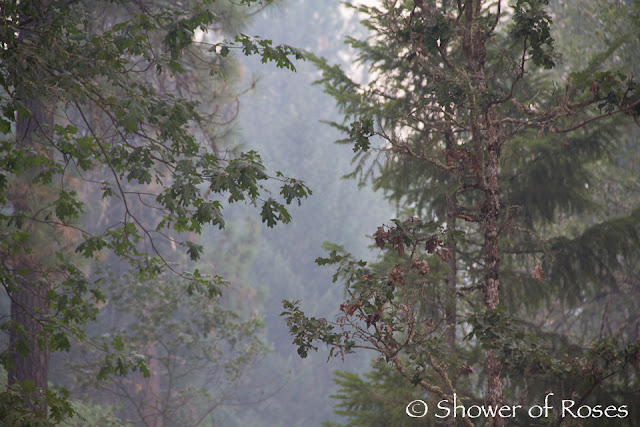 I am thankful…
for our air conditioner, which helps filter the air in the house, and for respirator masks, which make it a little safer to go out and water the garden and complete other outdoor chores when the smoke is really bad. Fun times.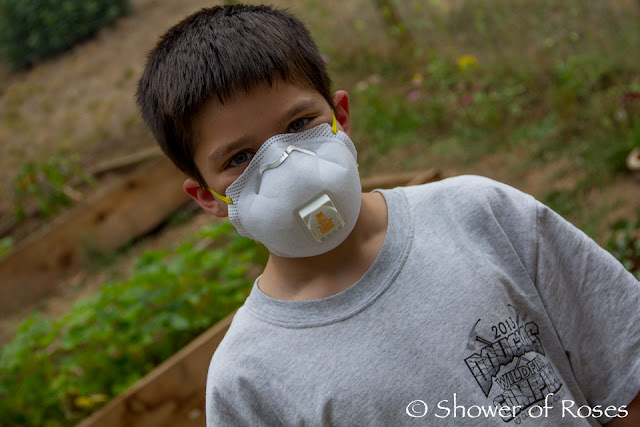 Learning all the time…
The kids have been finding lots of ways to stay busy inside, despite the fact that I sold the television and have been busy selling truckloads of books… It only took the older boys a few days to complete the 1,000 piece puzzle Captain received for his birthday!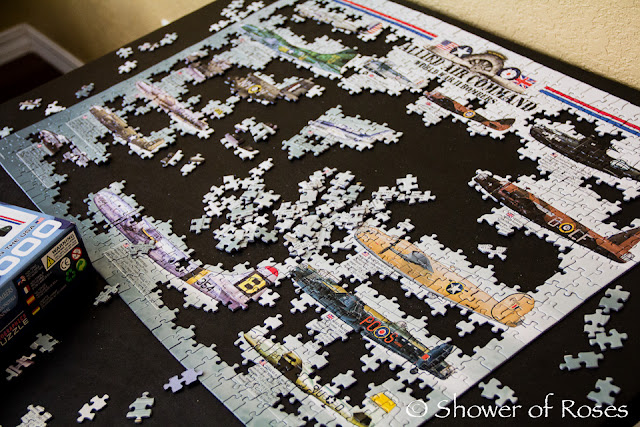 Celebrating the liturgical year…
We had our 3rd quarterly Latin Mass this past Sunday! Despite summer schedules, a date change, a time change, and all the smoke, we still had nearly 100 people in attendance. These masses have been such a blessing!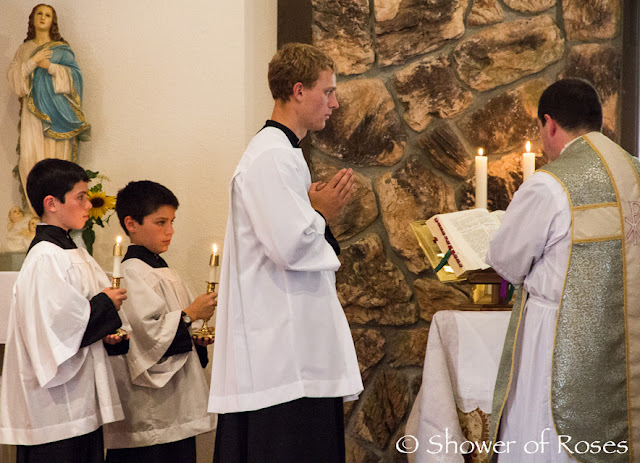 From the kitchen…
I haven't had much energy left to spend much time in the kitchen lately, and with my husband not eating any meals at home, I've been even less motivated. It's time to put together a meal plan and start creating some "real" meals again.
I am working on…
redecorating and organizing the girls' bedrooms!
I am creating…
check-lists for next year. I do plan on finishing them as soon as I have a chance, but I'm starting to get a little nervous after hearing stories of a couple friends losing their finished documents (due to various computer issues) and then running across this last night. Oh, that would be so frustrating!
I am going…
to continue working on shipping out books! I took the first batch to the post office earlier this week and will be making one more trip with the rest of the books just as soon as I can get my hands on some more boxes and envelopes. Hopefully this afternoon!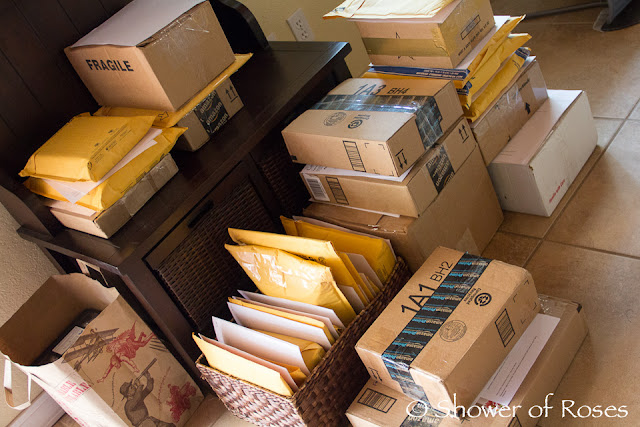 I wasn't exactly the person you wanted to be in line behind at the post office 😉
I am hoping…
that I can wrap up the books sales quickly so we can take a few little trips out of town. The smoke has been taking it's toll on all of us and we have been dealing with sore throats, headaches, and runny noses, despite our efforts to keep out of it as much as possible.
I am praying…
for the soul of a a 19 year old who died fighting our local fires this week… May he rest in peace.
I am reading…
pictures books to the little ones at bedtime. They miss their Daddy, especially on the nights he gets home after they are asleep.
Pondering these words…
from Padre Pio:
"In all the events of life, you must
recognize the divine will. Adore and bless it, especially in the things which are the hardest for you."
I am listening…
to the washing machine. My husband usually does his own laundry, but he is nearly out of socks so I am chancing the possibility of coming down with poison oak again (I am highly allergic and he works in it everyday, especially now on the fire) and catching it up for him. It was either that or go buy a couple packs of new socks, which I actually considered! 😉
Around the house…
I wasn't expecting the new bunk beds until next week, but they arrived, in five large boxes, on August 1st, just after posting the Book Sale link up! With the fire, and my husband getting home at 9 or 10 each night and leaving early in the morning, I wasn't sure when we'd be able to get them assembled… Thankfully he was able to take off this past Sunday for our Latin Mass and we tackled the project in just a couple hours that day. The beds are so beautiful and I'll take pictures to share soon!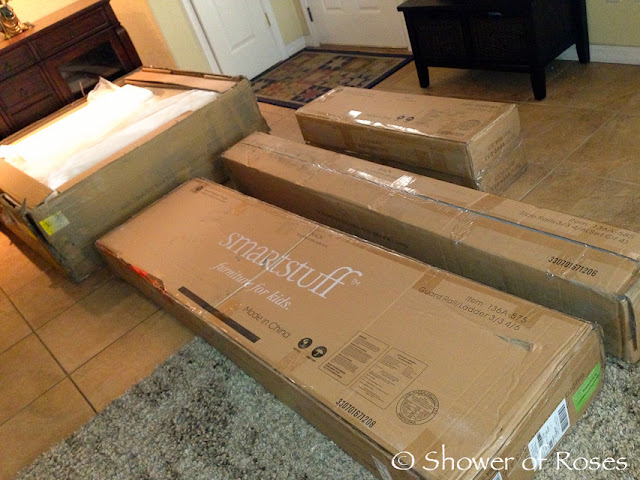 One of my the boys' favorite things…
new t-shirts from the fires their Dad fights!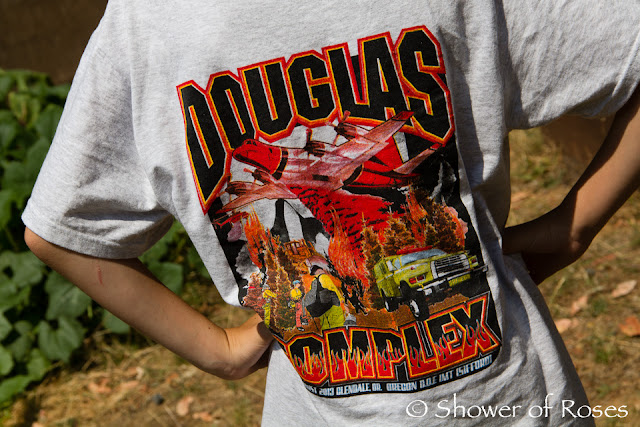 This week's plans…
Monday-Friday: Summer Camp for Captain!
Monday-Saturday: Stay Indoors… Complete Book Sales and try to finalize school plans.
Sunday: Annual St. Anthony's Festa (I was informed at Mass last Sunday that Father Carmelo expects the boys to be there to serve, and to bring the cassocks and surplices. I can pull it off without Sean's help, right? I hope so!)
I wrote this post earlier this morning, but before finishing received an email from a friend saying that it was free admission day at the Science Museum! We were needing a break from the house so we dropped everything and went out for the afternoon/evening. The kids had a blast!