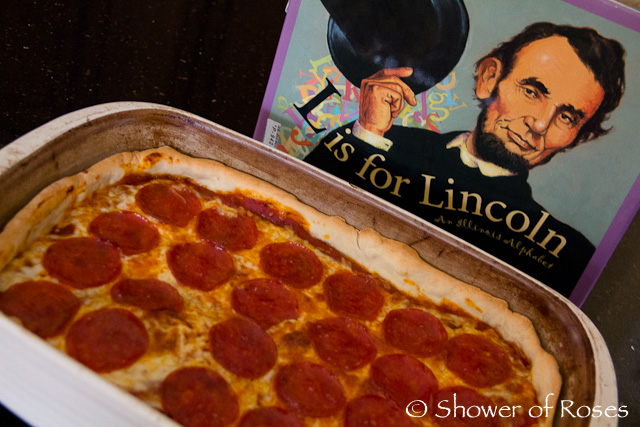 "Now C
is for Chicago
it's called the windy city,
and also for the cardinal
singing clear and pretty."
Yesterday afternoon the girls finished up their study of Illinois, the 21st state, by making Deep-Dish Pizza! Before choosing a recipe to bake, from their copy of The United States Cookbook, the girls read L is for Lincoln: An Illinois Alphabet and then completed their Notebook Pages: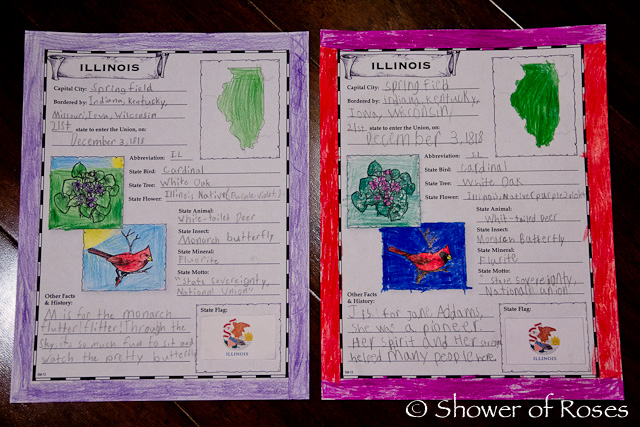 "Deep-dish pizza was first made at the Pizzeria Uno restaurant in Chicago in 1943. Becuase it's baked in a deep dish, it can hold more toppings than a regular pizza."
~
The United States Cookbook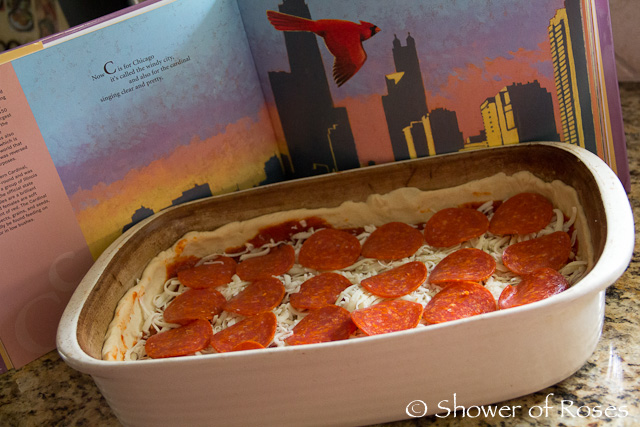 2 teaspoons butter or shortening
1 package active dry yeast
1 cup lukewarm water
1 teaspoon sugar
1 teaspoon salt
2 tablespoons vegetable oil
2 1/2 cups all-pourpose flour (we used "better for bread flour")
1 15 1/2-ounce jar pizza sauce
6 ounces shredded mozzarella cheese
4 ounces sliced pepperoni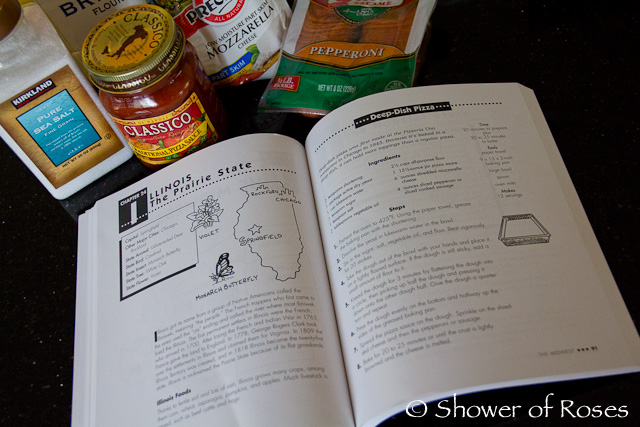 Preheat the oven to 425˚F. Grease a 9×13 baking pan with the butter. Dissolve the yeast in lukewarm water. Stir in the sugar, salt, vegetable oil, and flour. (Our recipe suggested kneading the dough for 3 minutes by hand, but we used the Kitchen Aid with the hook attachment.)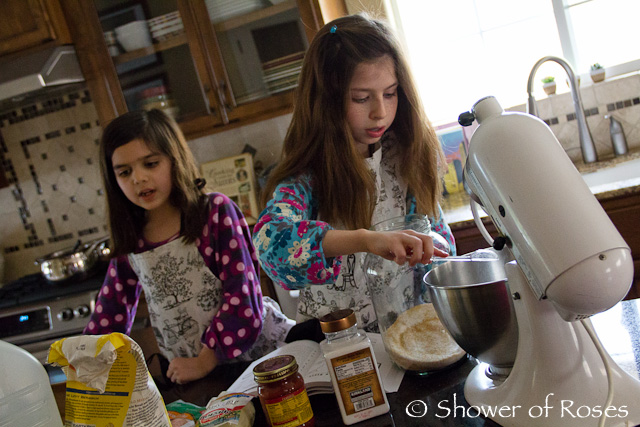 Spread the pizza sauce on the dough, sprinkle with shredded mozzarella cheese, and then top with pepperoni slices.
Bake for 20 to 25 minutes or until the crust is lightly browned and the cheese is melted.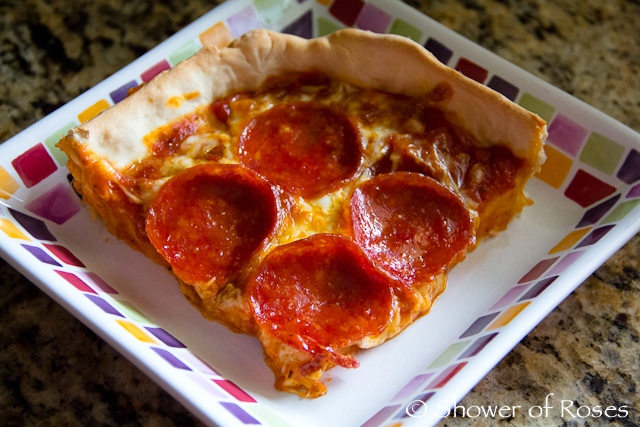 One pizza wasn't nearly enough for our family, so I helped the girls make two more! Yummm!!
And, yes, I did eat some of this delicious homemade pizza… In fact, I didn't regret it for a second, at least not until I stepped on the scale this morning. :/ Still, this recipe is a keeper! I think I am going to have the girls make it again, next time without the pepperoni and topped with lots of veggies instead for one of our upcoming meatless Lenten meals!
Resources we used for this State Study:
L is for Lincoln Teacher's Guide (
pdf
)