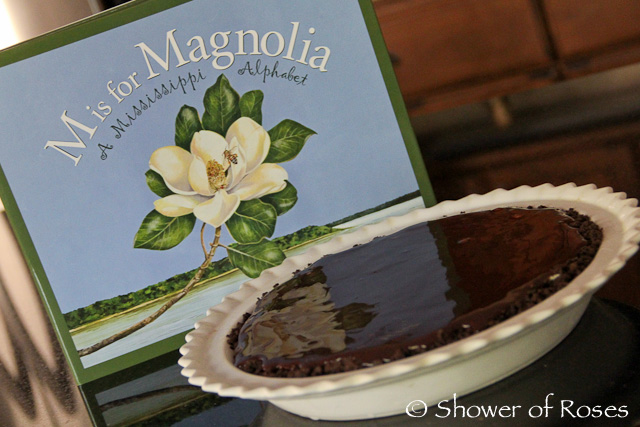 "R
is for the greatest river
flowing through our land.
The mighty Mississippi River
is awesome, strong, and grand."
It's been months since the girls studied Mississippi (sometime last fall) but I am just now getting around to adding it here. Anyhow, for the state of Mississippi, the 20th State to join the Union, the girls read M is for Magnolia: A Mississippi Alphabet and then completed their Notebook Pages.
Let the coffee ice cream soften at room temperature for 30 minutes.
Melt the butter over low heat.
Let the butter cool for a minute, while you crush the wafers (graham crackers).
Pour the melted butter it into a mixing bowl and add the crushed wafers.
Mix well.
Press the chocolate wafer mixture into the bottom and up the sides of a pie plate.
Fill the pie shell with the softened ice cream.
Smooth the top of the ice cream evenly with a knife or a spatula.
Put the pie into the freezer until the ice cream is firm, about 20 minutes.
Top with the fudge sauce…
…and spread with a spatula.
Slice and serve.