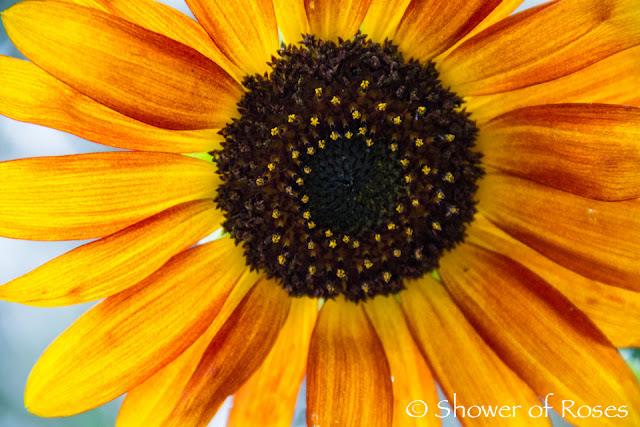 *I started this daybook yesterday morning, but it took me until today to finish… It's been a little busy!
Outside my window…
Sunshine and Sunflowers! We have been enjoying the (moderately) clear skies the past few days, but it looks like the smoke will be a problem again beginning on Wednesday.

I am thankful…
that Sean was able to take Sunday off and has a break from the fires this week. He has a project that needs to be caught up at his regular job, which will take all of this week, then he will probably return to the fire lines next week. He is still working extra long days, but thankfully he has been able to get a little more sleep.
about paint colors. I picked up a gallon of paint last Saturday for the three walls surrounding our fireplace. I thought it was going to be perfect (how could it not be with a name like "October Mist"?) and I do love the color, but it just doesn't look good on those particular walls… It's been hard to get an accurate picture of the color, but here are two that seem to be the closest, taken at different times of the day.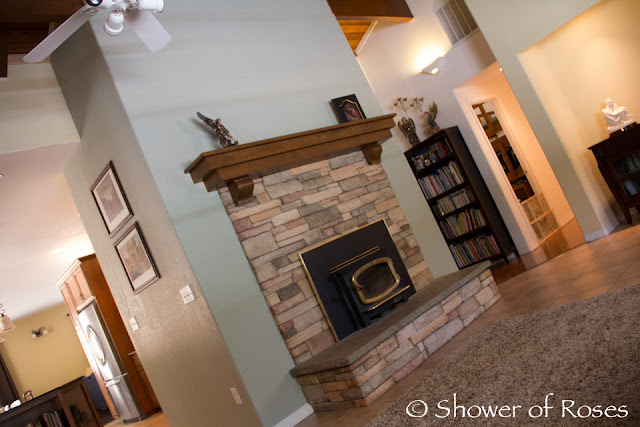 Morning Picture – Paint looks lighter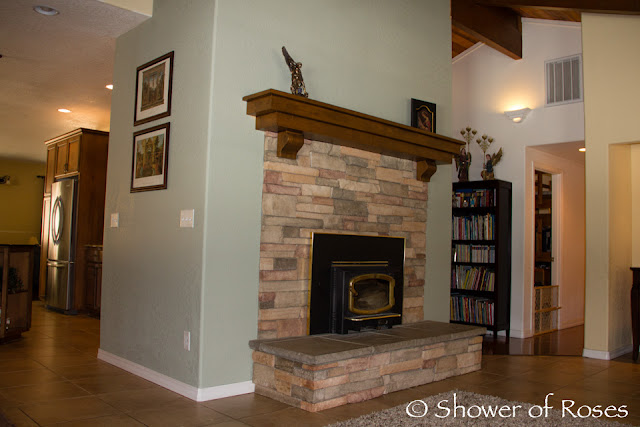 Afternoon Picture – Paint looks darker (and so does the whole house) but this will give you an idea of how it looks
It just doesn't seem to match the stone, and I also don't like the combination of the Cream (Yellow) and the Green. It all looks too pastel to me. I'm thinking either a much darker sage green, a mushroom color, or maybe one of the darker colors from the stone might look better (but I also don't want to make the room too dark)… Any suggestions?
Learning all the time…
This past week I had a call from the principle of the local Catholic school offering our family a very generous scholarship for our children to attend this coming school year. The school is small (many of the grades are combined) and, if I had to put the children in school, it would be our best local option… And yet the thought made me so sad. Home Educating is such hard work, but I do love it. I love having the children home, I love being able to customize our curriculum to their learning styles, and they love homeschooling too. Plus, what would I have to blog about if we sent them to school! 😉
Celebrating the liturgical year…
the feast of the Assumption is this Thursday! We will be attending Mass and then enjoying some delicious Assumption Parfaits after dinner.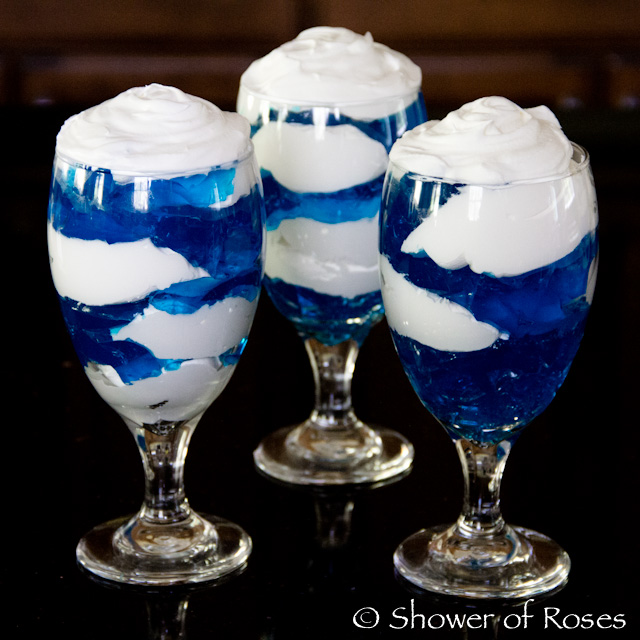 From the kitchen…
we came home from town this afternoon to discover a fun package that had been overnighted from dear friends in the midwest. These amazingly yummy sugar cookies reminded us all immediately of our last visit and tide-pooling. Come back soon, we miss you!!!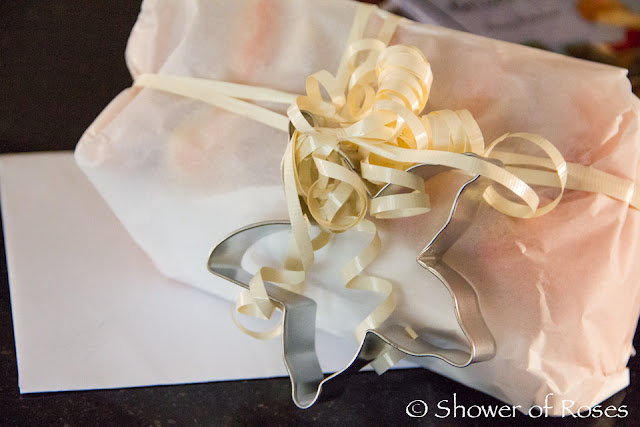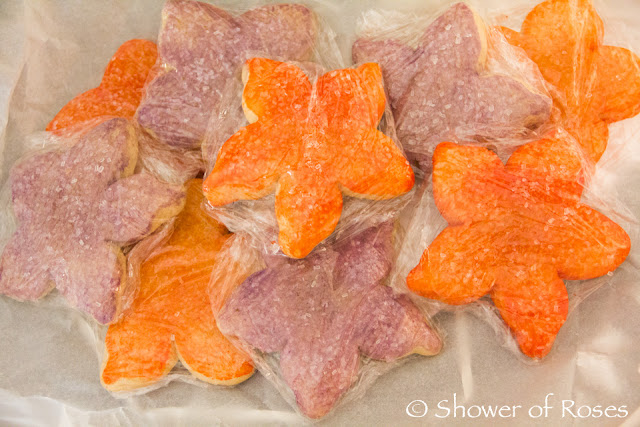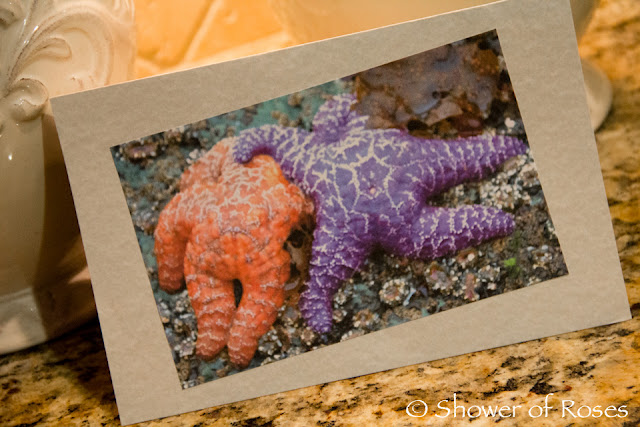 I am working on…
projects around the house. I hope to finish before school starts. Is it possible? Probably not…
I am creating…
color coded checklists! I have the oldest two boys' lists completed… Just three more grades to go! I am already starting to feel so much more prepared for this coming school year, which will begin on September 3rd.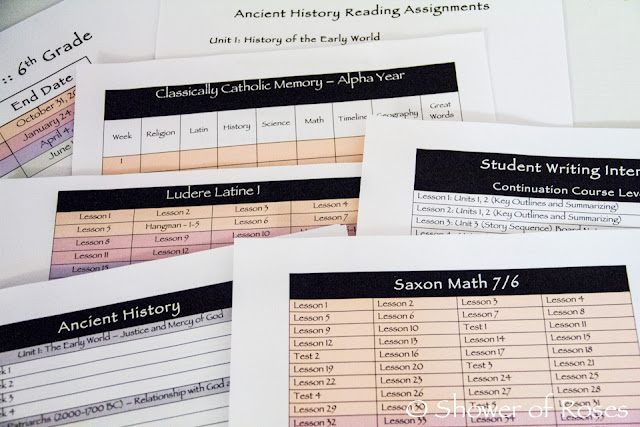 I am going…
to be a Godmother again, for the 10th time! We are all so excited to be able to make the trip north this weekend to attend Rose's Godparents 10th Anniversary Mass and Celebration, which will also include the baptism of their newest little girl who was born last month! We missed their wedding 10 years ago, since I was on bedrest while pregnant with Twinkle Toes that summer. It is going to be such a fun weekend!
I am hoping…
that I have a chance to make some zucchini bread this week. Does anyone have a favorite recipe?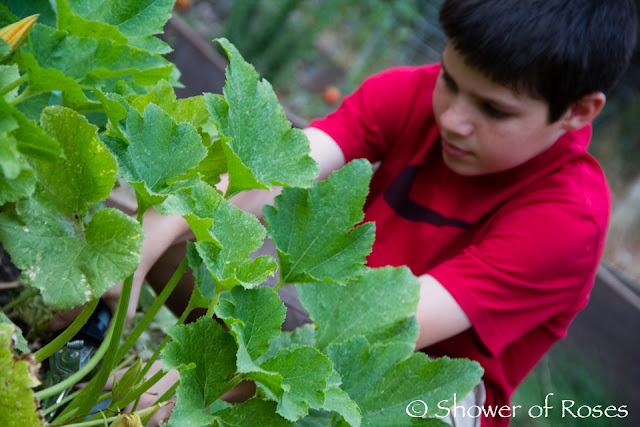 I am praying…
for more rain, minus the thunder and lightning, and for the safety of the firemen. We are also praying for some dear friends who could use extra prayers.
I am reading…
Bambinelli Sunday: A Christmas Blessing. I preordered this book awhile back, to save for the feast of St. Nicholas, and it arrived this afternoon!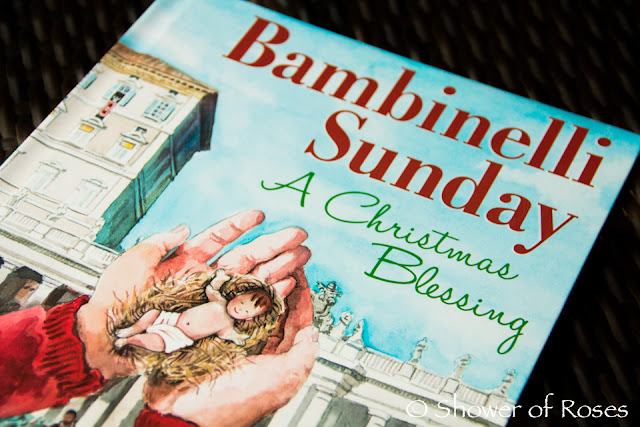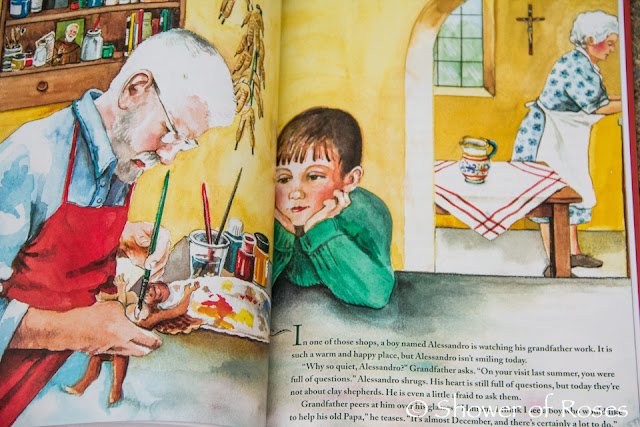 Pondering these words…
from today's page in Small Steps for Catholic Moms. My copy is out of print but it has recently been republished by Ave Maria Press and can be pre-ordered for 24% off at the moment!
"I must anticipate the desires of others…show that we are much obliged, very honored to be able to render service. The good Lord wants me to forget myself in order to give pleasure to others
."
St. Therese of Lisieux
I am listening…
to Knee Deep! It gets us dancing and singing along (and wanting to jump in the van and head to the ocean!) every time the smokey skies start getting to us. 😉
Around the house…
My mom and dad came over last week to help me hand some curtains in the living room (they match the ones in the dining/family room and were on clearance!) and a couple weeks ago the boys helped me switch around the couches. It was quite the challenge getting them through the kitchen, but after flipping them upside down we were able to make it work. Once we settle on a color for the accent walls we hope to find a chair in coordinating colors, as well as a new fan, table, and a couple lamps. In the past our focus has always been on remodeling and adding on to our home, it's been fun to put a little more thought into furnishing and decorating lately.
One of my favorite things…
home educating our children. And color coded checklists! 😉
This week's plans…
Swimming Lessons, haircuts for a couple of the girls and I, finish creating the color-coded checklists, Mass on the feast of the Assumption, and then head out of town for a fun-filled weekend with friends!
A New Hairstyle for Rose!