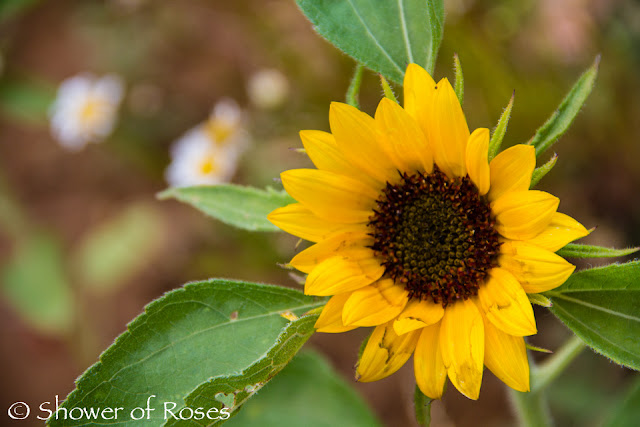 Outside my window…
our garden is actually growing! And, look! We have a little watermelon!!! (and quite a few others that are just starting to grow!) We still have so much to learn about gardening, but so far this year is going better than last. The plants that have been growing the best (like the watermelon and sunflowers) were the ones we planted with St. Clare Heirloom Seeds. I'll have to take some more pictures of the garden to share soon. Now if I could just figure out how to keep the bugs from eating all the flowers (Zinnias, etc) just as soon as they bloom… any suggestions?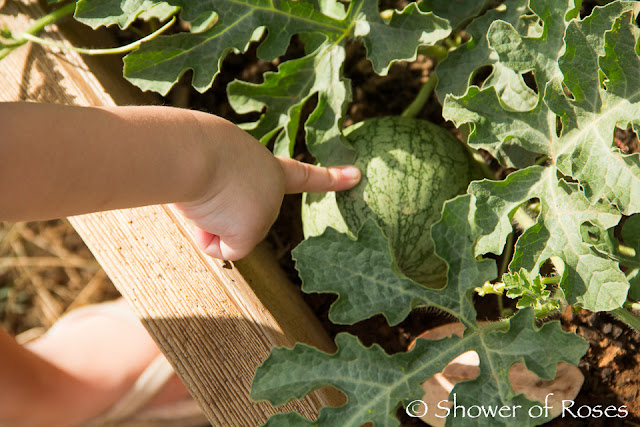 I am thinking…
about the 7 posts in 7 days challenge. It was hard. I know I would not have made the time to blog much otherwise, with how busy we have been lately. I am really glad I participated. I probably won't be posting every day this week! 😉 I would like to get back to posting each weekday, but that will all depend on how much we are home, and this week is going to be busier than last. We'll see! I have enjoyed visiting with you all, even if I have gotten even further behind with answering emails! 😉
I am thankful…
that Sean has been able to come home each night, even though he is only home from just 10pm to 4am, and for all the firemen who are working so hard to get the fires under control.
Learning all the time…
I had such great plans for this summer, to continue studying Math and teaching Snuggles to read. It hasn't been happening. The children are still learning all the time (this week swimming skills!) and reading (or listening to) books everyday. There will be plenty of time for the rest in the fall, right?
Celebrating the liturgical year…
The feast of St. Ignatius is coming up on July 31st. It's also a baptismal anniversary so I'm thinking about making another madeliene recipe shell cakes again! A few additional ideas can be found in the archives at Catholic Cuisine.
From the kitchen…
cherry tomatoes from our garden!
I am working on… and creating…
a more organized (and cozy!) home. This past week and weekend, in addition to working on the bedrooms, I also rearranged furniture (and found an area rug!) in our family/living rooms. I will have to try and take pictures sometime soon.
I am going…
to be spending a lot of time at the swimming pool again this week!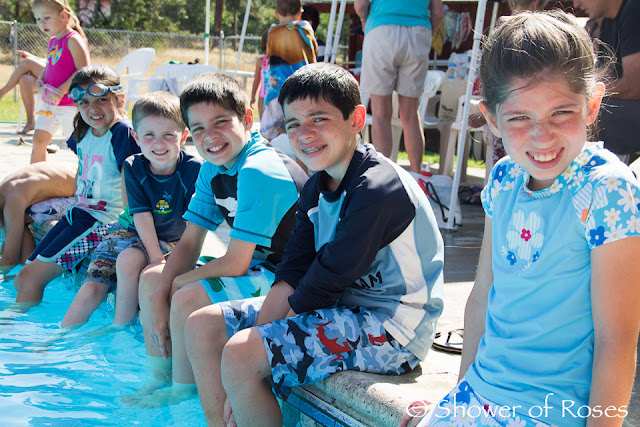 I am hoping…
that I can find time to start getting ready for my Curriculum Sale Blog Hop… It's just been too busy and it's coming up on August 1st!
I am praying…
for Katrina and her twins, one of whom has anencephaly. I have been online friends with her sister, Laura, for years and have been praying for Katrina since I learned of her pregnancy complications. Will you please join me?
I am reading…
lots of updates on the fires, particularly on the one which my husband is fighting.
Pondering these words…
from today's Quiet Moment:
"We cannot love without suffering and we cannot suffer without love
." – St. Gianna
I am listening…
to "a, a, a, aaaa, a, a, aaaa, a, b, c, a, a, a, aaaa"… Can someone please take that WORD WHAMMER away from the baby! 😉 Now that the television is gone the kids have been finding all sorts of old toys that even I forgot we had…
Around the house…
I haven't been the only one redecorating!
One of my Rose's favorite things…
drawing and finding anything heart shaped!
"Look Mom! I found a HEART leaf!!!"
This week's plans…
Monday: Swimming Lessons, Overnight Visitors
Tuesday: Swimming Lessons Canceled due to too much smoke and ash in the air…
Wednesday: Swimming Lessons/Life Saving Day
Thursday: Swimming Lessons/Graduation Day, Curriculum Sale Blog Hop Hosted Here!
Friday: Morning Mass, Afternoon with Friends, Grocery Shopping
Saturday: Recover from the week! 😉
Sunday: Our third Quarterly Latin Mass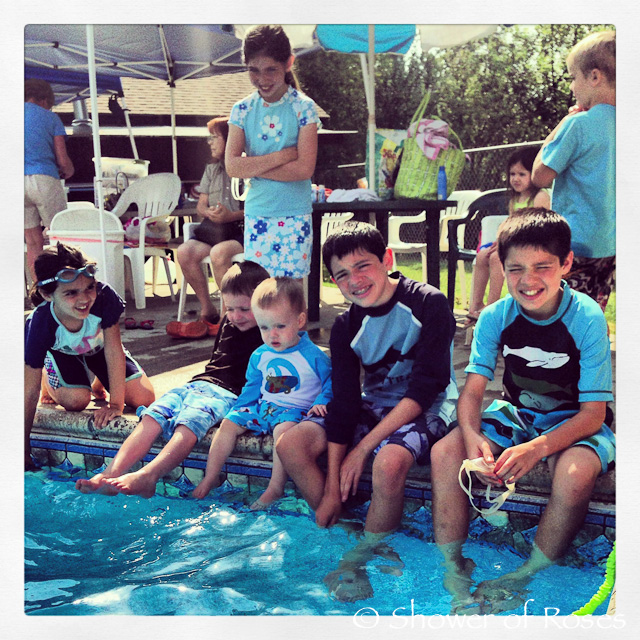 At the pool this morning… Swimming lessons are definitely not one of Rose's favorite things! 😉