Today I'm going to give you all a little tour of our boys' bedroom! It's been years since I last posted pictures of this room (You can see that post from July of 2009 here) and I've been meaning to share the changes we've made for over a year now. (The 7 Posts in 7 days challenge at Conversion Diary has been just what I've been needing to get back in the habit of blogging each day! Thanks Jen!) The first thing I did was rearrange the beds (again) and then, back in March of last year (while my husband was away for training) I added a new bookcase, had their dresser (a hand-me-down from my parents) painted black, had new closet doors installed, and painted the walls! We haven't made any major changes this past year, though Sean did hang a few more shelves on the walls over the weekend and I purchased one more organizer for the boys' closet.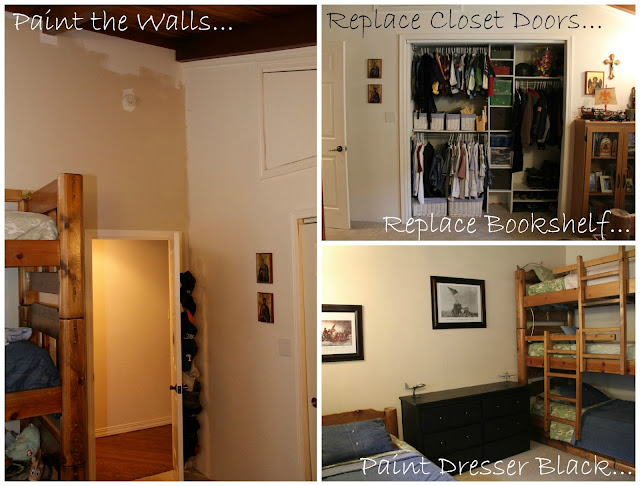 In the process of painting and redecorating…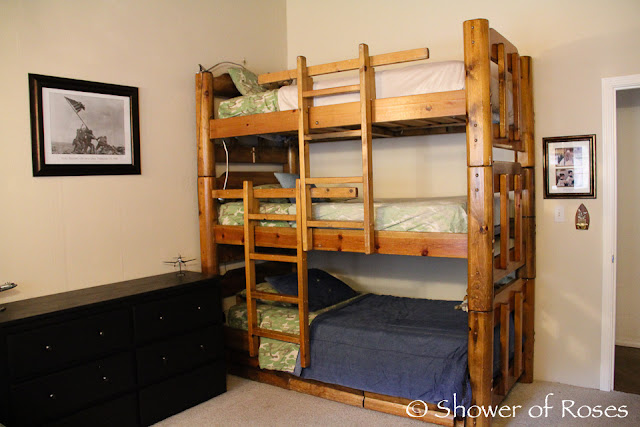 The Boys Bedroom – March 2012
The bunks are old and rustic, but I just love them! They were actually my brothers' beds when they were younger (complete with most of their names carved in the wood!) and my parents gave them to us when our boys were little. At first we only had one of of the bunks set up, but when we moved everyone around we set up the second bunk bed for once Snuggles was ready for it. (He now sleeps on the bottom of the bunk.) I had been having such a hard time finding a way that I liked them in the room, since no matter how I arranged them one always stuck into the window, and one day I realized that they could probably be stacked again, creating a triple (or more)! With the vaulted ceiling, there was plenty of room and sure enough it worked!
My brothers did have a triple bunk that my Dad had built when we were all crammed into a tiny mobile home while my parents built our home (and actually so did my dad and his brothers when they were little), but when they replaced it with these log style bunk beds my parents never considered (or even needed since they then had plenty space) triple stacking them.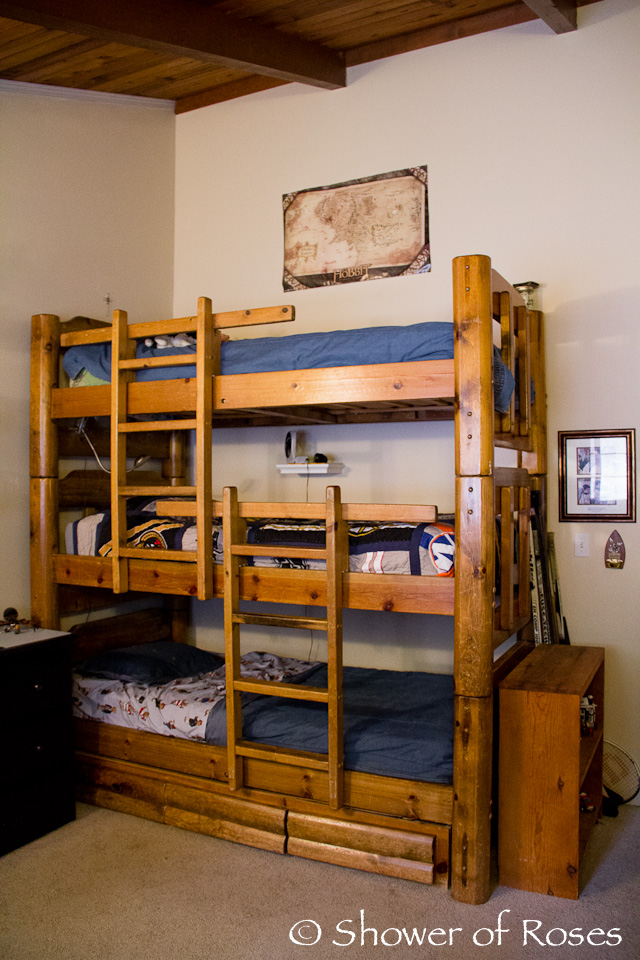 Boys' Triple Bunk – July 2013
Captain has the top bunk, Rascal the middle, and Snuggles is on the bottom. The only trouble we have is during these hot summer months when it is just too hot on the top. So from around July-September, and anytime he isn't feeling well, Captain opts for the other bed under the window.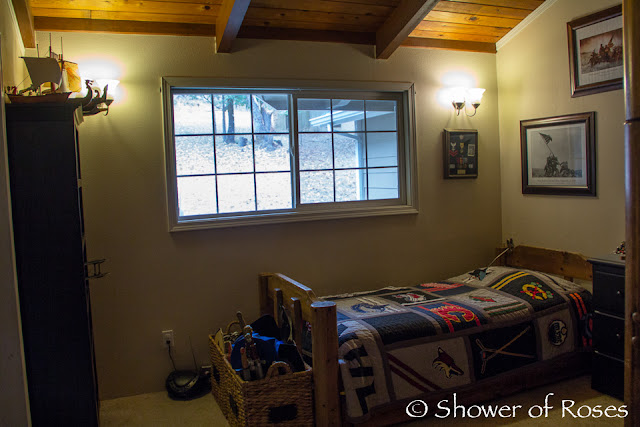 It's been overcast and was difficult to get decent pictures…
Originally my plan was to be able to have four boys in this room "if we ever had another." Now that we have Bud, and the boys outnumber the girls, we're just not sure about moving him in once he's old enough. Ideally we'd like to move Snuggles and Bud into a room together, but that means either moving all three girls into a room together or giving up our schoolroom… Anyways, I'll post more about all those thoughts and decisions soon. Back to the boys' room!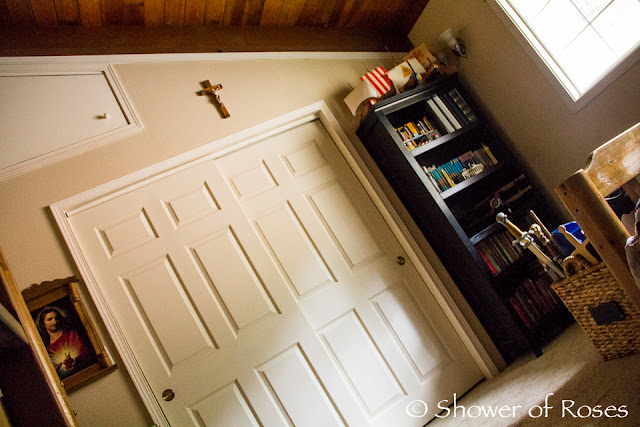 Years ago I installed ClosetMaid Organizers in the closet and each of the (three) boys has their section for hanging clothing. On the left side of the closet the boys hang all their belts and we have a CapRack on the back of their bedroom door for all their baseball caps.
The older boys just use the shelf/floor below their clothing for their shoes, and Snuggles keeps his shoes on a shoe shelf. Various sets of toys are in the wicker baskets and additional toys (matchbox cars, army men, playmobil, etc) are stored in the drawers under the single bed.
Around Mother's Day we purchased a couple new bookshelves for the school room and I passed on my 3-Drawer Organizers to the boys for their legos! They LOVE them and we just purchased one more.
The black bookshelf was from Target and they use it for their own book collections and displaying some of their lego creations. All of their Playmobil ships fit nicely on top of the bookcase.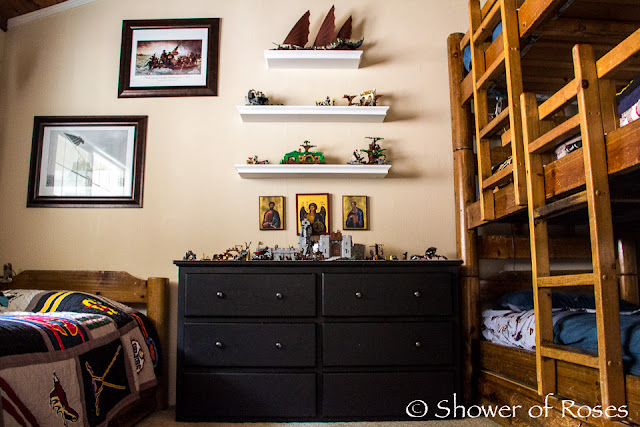 Still need to get additional knobs for the dresser…
My boys are really good about taking care of their bedroom and belongings. Yes, they make messes and often you will see battle scenes, lego creations, or one of their favorite board games all over the floor, and empty paper towel holders stashed in the corner, but when I ask them to clean their room they do an excellent job! (The girls are a different story… They still need lots of help from mom every so often.)
Oh, and one last thing… I took it down for the pictures, but usually there is a baby gate blocking the door to their bedroom. It is how we keep the legos out of the reach of a particular little toddler who finds them very intriguing!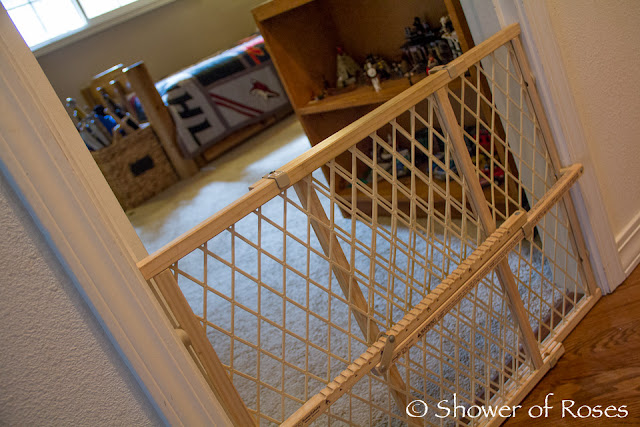 We are off to the pool for our third day of swimming lessons followed by four back-to-back appointments with the orthodontist. It's going to be another busy day!