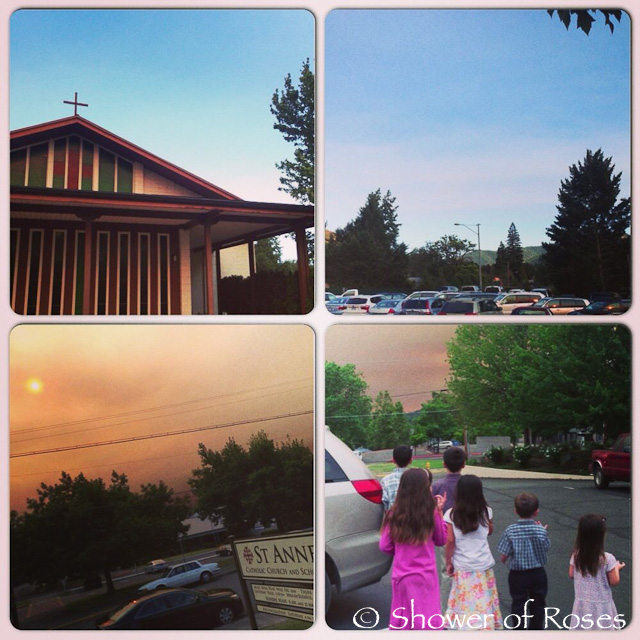 Following Confessions and Mass – Blue Skies on One Side, Smokey Skies on the other. Ash falling around us while we watched and offered another prayer for their Daddy's safety…
One of the "benefits" of fire assignments that are fairly local is that sometimes Sean is able to come home at night, or we are able to go and visit him. He was able to call home last night at 9pm, while trying to decide whether he should start pitching his tent and take a shower at the fire camp, or just drive an hour and sleep at home. He came home! He didn't arrive until just after 10pm, and then had to leave again at 4am this morning, but the kids were all excited to see him. He had taken a little camera along with him and had a few pictures to share: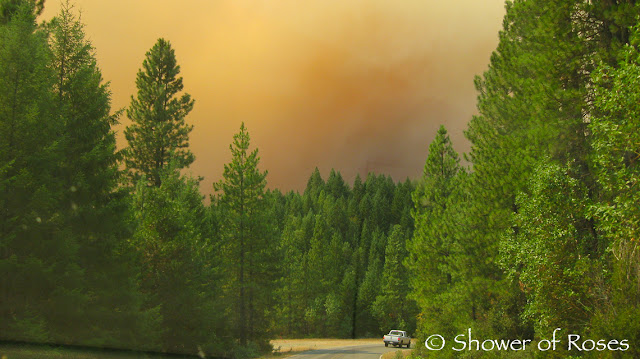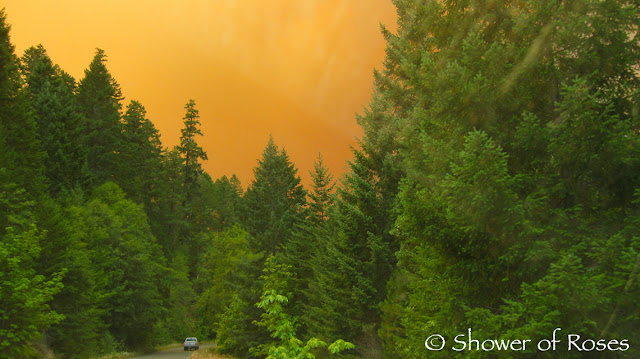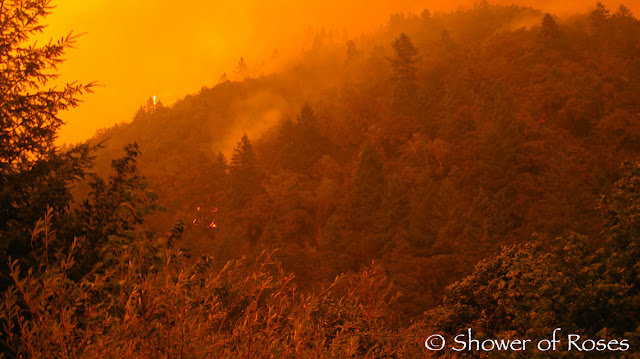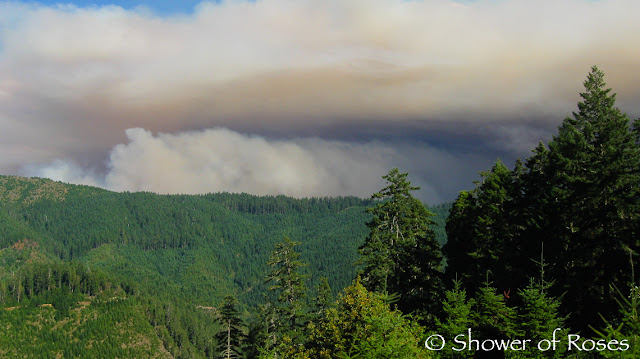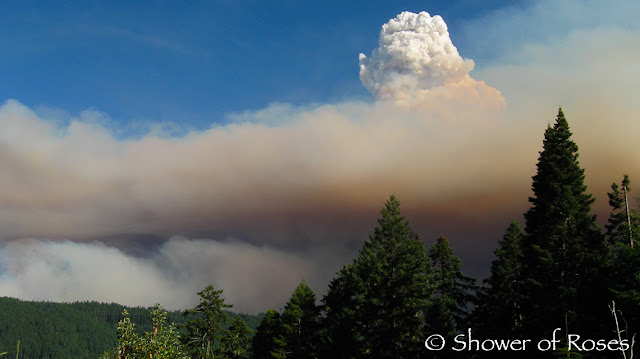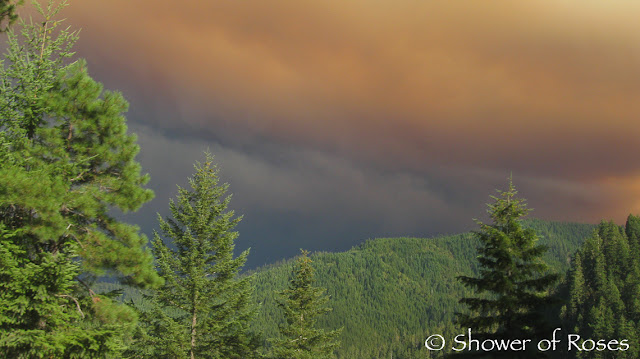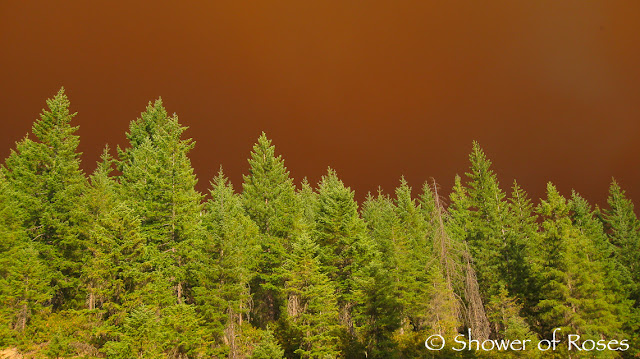 He is actually working on a "complex" of fires – 54 fires in one county (there were over 75 in a three county area) that were ignited by the lighting storm early Friday morning, though that total number is decreasing as several fires in close proximity to each other have burned together.
Sean told me last night that they have declared this a "conflagration" (a large disastrous fire) and have called in FEMA. He said as they drove to the fire they passed many homes tucked along the edges of the forest with the residents standing outside watching the smoke. By the end of the day they were all being evacuated. He also said that they had to find an alternative route out of the fire, since the way they had come in was later cut off by fires merging.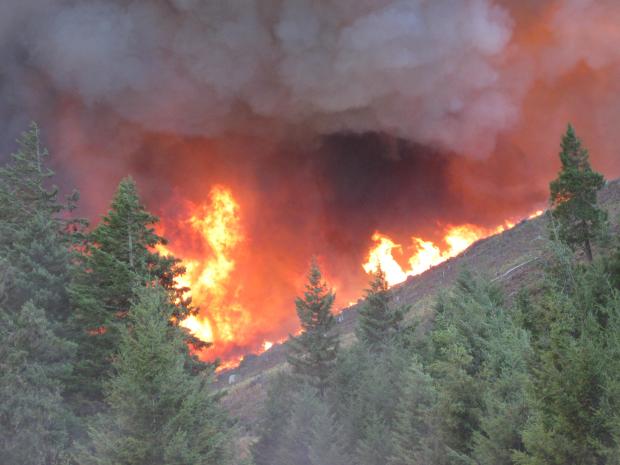 Credit: ODF – InciWeb taken July 26, 2013
For those who have asked, my husband is actually a Forester, but he has fought wildfires every summer since he was in college. He takes the pack test every spring to qualify for his red card and will be sent out on wildfire assignments during fire season as part of his job. (He does have to be caught up with his other projects and have the approval of his supervisor to leave.) When we were first married he would be gone for up to three weeks (21 days on the fire, plus travel) at a time, but a number of years ago that was reduced to two weeks at a time (14 days on the fire, plus travel), before they are required to be given a couple days of R&R. Apparently most of the accidents and injuries were happening during that third week. He is qualified to do many different types of jobs on the fire – Engine Boss, Crew Boss, Radio (which he hates because it's a lot of sitting around at fire camp, but I love since it is one of the safest!), testing for Hot Spots after the fire has gone through, etc) but on this fire he is currently working as a "Resource Advisor." (He did say there is a chance he will be moved to an Engine this week, but he isn't sure.) Fire Assignments equal long hard days (for both of us!) but the overtime is always such a huge blessing and helps refund our savings for the winter months and for that we are thankful.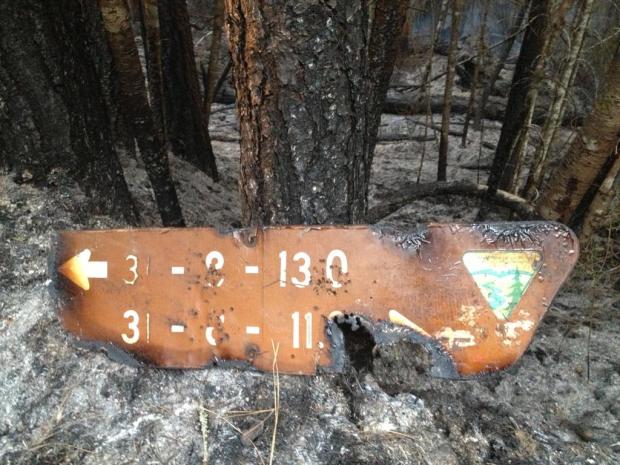 Credit : InciWeb taken July 26, 2013
As of last night this complex of fires had already burned 10,000 acres and is still growing.
Please continue to pray for his safety, and the safety of everyone involved!