From Instagram last Friday morning: The birthday boy is such a great kid! He knows it has been a busy week and smiled and thanked me when he saw his simply frosted cake this morning after requesting a "surprise" theme this year… Sean just took him to get a birthday hot cocoa and it's time for the rest of us to get busy with the rest of the decorations!!! His day will be filled with surprises!
He really did think it was all I was able to pull together for his birthday… and he was perfectly fine with that! Wednesday we had the opportunity to purchase a used bunk bed for the little boys (I'll post more about that later) and after a trip to the hardware store Sean and I were up until well after midnight assembling the bed. Thursdays are always filled with lots of schoolwork and tutoring, and just when I was about to start decorating the cake we received a call from Captain's doctor letting us know that he is referring us to the specialists at the children's hospital 5 hours away, which had me fighting tears the rest of the night… (Please continue to pray for Captain. They suspect CVS, but need to rule out other diseases. We will also be having him tested for food allergies and sensitivites soon.) His reaction and gratitude for even a simple cake made the rest of the surprises we had in store for him that much more exciting and fun!
As Sean was leaving with the birthday boy, I asked them to please pick up some ice cream too, while they were in town. This would give us about one hour to decorate the cake and the house before they got back! Thankfully it all came together incredibly fast.
Ranger did think I was going to do "something" to the cake while they were gone, but all he could come up with for that round yellow cake was the sun! He had absolutely no idea what I had planned.
I bought two 12 packages of the Wilton Dot Candles so we wouldn't need to use the purple. These reminded Captain and I of Legos and matched our theme perfectly!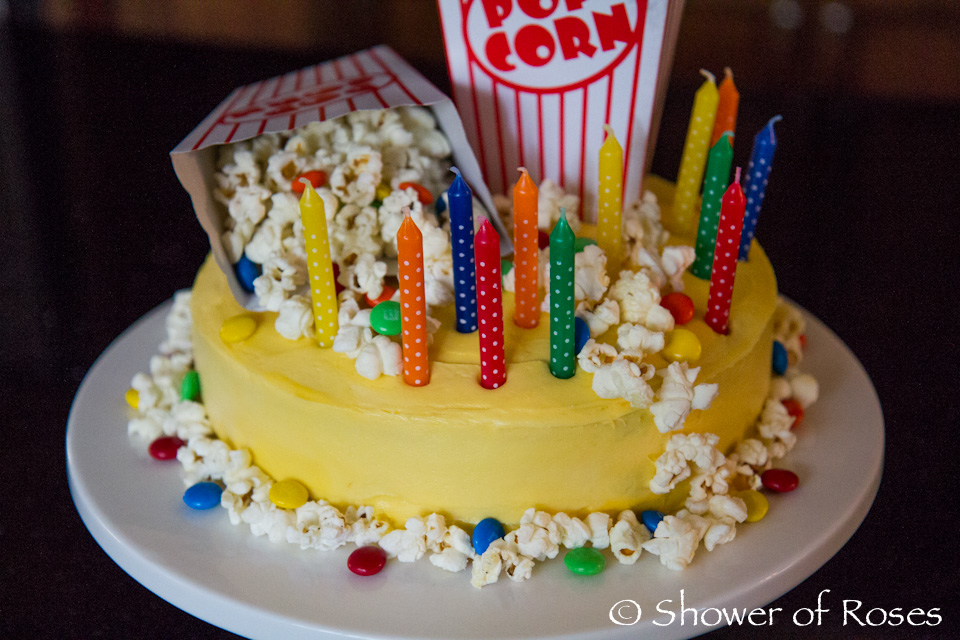 I had a box of concession candy for each of the children as party favors.
We hung some Dizzy Danglers from the light fixture and set the table with a red plastic table cloth, black plates, and yellow napkins. We also scattered some old fashioned movie tickets around the table, and some Lego Movie items/gifts for the birthday boy!
I ran across The Lego Movie Collector's Edition gift card at Target. He discovered it at his place setting and we asked if he'd like to go see the movie at noon!
Before we left for the movie, we had him open a few of his gifts.
The first was a tackle box filled with the discontinued Lego Mindstorms NXT that one of my friends son's had outgrown and she had passed down to us!!!
He also opened the gifts (coins, drawings, a candy bar, etc) from all of his siblings.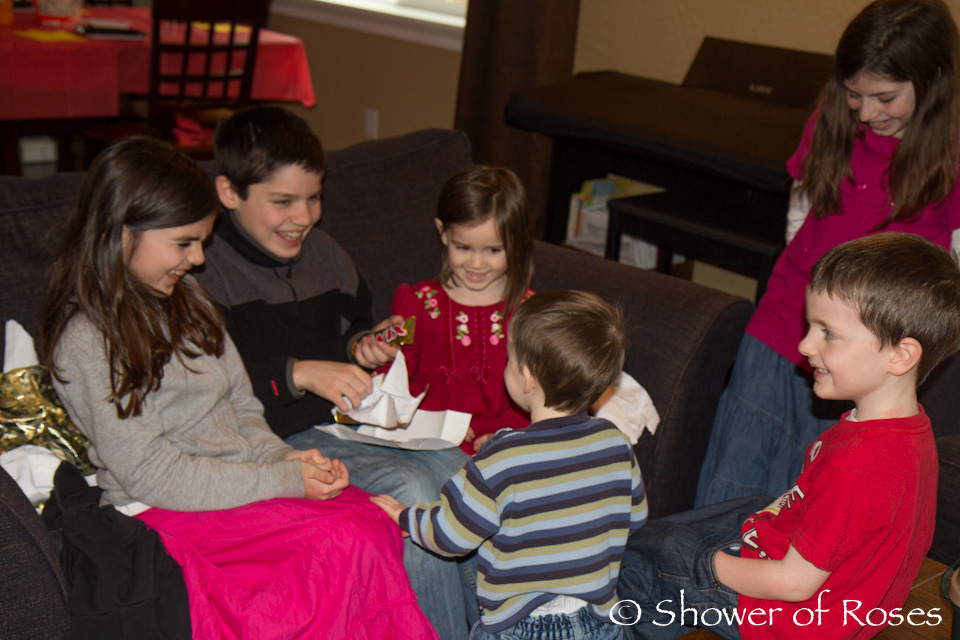 "COOOOOOKIE!!!!" said Bud, after his older brother opened the Twix from Twinkle Toes.
Ranger was surprised once again when we arrived at the theater and discovered that five of his friends were joining us for the movie, and would be spending the rest of the day with us. His one and only past birthday party that included friends was his Bowling Birthday Party on his 7th (Golden) Birthday!
Note: The Lego Movie was fun and entertaining, and it definitely had me laughing at times. However, just like pretty much every Hollywood movie anymore, it included some bad humor, language, and unnecessary scenes that we would have skipped had we watched it at home. We only took our oldest three (ages 10-13) to see the movie and the four younger children had fun with their cousin and aunt during the movie.
After pizza, his friends all came back to our house for cake, ice cream, and to play for the rest of the afternoon and evening.
After cake and ice cream the birthday boy opened the rest of his gifts including: