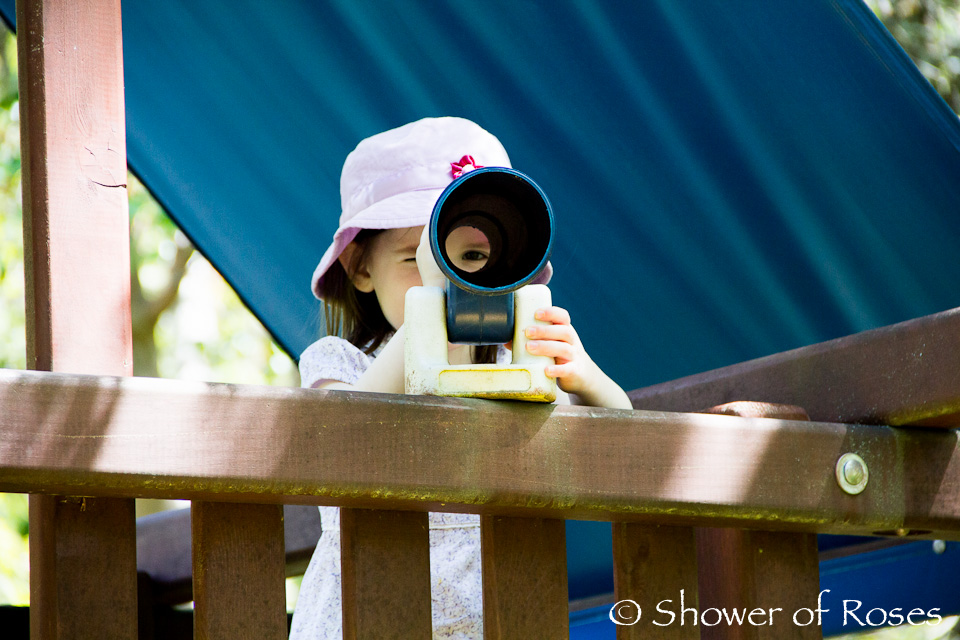 Outside my window…
an ultraviolet water filtration system is being installed in our nearly completed new well house! We have been purchasing bottled spring water for a couple months now, which has been getting expensive for our large family, after discovering bacteria in our water. It's been quite a process – first the patio/foundation had to be poured, then a new, full-size well house had to be built (the contractor will finish it after he returns from vacation), and now we finally have the room that was needed to install the filter. I'm really looking forward to having unlimited drinking water again!
I am thinking…
our water issues might have had something to do with our oldest son's health challenges. He has been symptom free for over four months now!
I am thankful…
for all the prayers that have been sent our way as I continue to recover and heal from my recent miscarriage. Last week was definitely harder than the first, perhaps since I had been keeping myself so busy up until then? Anyways, I posted on Instagram the other day that I was struggling with depression (with anxiety/panic attacks/chest pain – I've struggled with this in the past following a couple of my other pregnancies) and I can feel the extra strength and graces from all the prayers. Thank you all! (And that beautiful three mile walk really helped me feel better too!)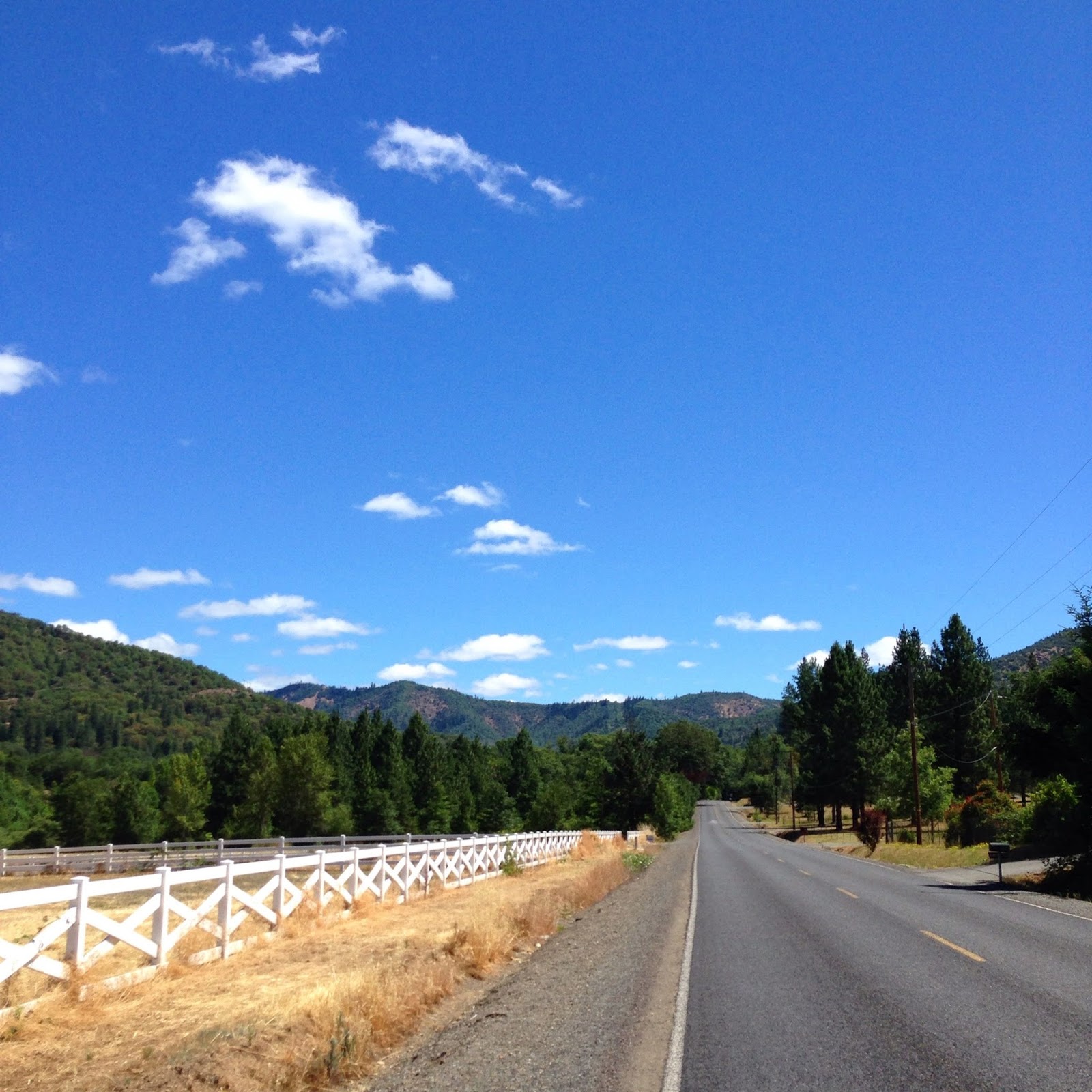 Rather than ride home with Sean and the kids from our annual hometown parade, I decided to walk home. It is such a beautiful day!
#needexercise
#fightingdepressionaftermiscarriage
#prayersplease
Learning all the time…
So far this summer we've completed two weeks of daily swimming lessons, a camping trip, a week of golf camp, and a week at Quo Vadis Days for the two older boys. It's been lots of fun but I'm looking forward to some time home this week! 😉
Celebrating the liturgical year…
Our liturgical year celebrations have been simple lately, focusing on prayer and daily saint stories during dinner, but we did bake a heart shaped Applesauce Spice Cake for the Solemnity Feast of the Sacred Heart last Friday.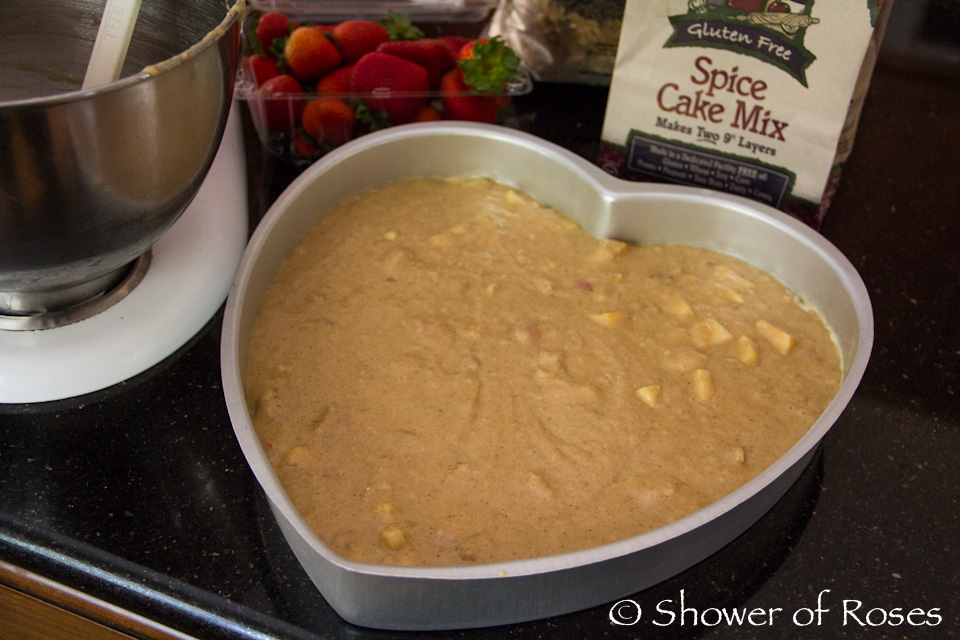 The girls helped decorate the cake with strawberries and pretzel sticks.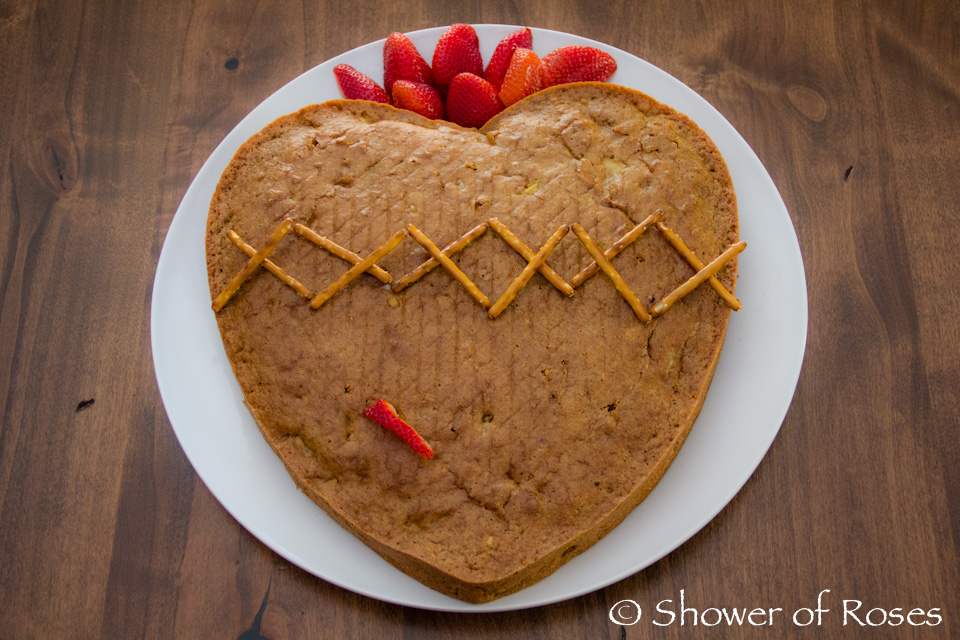 From the kitchen…
Chicken and Vegetables with a Coconut Milk and Red Curry sauce inspired by my friend Cassandra, who just announced that she is expecting! SO yummy! I'm working on eating extra healthy again and focusing on a paleo diet while I try and lose some of the extra weight which has crept back over the last year. I had a headache for three days (sugar withdrawal?) but it's finally gone. 🙂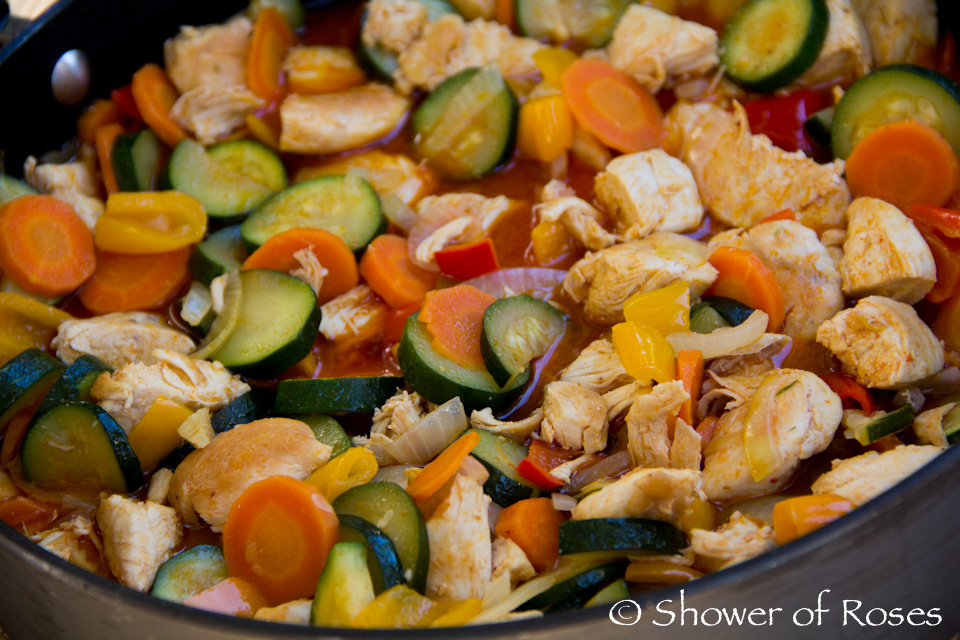 I am working on…
It's time to update the book basket with saint books for July. I'll try and compile our list soon to share with you all! (And perhaps finally complete the post with our June books too…)
I am creating…
plans for next school year and lists of books that need to be ordered. I had been so motivated to finish my plans and get an early start, until our miscarriage… I'd still like to get a jump start on the school year, since we'd like to take a family trip after fire season for our 15th Anniversary in October. I should probably get back to those plans!

I am going…
to start the Saints Joachim & Anne Faith Folder with a couple of the children in preparation for their feast on July 26th!
I am hoping…
that we can figure out a way to take the children to the summer camps (one for the older boys and another for the older girls) organized by one of their uncles for his parish… We waited too long to make reservations at a campsite and I haven't had any luck finding somewhere affordable for us to stay. At the very least we are hoping that Sean can take the two older boys this year!
I am praying…
for Max. Karla's family has suffered so much with the loss of their 10 year old son Sanjay a few years ago, and now Max is in need of prayers. Karla recently sent me an email asking me to share her prayer request with you all. She and her husband recently found out that their son Max has kidney disease and barring a miracle he will need a kidney transplant soon. She said that he is already down to 15% function. Please keep their family in your prayers!
We are also praying for the soul of a dear friend, Gary Francis, who passed away early Sunday morning. We will be attending his funeral later this week. +May he rest in peace+
I am reading
…
The Sacred Heart of Jesus: Jesus' Love for Us from the sweet Gloria Series collection. I've had this book stashed away in my closet, along with the other books in the series, to give the little ones next Christmas or Easter, but I pulled it out to read to my little ones last Friday afternoon on the Solemnity Feast of the Sacred Heart of Jesus.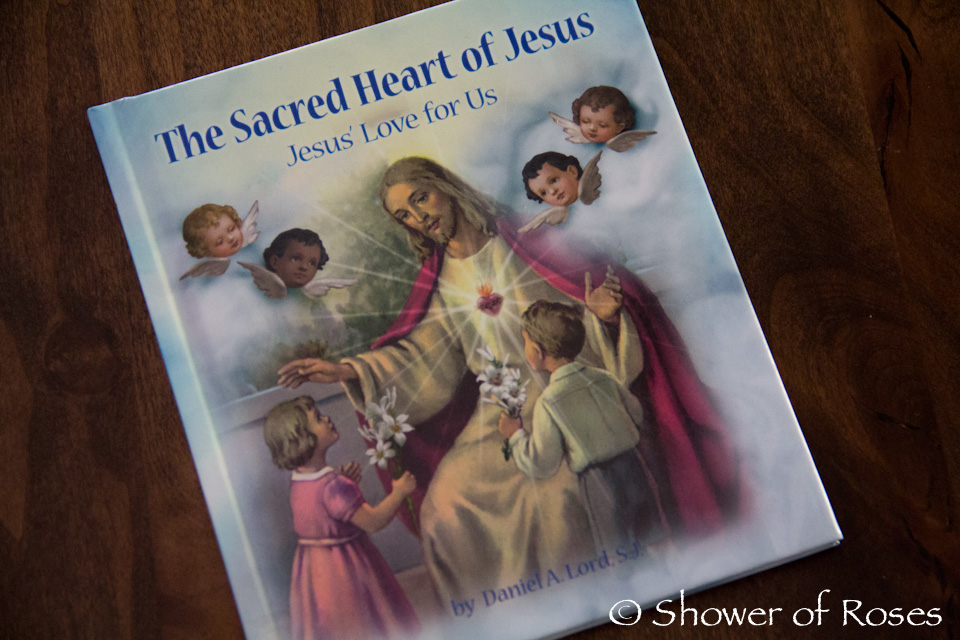 They are small and inexpensive hardcover books and you can find them at
Sacred Heart Books and Gifts
(search Gloria Series for the whole collection). The 5″x6″ books are perfect for little hands!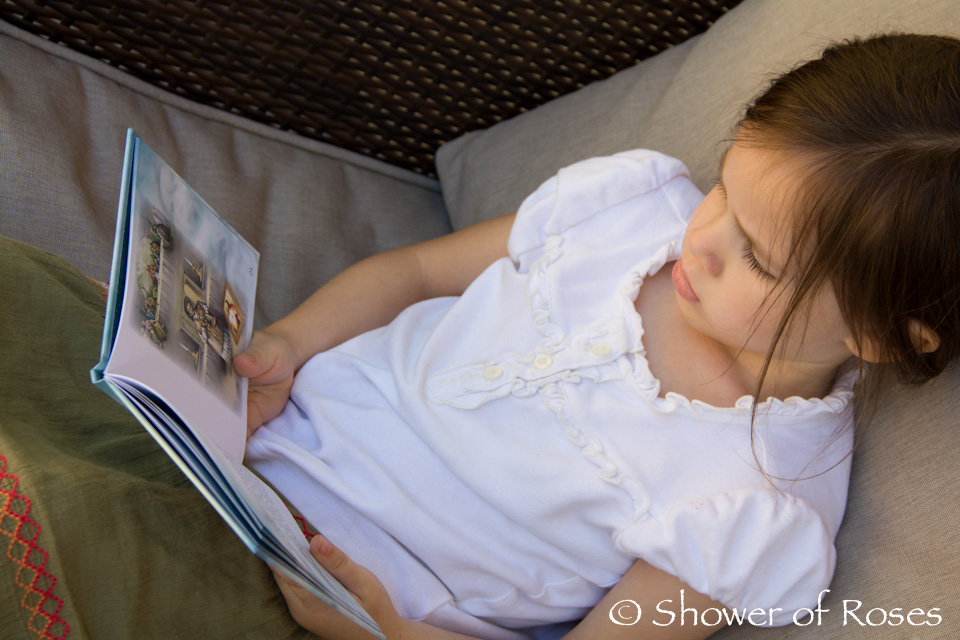 Rose always loves to "reread" books after we finish, over and over, examining all the pictures more closely. These precious books are filled with beautiful artwork form the Library of Fratelli Bonella in Italy!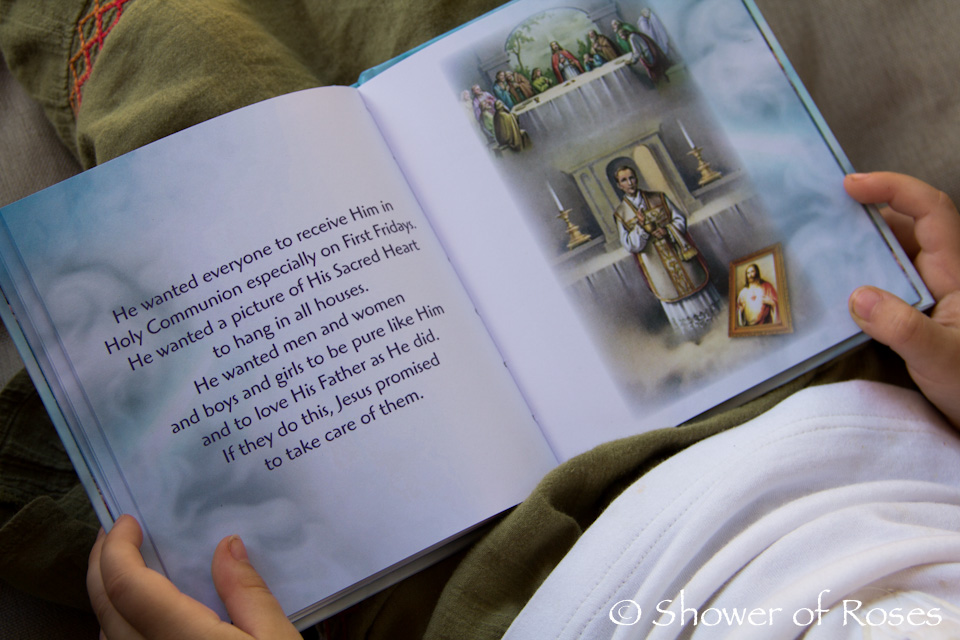 Oops, she caught me taking pictures! 🙂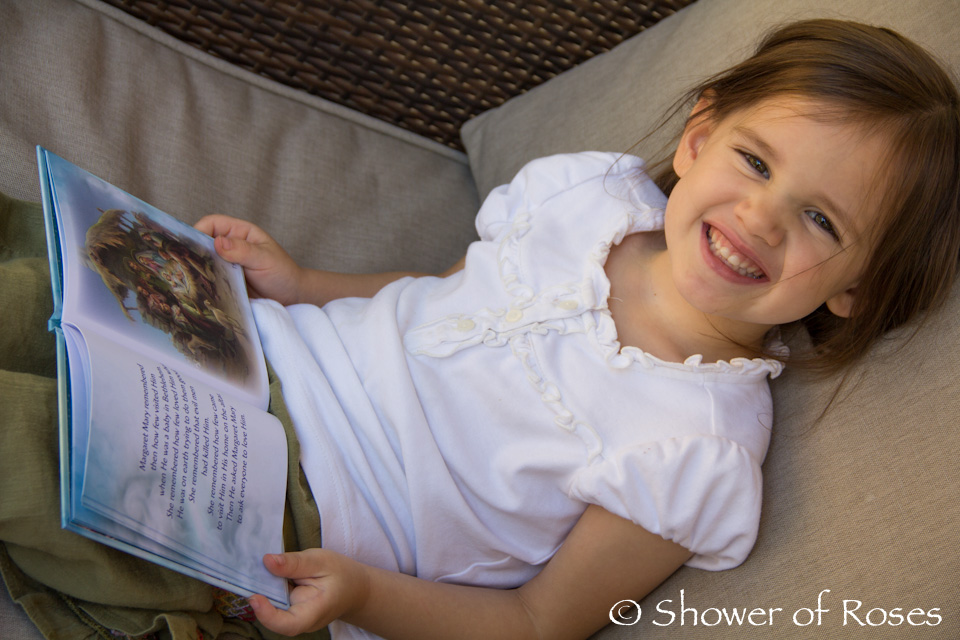 Pondering these words…
from St. Therese's poem My Joy:
"My joy is to love suffering. I smile shedding tears.
I accept with gratitude the thorns mixed with the flowers."
I am listening…
to the girls working together in the kitchen. It sounds like they are trying to find the pumpkin pie spice. They are baking Pumpkin Chocolate Chip Muffins for an afternoon snack. I love all the giggles!
Around the house…
everything seems to be damaged or breaking lately. Sometime this afternoon our plumber will be coming over to figure out why both of the Master Bathroom sinks started leaking (soaking everything!) on Saturday, and a new coffee pot just moved to the top of my shopping list.
One of my favorite things…
new books! A couple books just arrived that I had pre-ordered awhile ago:
Karol, The Boy Who Became Pope: A Story about Saint John Paul II
published by Neumann Press (and also available directly from
TAN
) and
Thérèse of Lisieux: Little Flower of Love
published by Liguori.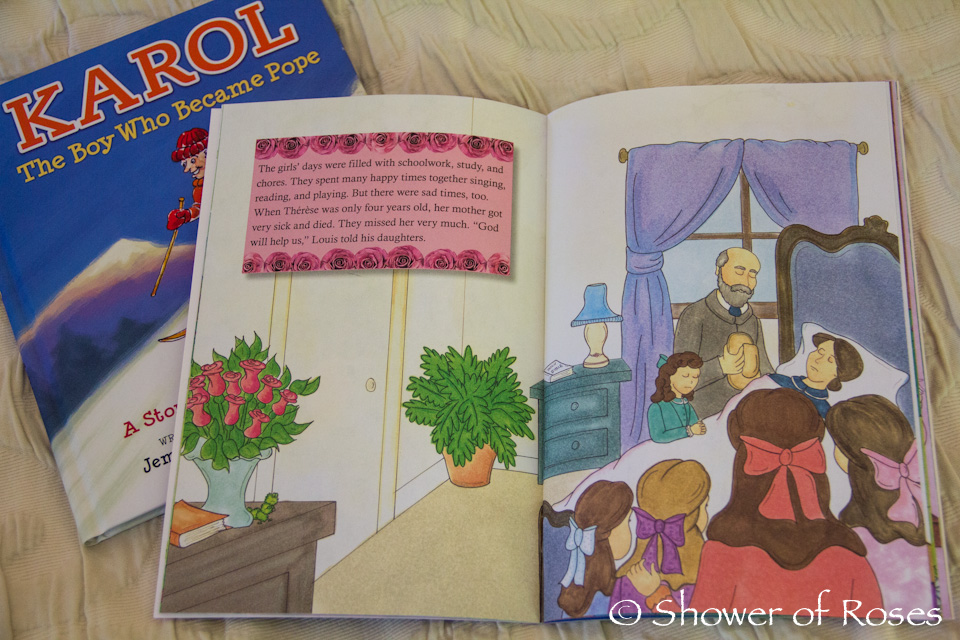 This week's plans…
Enjoy Summer and Celebrate the 4th of July! You can find some 4th of July ideas and recipes in the archives:
Monday – The boys left for summer camp early this morning… I miss them already!
Tuesday – Fun at the park following five back-to-back cleanings and exams at the Dentist's office. Next up: naps for everyone!
Thursday – Home from Quo Vadis Days! (Ranger was blessed to be able to serve Mass, along with four other boys, for our Archbishop on the last day of camp!!!)
Friday – 10:00 AM the day after camp… Do I let them keep sleeping, or wake them up to eat their breakfast (which has been in the warming drawer for the past hour) (I let them sleep. And you can see their triple bunk bed here.)
Friday – A Strawberry Rose for my little "Rose" (Inspired by Prim aka Elizabeth Star.)
Friday – Left my iPhone on the couch for a minute and came back to find this picture. Yep, I'm sure they intended to include Jesus' Sacred Heart in honor of today's Solemnity Feast!