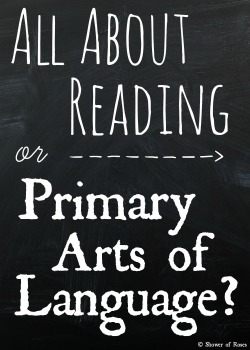 I have lost track of how many times I have been asked this past year whether I would recommend All About Reading (from All About Learning) or Primary Arts of Language (from IEW). It's a tough question to answer… I think they are both excellent and solid programs. I am currently using Primary Arts of Language (Reading and Writing) with my 1st grader, along with All About Spelling, and we have been supplementing with some of the materials (the readers) from All About Reading.
I don't mind sharing what we are using, or what has worked for us in the past, but I have never liked giving recommendations to others. Every family is different, and every child within a family is different, and what works for me and my child (in our particular situation and season) might not work for you or your child.
I have been blessed to have some Catholic friends tutor my children this past year. Kathleen comes on Thursdays and Trina had been coming on Tuesdays, up until this month. They have been helping teach Math and Language Arts and it has been such an incredible blessing as I try to keep up with home educating five children with two toddlers. They are both home-educating moms and are familiar with the programs I am currently using with my children. Kathleen has always used IEW's Teaching Writing with Structure and Style at home with her children, and Trina is currently using Primary Arts of Language with her 1st grade son.
Over the past couple months Trina and I have been discussing the pros and cons of All About Reading and Primary Arts of Language as I try to decide which of the two programs I will eventually use with Rose, my next kindergartner. I recently loaned Trina my All About Reading materials and she made a list of her thoughts on the pros and cons of each program. Instead of sharing our thoughts as a reply in the comment box of Our School Year in Review I decided to compile it all into a new post along with some pictures. Keep in mind that these are just our personal opinions of these programs. Hopefully the list will help you decide if either of these programs is a good choice for you and your child!
Note: This post contains affiliate links to All About Learning and Amazon. IEW does not currently offer an affiliate program. All opinions are my own and I was not compensated in any way for this post.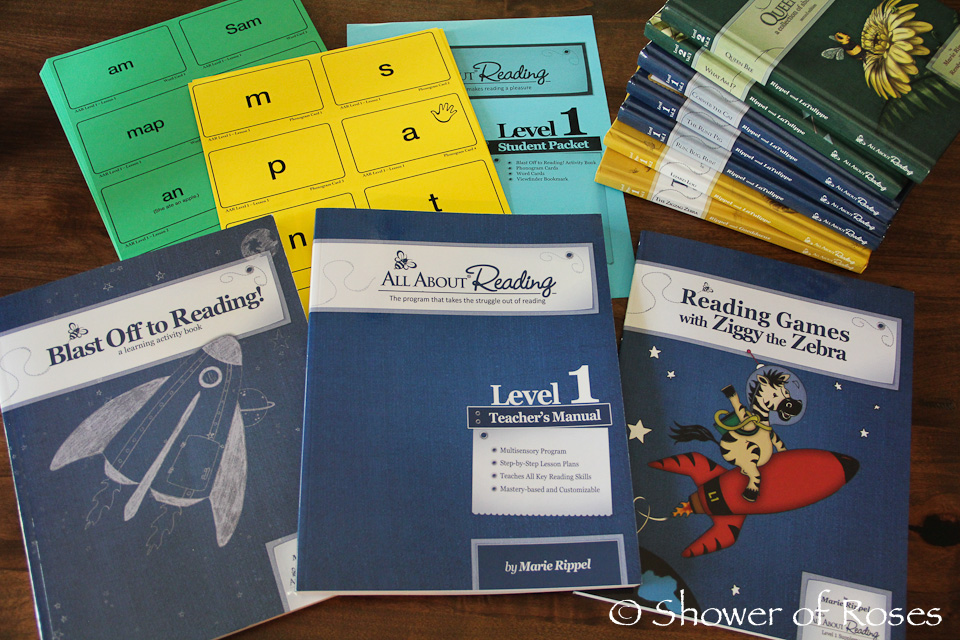 Pros:
If you are using or have used All About Spelling, it is very similar.
Tried and True Concepts
Orton-Gillingham Based
Colorful Folder Games
Pre-Printed Word Cards
Pretty Simple and Easy-to-Use Program
Wonderful Readers!!

Cons:
If you are using All About Spelling, it might be 'overkill' (redundant)
Games aren't very creative, they are just more repetition of 'key card' memorization.
Only has 9 (or so) folder games
Doesn't teach the alphabet sounds in a creative way. For those children who are having trouble learning the sounds of the alphabet… It's all just repetition and memorization. (Trina says this wouldn't have worked with her son.)
Primary Arts of Language (PAL) Reading and Writing:
from Institute of Excellence in Writing (IEW)



Pros:
For children who are struggling learning the sounds of the alphabet, it teaches them in a very visual way with word association. For example: "C" is the happy letter! Start at the top and circle around, but don't close it up! This is the happy cookie because somebody took a big bite! /c/, /c/, cookie. – PAL: Reading
There are 35 (or so) folder games, with a nice variety. Even numbers!
The games are creative and hands-on, reinforcing all the phonetic rules they are learning.
No writing is involved with the PAL: Reading program, (perfect for boys)!
Has the option of adding PAL: Writing if you desire writing to be a part of the program.
PAL is a complete Language Arts program 'in a box' – includes phonics, writing, reading, narration, journaling, memorization, and even adds grammar.
Adding All About Spelling when it is recommended works perfectly with the program and also adds some variety. The PAL: Writing Program comes complete with the first level of All About Spelling.
Love the 'Phonetic Farm' – It gives the child a great visual of letter blends/rules. It's still repetitive, but in a creative and colorful way.

Cons:
Requires more preparation than All About Reading.
Folder games are not in color. We had to color the games ourselves.
The lessons are a little more involved – there are about 7-8 things you need to do during each lesson.
You have to make the word cards yourself.
This program requires LOTS of printing. Get ready to use some paper and ink!
Lame readers. (Trina's opinion. They need to be printed, double-sided, and assembled.) Wish they'd have real ones like All About Reading. (Note: I think these could be cute if printed correctly, assembled, and colored by the child… but mine are still untouched in a file in my crate and we've been using the All About Reading Readers, along with some of our other faith readers, instead.)
If you do the writing program, you have to insert the writing pages in with the reading pages yourself. You want to keep with the same lesson in each program.
Here are a few examples of the File Folder Games included in the PAL: Reading program: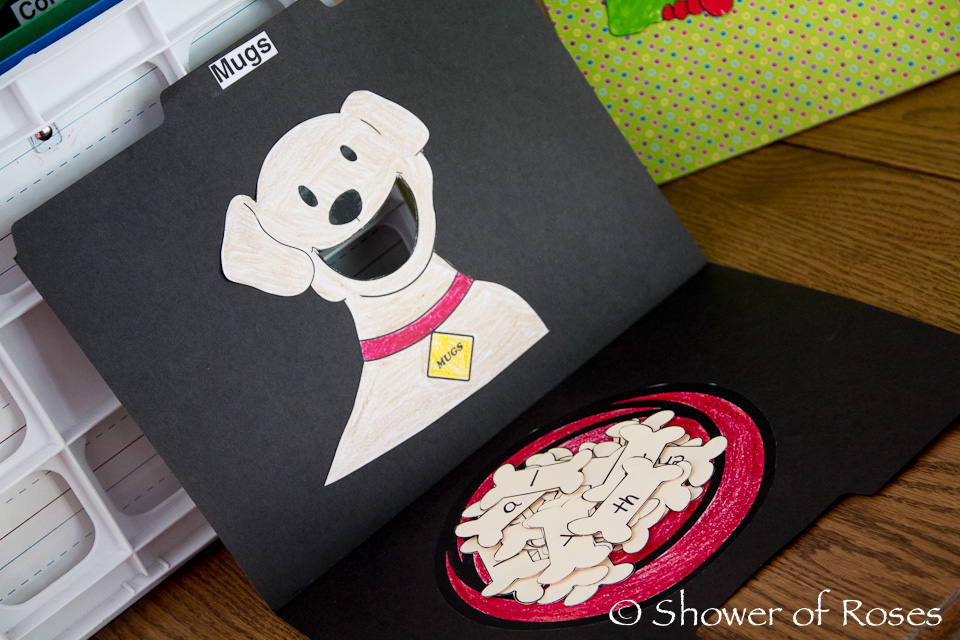 Feeding Mugs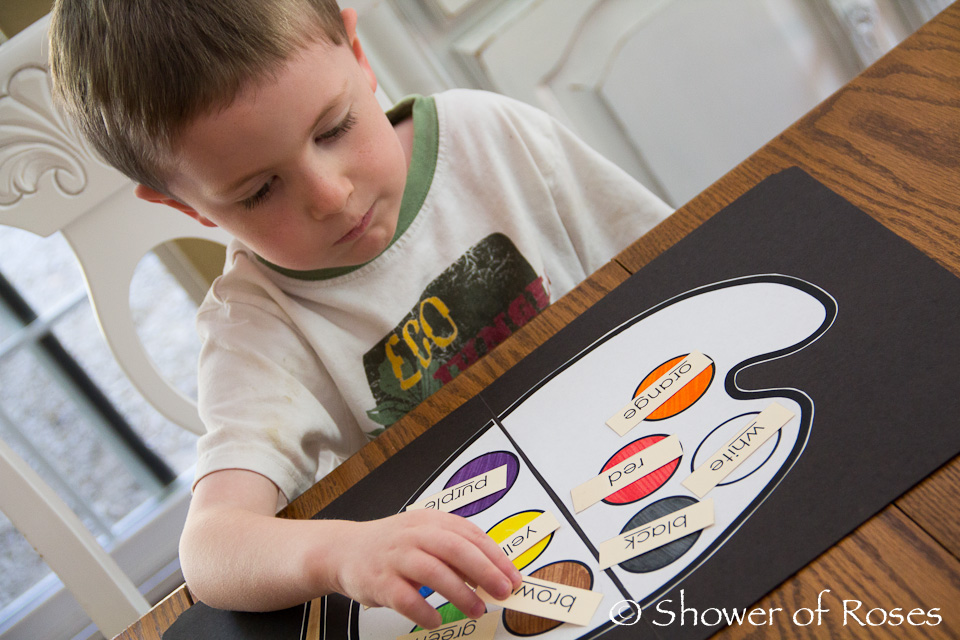 Color Palette Matching Game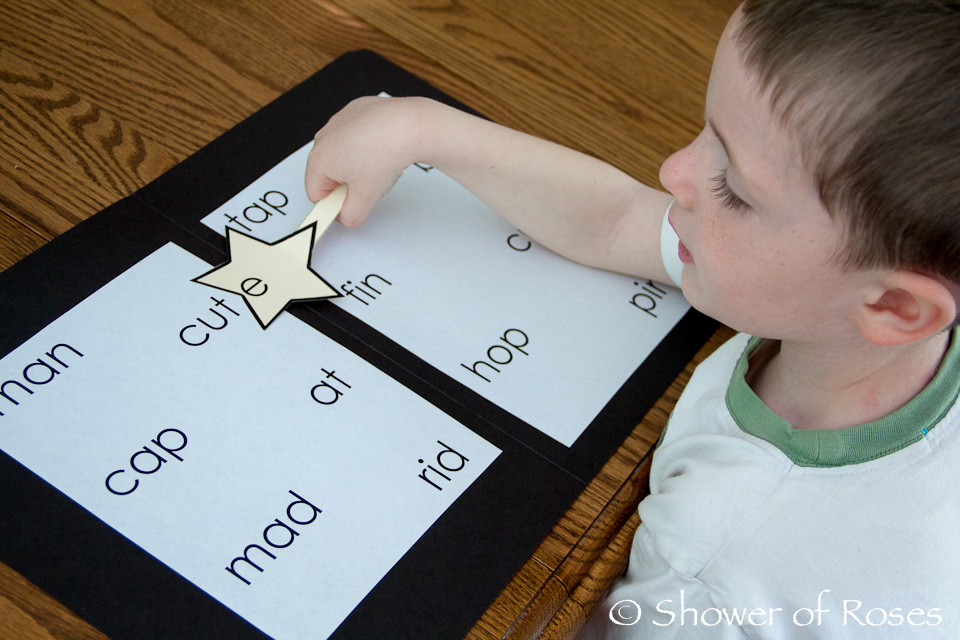 Magic-e
Use the Magic-e wand to add a silent e to the words on the board. Have fun with this game. Say something like, "The Magic-e can turn man into (ding!) mane!" Repeat for each word.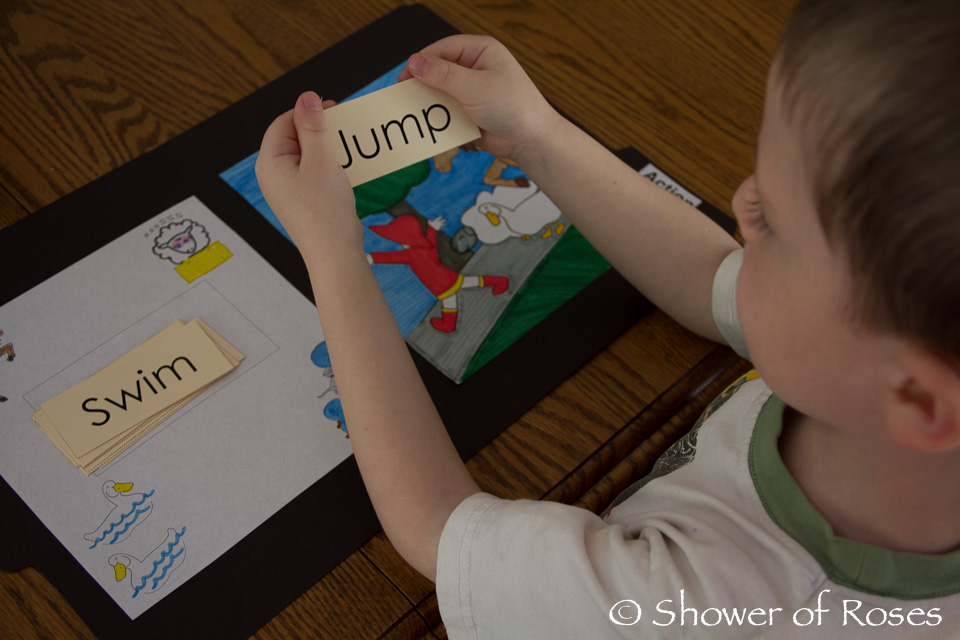 Action Charades
Cut out the action word cards (verbs) as they are presented in the reading lessons. As you add more cards, you may remove the duplicates. To play, lay the cards face down on the board. Take turns picking up a card, reading it, and acting it out.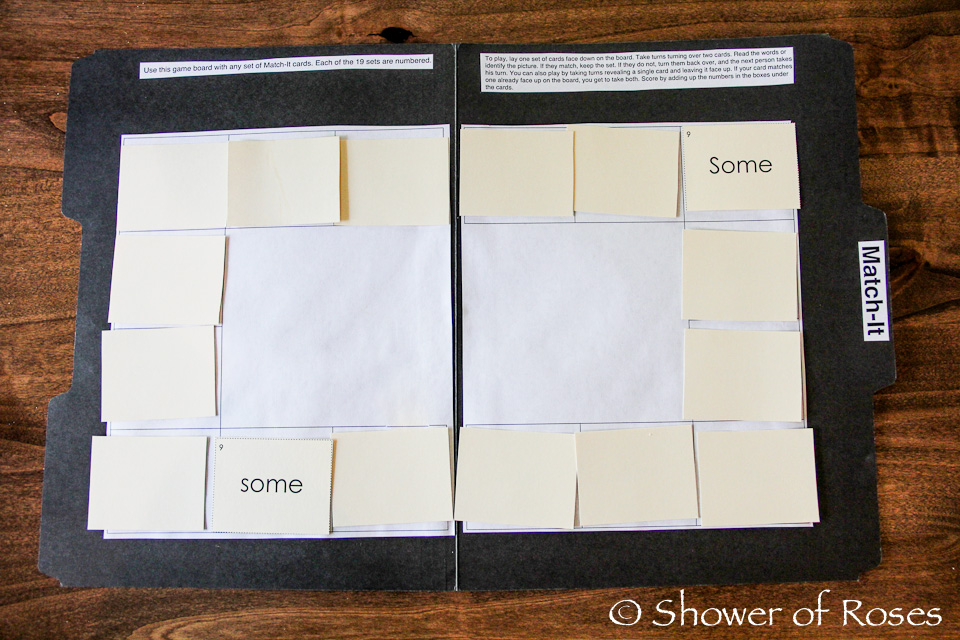 Match-It
Match-It is Snuggles' favorite game at the moment.
Use this game board with any of (the 19 sets) Match-It cards. To play, lay one set of cards face down on the board. Take turns turning over two cards. Read the words or identify the picture. If they match, keep the set. If they do not, turn them back over, and the next person takes his turn. You can also play by taking turns revealing a single card and leaving it face up. If your card matches one already face up on the board, you get to take both. Score by adding up the numbers in the boxes under the cards.
A few examples of some of the workbook pages: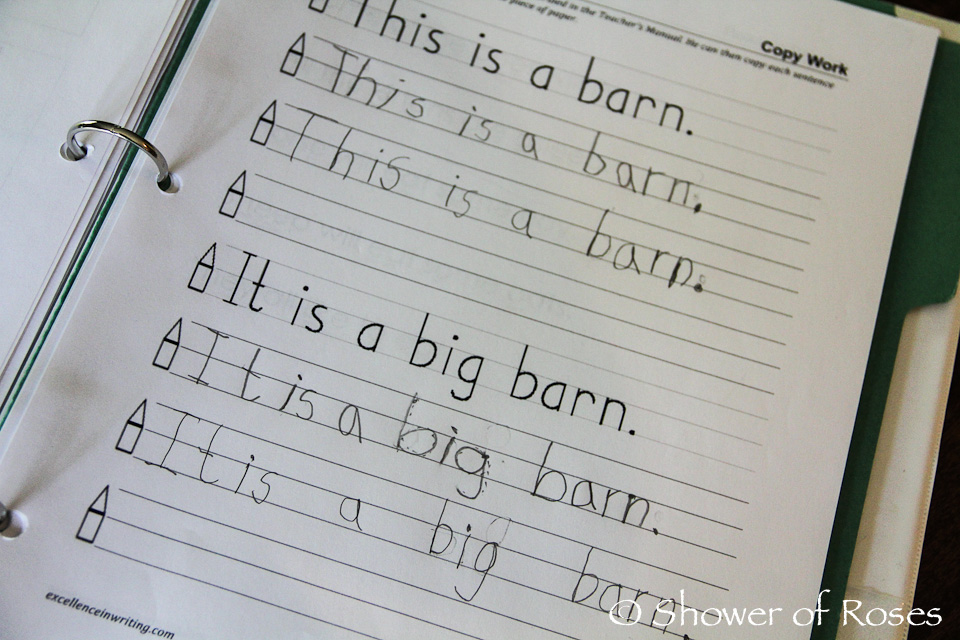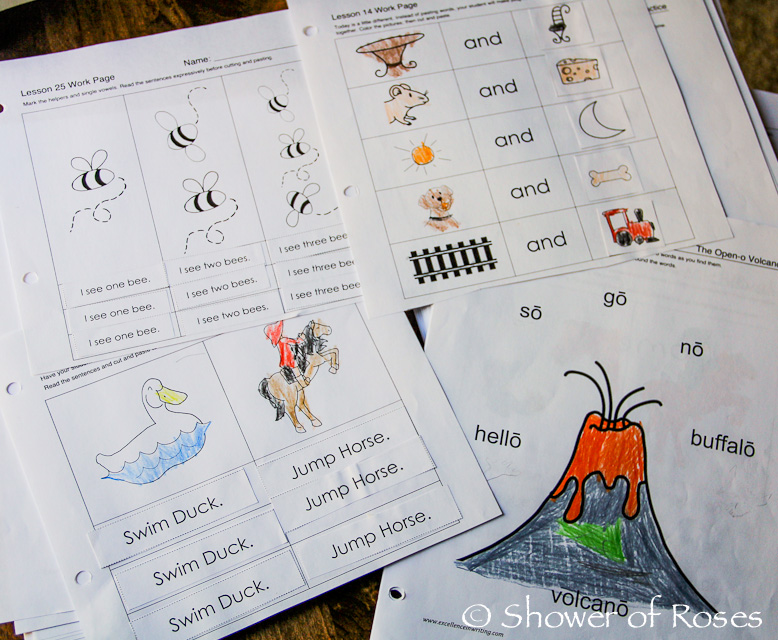 Our (in progress) Phonetic Farm: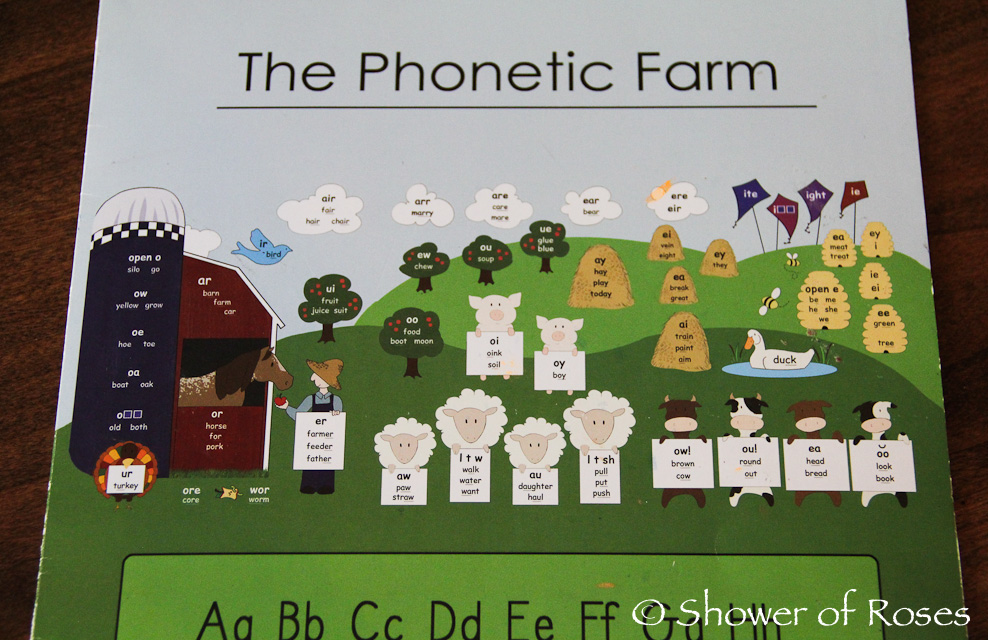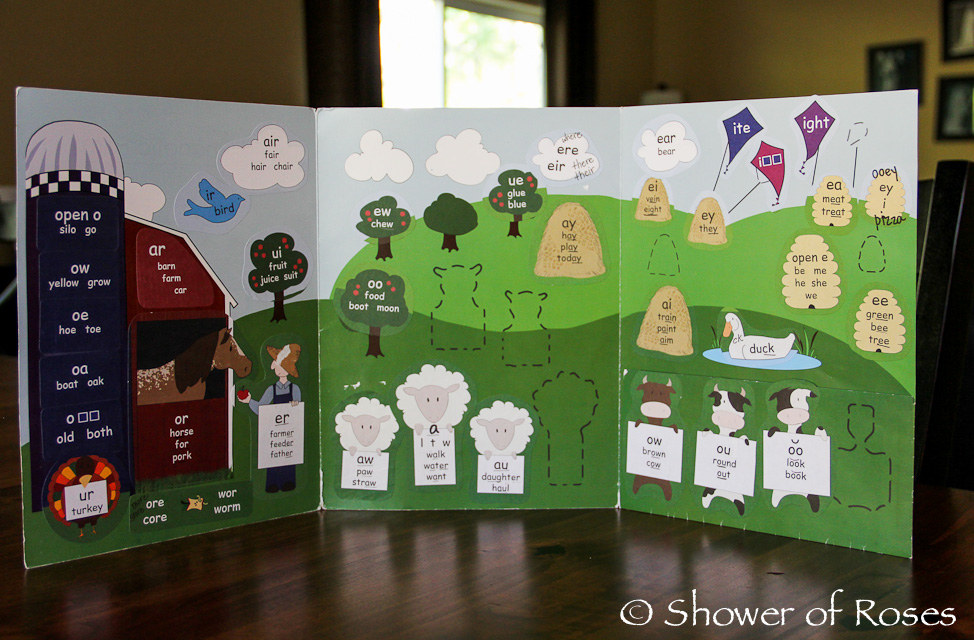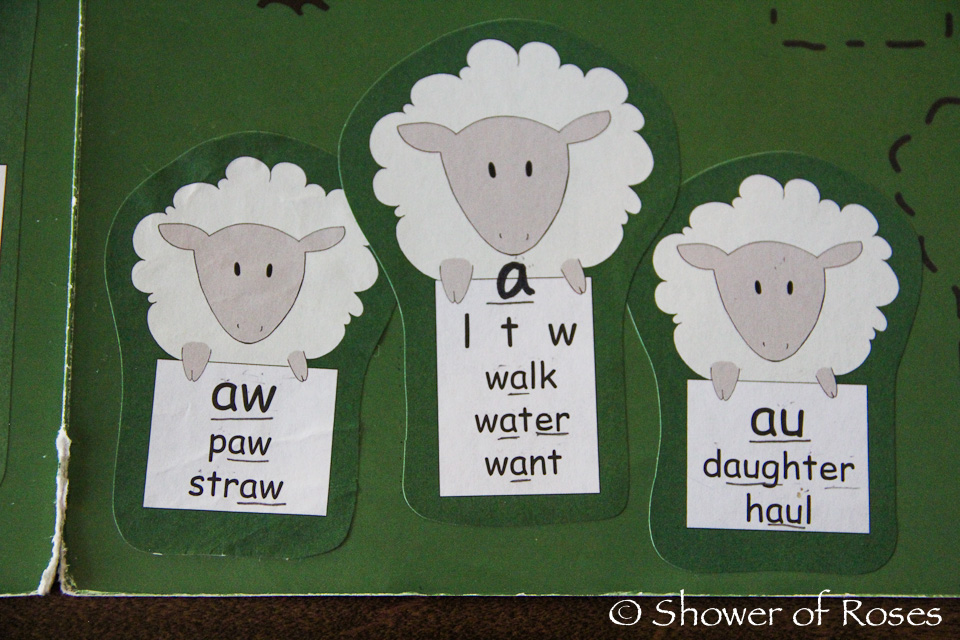 Here is an example of what we worked on during our last PAL lesson:
Read Monster Box Cards (the Monster Word Box replaced Mugs once all the phonograms had been memorized)
Pick a few of the easier words in Monster Box to be spelled.
Visit a few places on the Phonetic Farm.
Games – #8 Match-It using card set 9; #12 Action Charades; #30 Long-o Silo Words
All Lesson Work Pages
Poem (review all previously memorized poems, work on current poem memorization)
Journal Entry (optional)
Note: Some lessons also include a story and narration. We supplement thoughout the week with readers. We have started working our way through All About Spelling Level 1. Soon he will begin the "Who/Which" Writing Project (Lesson 9 in Part II of the Writing Book) – my daughter had so much fun with this project last year!