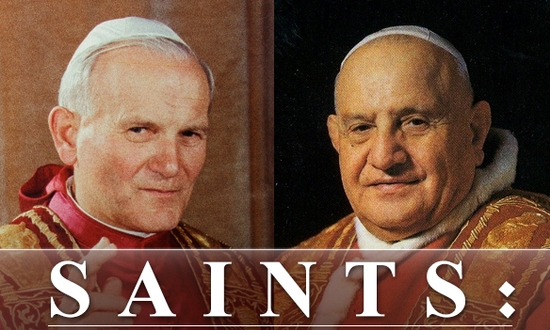 Today is a historic day in the Catholic Church as two popes are canonized. Here are seven ways to commemorate this day with children:
1 – Picture Books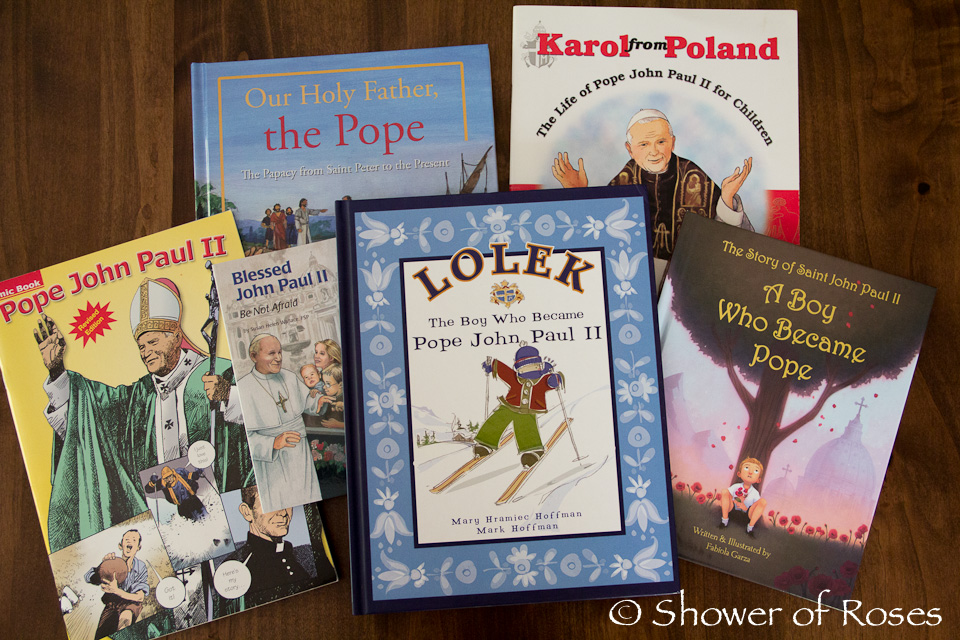 There are many excellent picture books available about the Papacy and Pope John Paul II. Our three oldest children, who were born during Pope John Paul II's life each received a new book about this new saint in their Easter baskets this year. Many of these books are available from Sacred Heart Books and Gifts, Catholic Child, and through my affiliate links below. Here is the list of the books in our book basket:
Our Holy Father the Pope: The Papacy from Saint Peter to the Present – An excellent book for teaching children about the Papacy. Includes two pages on Pope John Paul II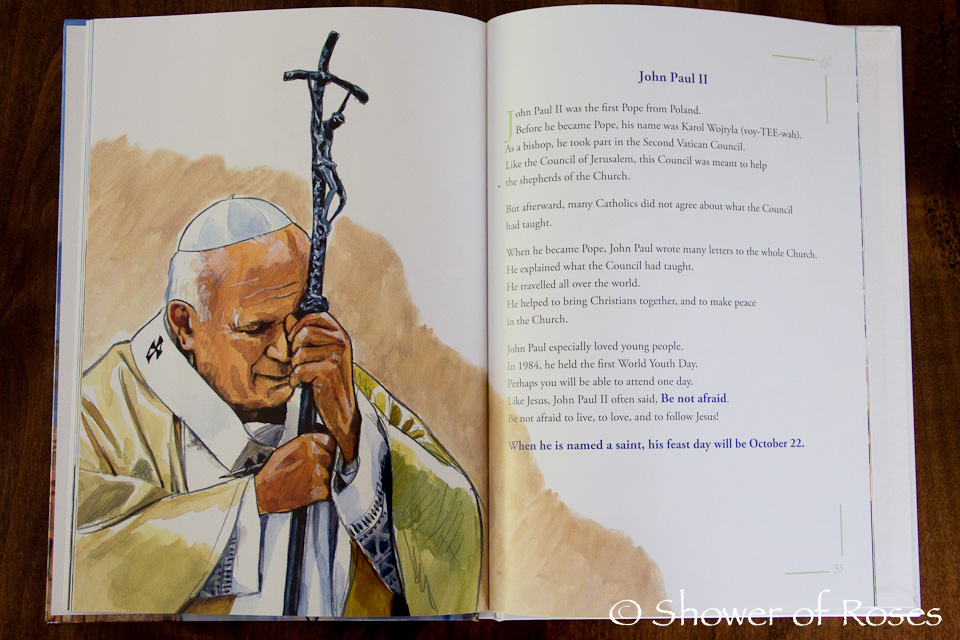 Lolek – The Boy Who Became Pope John Paul II – My husband's parents gave our children this book for Christmas one year. It is an excellent book for children on the life of this new saint!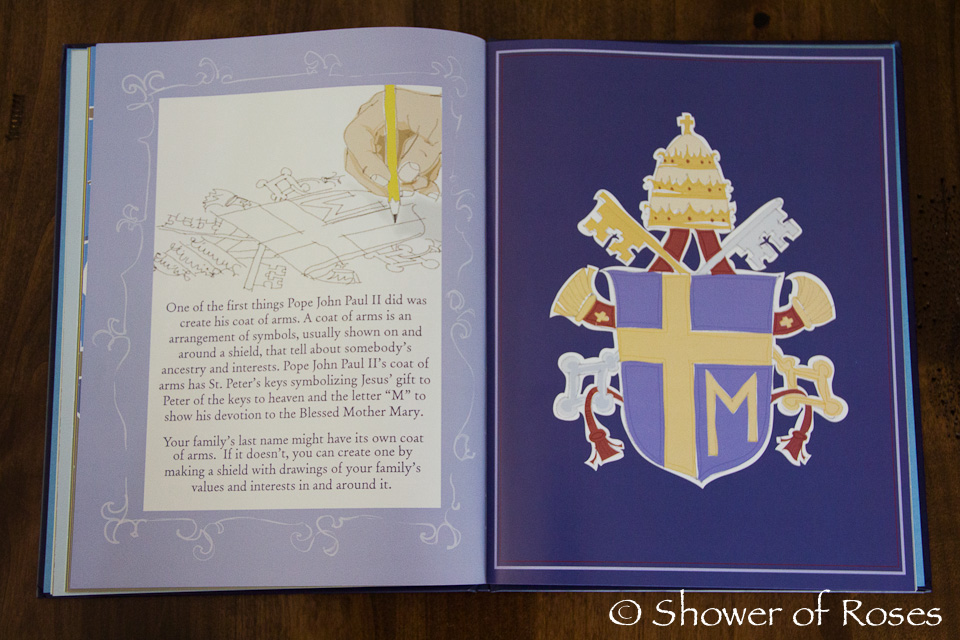 Karol from Poland: The Life of Pope John Paul II for Children
Blessed John Paul II: Be Not Afraid – Short Chapter Book for children ages 8 and up from the Encounter the Saints series.
A Boy Who Became Pope: The Story of Saint John Paul II – This is a new favorite. I especially love the illustrations!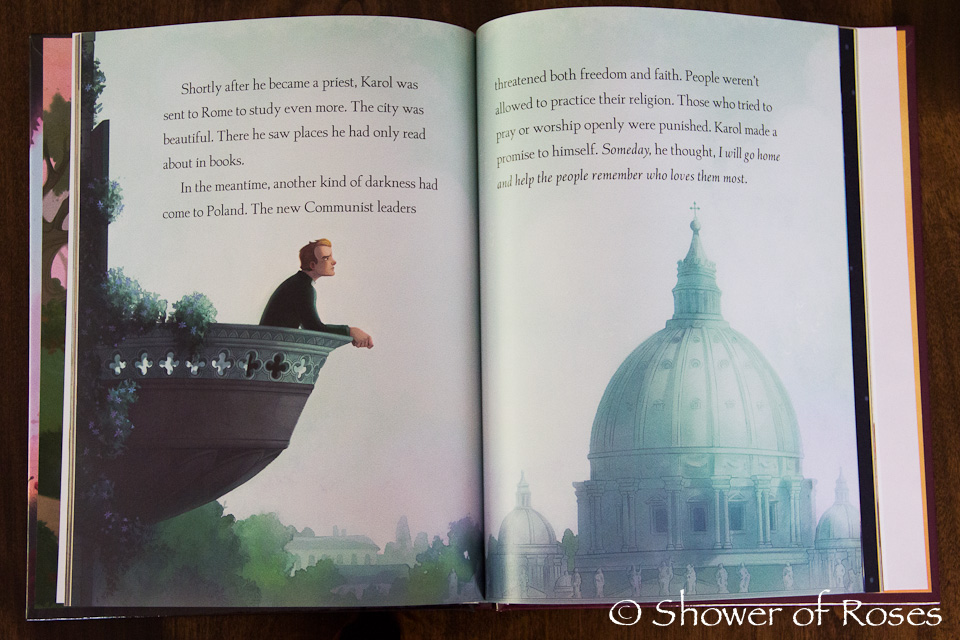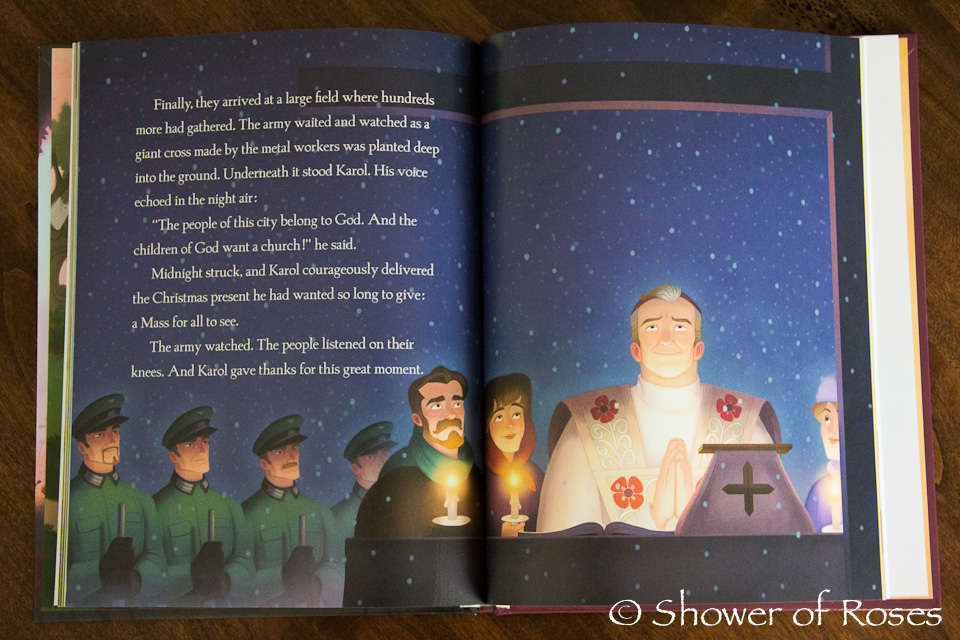 Pope John Paul II Comic Book – Not one of my favorites, but the children all have enjoyed the comic book format of this book.
I'm still waiting for our new copies of the following two books to arrive:
John Paul II: The Journey of a Saint
Karol: The Boy Who Became Pope: A Story of Saint John Paul II – This book will be released soon from Neumann Press and can also be pre-ordered directly from TAN/Neumann Press.
2 – Coloring Pages
I printed out copies of this John Paul II coloring page from St. John the Baptist Religious Education.
Herald Entertainment is currently offering a Free Download of this Pope John Paul II Coloring Page.
Holy Heroes has a Downloadable Coloring Book available here.
Catholic Playground has a 40 page Pope John Paul II Coloring and Activity Book available for $12.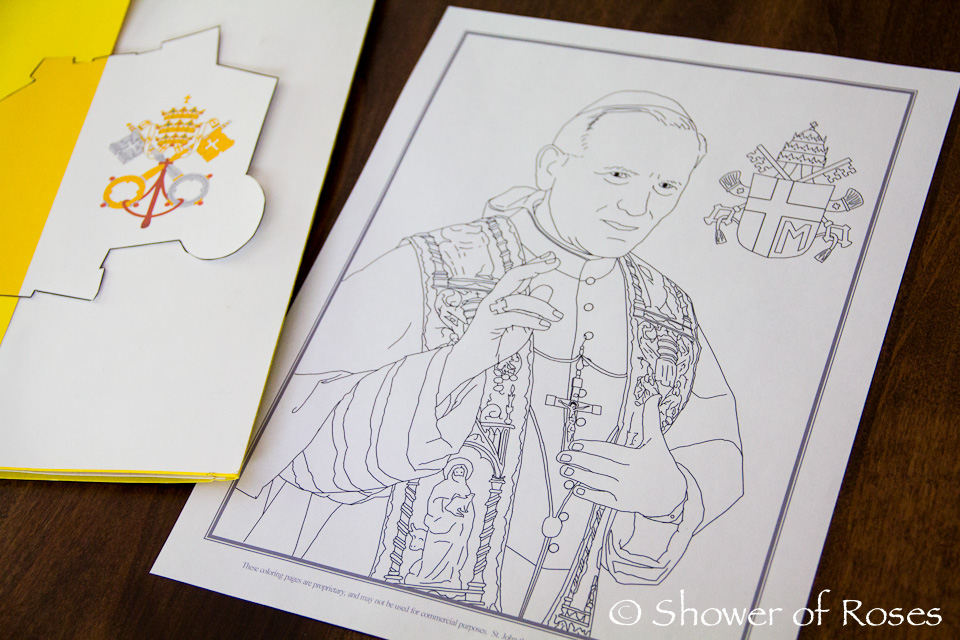 3 – Lap Books
If you never downloaded the Papal Lap Book and Unit Study I created during the Election of Pope Francis, now is another great time for a Unit Study on the Papacy.
Holy Learning, formerly Faith Folders for Catholics, also has a brand new download available: The Canonization of Two Popes Double Faith Folder!
4 – Audio
Pope Saint John Paul II "Be Not Afraid" Glory Stories is available from Holy Heroes
Tells the dramatic story of Pope Saint John Paul II, from his childhood life in a free Poland to his dramatic and even miraculous experiences under Nazi occupation in WWII and during Soviet Communist oppression thereafter. You and your children will learn things about his life growing up that developed into his simple spiritual practices that even busy families can imitate. You'll appreciate better how to cooperate with Divine Providence and how to explain it to your children. Funny, exciting, and fast-moving, this story will reveal memorably some of the secrets of one of the greatest and most beloved Popes of all time.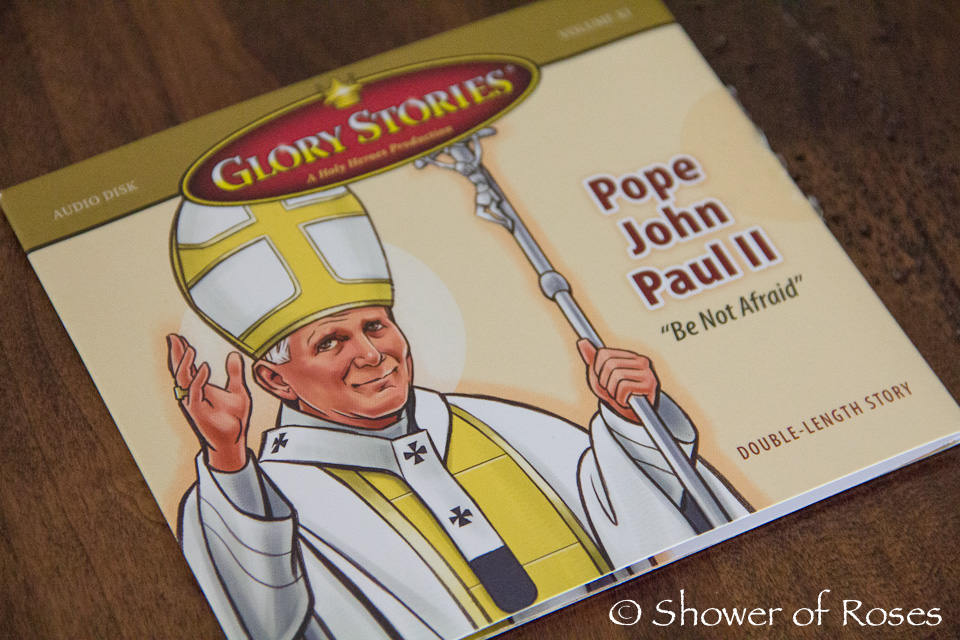 5- Catholic Cuisine
You can find a few ideas over at Catholic Cuisine including Papal Polenta, Kremówka Papieska (Papal Cream Cake), and John Paul II Sugar Cookies.
I'm planning on serving Polenta with dinner and made Keys of Heaven Candies for my children using this Key Mold and Yellow Candy Melts.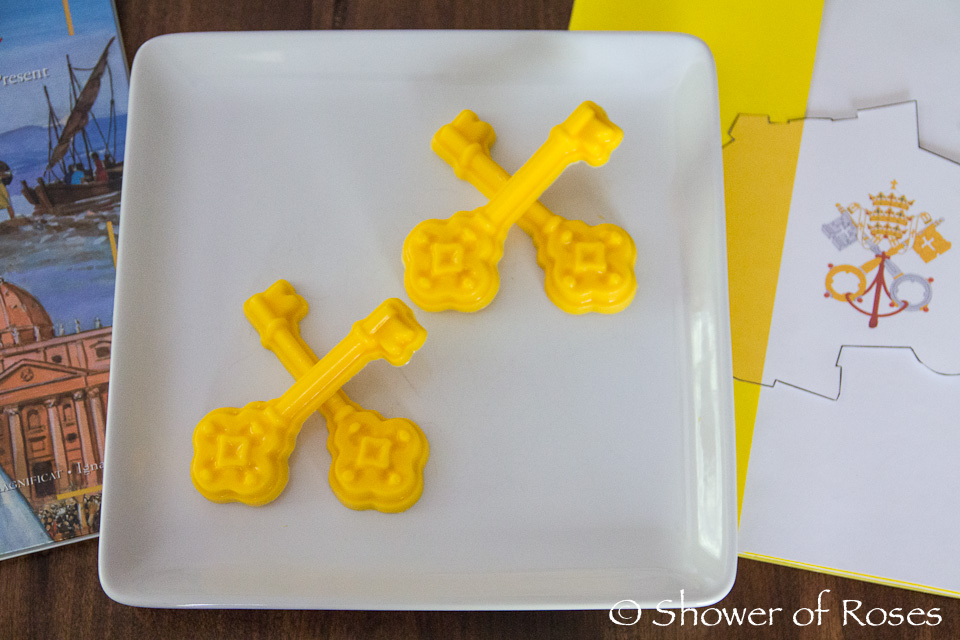 6 – Gift Ideas
Prayer Pillowcases has recently come out with a new Pope John Paul II Pillowcase
St. John Paul II hand-painted wooden doll from St. Luke's Brush
John Paul II Saints n' Stitches Pillow Doll from Waltzing Matilda Makes
Saint John XXIII of Rome Felt Saint Softie from Saintly Silver
Catholic Child also has a great selection of gifts commemorating St. John Paul II including Prayer Pillowcases, Books, DVDs and more.
Portraits of Saints has some beautiful Holy Cards of St. John XXIII and St. John Paul II
7- Watch the Canonization
You can find live coverage on EWTN: From Blessed to Saint! Join Pope Francis as he prepares to celebrate Holy Mass in honor of his predecessors, John XXIII and John Paul II, before canonizing them as official Saints of the Catholic Church. EWTN's LIVE coverage of this event begins at 10 p.m. ET, Saturday, April 26 on #EWTN, with encores at 7 p.m. ET, Sunday, April 27 & at 11 p.m. ET, Monday, April 28. Visit www.ewtn.com/canonization/2popes/index.asp for a complete schedule of events and programming.
You can also watch the whole canonization on YouTube:
St. John XXIII and St. John Paul II, Ora Pro Nobis!