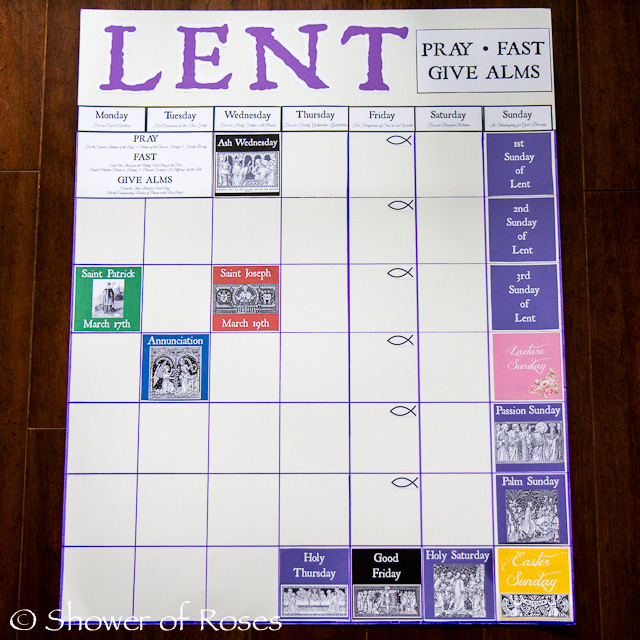 Update: You can find my revised 2015 Lenten Calendar here.
I've been making variations of this Lenten Calendar since our oldest was only 3 year old (for 11 years now!) inspired by an idea I found back then in a little book titled: Guiding Your Catholic Preschooler. (affiliate link) I first posted about it here back in 2008 and have shared some of our more recent calendars as well. I just finished creating this year's calendar and thought I'd update the old post and share it again, along with my documents for anyone else who might want to create one as well.
If you are looking for something smaller, quicker, and easier, head on over to Pondered In My Heart or Waltzing Matilda. They both have beautiful printable calendars, which I just finished printing for my older children! 🙂
SUPPLIES:
1 – 22″x28″ White Posterboard
Purple Marker
Yard Stick
Printed Images and Text (Free Download Here)
Scissors and Glue Stick
Purple Card Stock or Construction Paper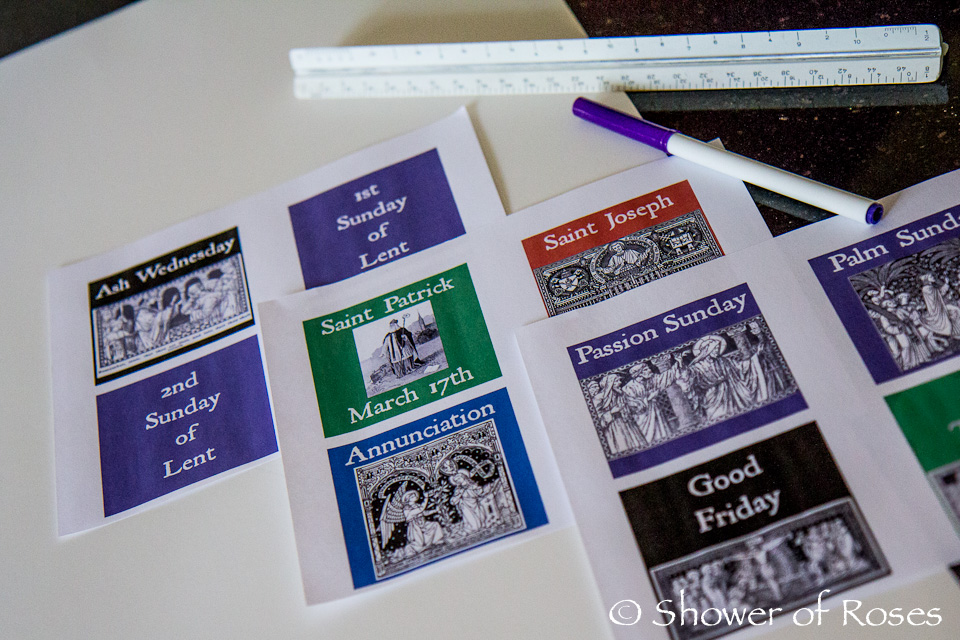 DIRECTIONS:
Create seven rows of 3 1/8″ x 3 1/8″ squares for the 40 days of Lent plus all of the Sundays, with an 1/8″ border on each side of the poster board.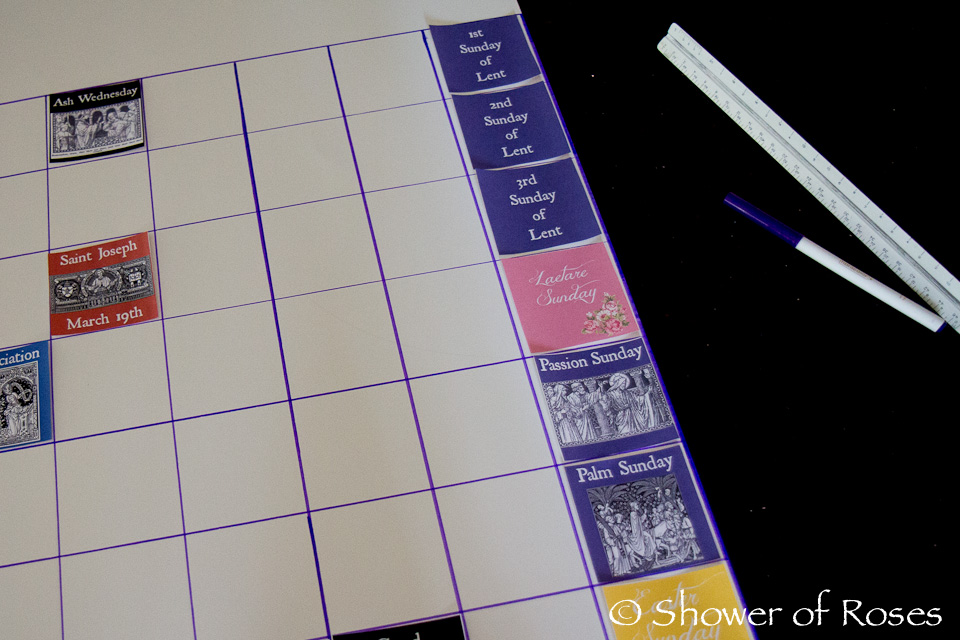 Label the Days of the week Monday through Sunday.
Each day of the week has a special prayer intention for which we pray and fast.:
Monday – For an End to Abortion
Tuesday – For Conversions to the True Faith
Wednesday – For our Holy Father and all Priests
Thursday – For our Family, Godparents & Godchildren
Friday – For Forgiveness of Sins in our World
Saturday – For our Deceased Relatives
Sunday – In Thanksgiving for God's Blessings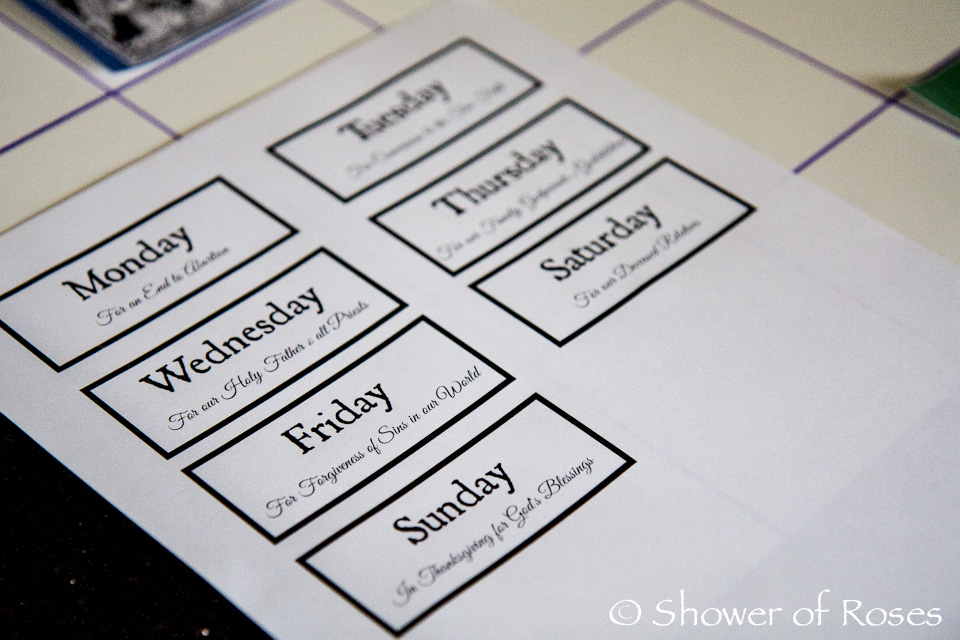 Title the top of the calendar with LENT: Pray, Fast, Give Alms.
Through prayer, fasting and alms giving, we bring Jesus into our lives, and commit ourselves to being united with him in His suffering, death and resurrection. Through this we also love and serve Him as we love and serve our neighbor.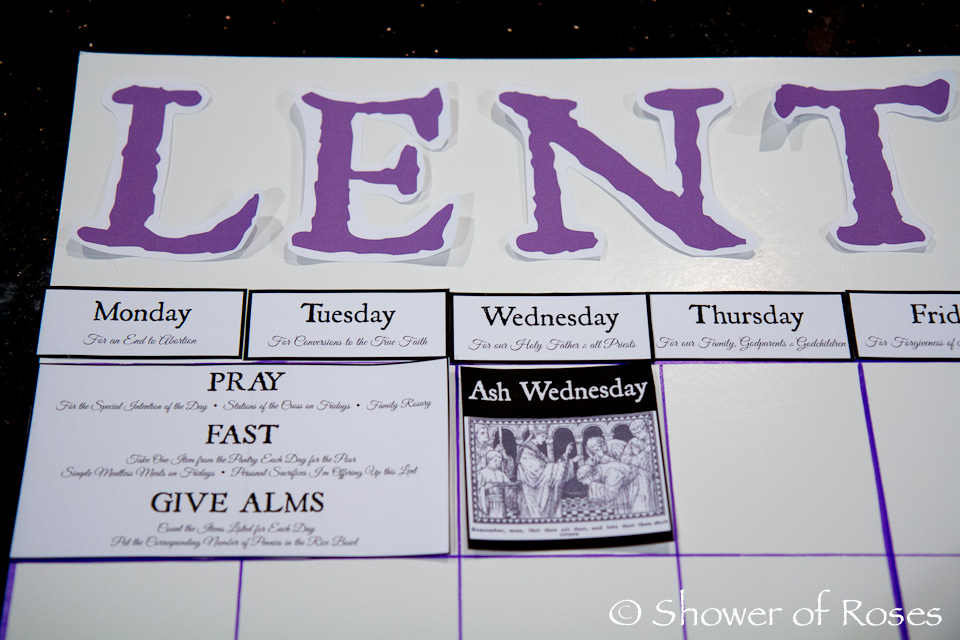 Cut out, place, and glue all the images for Ash Wednesday, the various feast days, all the Sundays of Lent, and Holy Week.
Our calendar has a square for each day, from Ash Wednesday to Easter Sunday. Special Feasts and Holy days during that period are decorated to represent that day. For example, we have a picture of St. Patrick on March 17th and St. Joseph on March 19th. These special feasts help break up the long Lenten Season.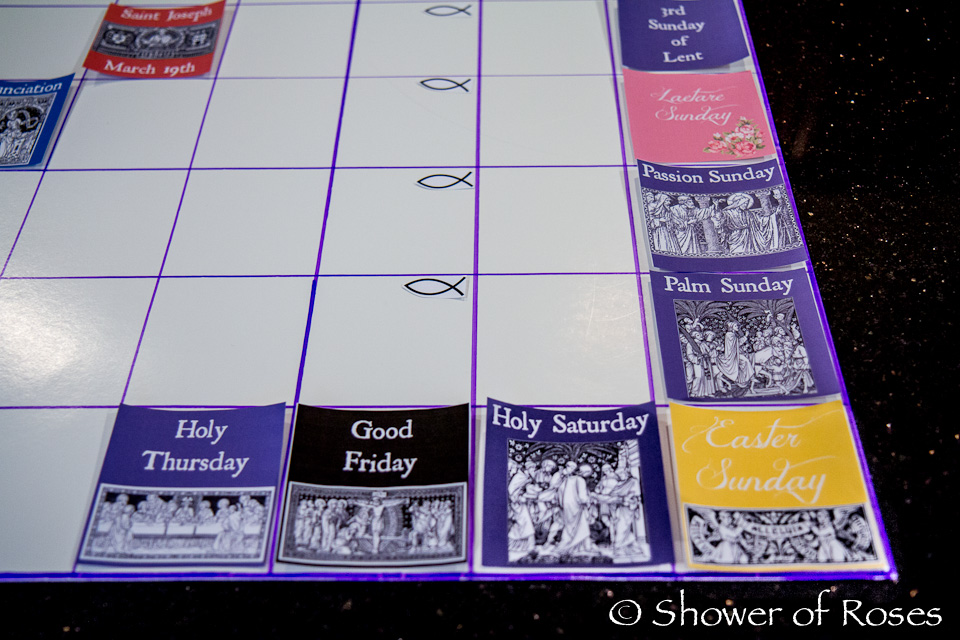 Add a Fish Symbol to each Friday representing the days of abstinence.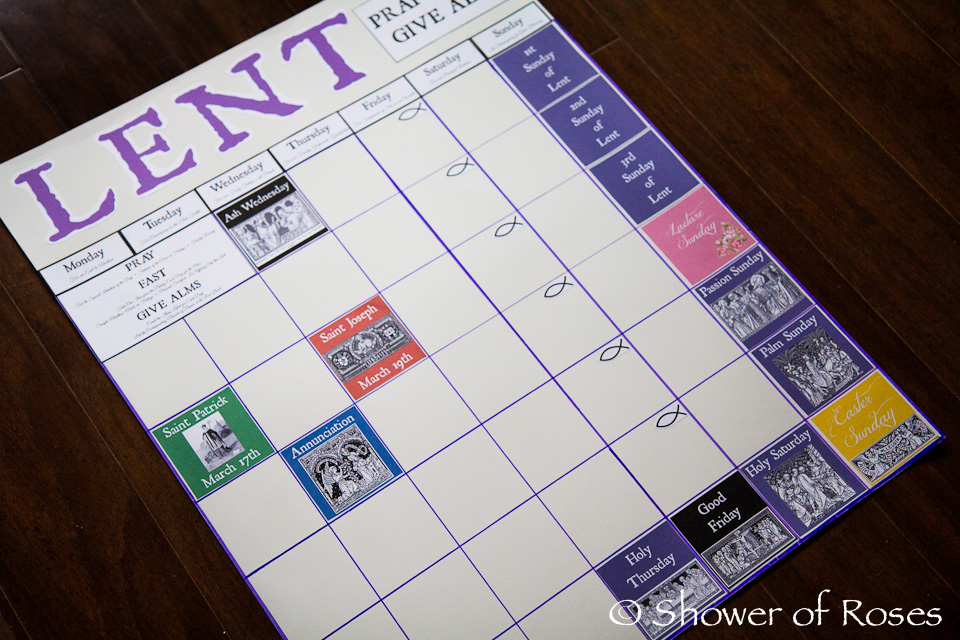 Hang somewhere it can easily be seen (and reached) by the children.
PRAY
Each Morning for the Special Intention of the Day
Daily Family Rosary
Stations of the Cross on Friday
Adoration Hour
Daily Mass
When the older children were little I made or purchased stickers of rosaries, stations of the cross, churches, etc for them to add to each day we prayed the rosary, stations, or attended Mass. I'll have to see what I can find for this year!
FAST
Take one item from the pantry each day for the poor
Simple Meatless Meals on Fridays
Personal Sacrifices I'm Offering Up for Lent
Toddlers don't always understand the concept of giving something up for Lent. Instead of having our youngest children give something up we have them focus on giving away. I stock the bottom shelves of the pantry with appropriate food items that can be donated, and everyday the little ones choose something to place in a box to be donated to a needy person or organization. I fit this extra food into our grocery budget by serving simple meals throughout lent, especially on Fridays.
We are also choosing some things to offer up individually and as a family. I've left it generic on our calendar as "Personal Sacrifices I'm Offering Up for Lent."
GIVE ALMS
Count the items listed for each Day
Put corresponding Number of Pennies in the Rice Bowl
In Guiding Your Catholic Preschooler (affiliate link) the author says, "Playing with pennies is fun, and so is putting them in a piggy bank. So try combining the two… Almost every church has Rice Bowls for lent… Think of items in your home that you can count. Select something different for every day of lent and put this on your calendar. For example, after deciding to count all the doors in your house, take the child and count all the doors. For each item counted, give him a penny to put in the Rice Bowl. There can be forty or forty-five pennies each day. It can add up, especially if you have more than one child! After Easter, bring the Rice Bowl to your church and have your child give it to your priest. Explain that this money will be used to buy food and clothes for people who do not have enough money to buy their own."
Some examples of things that could be counted include: shoes, beds, windows, chairs, tables, pictures on the walls, trees in the yard, rooms, light fixtures, books on the shelf, silverware, stairs, toys, dolls, etc… You can be creative! This is a great opportunity to teach the children to be grateful for all they own. It is also a perfect time to work on filling those 40 bags with items to pass along to someone in need.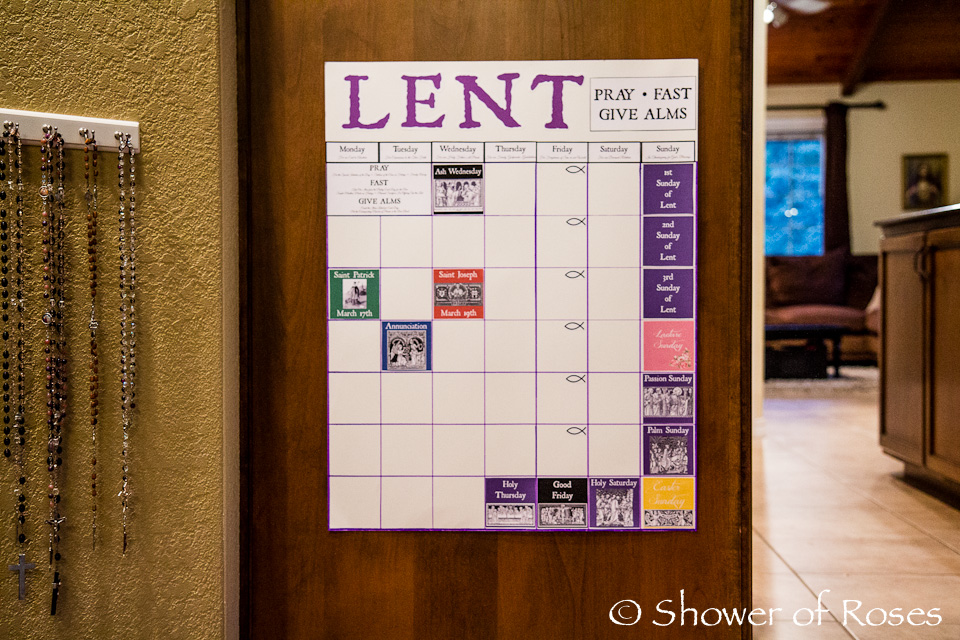 In the past I would usually write down something for the children to count in each square at the beginning of Lent (see Give Alms above). However, I've found it easiest to just assign them each morning, that way I can easily incorporate specific areas that I want to work on decluttering. 😉
This year I created squares with a cross on one side (printed on purple card stock) to cover each calendar square, instead of the cut out crosses we've used in the past. My plan for this year is to write on the back of each square the assignments for the day – what/where we will be praying, a reminder to fast/take an item from the pantry for the poor, and something to count for the younger children's "Give Alms."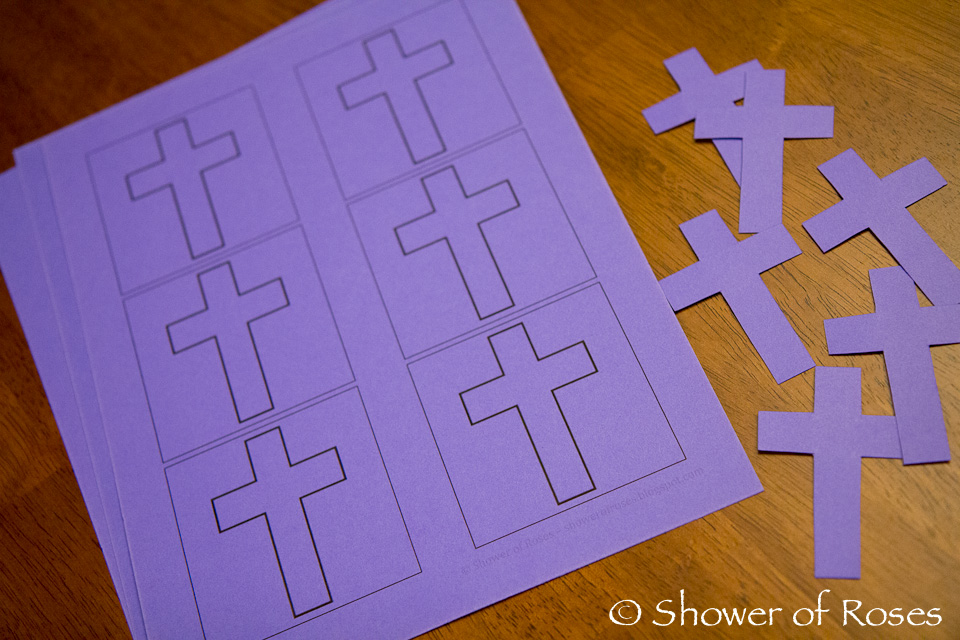 At the end of each day – after we complete our prayers, fasting, and alms giving for the day – we will place the purple cross over the square of that particular date on the calendar as we count down the days until Easter Sunday!