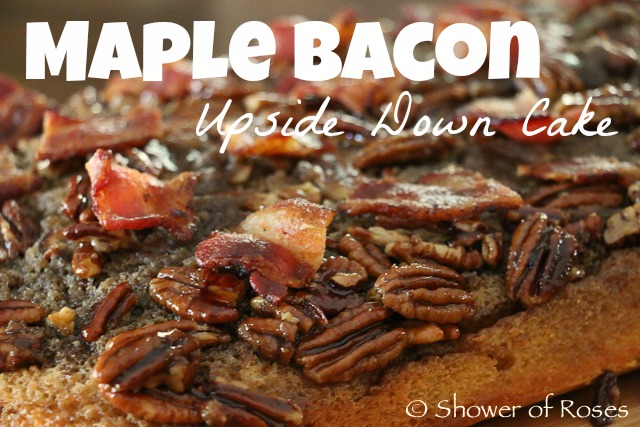 Yesterday we celebrated our oldest son's 14th birthday! This year, for his birthday theme, we decided to focus on one of his favorite foods: BACON!
When I asked the birthday boy what type of cake he would like this year, his answer was, "A white cake topped with a Bacon Donut and surrounded by Cream Puffs!" (Cream Puffs are another favorite treat of his!) I got pretty nauseous after searching for images of "Bacon Birthday Cakes" but thought I might be able to pull off a Bundt Cake, topped with a Maple Glaze and Bacon Crumbles. Then Charlotte came to my rescue and emailed me the link to this Maple Bacon Upside Down Cake which actually looked really yummy!
Despite comments and questions from our guests (my Dad!) like "You didn't actually put real bacon on that cake?!" the cake was such a hit and it didn't last very long. Before it completely disappeared, I wrapped up a piece to send home with my brother and niece, for my sister-in-law. (She had stayed home with their brand new one-week-old baby girl!) Here is the text message Meagan sent me this afternoon:
"Are you kidding me with that cake?! That is seriously the best thing I've ever eaten. EVER!! I must have that recipe!"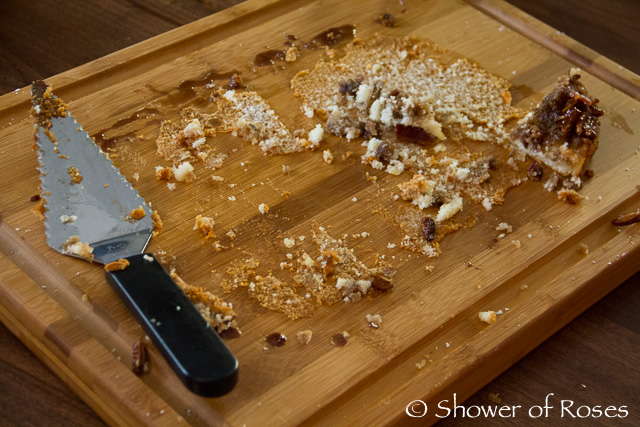 Maple Bacon Upside Down Cake
Ingredients:
6 slices maple-smoked bacon
3/4 cup butter
1 1/2 cups coarsely chopped pecans
2/3 cup packed dark brown sugar
1/2 cup real maple syrup
1 teaspoon vanilla
1 box Betty Crocker™ SuperMoist™ white cake mix
1 container (8 oz) sour cream
1/2 cup milk
1/3 cup vegetable oil
3 eggs
1/2 teaspoon almond extract
Directions:
Heat oven to 350°F. In 12-inch skillet, cook bacon until crisp; drain on paper towels. Tear bacon into pieces; set aside. Reserve 2 tablespoons drippings in skillet.
Meanwhile, in 13×9-inch pan, melt butter in oven.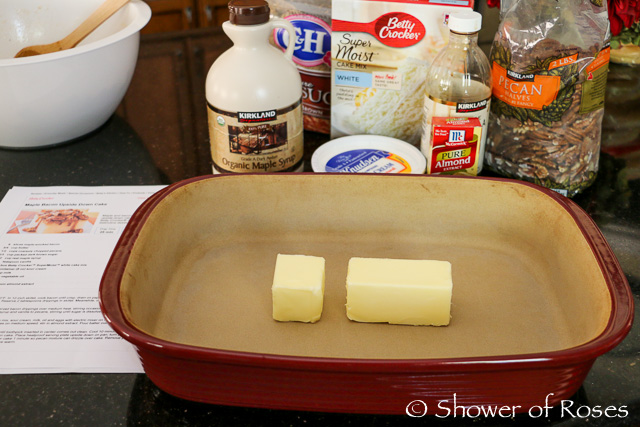 Cook pecans in reserved bacon drippings over medium heat, stirring occasionally, until light brown. Add brown sugar, maple syrup and vanilla to pecans, stirring until sugar is dissolved. Pour mixture over butter in pan.
In large bowl, beat cake mix, sour cream, milk, oil and eggs with electric mixer on low speed until moistened.
Beat 2 minutes on medium speed; stir in almond extract.
Pour batter over pecan mixture in pan.
Bake 30 to 35 minutes or until toothpick inserted in center comes out clean. Cool 10 minutes; run knife around sides of pan to loosen cake.
Place heatproof serving plate upside down on pan; turn plate and pan over. Let pan remain over cake 1 minute so pecan mixture can drizzle over cake.
Remove pan; sprinkle cake with bacon. Serve warm.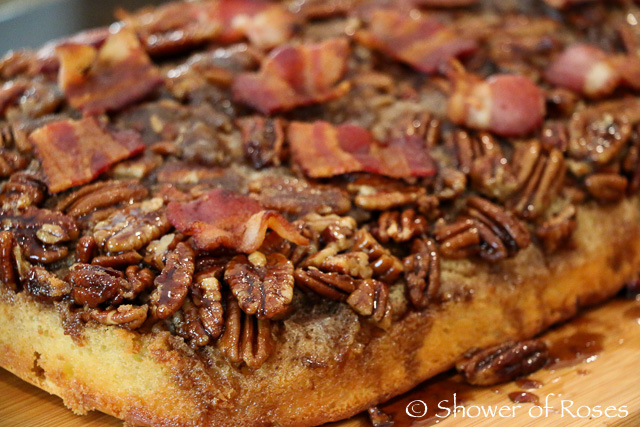 I'll be back sometime soon with the rest of the birthday pictures, including the cream puffs!

Update: A Bacon Birthday Party!