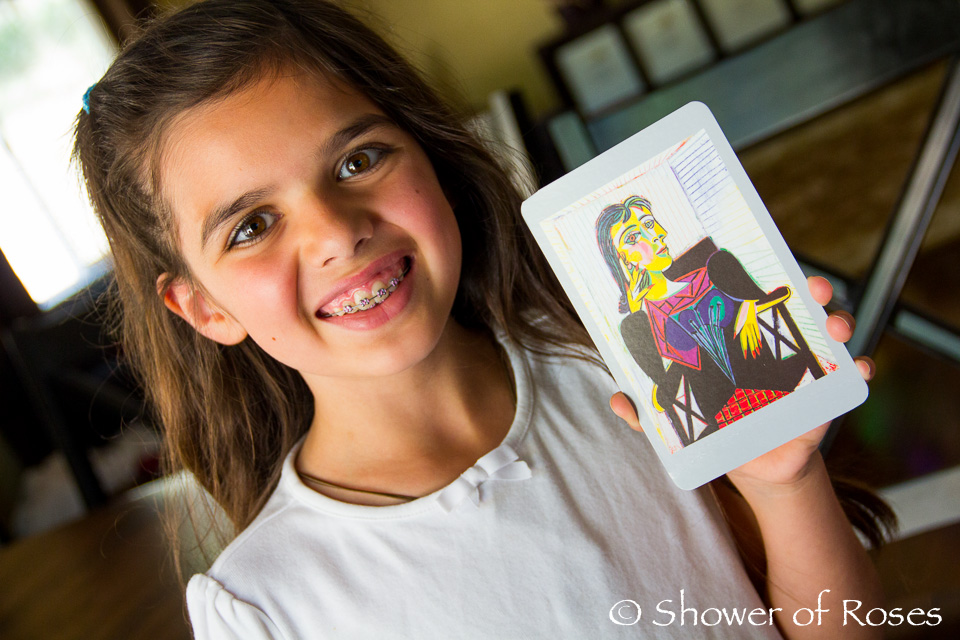 "MOM! I have that painting in my Famous Painting Card Set!"
In July, when it was 109˚ outside during the hottest week of our summer, we spent some time inside studying art and finishing up Track A of our Meet the Masters Art Course, including the unit study on Pablo Picasso! I purchased the 10-Adult version and we all complete the lessons together as a family. I read the script which goes along with the online slideshow, with occasional modifications for the younger children. Our artistic little seven year old hasn't had any trouble participating with a little extra help here and there, and even Rose, who is only 4, has loved the program and creating her own art alongside her older siblings.
Spanish Painter (1881-1973)
The genius of Picasso allowed a review of the art elements previously introduced – line, shape, balance, and texture. The children investigated Picasso's varied styles and were able to trace the transformation of this artist during his different periods of art.
One 11″x11″ white construction paper (we used card stock instead of construction paper)
One 12″x12″ colored construction paper (variety of bright colors: blue, green, orange, violet, etc)
One 8-1/2″x11″ sheet of scrap paper
Tissue
One black marker
Bright Colored Chalk
Guitar Line Drawing from Learning Packet
Glue Stick
Scissors
Pencil
The older kids switched around their artwork to see if their Dad could figure out who created which, after trying to convince him into choosing his favorite!
They all did an amazing job… I'd choose their artwork over Picasso's any day! 😉
We also checked the following books out from our local library: