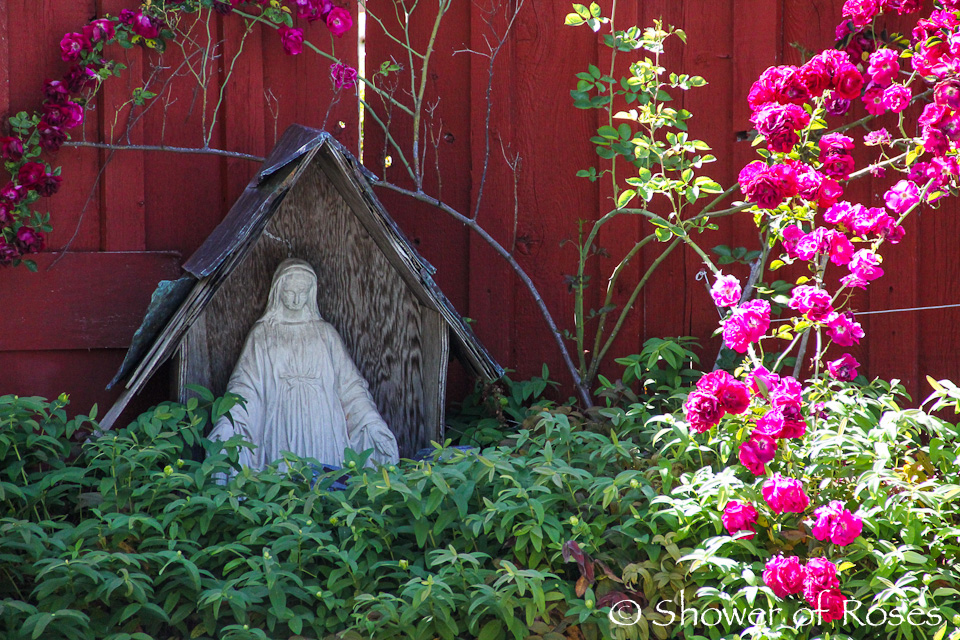 Outside my window…
We have had contractors working outside again this week. Our garage is on hold while we work on getting permits, but we have made progress on the patio outside of the dining room addition! We have been putting this project off for the past 3-4 years and it's so nice to finally have it started. Part of this project includes building a permanent shed and enclosing our water pumps, pressure tank, etc, to hopefully help prevent them from freezing again this next winter.
I am thankful…
that we were able to overcome the "Concrete Emergency" that happened sometime between 12-1pm on Friday… It was "Pour Day" and the contractors had arrived at 6am to prepare for the concrete arriving at 7am. Everything was going beautifully until the concrete started to dry. It was time to start hosing off the top to finish the "Exposed Aggregate" patio. The contractor turned on the hose and nothing came out. I found the key to the lid on the holding tank and sure enough it was empty. I had no water in the house and the deep well wasn't pumping any water into the holding tank. The contractor yelled "I need THOUSANDS OF GALLONS OF WATER. NOW!"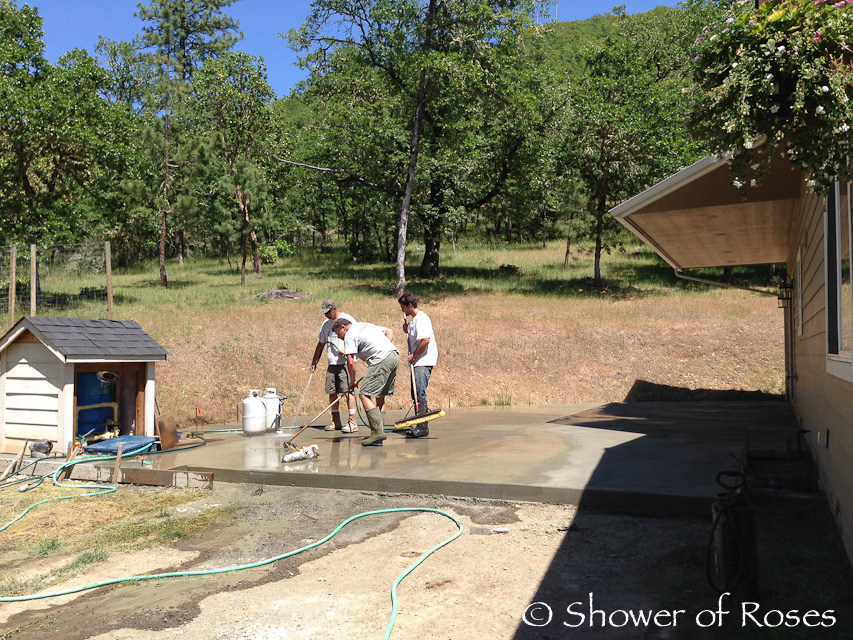 I pretty much had a panic attack right then and there, and I am still trying to recover from the stress! It never occurred to us that he was going to need so much water and that we were going to have a problem. He knew we had a holding tank. Anyways, I ran back behind the house and flipped the breaker to the well which got the well pumping again, then I tricked the restricter float into thinking the tank had more water left than it did so the hoses would work again, but that only lasted 5 minutes, at best. I got on the phone with our the pump guys to try and figure out why the deep well wasn't producing water (they headed out immediately), called every water delivery service in the area (not one could bring us emergency water), and ultimately was able to contact my neighbors for permission to run hoses from their well! (We live on a few acres, but were able to make it work with five long hoses. Thank you Don & Bev!) Catastrophe avoided. Barely.
I am thinking…
If yesterday was any indication, we are really going to need to work on conserving water this summer. Our well is a low producing well, which is why we have a holding tank, but the reason the water kept stopping was that it wasn't producing enough for even a steady stream to flow into the holding tank. We usually have problems with running out of water towards the end of summer, but never in May. Everything is so dry already this year.
Learning all the time…
In addition to learning all about concrete this week, the children all started swimming lessons on Tuesday! All seven are taking classes and we've been at the pool from 3-7pm each day. This is actually the first year that I have not had to get in the pool with the little ones for the "Mom & Baby" classes! Ranger has been learning how to teach Bud to swim, and Twinkle Toes has been working with Rose.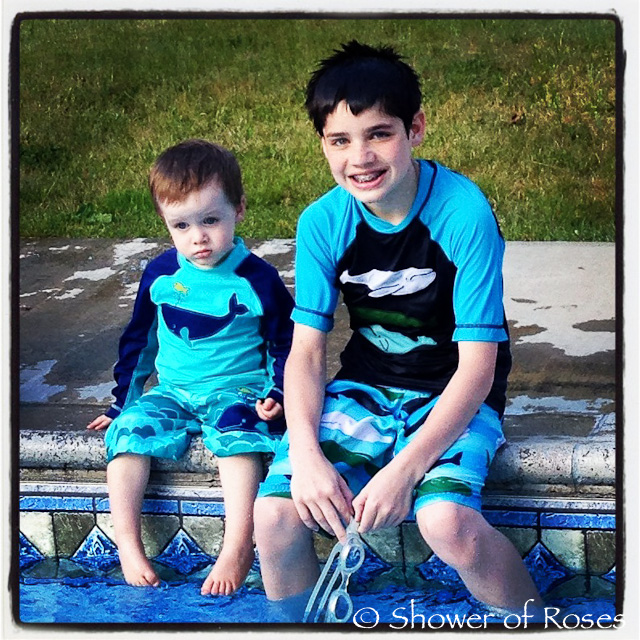 Just before the first class – Bud wasn't too sure what to think!
Celebrating the liturgical year…
This week we celebrated Ascension Thursday (which has been transferred to Sunday/tomorrow in our diocese), the feast of St. Joan of Arc, and the traditional feast of the Queenship of Mary. I had big plans, but ended up having to keep our celebrations extra simple this year. We decided to save our Ascension Picnic for Sunday so that Sean would be able to join us. He has been working long days and lots of extra hours due to an upcoming deadline he has at work.
From the kitchen…
The big boys took over the kitchen recently while working on an optional Chemistry experiment from the lesson about "Mixtures" — Baking a Chocolate Cake! I'm still avoiding all dairy so I didn't get to taste it, but they got an A+ for cleaning the kitchen and washing all the dishes.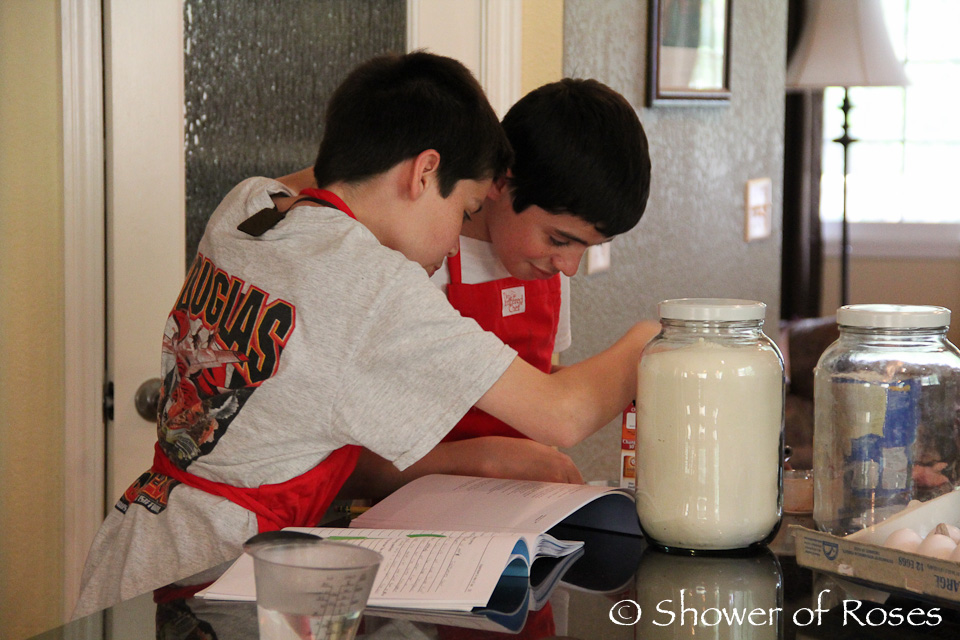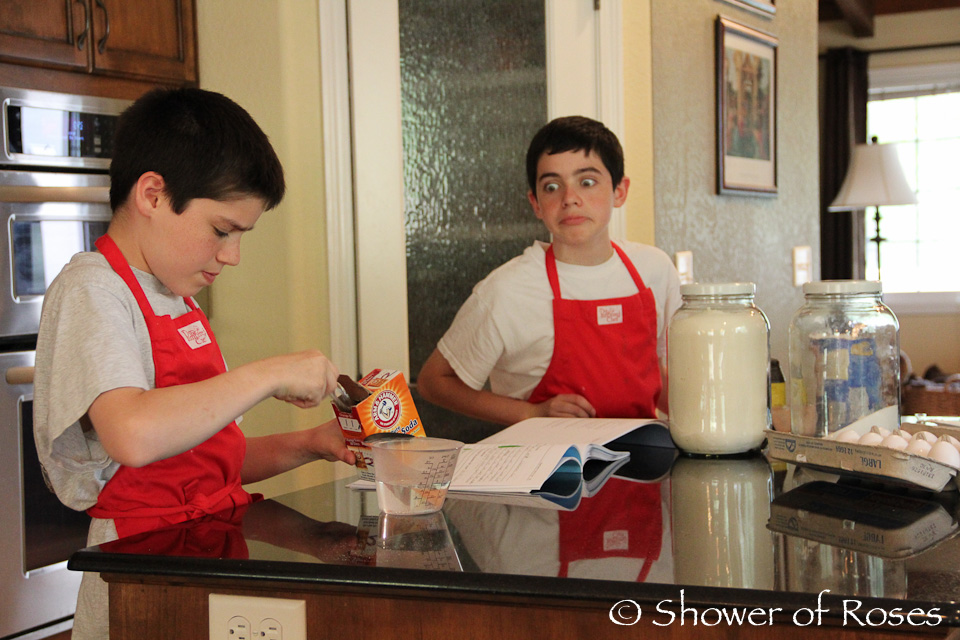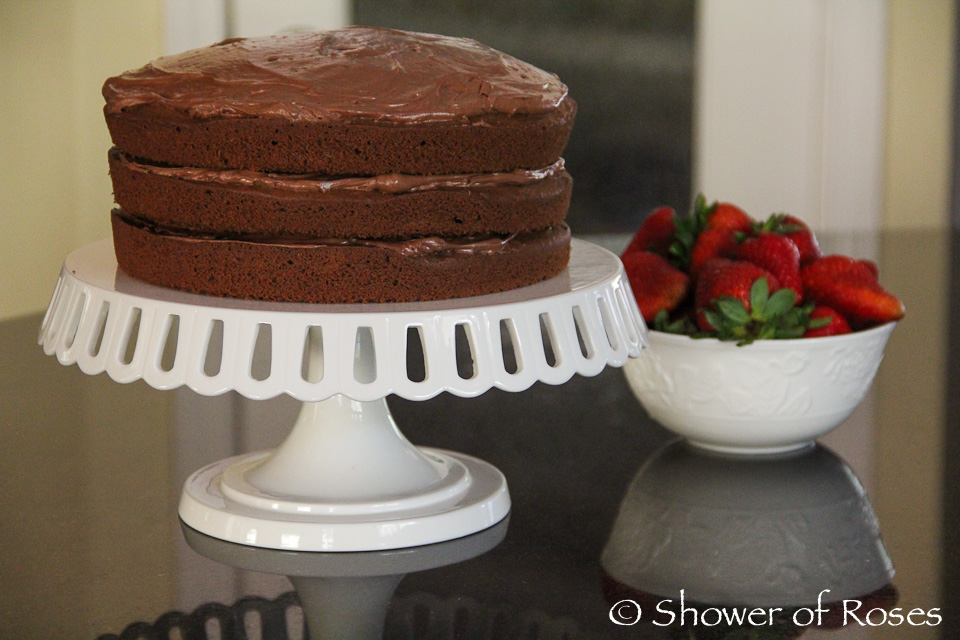 I am working on…
finding ways to control the nauseousness. I've been so sick! I keep reminding myself that this is a good sign, and trying my best to offer it up.
I am creating…
a Chemistry Study Folder with Snuggles as we review all of the lessons we've completed so far this year in Focus on Elementary Chemistry. He has really been enjoying this unit study and it's the first thing he wants to work on when he wakes up in the morning!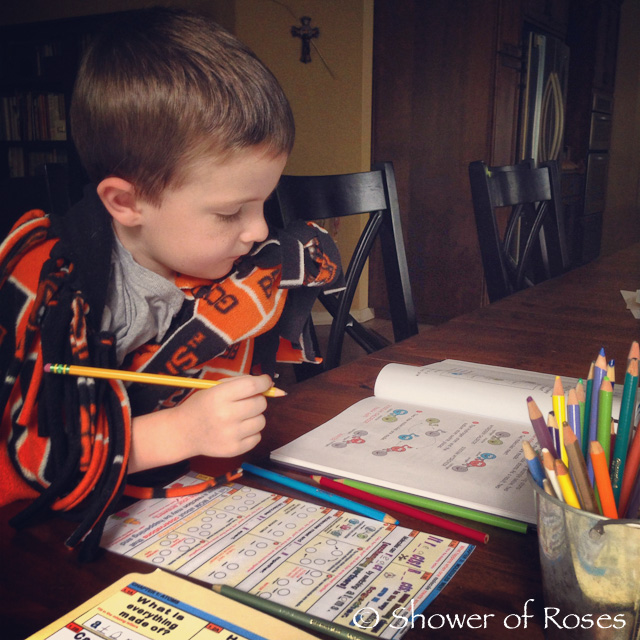 I am going…
to sleep so early each night… I can't seem to stay awake much past 9pm, which is crazy! I'm falling behind on all the things I usually get done late at night, after the children are asleep, like blogging and answering emails. I know I need the extra sleep. Snuggles keeps reminding me that I'm "Growing a Baby!"
I am hoping…
to have a chance to post Chiquita's birthday pictures. She keeps asking when they will be on the blog. Soon!
I am praying…
that baby is healthy and growing, and that all will look good at my ultrasound next Friday.
I am reading…
The time at the pool has finally given me a chance to start reading some of the books that have been piling up on my nightstand beginning with Something Other Than God by Jennifer Fulwiler! Next up is The Little Oratory and Teaching From a State of Rest (or Kindle version here).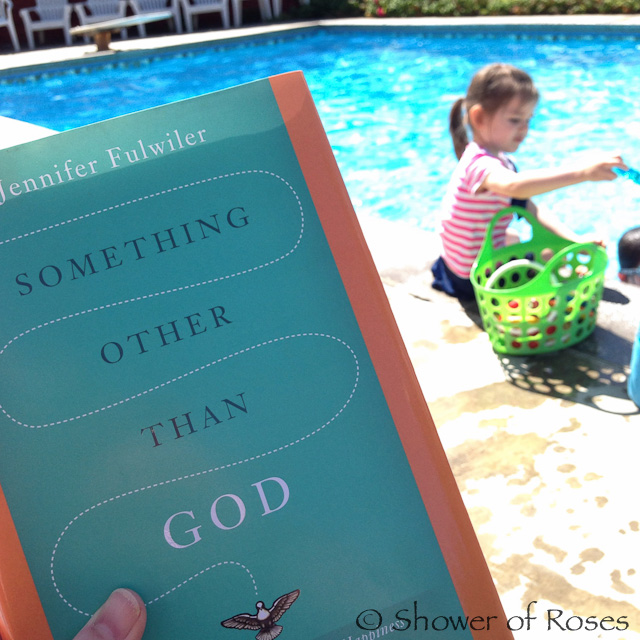 I've also been reading Hittite Warrior aloud after lunch while the children work on various projects.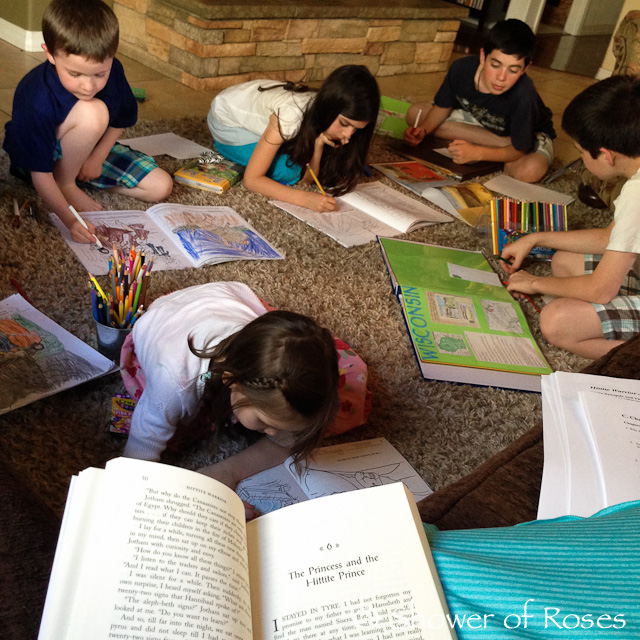 Pondering these words…
from today's Quiet Moment in Catholic Digest:
"One of the most beautiful moments in history was that when pregnancy met pregnancy when child bearers became the first heralds of the King of Kings." Ven. Fulton Sheen
I am listening…
to the Andy Griffith Show. The children are watching an episode with their Dad.
Around the house…
I keep finding little Bible Story illustrations that Chiquita has been creating inspired by her Great Adventure Kids Bible Story Coloring Book. We will have to add these to her timeline.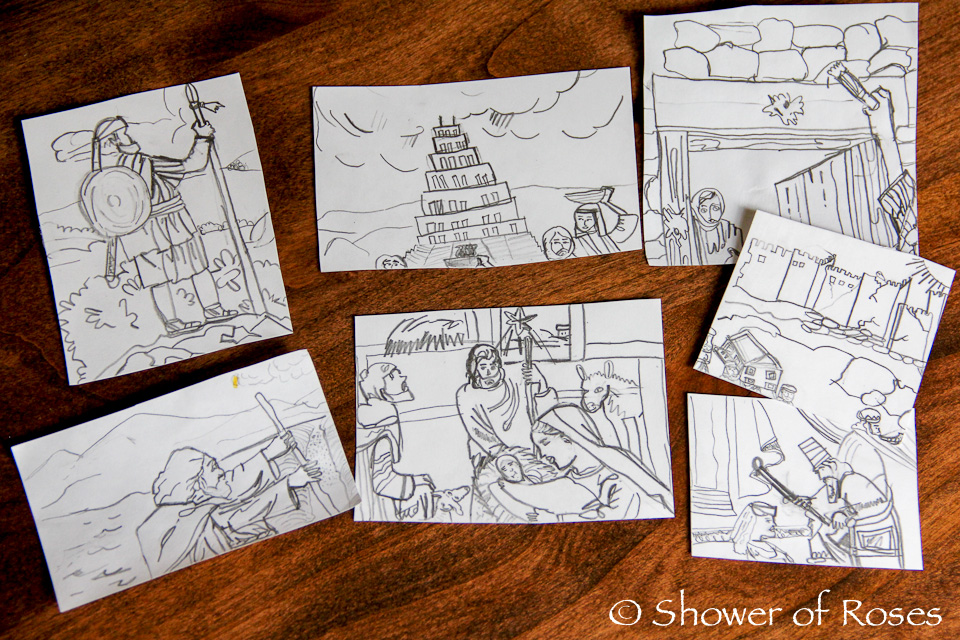 One of my favorite things…
watching Rose with her big brothers. She sure has them wrapped around that little finger of hers.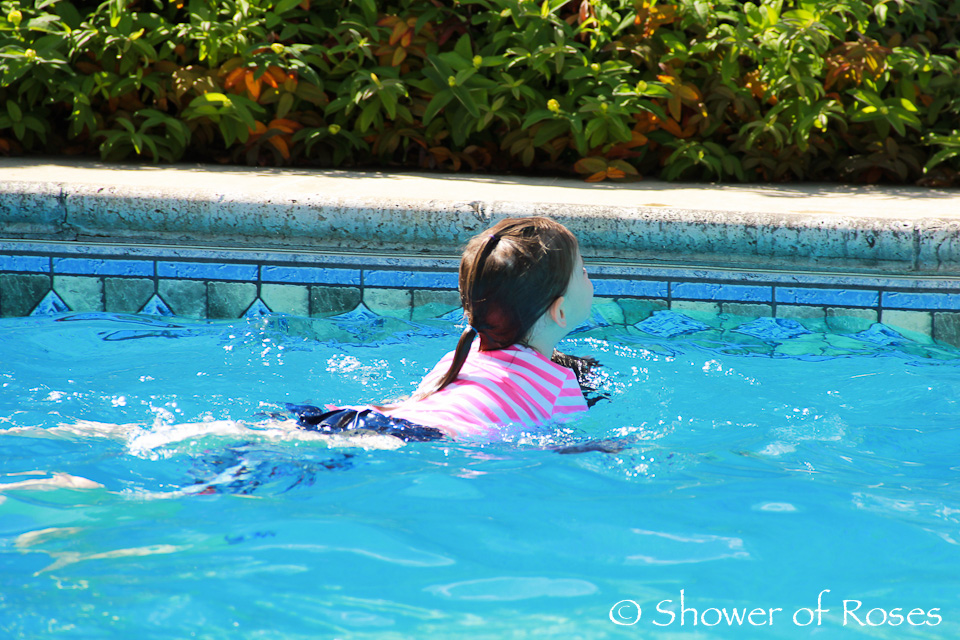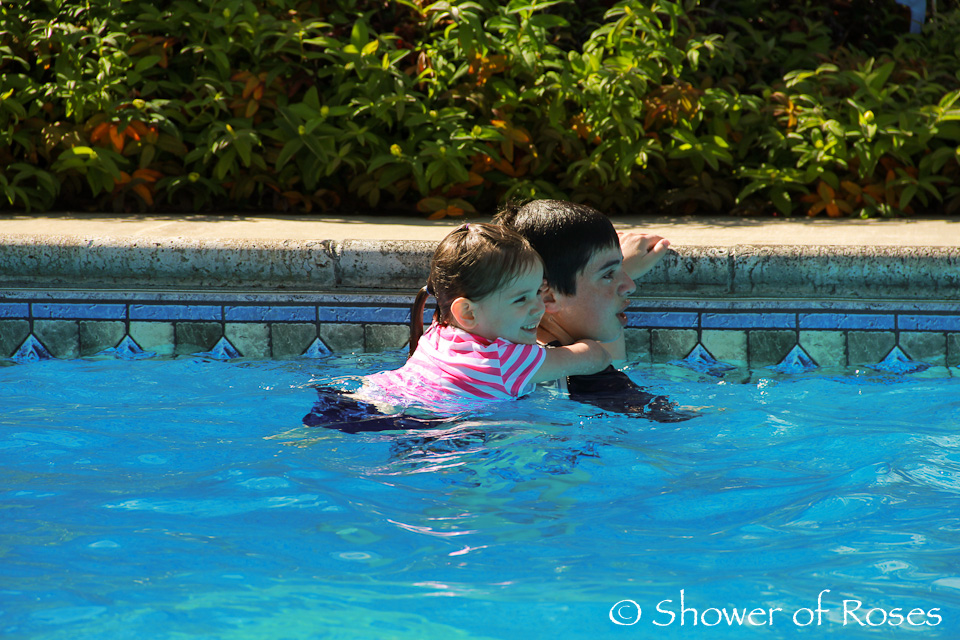 This week's plans…
Sunday: Mass for the Feast of Ascension
Monday-Thursday: Swimming Lessons
Tuesday: Final Lessons with Tutor before Summer Break
Friday: Dating Ultrasound!
A little peek at my day…
My husband had to work again today so I took the children to the annual Young Hunters Day. They had a blast shooting arrows, throwing tomahawks, and so much more!