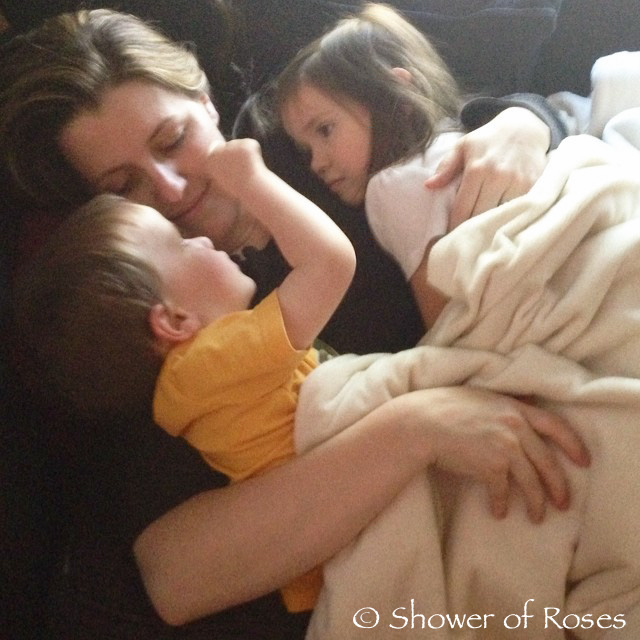 Posted yesterday afternoon, June 13th, the Feast of St. Anthony of Padua, on Instagram/Facebook:
Home from the hospital and so thankful for hugs and cuddles from my little ones…
Thank you all so much for the prayers!
"Blessed are they that mourn; for they shall be comforted."
– Matthew 5:5
O Merciful Jesus, hear me! Please listen to my plea for help. My heart is stricken, and my soul is overwhelmed with grief. I try to understand, but I can only trust. My God, I believe in Thee! Increase my faith. Strengthen my trust, for I feel so weak. Console my heart, for I know no comfort, now that I have lost my precious baby, whom Thou hadst given me. I do not know why Thou hast taken my child from me, but I know I must trust in Thy mercy and goodness. I know that Thou dost not delight in my sorrows, but dost love me with an infinite love and dost feel infinite compassion for my poor heart. Have mercy on me, Sweet Heart of Jesus, have pity on me in my grief, and comfort me. I know my little one is safe in Thy tender care. Have mercy on my baby, O Lord, and bless my baby and our grieving family.
O Sorrowful Heart of Mary, join me in my sorrow. Thou hast known the anguish of watching thy Son die; I too have lost my child. In my grief, I turn to thee, my Mother. Cover me with thy mantle, shower me with graces, and comfort me by thy presence. Assist me and my husband through this trying time; may our hearts draw even closer to each other and to Our Merciful Lord in this painful time. Help us to trust in His goodness and love, as thou didst trust, long ago, beneath the Cross of Calvary. As for our dear baby who has departed for us, I entrust this child to thy care. My child did not
(while still living*)
have the opportunity to receive the Sacrament of Baptism
; nevertheless, take him under thy mantle, watch over him and pray for him. I know thy prayers have never failed before the Heavenly Throne. And, O merciful Mother, watch over our family, comfort us in our grief, and help us to find peace and solace in trusting in the goodness and love of our merciful God, in whose care our dear baby rests. Amen.
– Prayer of a Bereaved Mother of an Unbaptized Baby,
Your Labor of Love
by Agnes M. Penny
*My husband and I did give the baby, whom we named Anthony, a conditional baptism following my miscarriage yesterday afternoon. We will meet with the cemetery next week to arrange Anthony's burial. Please continue to pray for our family.
Mother of Sorrows, pray for us!
Mother of Sorrows, pray for our departed child!
St. Anthony of Padua, pray for us!