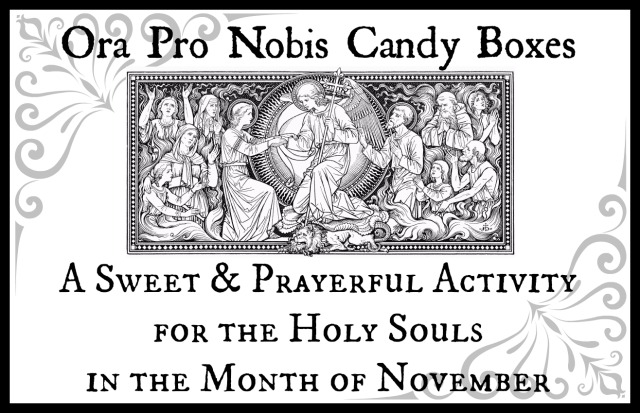 Since the 16th century Catholic piety has assigned entire months to special devotions. As a reminder of our duty to pray for the suffering faithful in Purgatory, the Church has dedicated the month of November to the Holy Souls. The Holy Souls are those who have died in the state of grace but who are not yet free from all punishment due to their unforgiven venial sins and all other sins already forgiven for which satisfaction is still to be made. They are certain of entering Heaven, but first they must suffer in Purgatory. The Holy Souls cannot help themselves because for them the night has come, when no man can work (John 9:4). It is our great privilege of brotherhood that we can shorten their time of separation from God by our prayers, good works, and, especially, the Holy Sacrifice of the Mass. (source)
Ora Pro Nobis Candy Boxes make a sweet and prayerful activity for the Holy Souls in the month of November, the month dedicated to the Church Suffering. This idea was shared by one of my blog visitors (Thank you, Kim!) and I created printable box or bag labels, a calendar, and directions to go along with the boxes. If you have any trouble downloading the printable documents over at Scribd just send me an email and I will do my best to forward them to you directly. I ended up creating Ora Pro Nobis Candy Boxes to send home with all the children who attended our annual All Hallows' Eve party last night! My children are so excited to begin this activity today!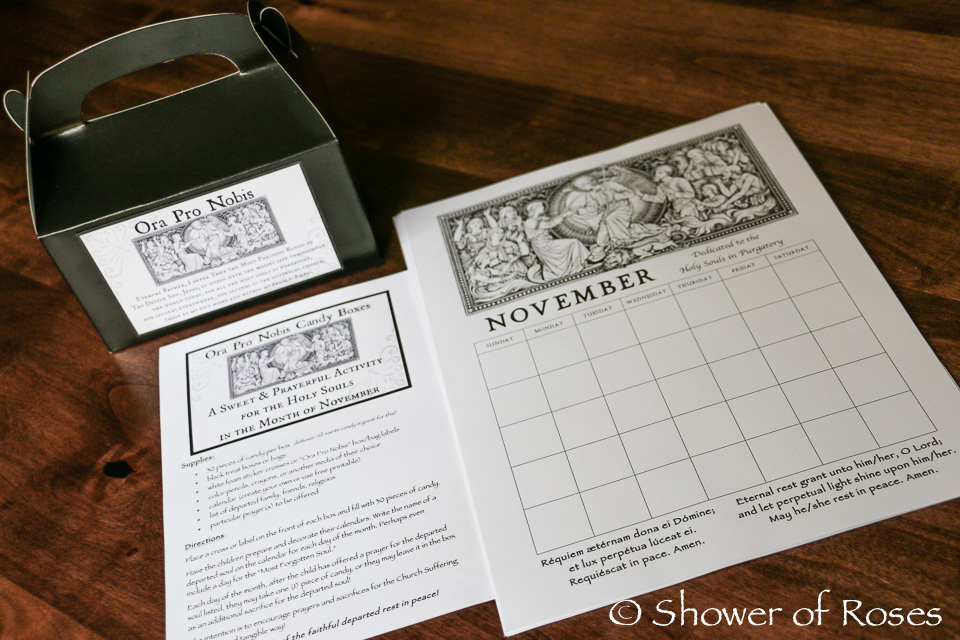 Supplies:
+ 30 pieces of candy per box (leftover All Saints candy is great for this!)
+ black treat boxes or bags (2021 Update: Black Treat Boxes that are currently available)
+ white foam sticker crosses or "Ora Pro Nobis" box/bag labels
+ color pencils, crayons, or another media of their choice
+ calendar (create your own or use free printable)
+ list of departed family, friends, religious
+ particular prayer(s) to be offered
Directions:
Place a cross or label on the front of each box (or bag)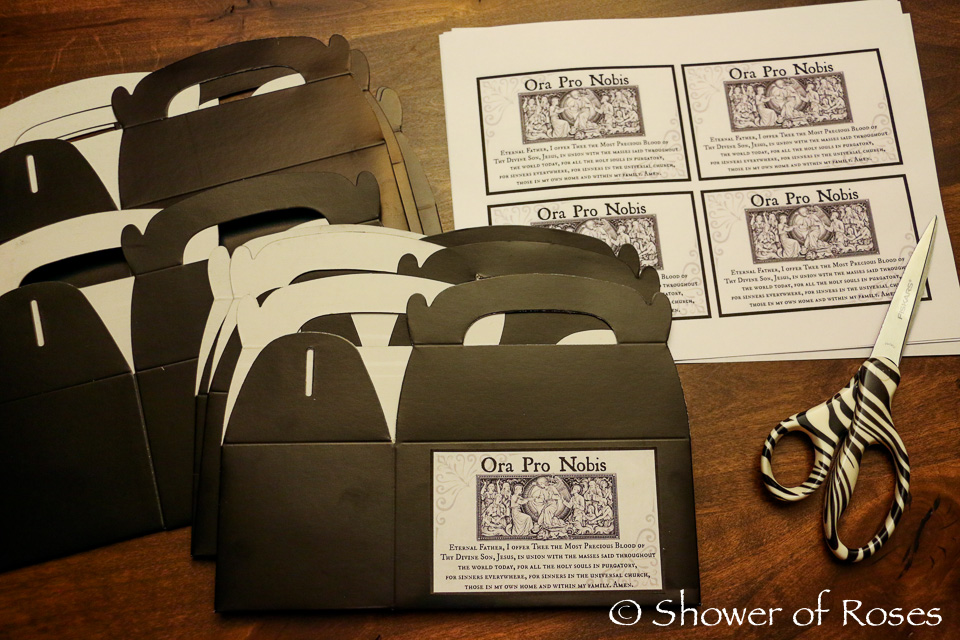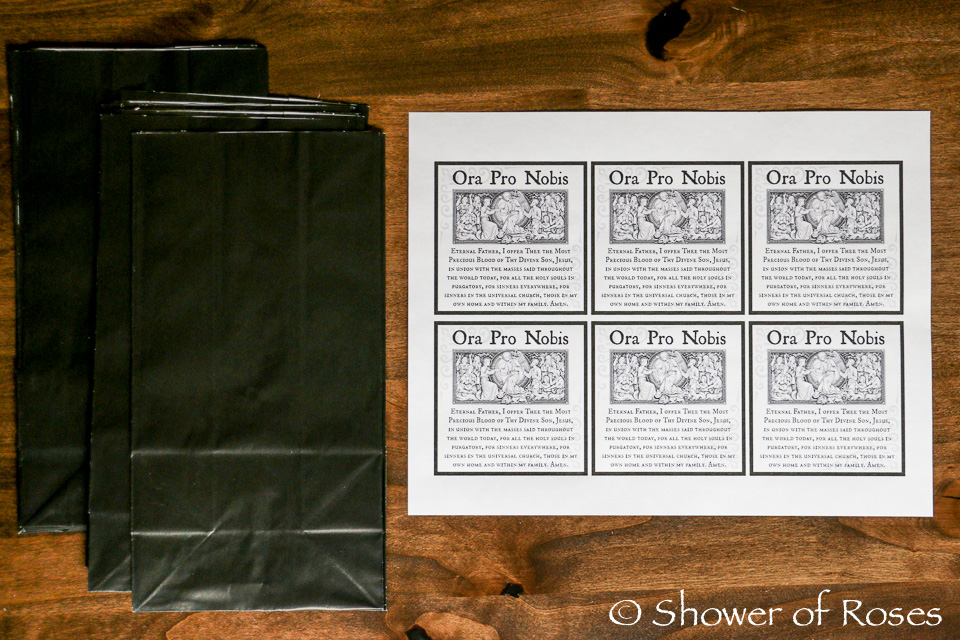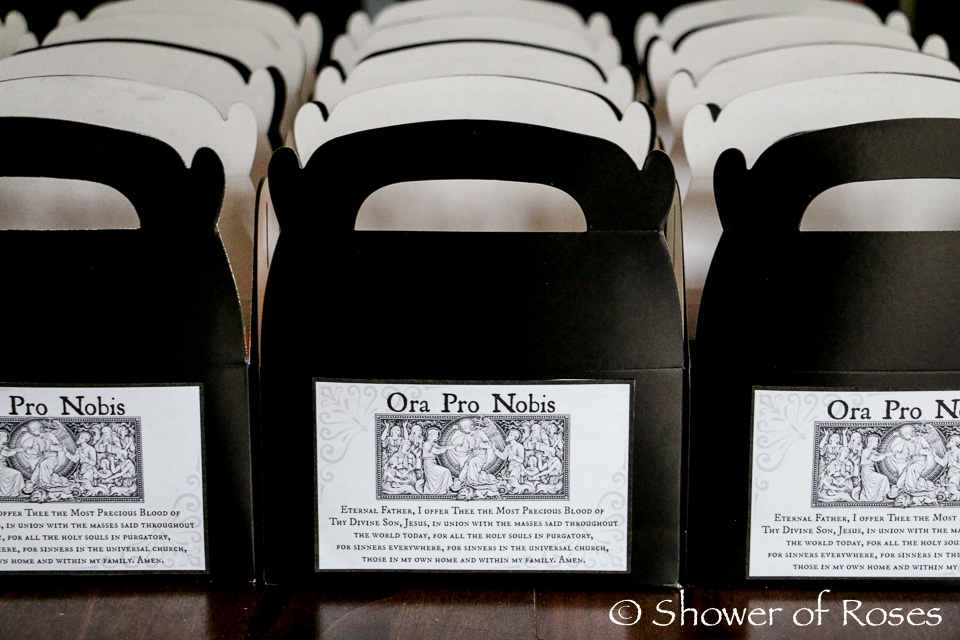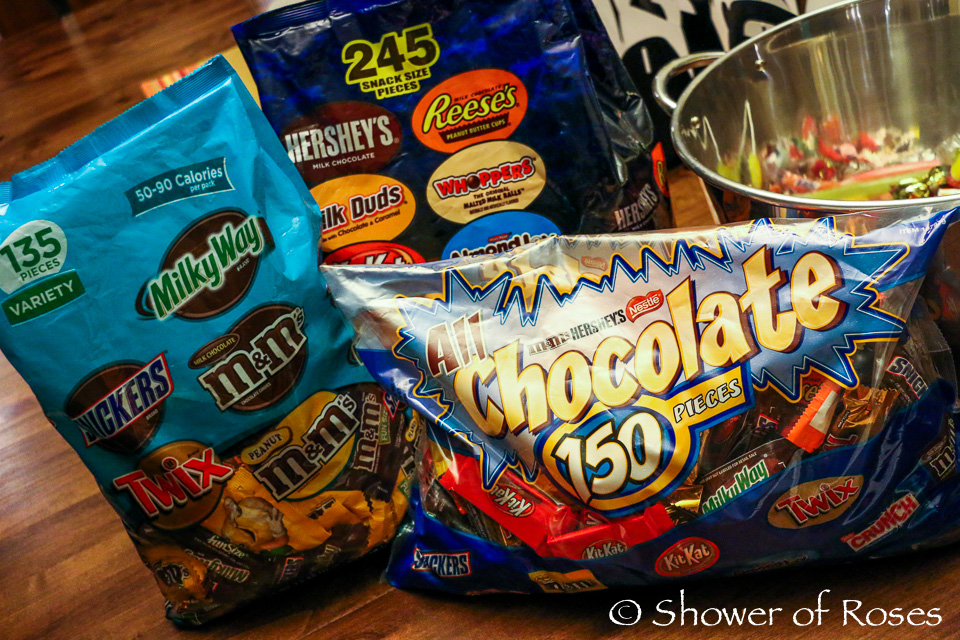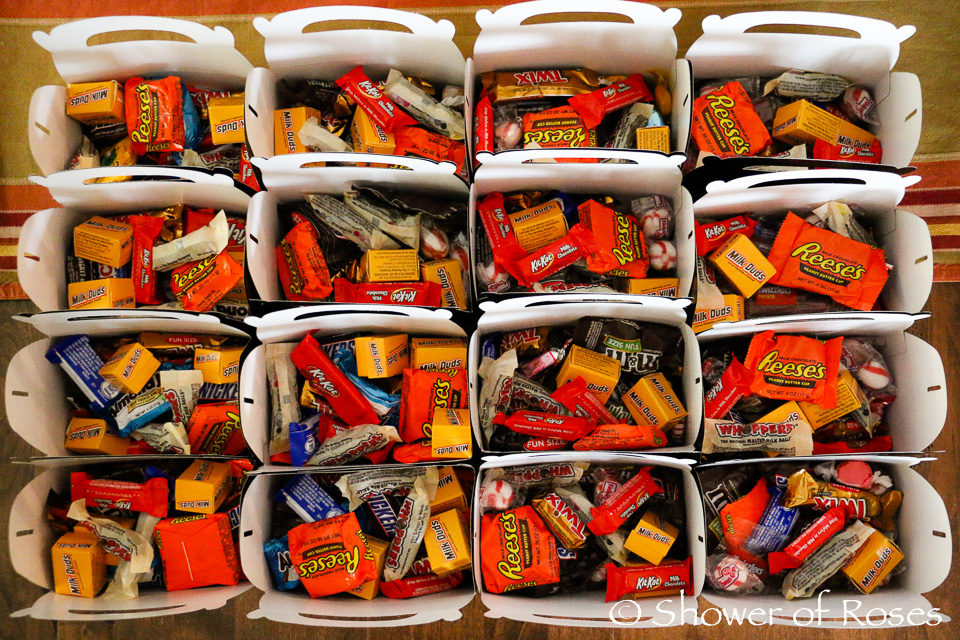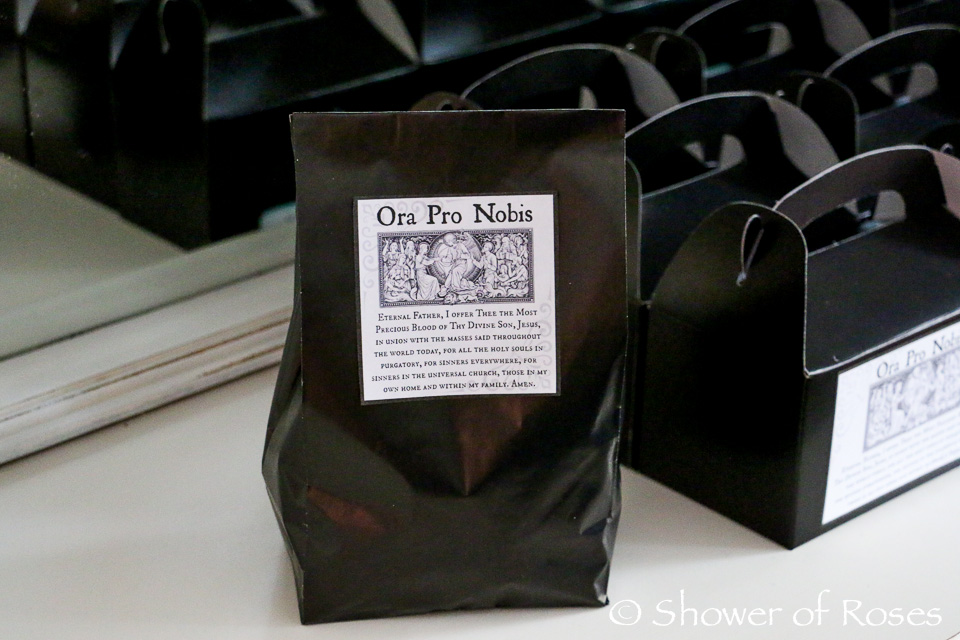 Have the children prepare and decorate their calendars. Write the name of a departed soul on the calendar for each day of the month. Perhaps even include a day for the "Most Forgotten Soul."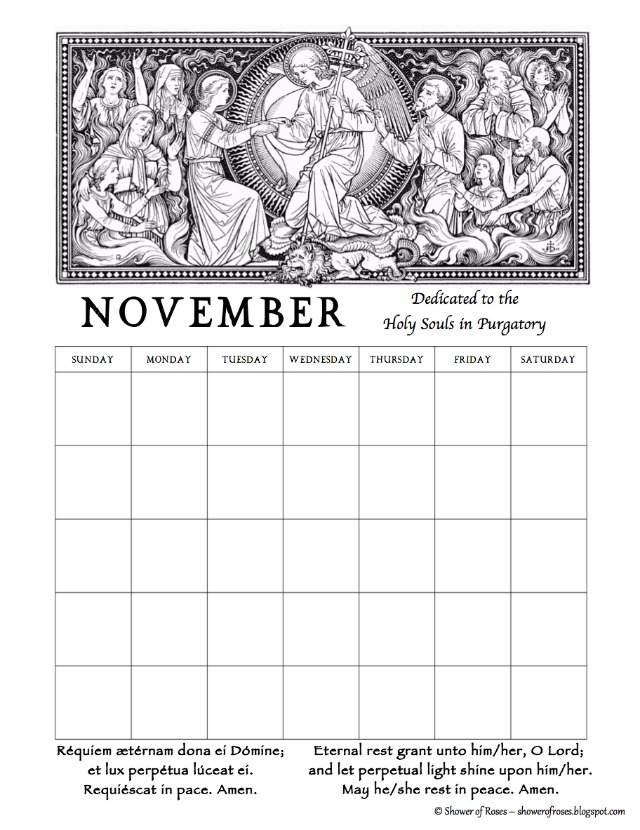 Each day of the month, after the child has offered a prayer for the departed soul listed, they may take one (1) piece of candy, or they may leave it in the box as an additional sacrifice for the departed soul!
The intention is to encourage prayers and sacrifices for the Church Suffering in a sweet and tangible way!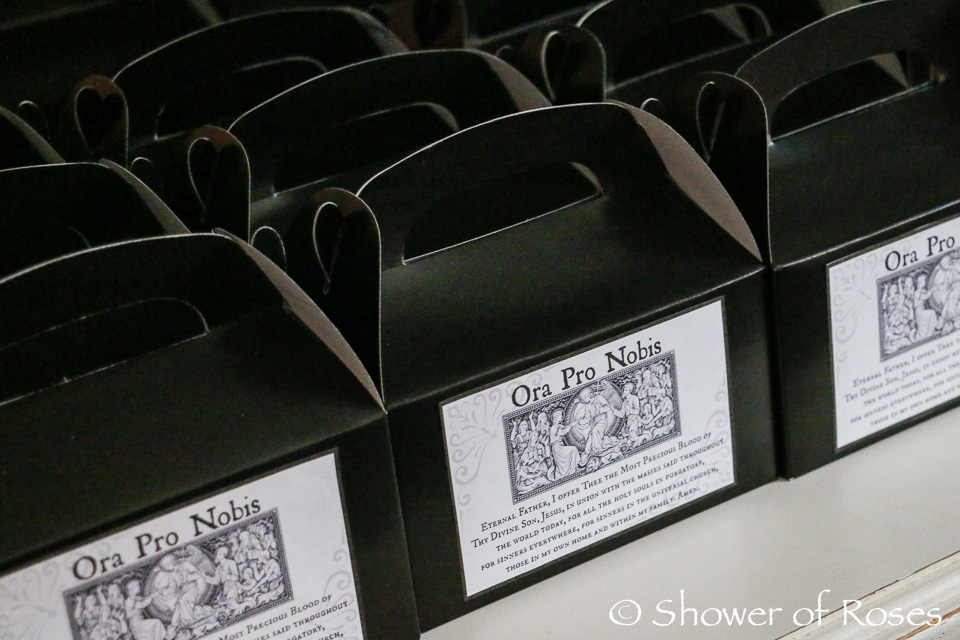 May the souls of the faithful departed rest in peace!