It's time for the 4th Annual Online Curriculum Sale Blog Hop! You can find all the details, browse books for sale on other blogs, or add a link to your own post here.

Most of the books in this post were left over from the last book sale in May. I've reduced the prices and added some new books as well. I really don't have that much to sell this time, but I may be back later to add some more if I get a chance to go through the bookshelves in the bedrooms.
If you are interested in purchasing any of the items in this post, please leave a comment listing the books you would like, along with your email address. (The email address box is now part of the comment form here at Shower of Roses and it won't be displayed publicly.) I will send you a private email with your total, including shipping, along with my Paypal address.
Shipping will be a flat rate of $4.00 for 1-3 items (if they will fit in a padded envelope) and $7.00 for a box of any size, to help cover the cost of packaging and media rate postage in the United States.
Out of consideration for myself and everyone else participating in the Curriculum Sale Blog Hop, please only request items that you intend to purchase and are able to submit payment for promptly, preferably within 24 hours, unless other arrangements have been made.
Thank you! Note: Most links are affiliate links.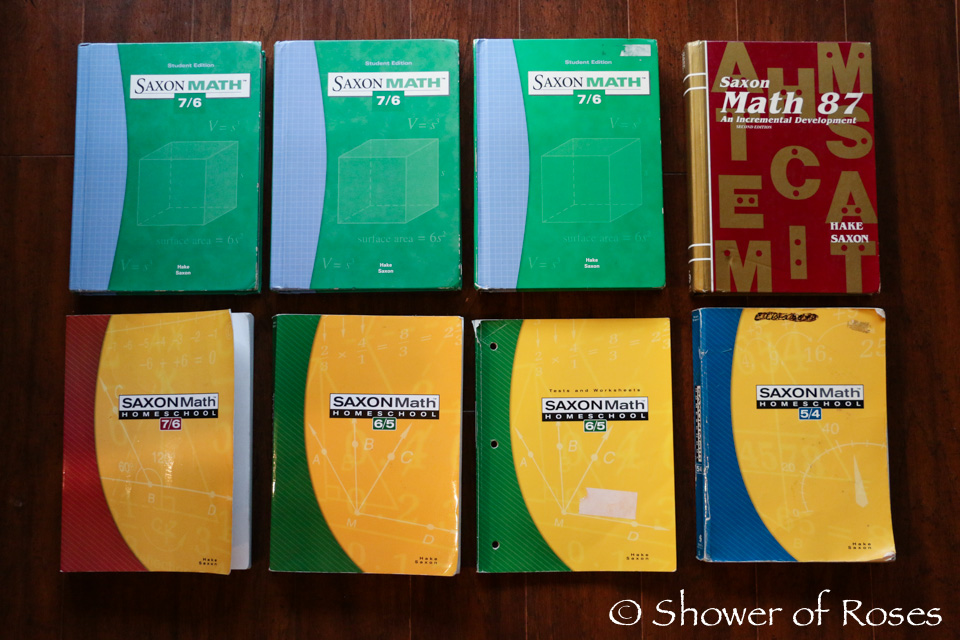 Saxon Math 7/6 ISBN 1565775074, $10.00 (Previous school textbooks, with wear to covers, fourth edition and nearly identical to the Saxon 7/6: Homeschool Edition. Last year my two oldest boys used 7/6 together with tutors, one the hardcover and one the softcover.)
Asking $10 each (3 1 available at $10)
Saxon 8/7 Second Edition ISBN 1565771885, $5.00
(sold)
Saxon Math 7/6: Homeschool Edition
, good/very good condition, purchased new and used by one child, $25.00
(switching to a copy of the hardcover Saxon 7/6 4th edition for the rest of the children)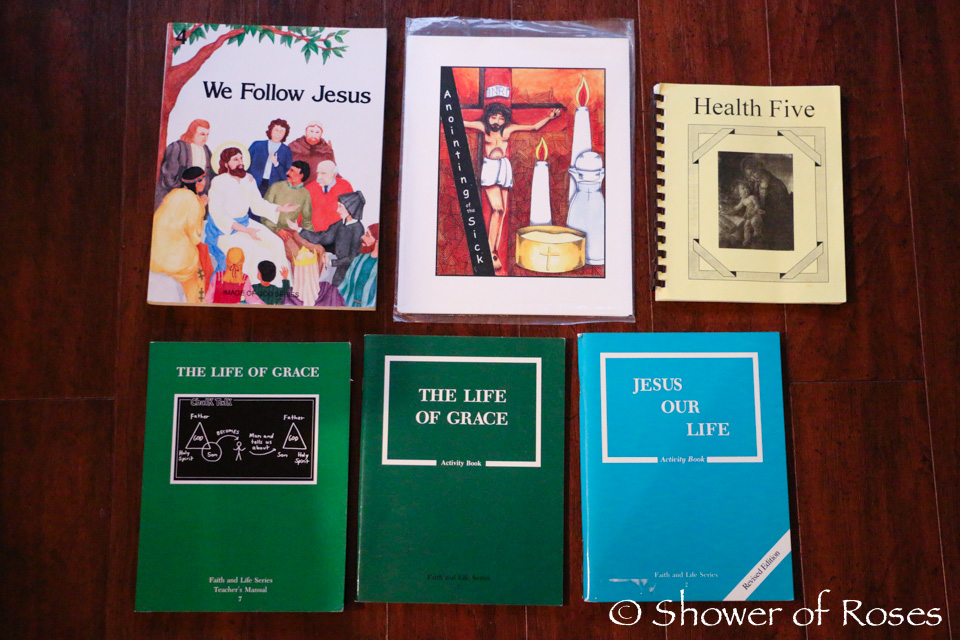 We Follow Jesus: Image of God Series 4, very good, some wear to cover $1.00 (sold)
The Seven Sacraments Classroom Cards (Catholic Artworks – Retail $10.00), $5.00 (sold)
Seton Health Five, $2.00 (sold)
The Life of Grace Activity Book ISBN 089870084, $2.00 (sold)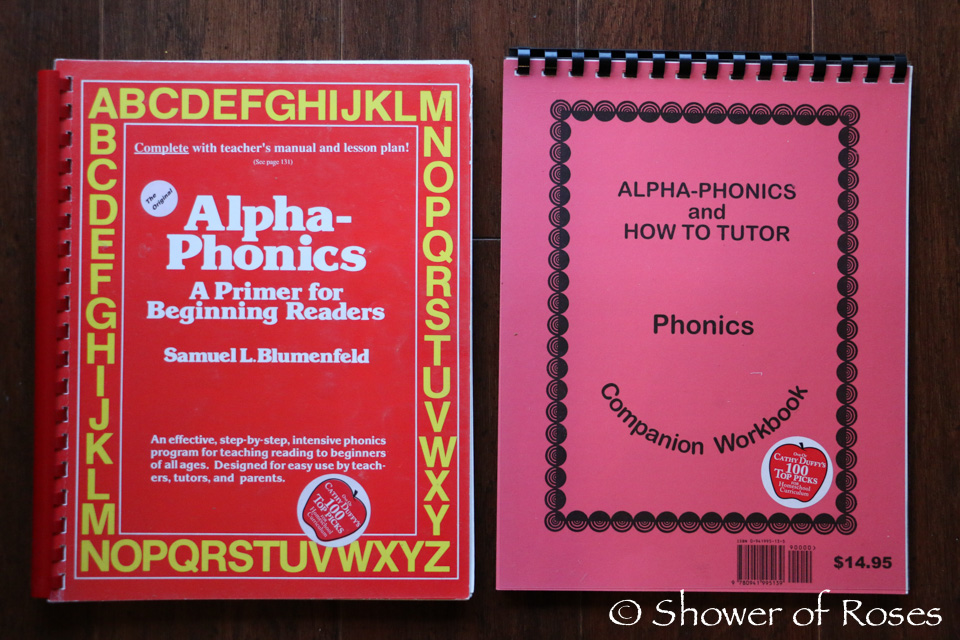 Alpha-Phonics: A Primer for Beginning Readers (Very Good Condition) and Alpha-Phonics Companion Workbook (Like New) – Purchase the set for $15.00 (sold)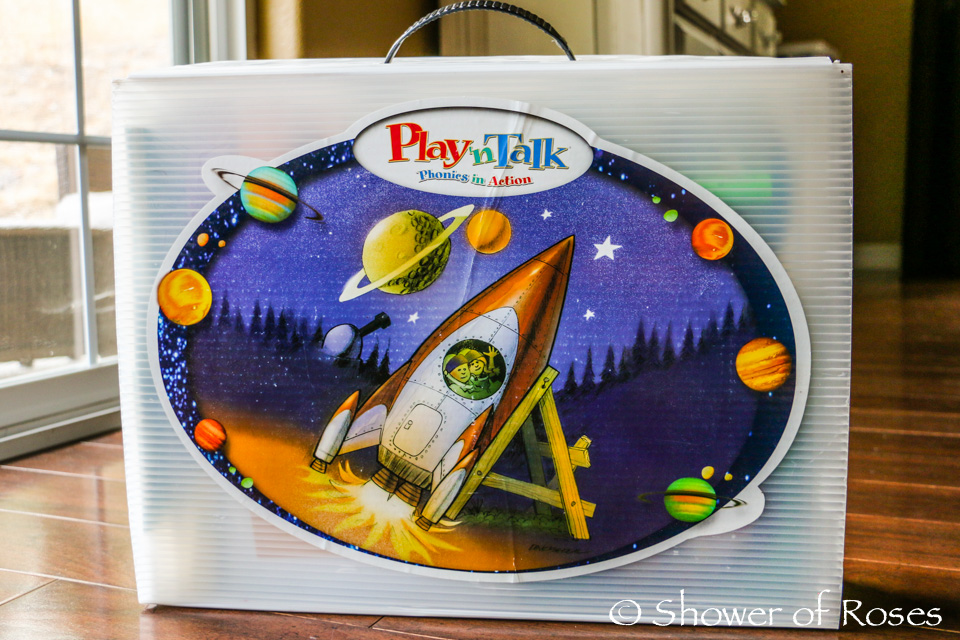 Play 'n Talk (visit website here) I purchased this program when our oldest was in Pre-School, but only used it for a few months before continuing my search for "the perfect program" – discovering a couple years later, after many failed attempts at teaching him to read, that we were dealing with auditory processing challenges and needed special tutoring. This program had been highly recommend by a local friend who used it successfully with all her children. I've hung on to it for years and thought about trying it again with the younger children, but for now I'm happy with Primary Arts of Language and All About Reading. It comes with a number of learning games including Ring N Key, Riddles n' Rhyme, Spell Lingo, and more. You can read through their brochure here. It was originally $299 + shipping and handling. Asking $180.00 ppd OBO.
(sold)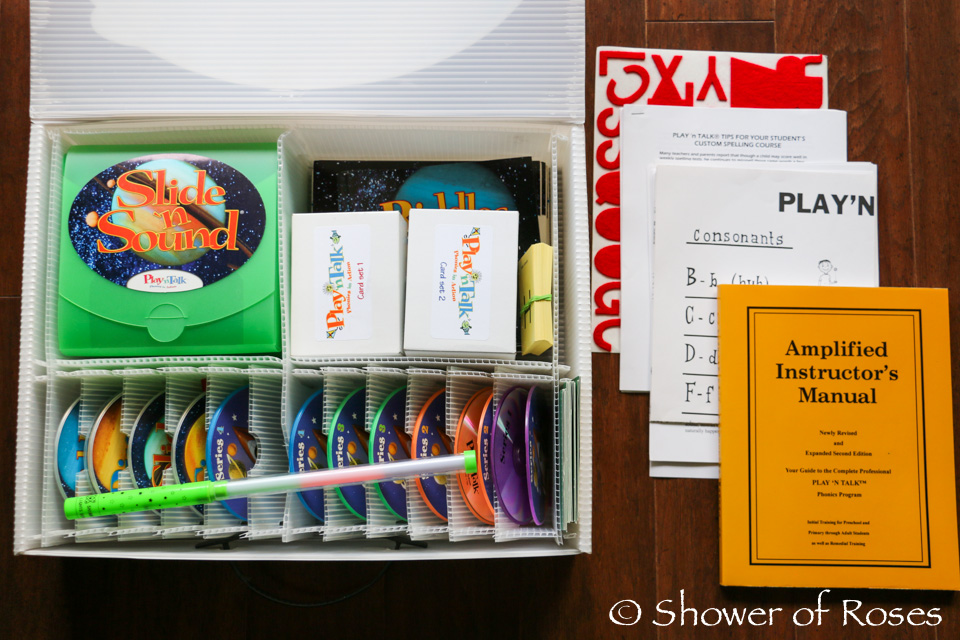 To Grow By Storybook Readers Series A, Books 1-9 plus Activity Book, $20.00 for set OBO
(for use with Play n' Talk or as reinforcement of any reading program) (sold)
To Grow By Storybook Readers Series B, Books 10-18 plus Activity Book, $20.00 for set OBO
(for use with Play n' Talk or as reinforcement of any reading program) (sold)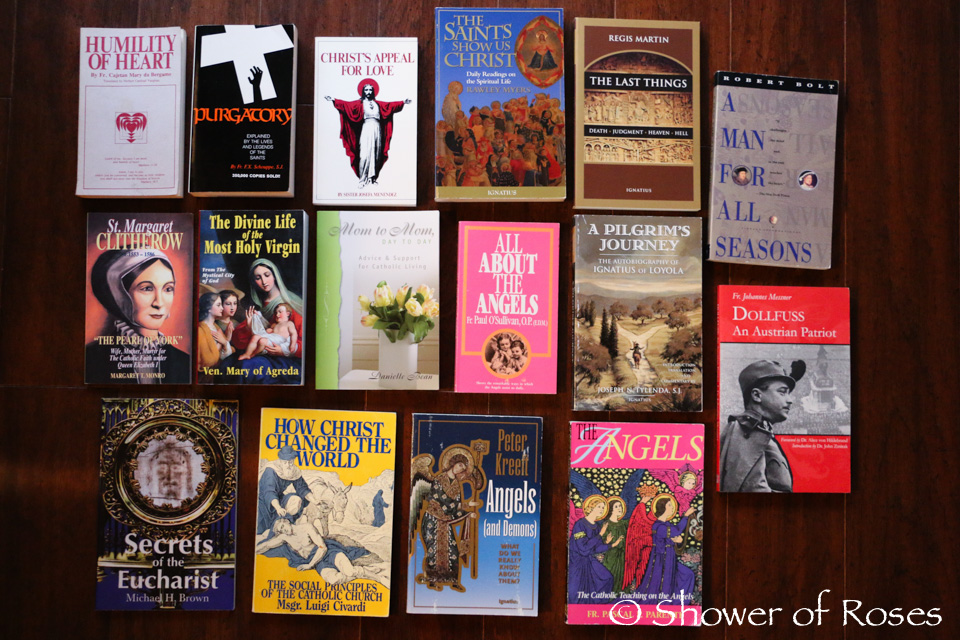 Humility of Heart, older version of this, binding loose on one end, FREE for postage
Purgatory Explained, $1.00 (sold)
Christs Appeal for Love, $1.00
The Saints Show Us Christ, paperback, shelf wear, $2.50
The Last Things, paperback, $2.50
A Man for All Seasons: A Play in Two Acts, $2.50
St. Margaret Clitherow – "The Pearl of York", $2.00 (sold)
The Divine Life of the Most Holy Virgin, $5.00
Mom to Mom, Day to Day, like new, $3.00 (sold)
All About the Angels, $2.00 (sold)
A Pilgrim's Journey: The Autobiography of St. Ignatius of Loyola, $4.00 (sold)
Dollfuss: An Austrian Patriot, $5.00
Secrets of the Eucharist, $1.00 (sld)
How Christ Changed the World, highlighting throughout, FREE for postage
Angels (and Demons): What do we really know about them? $2.00 (sold)
The Angels: The Catholic Teaching on the Angels, $2.00 (sold)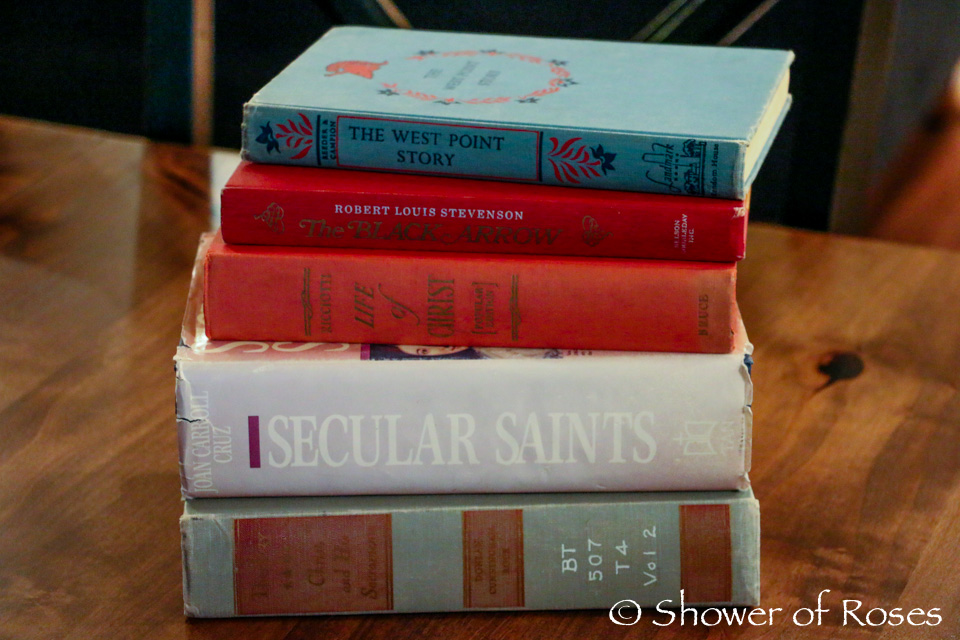 Christ and His Sacraments, 1958, ex-library, binding cracking, wear to cover with age, $2.00 (sold)
Secular Saints
, hardcover, wear/fading to dust cover, otherwise in great condition, $10.00
A Short Life of Christ, 1952, $5.00
The Black Arrow, $2.00
The West Point Story, copyright 1956, ex-library, $2.00 (sold)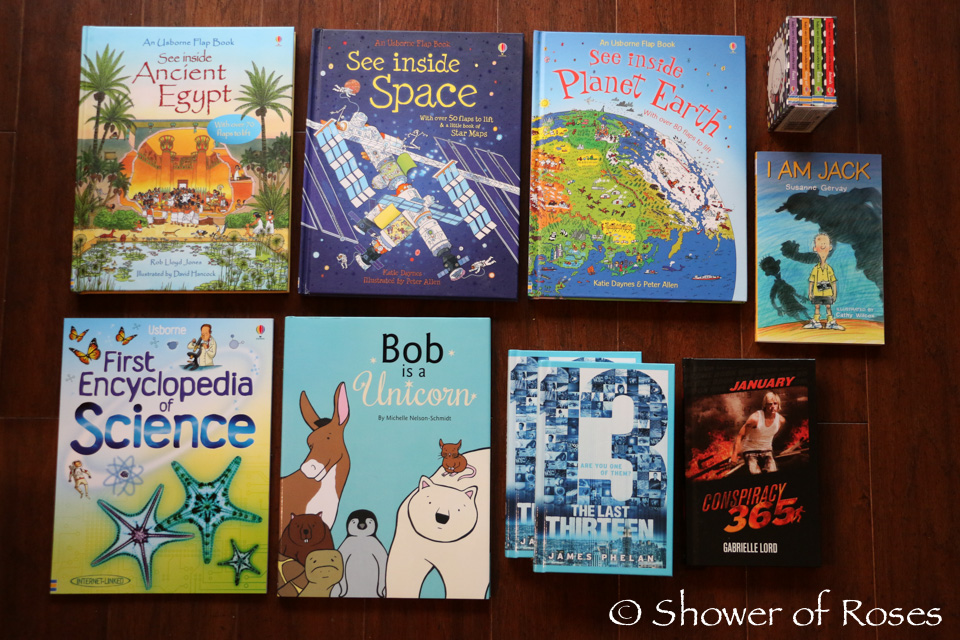 All Usborne Books which I'm not interested in keeping, all in new/like new condition.
See inside Space and See inside Planet Earth (really wishing I wouldn't have purchased these two. If you want them you can have them. Maybe one of you could do something creative with them, otherwise they are going in the trash.) FREE for postage
(sold)
Bob is a Unicorn, $1.00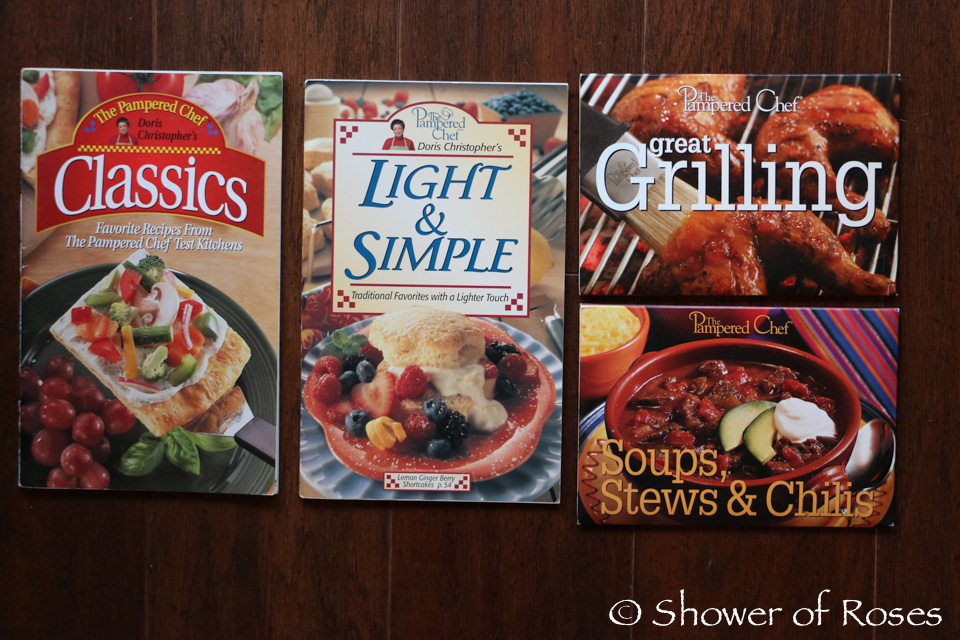 Pampered Chef Cookbooks/Recipes: Classics; Light & Simple; Great Grilling; Soups, Stews & Chilis – $3.00 for all four (sold)
Pampered Chef: More Stoneware Sensations, $1.00
Betty Crocker New Christmas Cookbook, $2.00 (sold)
Please leave a comment, or email me directly at jessica(dot)showerofroses(at)gmail(dot)com, if you have any questions. Thank you!