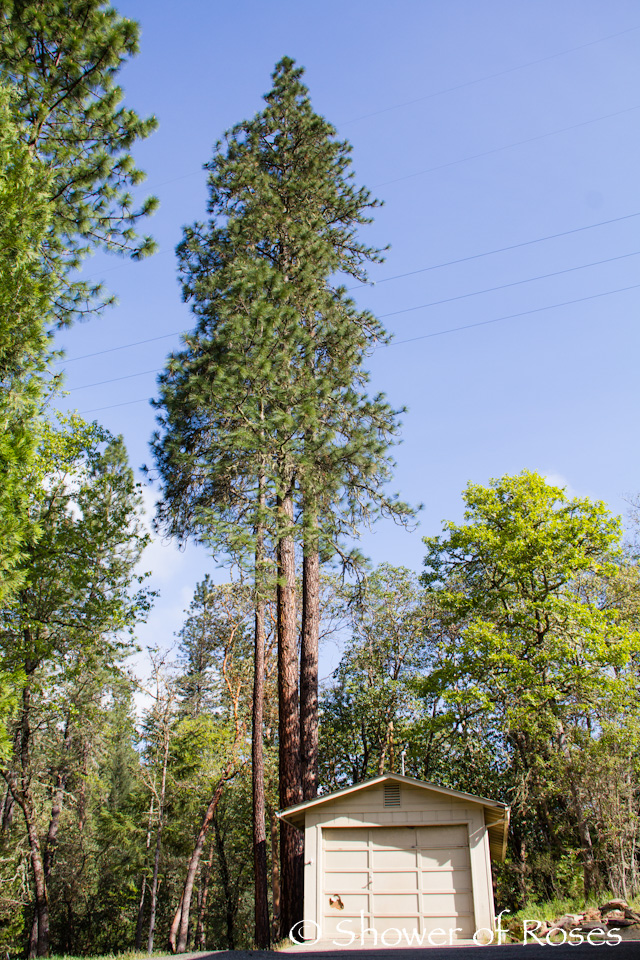 I've tried to start a "Daybook" post each day this week and I just can't seem to get past the first writing prompt… There is so much going on "outside my window…" at the moment!
After my husband's decision to turn down the job offer and to stay here for now, we started talking about moving forward with a couple more of the home improvement projects that have made their way to the top of our "to-do" list. It has been 14 years this May since we purchased our home and up until now almost all of our efforts have gone towards remodeling and expanding the original house. We have put off repairs to our small detached "garage" for the past 10 years (it needs a new roof, gutters, windows, and now it even needs a new door – the current door will still open if Sean, I, and our two oldest boys all work together to lift it…) and we can't put the repairs off much longer.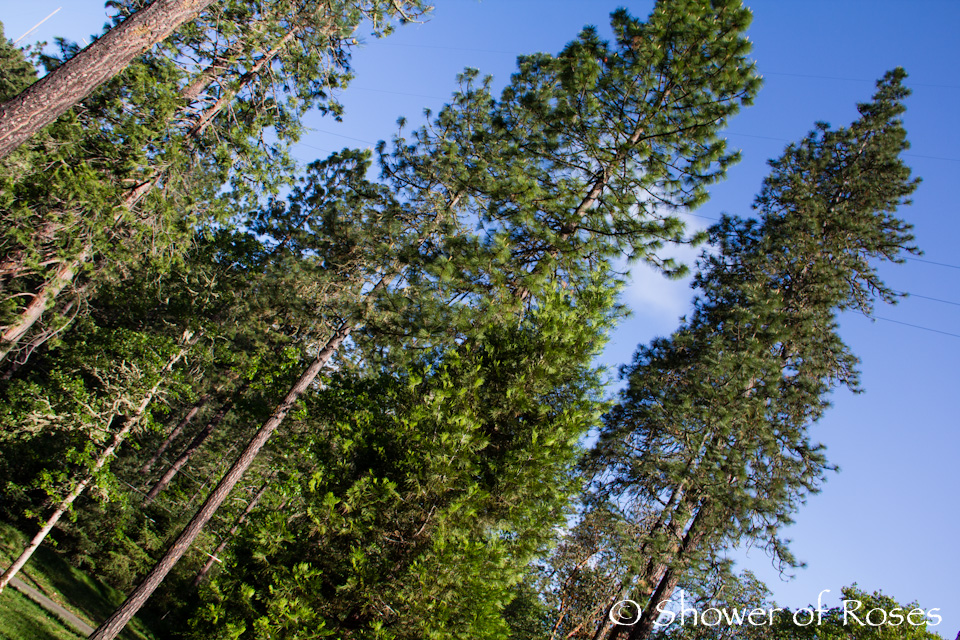 Originally we considered tearing it down and starting over, but after considering all the options we decided to just convert the original garage into storage space (it could be the perfect place for all those school supplies that need new homes after giving the old school room to the little boys) and then add on a big new garage coming off the left side. The first step was finding a licensed/insured contractor who was willing to cut down the two huge pine trees right next to the garage and remove the stumps/roots, without damaging the building or foundation. . . Two of the pine trees were over 100 feet tall!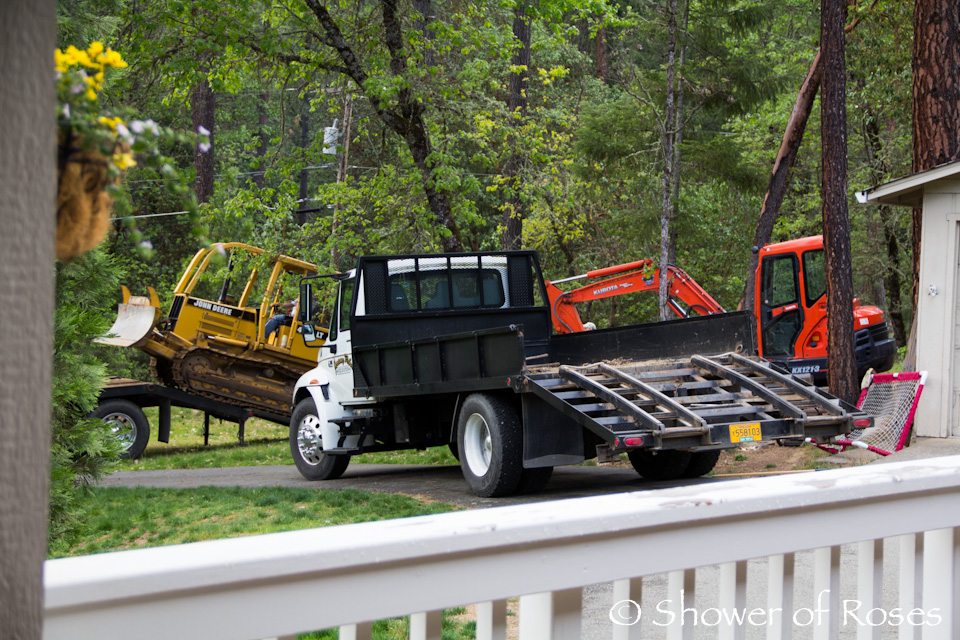 After I spent an afternoon down at the county planning office making sure this would all be possible with zoning, my Dad helped us find a excavator/logger for the job. We wanted to wait until after Easter before we started tearing up the yard and on Monday afternoon all the heavy equipment started to arrive!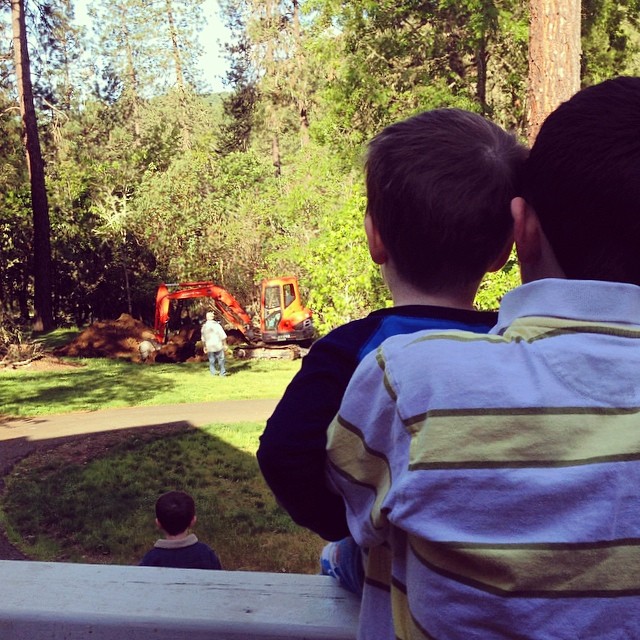 Bright and early Tuesday morning the tractors were busy digging a pit for burning the brush and stumps. Unfortunately it wasn't a burn day so the actual fire was going to have to wait until later. . . (Thankfully yesterday was a burn day!)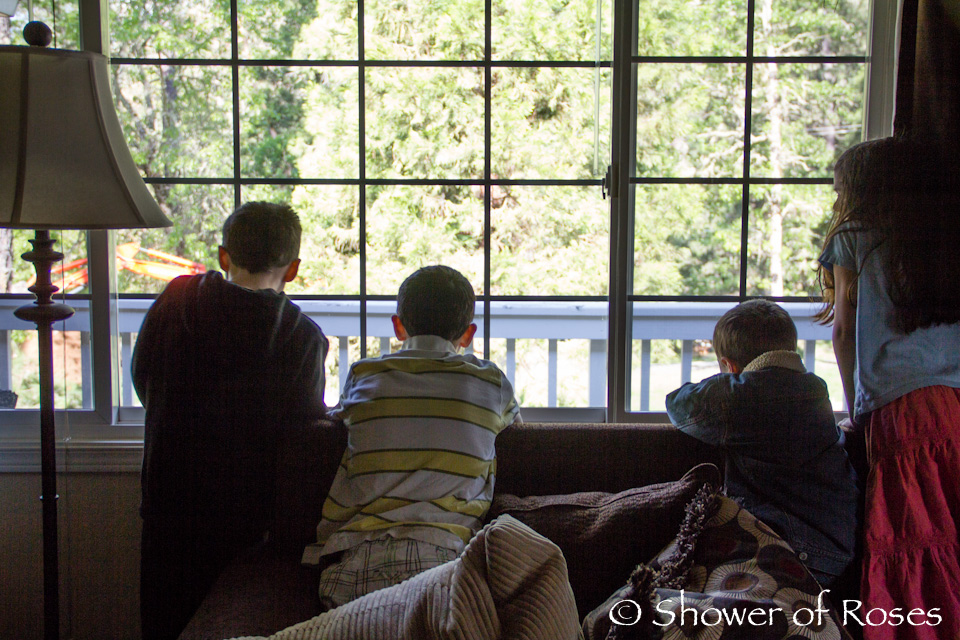 Our school day pretty much revolved around tractors, tree falling, and exacvation work! Everyone was so excited to watch the trees fall.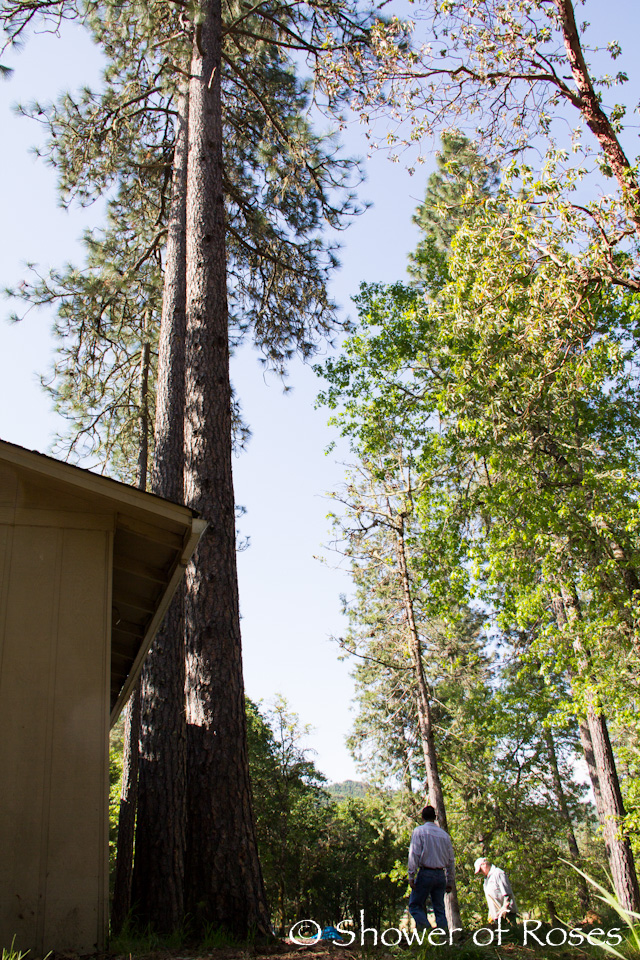 We didn't have very many options on directions the trees could safely fall. Thankfully the strategically placed logs from one of the "smaller" pine trees protected the driveway from getting damaged. Then it was time to take down some of the smaller trees and clean up the mess!
It is sad that so many of the mills have closed and it would have actually cost us money to send these beautiful logs to the mill… We are now pretty much set for life with pine for camping and other outdoor fires, as well as some madrone and oak for burning in our wood stove next winter.
I do have some more pictures from yesterday and today, but this is all I have time for at the moment… In addition to the construction work, today the girls are taking their required state math tests, the boys are taking their reading tests, and tomorrow the boys have their math tests. (Please say a little prayer for them!) Following that we have overnight company tomorrow, a baby shower on Saturday, the Latin Mass and potluck on Sunday, and more guests all next week! It's going to be staying pretty busy around here, but hopefully I'll find time for a few breaks and start catching up on some blogging.
In the meantime, here are a couple videos of the trees falling: