Looking at the pictures in this post you would never guess that I was not very prepared for Snuggles' birthday this past week. All I had done to prepare was order a few things from Amazon (Golf Cart, Golf Ball Candy Mold, a book, and a couple Golf Games – which arrived quickly thanks to Amazon Prime) and created some food labels on Wednesday, then grocery shop Friday evening following the final day of the children's Golf Camp & Tournament.
Saturday morning the birthday boy didn't want to come out into the kitchen until his cake was ready so he could be "surprised!" (I really need to get back into the habit of making them the night before) so his Daddy came to my rescue and took him to town for a Birthday Smoothie and to run a couple errands. Thankfully everything came together quickly and beautifully despite my near panic attack halfway through decorating the cake! 😉
Sean and I recently splurged at Costco when we saw the Disc Golf they had for sale. We saved it as a birthday surprise and as soon as Sean arrived back from town, he and the boys set up the three-hole course around our property! It has been so much fun!
I had also planned to create a "Pin-the-Ball in the Hole" game. and had picked up a poster board when I was at the store, but my older boys (aka resident helpers and artists) were working at the neighbors all morning digging holes (their first "real" job!) and I decided it wasn't that necessary after all… We had plenty to keep us busy for the day!
Rose, who I had taken shopping with me the night before, had picked out a box of animal crackers for her brother. . .
As I mentioned above, I went totally overboard creating golf themed food for the party!
The birthday boy loved it all!
…and a few more ideas that I ended up skipping since we had more than enough…
Rice Krispie Treats cut into a kidney shape, with one end dipped into frosting or white candy melts and then covered with green spinkles, for Bunkers/Sand Traps.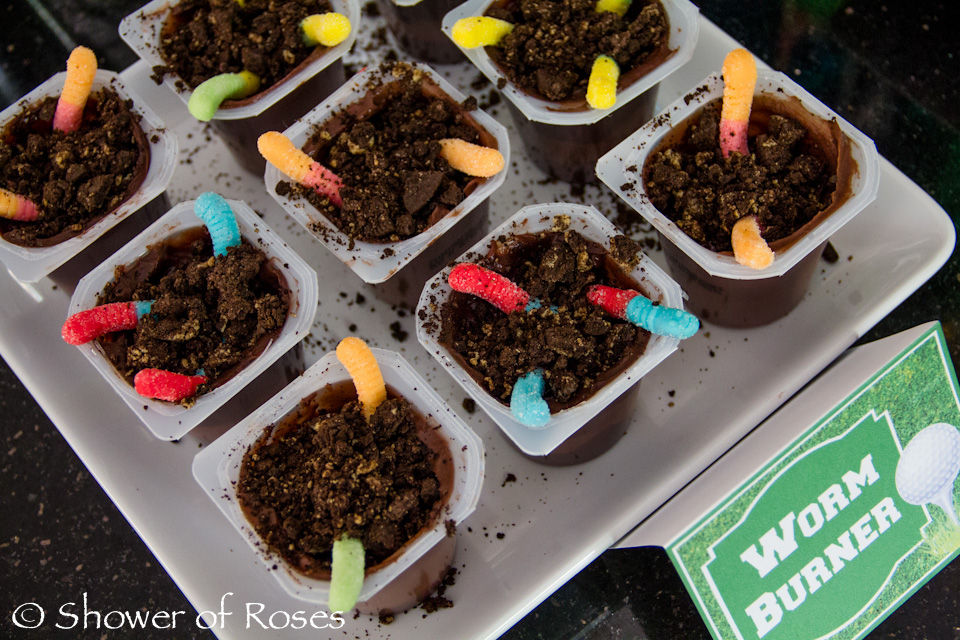 Chocolate Pudding topped with Gummi Worms and crushed Oreos for "Worm Burner!"
Worm Burner: When a golf ball is hit hard and is intended to go airborne but instead rolls or skips along the ground at high speed.
It worked perfectly for this party!
We ended the birthday with Breakfast FORE! Dinner:
a Bucket of Balls (aka donuts), Hole-in-One Eggs, and Fruit PARfait!