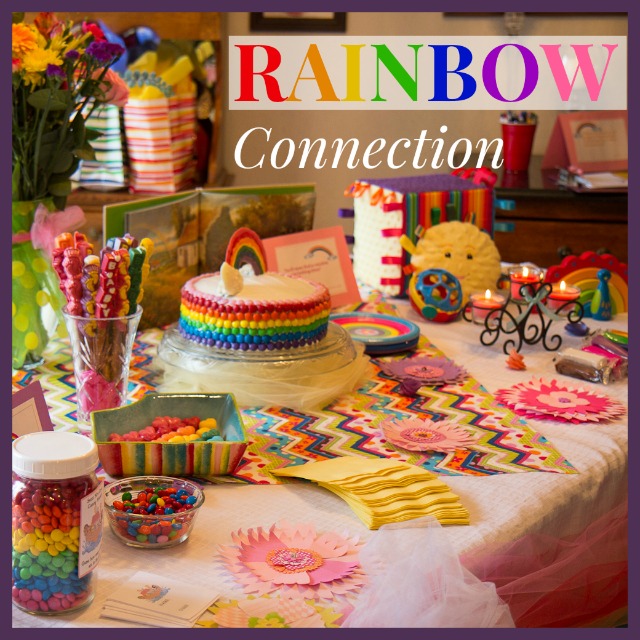 I've been participating in the 7 posts in 7 days challenge, but just wasn't able to put a post together last night. Thursdays are always a really full day for us each week, with the tutor here from 12-5. We are still recovering from the stomach flu we came down with last weekend, and Ranger (who we thought was the only one of the nine of us to escape it) came down with it last night… Overall, if you count all those State-by-State posts at the beginning of the week individually, this is post #9 for the week so I've completed the challenge, right? 😉 I am working on putting together a list of our saint books for March which I will try and post tonight or tomorrow, and I'll also be back sometime this weekend with a giveaway from St. Luke's Brush! (P.S. If you haven't entered the Sew Sweet Booties giveaway, today is the last day!)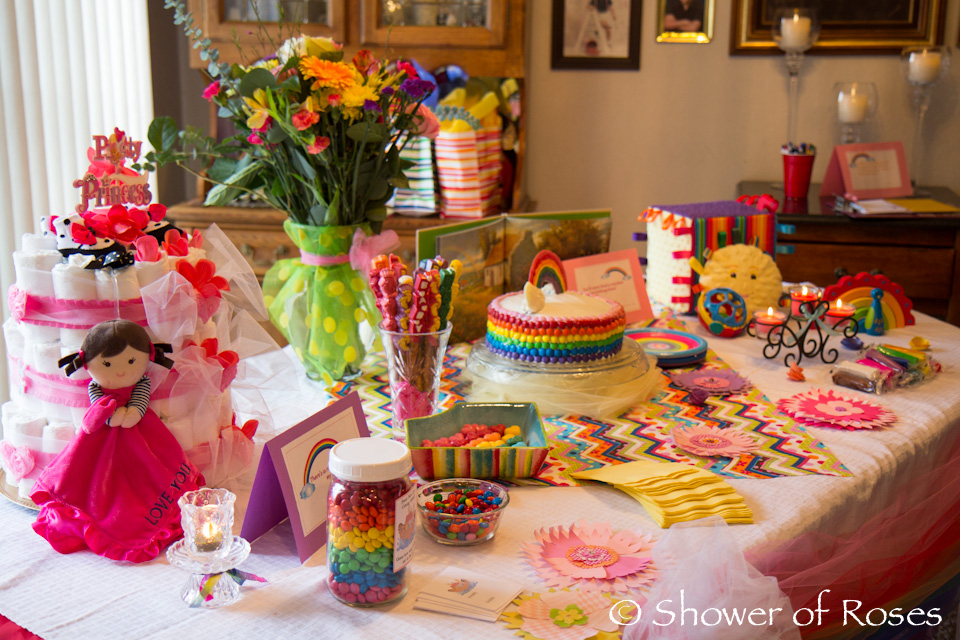 The weekend before last I attended a baby shower for Ranger's godmother (who was also my Confirmation sponsor many years ago). This is her first baby after an 11 year gap and we are all so excited for her! She also just found out that baby is a GIRL, which is even more of a surprise, since they currently have 5 boys! Her sister (another dear friend/bridesmaid of mine planned the shower and I was able to help with a few things.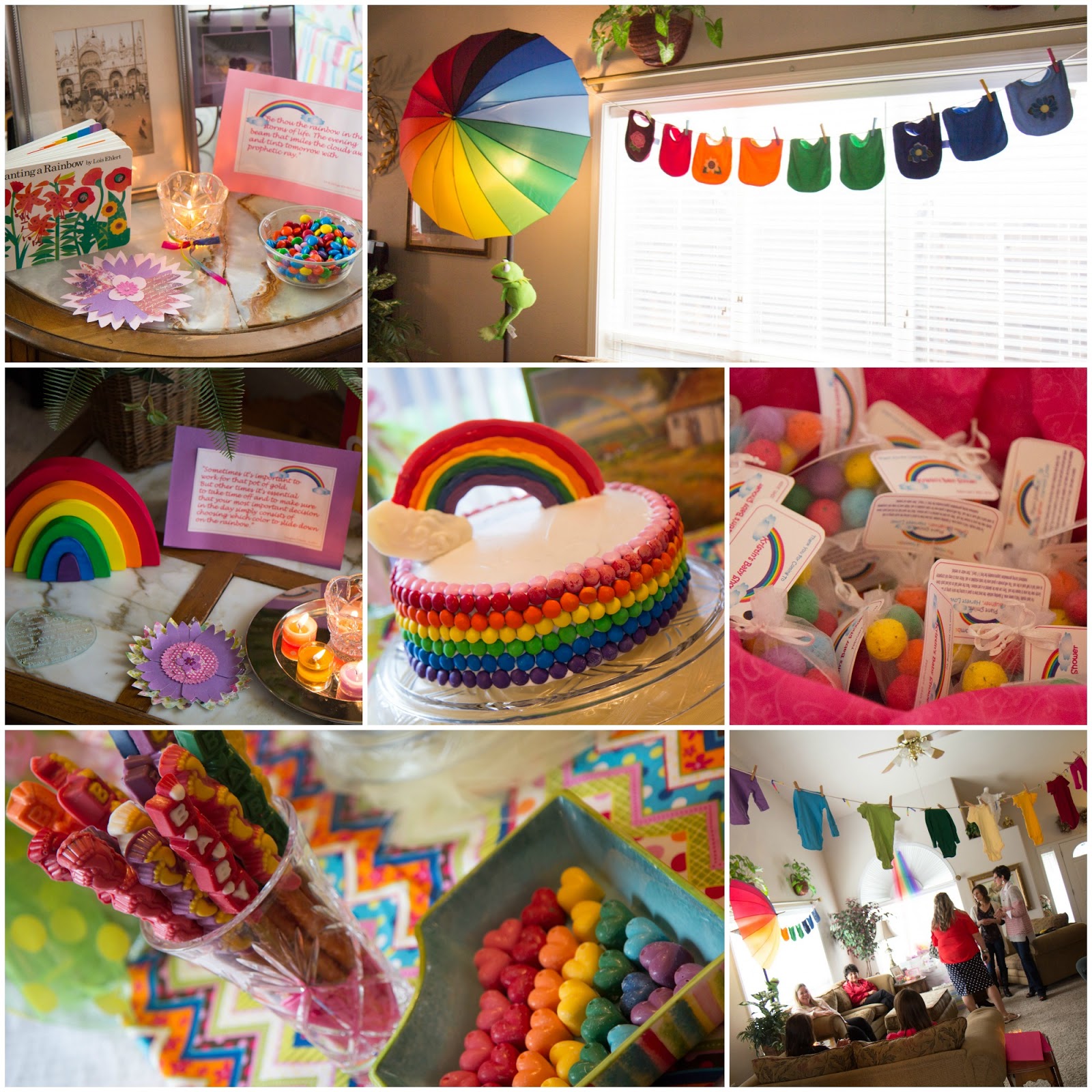 Ann-Marie wanted to incorporate Rainbow Connection, a childhood favorite of Kristi's which she sings to her own babies. Ann-Marie made a darling rainbow cake, pretzel rods, candies, jello (made with mostly fruit juice!), and so much more.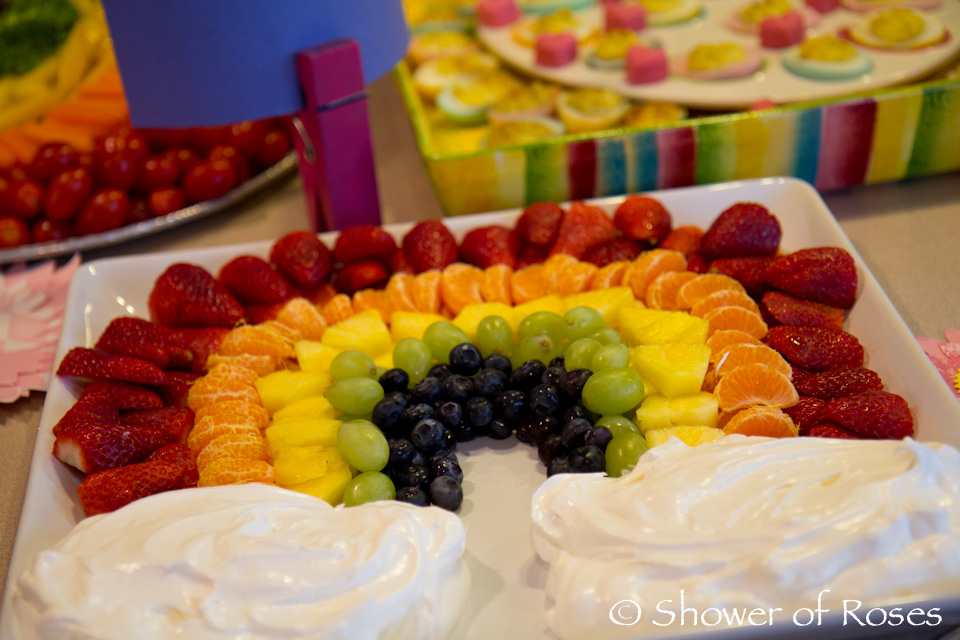 Trina made a veggie platter and I made the fruit rainbow. They were all so pretty and colorful!
Even prettier than the rainbows, though, was the beautiful St. Therese doll Amy made for the baby! It is such a darling doll, and still one of our little
Rose's favorites
too.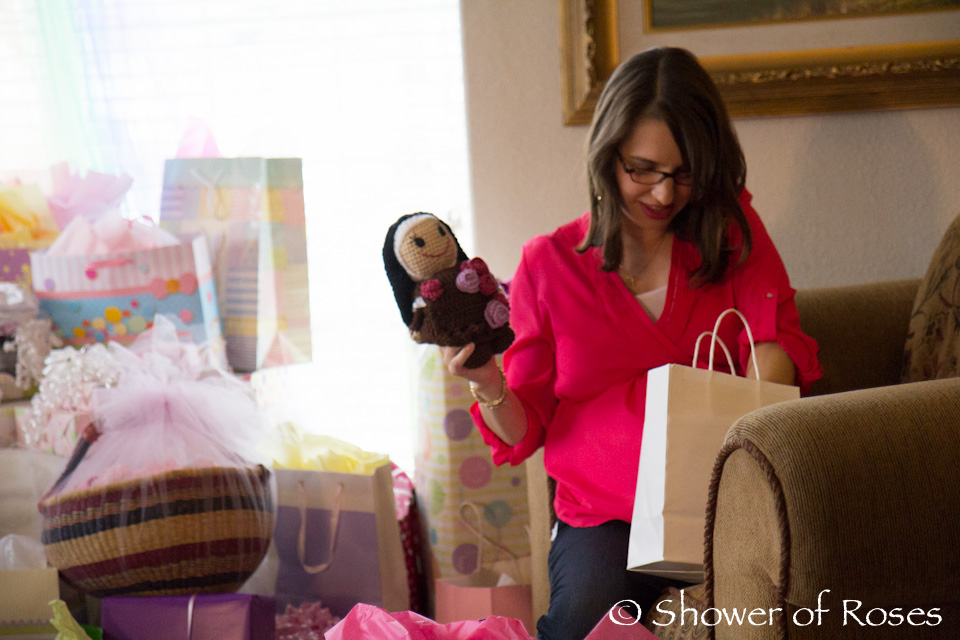 One of the games that Ann-Marie planned was a socking pairing competition.
At 28.7 seconds I won this game, though Kathleen (the tutor I have here on Thursdays) came really close to beating me at just over 29 seconds! The prize was one of Ann-Marie's
Heat/Cold Lavender Scented Therapy Packs
which we have been putting to good use this past week as we still battle colds and stomach flus.
When I asked Ann-Marie what else she needed help with, other than the few decorations I was bringing along and the fruit platter, she asked if I could help with a couple games.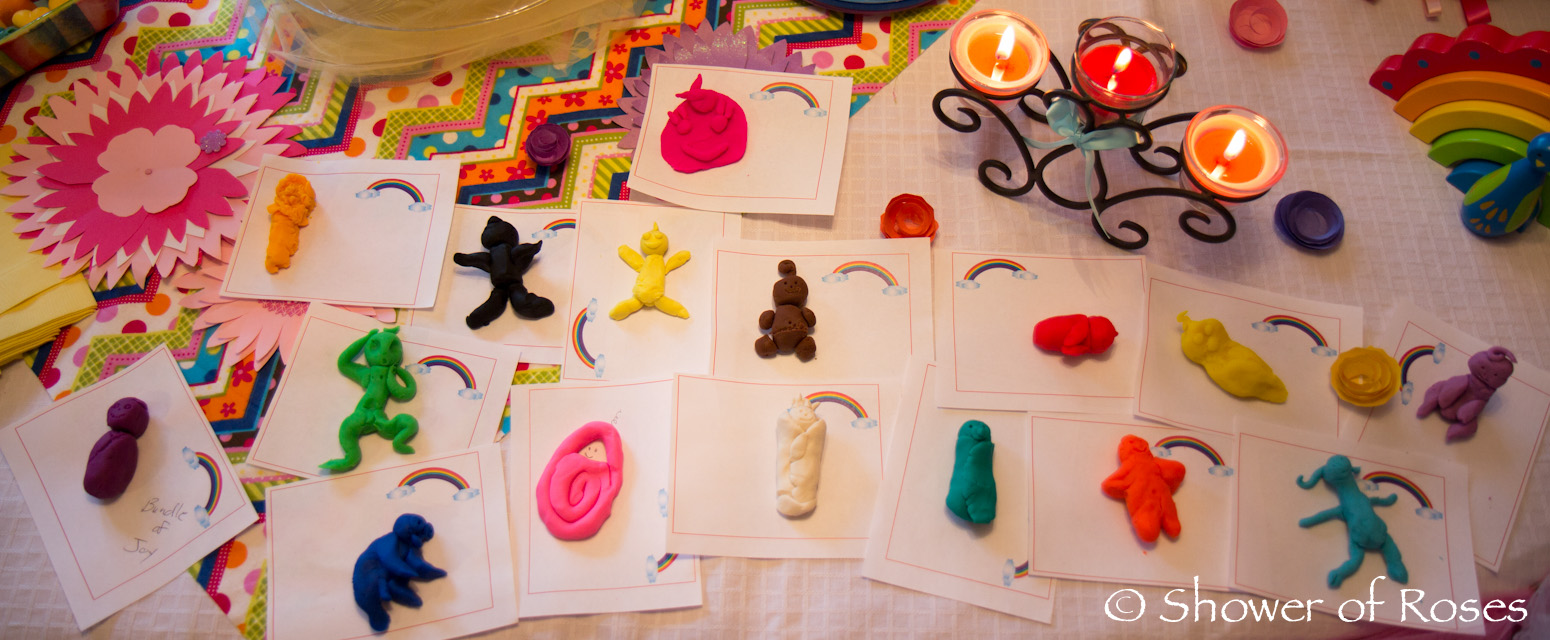 I was trying to come up with some that we hadn't played before and ended up choosing Play-Doh Babies, inspired by a
suggestion at BabyCenter
! I purchased a
Box o'Color
(affiliate link) with 16 individually wrapped packages of play doh and passed them out during the shower. We set a timer for five minutes and had each person sculpt a baby.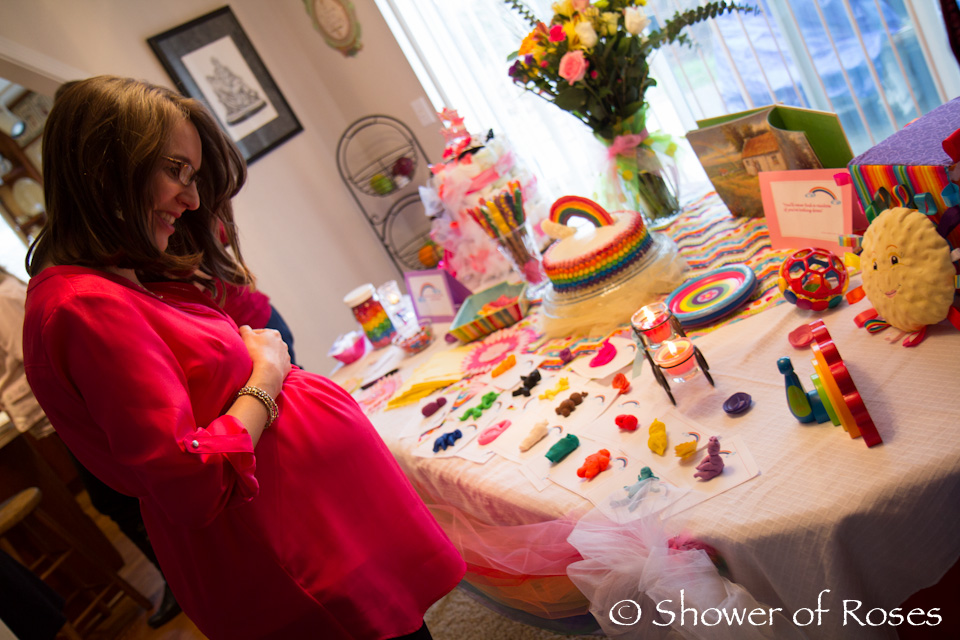 You can give multiple prizes based on different categories (most realistic, most creative, most disturbing, most silly, etc.) but we just had Kristi choose her favorite. She picked Trina's with the cute little pacifier in it's mouth! If only there had been a category for most disturbing, she might have had a much harder time choosing the winner! 😉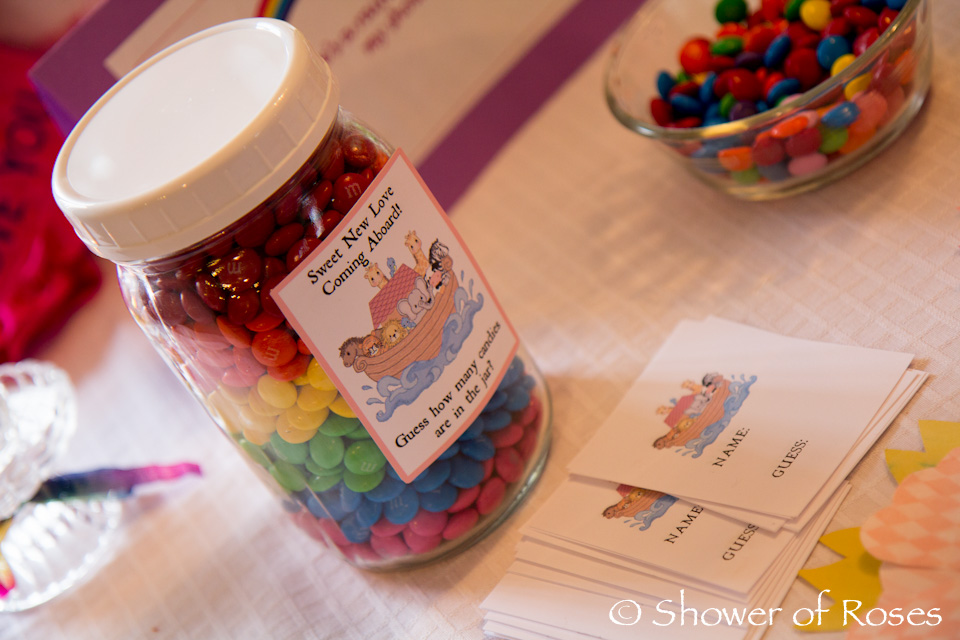 Apparently the M&M guessing game I brought along, thanks to some
help from my boys
, was really hard and there were only two women who were even remotely close to guessing correctly.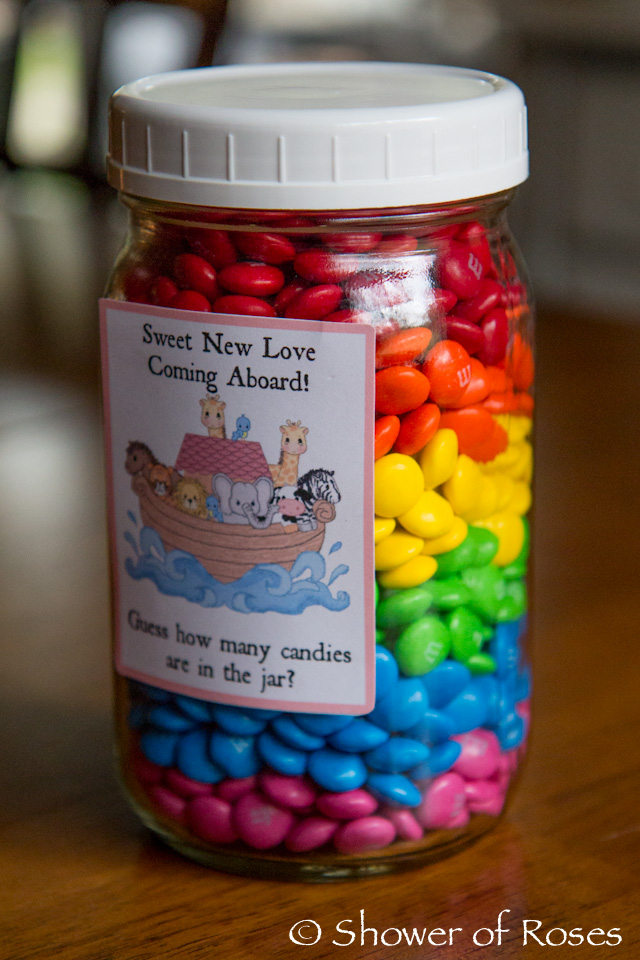 Would any of you like to try and guess how many M&M's are really in that jar? If you'd like to play, just leave your guess in the comment box and I'll send a
little prize
to whoever has the closest guess by Sunday night!
UPDATE: The answer is 843 M&M's!
Congratulations Christine M! Your guess of 840 was the closest.
Thank you all for playing along. That was fun! 🙂