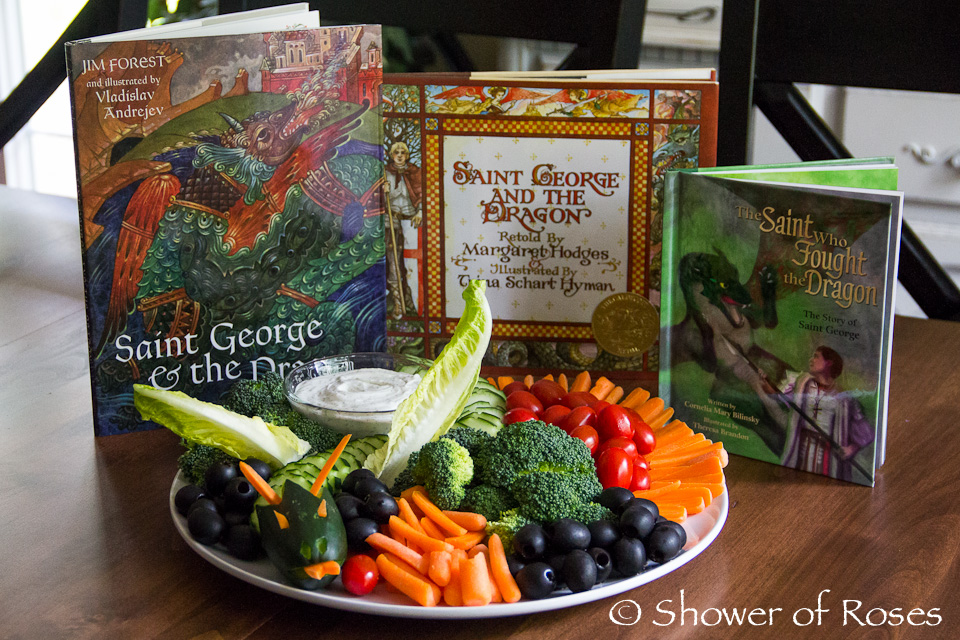 With the feast of St. George falling on Easter Wednesday this year, following a weekend filled with way too much cake, I decided to make a Veggie Platter for the feast of St. George instead of a dragon cake or our Saint George Cookies. Our veggie platter was inspired by a couple snake themed veggie trays I found through a google image search, with the addition of some lettuce wings at the suggestion of Charlotte's oldest son. I thought it turned out great and my children love it! You can find the directions over at Catholic Cuisine.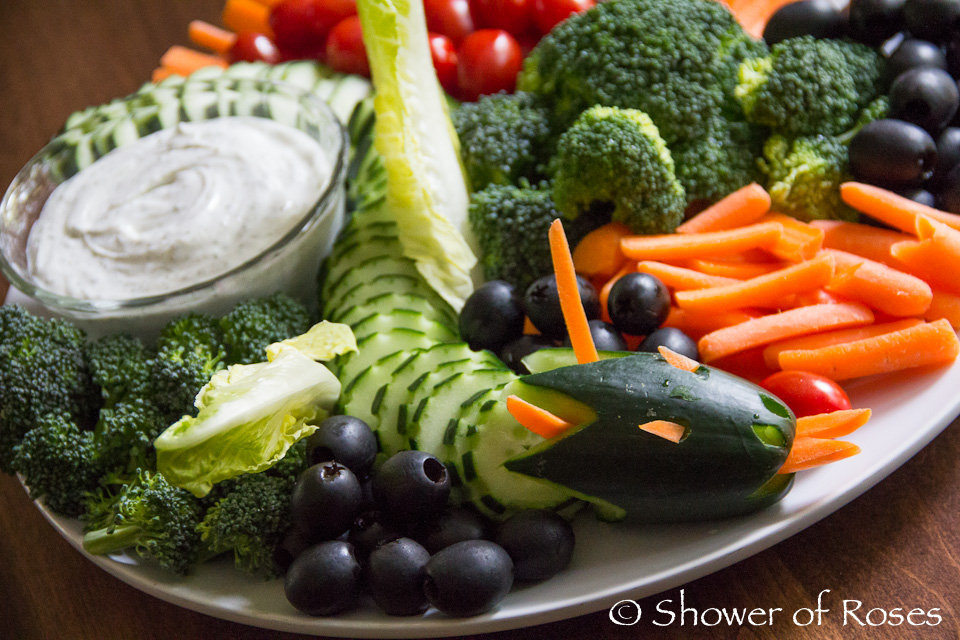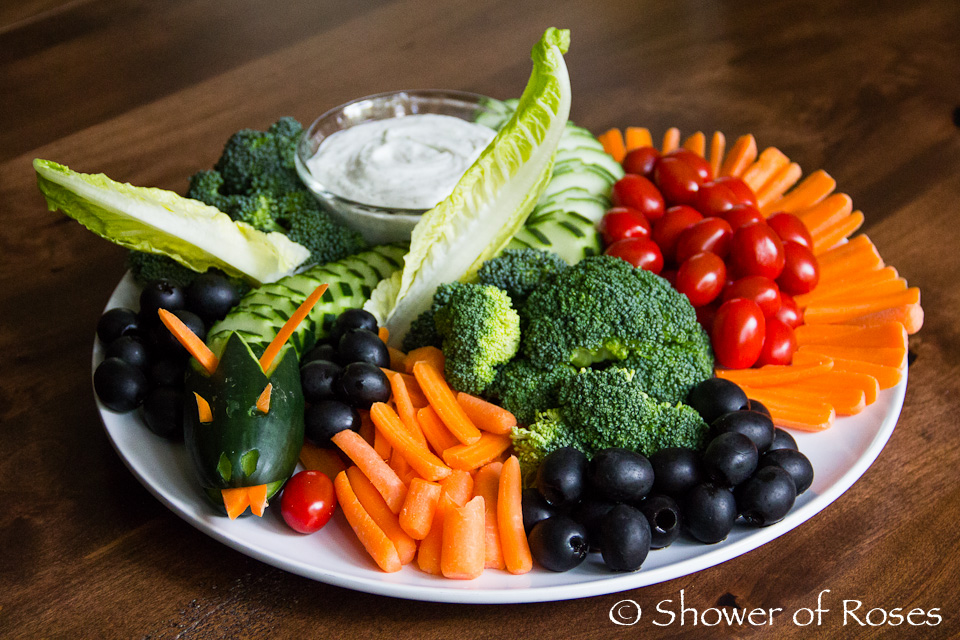 We will devour the dragon with dinner this evening with dinner, after reading a couple new picture books about St. George that one of our boys discovered in his Easter Basket including: Saint George & the Dragon by Jim Forrest and The Saint Who Fought the Dragon: The Story of St. George (affiliate links).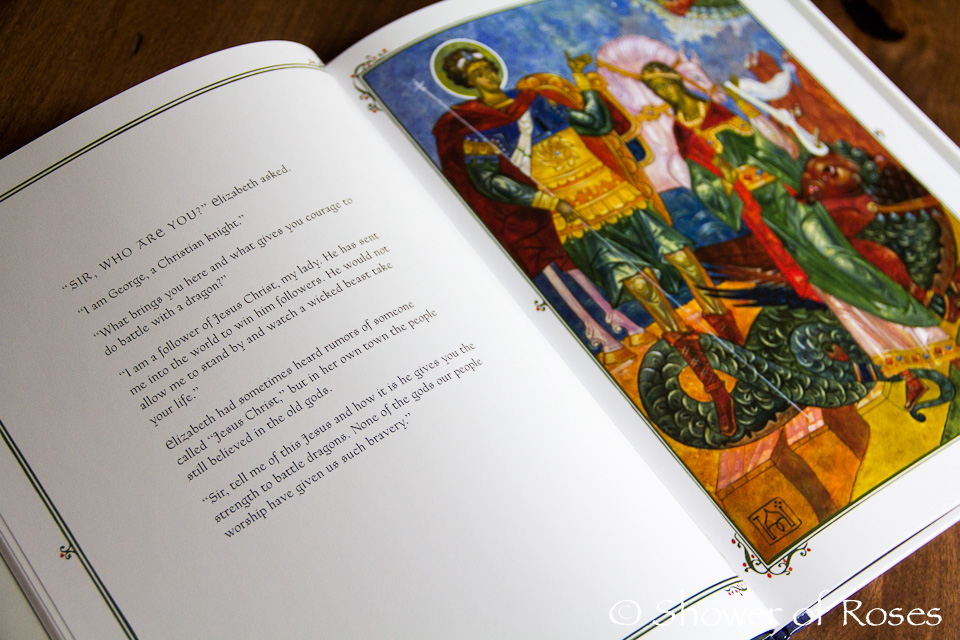 I also printed out the following St. George's Day poem to read aloud at dinnertime. It was written by one of my visitors here at Shower of Roses, Eliana Murphy. She said it is actually the the lyrics to a St. George's musical medieval-style miracle play and granted me permission to post it here at Shower of Roses. Thank you for sharing it with all of us, Eliana!
by Eliana Murphy
Ye lords and ladies, listen well
And hear the tale we have to tell
How good St. George the dragon slew
And won a lady's heart so true.
The sun was shining o'er the lea
As he came riding merrily
Adventure seeking, far or near
If death should come, he wouldst not fear.
Behold a maiden, pale and fair,
With hair of gold and beauty rare.
But in her eyes her tears do glow
As to St. George she tells her woe.
"Fair knight, this land is full of death,
Burned by a dragon's fiery breath.
He now demands my life to kill
And of my flesh he'll have his fill."
"Fear not, fair maid. Now dry thy tears.
I'll mend thy sorrow, calm thy fears.
Now though this dragon do his worst,
I'll free thy land of his great curse."
"Sir knight, thou speakest mighty well.
And if this dragon thou dost fell,
My father, king of all the land,
Wilt then reward thee with my hand."
Who thunders now across his path?
The fearsome dragon, full of wrath.
With breath of fire and mighty wings
Cruel claws that grab, a tail that stings.
Come now, brave knight, the dragon kill,
And of God's glory have thy fill.
And if thy soul be true and bold,
The maiden's heart is thine to hold.
Be glad, ye people, now rejoice!
Come dance and sing with cheerful voice.
Acclaim the hero, this brave knight.
Who killed the dragon with great might.
"Fair knight, thou broke the dragon's spell,
Our hearts give thanks to thee full well.
Now to my daughter pledge thy troth,
And may Our Great God bless thee both.
The people shouted and did sing
To see him honored by the king.
Then to the maiden he was wed,
And now for all a feast was spread.
Be glad, ye people, now rejoice!
Come dance and sing with cheerful voice.
For joined as one fore'er shall be
This holy knight and his lady.
Our song is o'er; our play is done,
But now thy story has begun.
Wilt thou be bold, thy dragons slay?
Or wilt thou turn and run away?
Ye gentle folk, we bid farewell.
Here ends the tale we had to tell,
How good St. George the dragon slew,