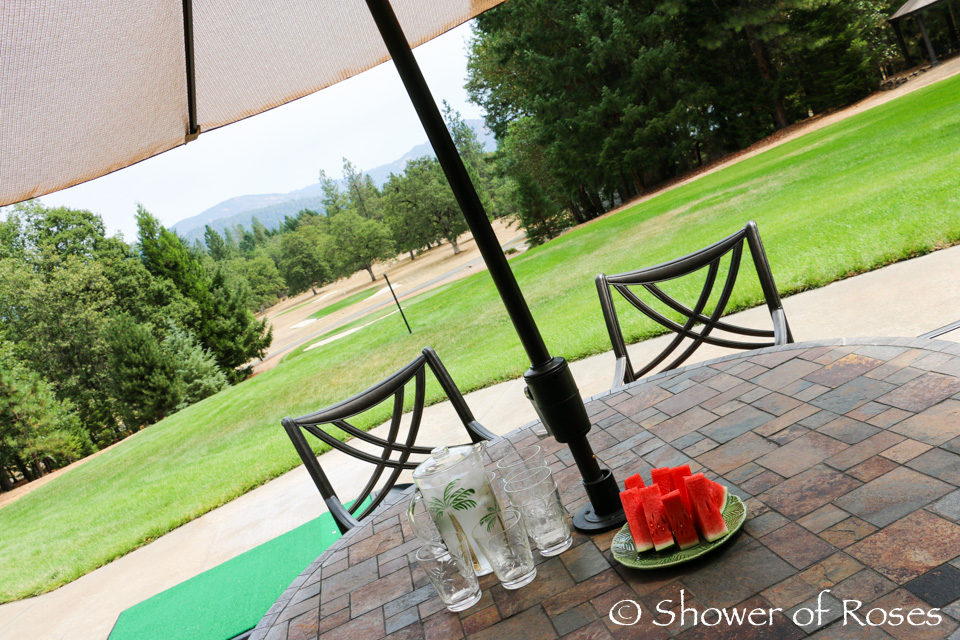 Outside my window…
I ignored my never ending to-do list yesterday, took the children to the library to turn in their summer reading check lists, and then headed out to my parents home for the day!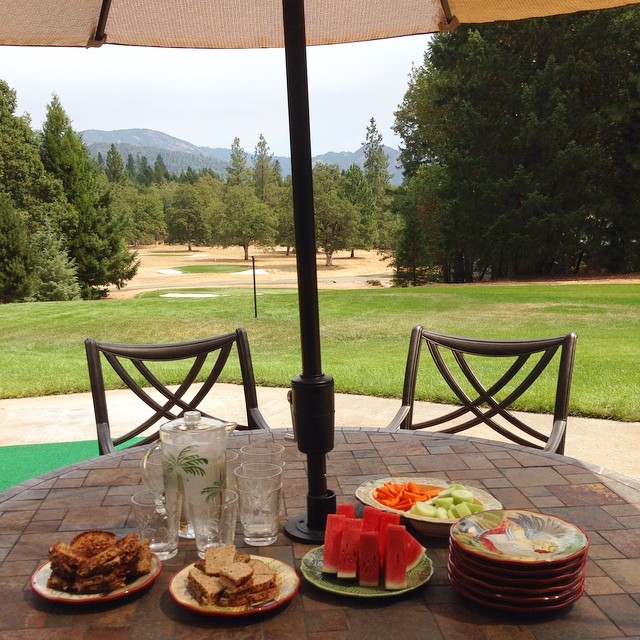 My mom made lunch for all of us and the kids had so much fun visiting with their Uncle David and Uncle Kevin, who will both be headed back to college soon.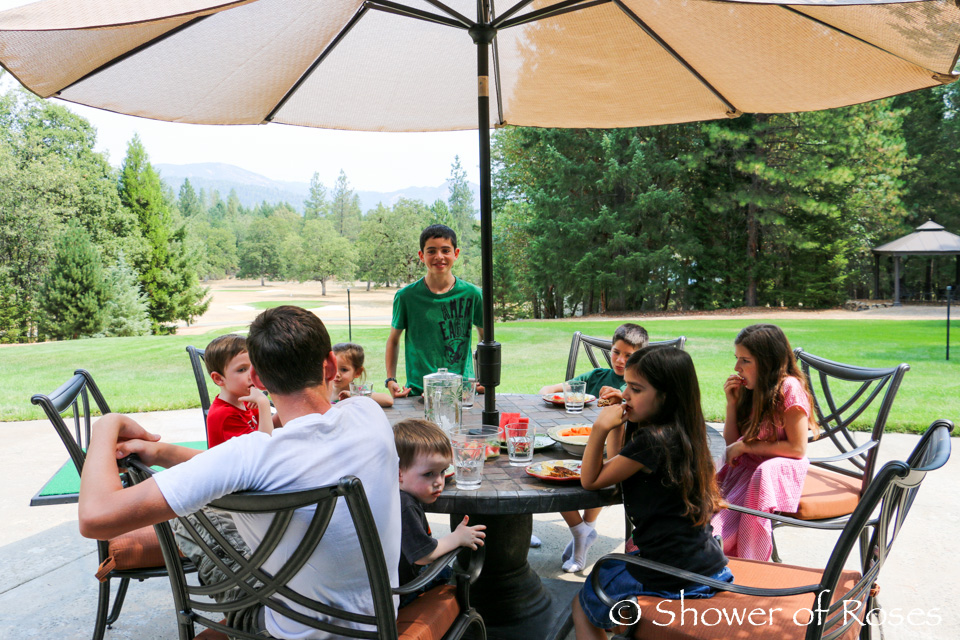 I am thinking…
about blog nicknames, and how necessary it is to keep using them here at Shower of Roses. When I first started blogging over seven years ago, back in 2007, I was pregnant with our fifth child and our oldest was still only six years old! There weren't very many other Catholic bloggers and using nicknames was common. At the time using nicknames made my husband and I more comfortable with sharing our family online even though I've dropped little hints over the years. It doesn't seem nearly as necessary any longer and my husband has given me permission to use their names… but I'm still thinking about it. 🙂
I am thankful…
that my husband arrived home safely last Tuesday night! However, even though he is back in town, we haven't gotten to see him very much. He worked at the office on Wednesday and Thursday and then, following some meetings on Friday morning, has been working on an engine since. Last night he didn't get home until after 11pm and was gone again around 6:30am this morning. Despite the extra challenges, we are thankful for the overtime too! It is always such a blessing each fire season.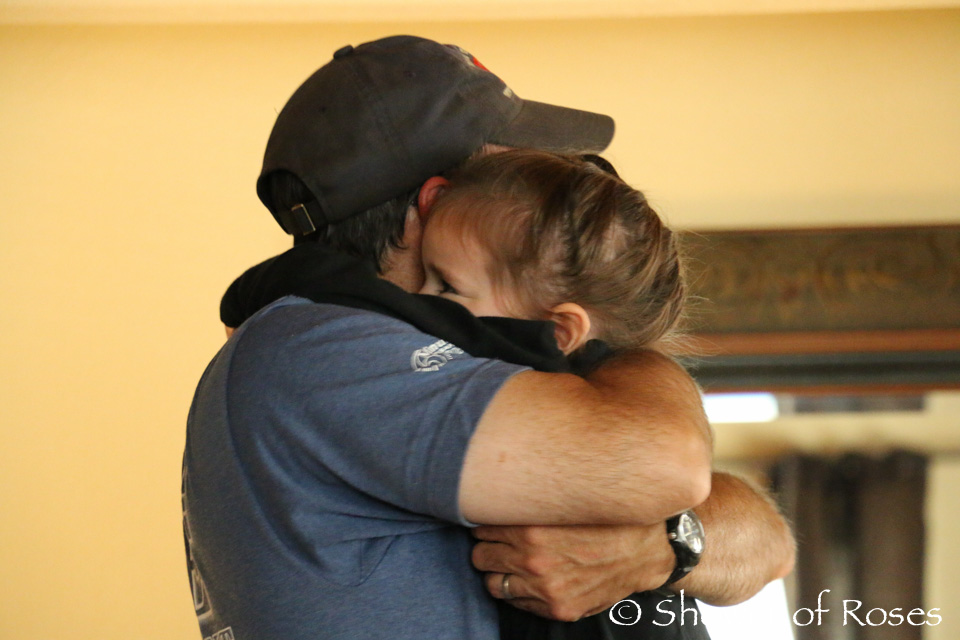 August 5, 2014: "Daddy's Home!"
Our little "Rose" ran and jumped into his arms when he walked in last Tuesday night, after being at fire camp for the previous 10 days. The kids were also excited to see what sort of lunch leftovers he had for them this time!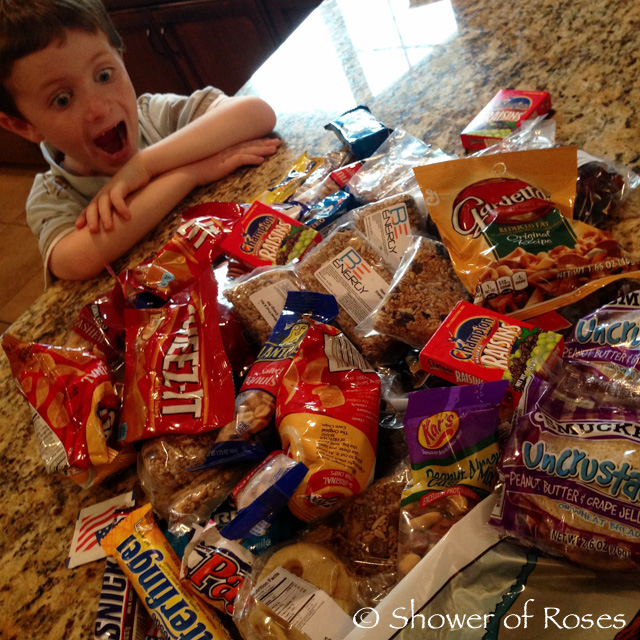 Learning all the time…
The children are all enjoying their summer break and we won't be starting our new school year until after Labor Day! Nevertheless, we have been working on some math lessons to get a jump start on the year and hopefully give us some flexibility to go on a family vacation in the fall. Our summer days have also been filled with great books and art projects. I love how they truly are "learning all the time."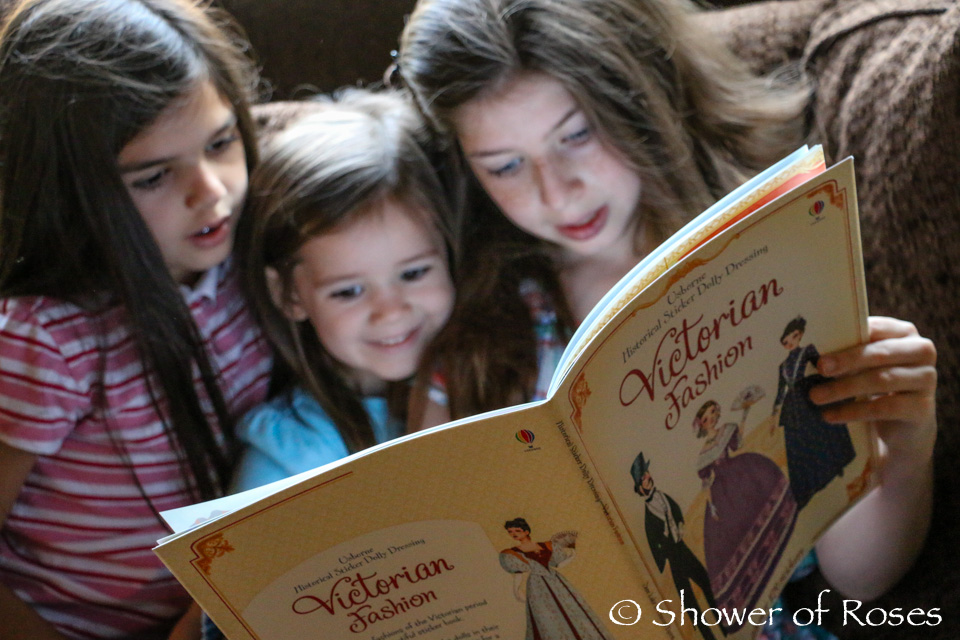 My mother-in-law is always sending such fun, thoughtful, and educational gifts to the children! At the beginning of summer we received a box of Bethlehem Books (we've been collecting them for years and now own most of their books!) including: Beyond the Desert Gate, The Drovers Road Collection, Alvin Fernald, Foreign Trader, Alvin Fernald, Mayor for a Day, Away Goes Sally, Old Sam, Dakota Trotter, Nacar: The White Deer, Stairstep Farm, and Willow Wind Farm. A couple weeks ago the girls received three sticker books: Victorian Fashion, Victorian Dollhouse, and Costumes Around the World. "Thank you, Grandma!"
Celebrating the liturgical year…
With Sean still working on fires (currently on an engine locally) and fighting this head cold, I COMPLETELY forgot that the boys were suppose to serve Mass on Sunday morning. (It probably would have been a good idea to write it down in my planner.) I woke up thinking we'd go to an afternoon Mass but remembered at 10:20 that it was the annual St. Anthony Festa! Oh, NO!!! I sent a friend a text msg to see if it was at 10:30 or 11:00, grabbed some Mass clothes for myself and the little ones plus the boys' cassocks and surplices, and loaded the car with all seven kids. We left the house at 10:35 to drive to the fairgrounds (we usually allow 30 minutes) and the boys miraculously arrived at 10:55, five minutes before Mass, to find to rosary just ending and Father waiting… Whew, that was way too close! (And thank you Guardian Angles!) On another note, I realized during Mass that the last time we saw Father Carmelo was when he met us at the cemetery in June to bury our little Anthony, who I miscarried on the feast of St. Anthony this year. What a morning… I think it might take me all week to recover!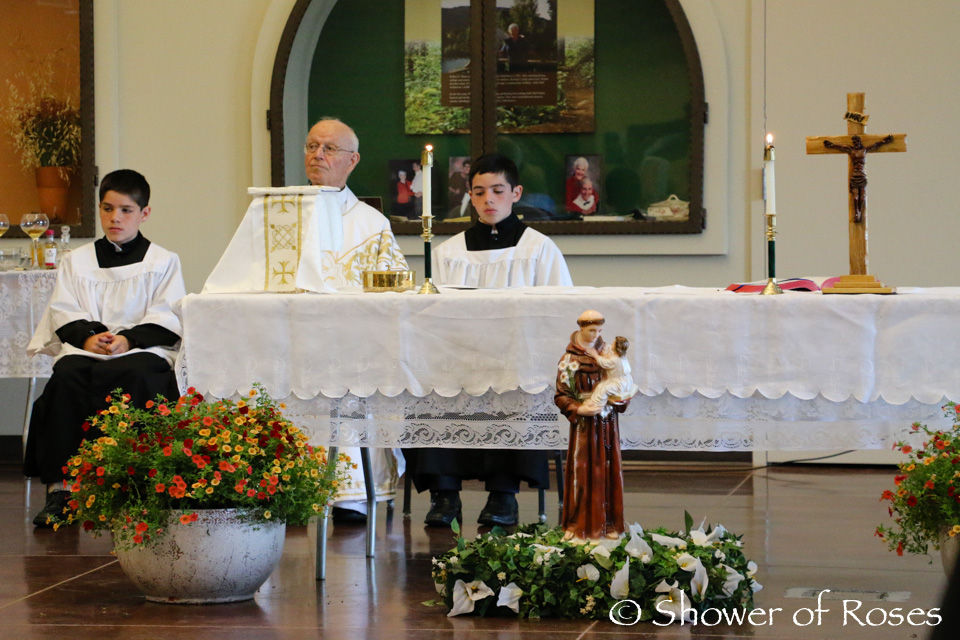 From the kitchen…
On Saturday morning my mom picked me up and we headed to the local Growers Market. I came home with lots of freshly picked produce to help us get over the colds we have been fighting since last week. I think I'm actually getting over this one without it turning into secondary infections, for the first time in over a year!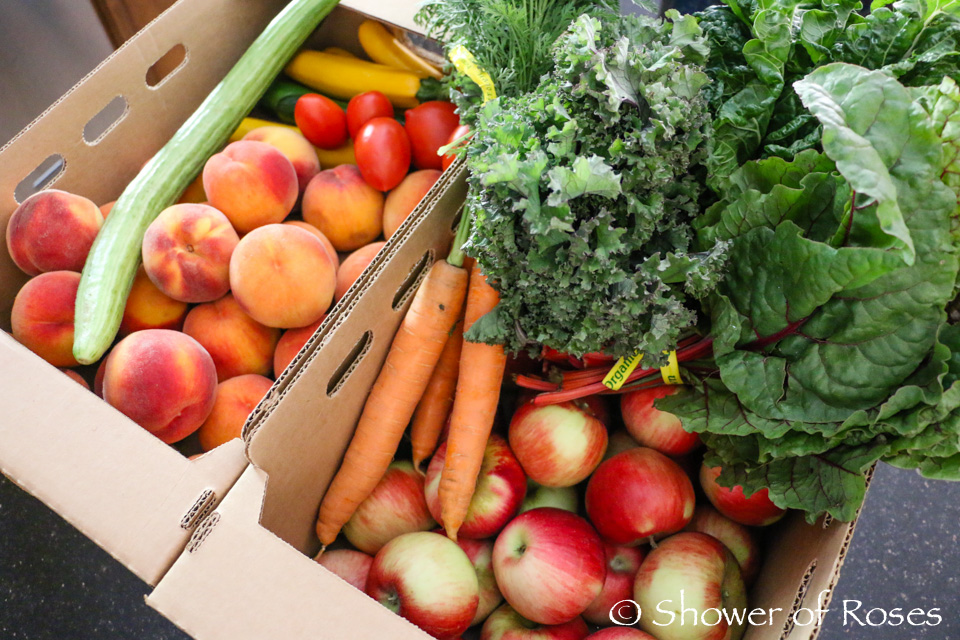 I am working on…
stopping what I'm doing to play with the children. After watching The Perfect Game recently they have all started playing baseball together each afternoon and I've been joining the fun!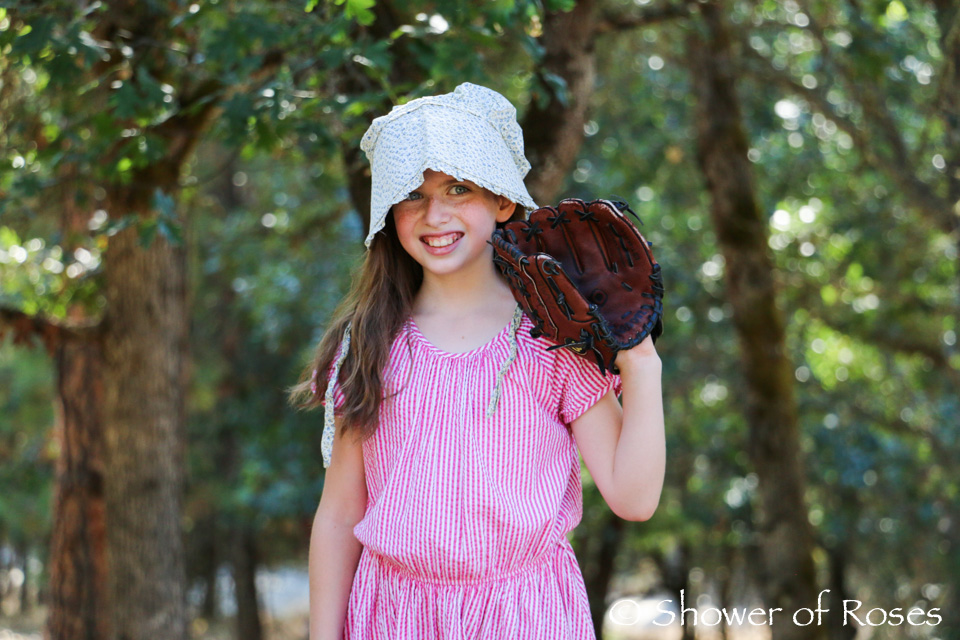 (I actually ordered the Blu-Ray version of The Perfect Game, but it's also currently available for Free Streaming with Prime!)
I am creating…
a list of the books that are on the girls' bookshelf for those who have asked. I'll try and post it soon!
I am going…
to the dentist this afternoon for a filling… no fun.
I am hoping…
to come up with some plans for our oldest daughter's birthday at the end of the month! Where has the summer gone?! I really need to find the reset button… With our miscarriage at the beginning of summer, and everything that has followed, it has gone by so quickly and I'm just not ready for school to start again in a couple weeks.
I am praying…
for my husband's safety, and for the safety of all our firefighters. We are also praying for a special intention for our family, and that God will make His will clear to us. (And for so many other intentions including all the Christians in Iraq…)
I am reading…
lots of picture books to the little ones. Yesterday was the last day to turn in the summer reading lists and book reports at our local library, and I woke up to find the boys sitting outside working on their reports on The Hobbit (Audiobook with Tolkien Dictionary) and Shadow in the Dark.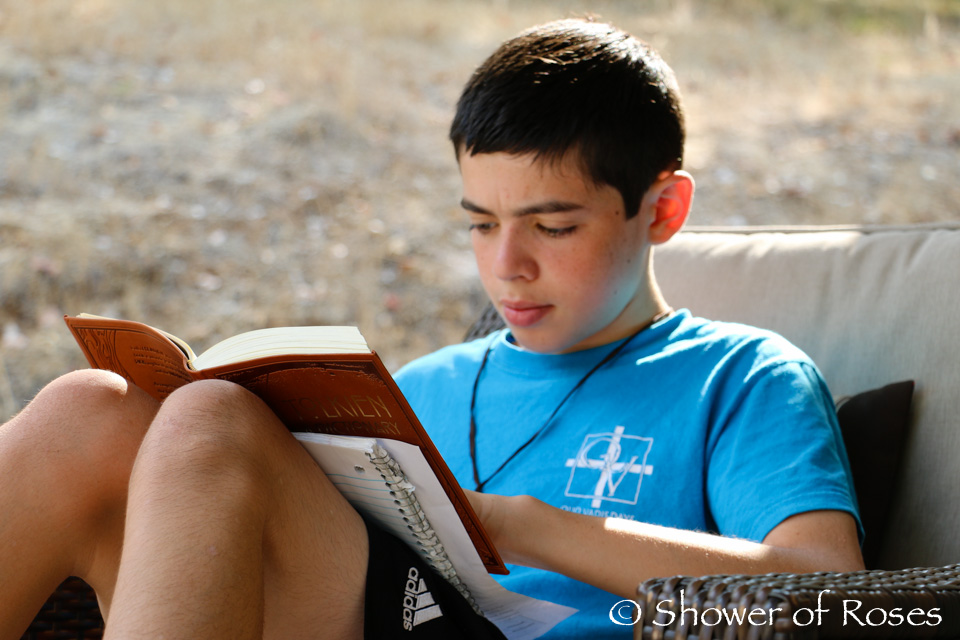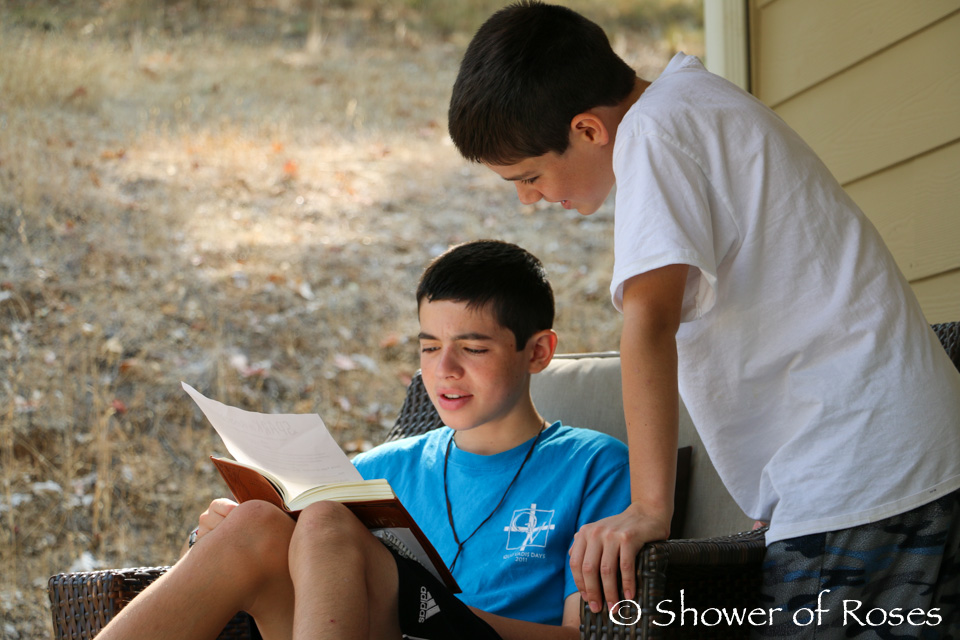 Pondering these words…
from St. Jane Frances de Chantal:
"If we patiently accept through love all that God allows to happen, then we will begin to taste even here on earth something of the delights the saints experience in heaven."

I am listening…
to this little guy pretending to be Johnny Cash with his sister's "Sound of Music" guitar.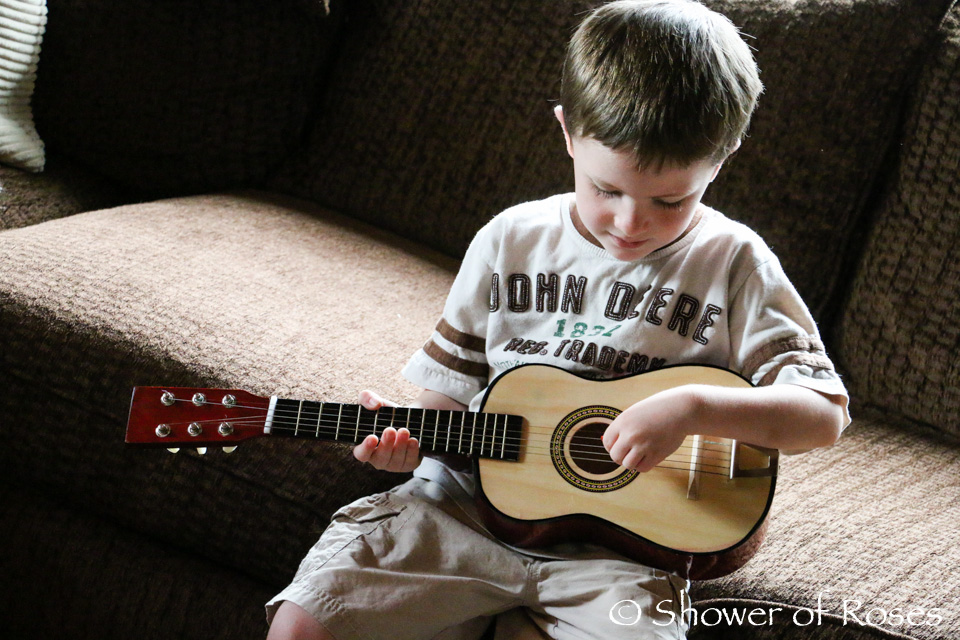 Around the house…
LEGO! I couldn't resist grabbing my camera the other day after walking by the boys' bedroom and seeing an ent hanging from the side of one of the houses in their LEGO town! I really need to share pictures of some of the boys' creations.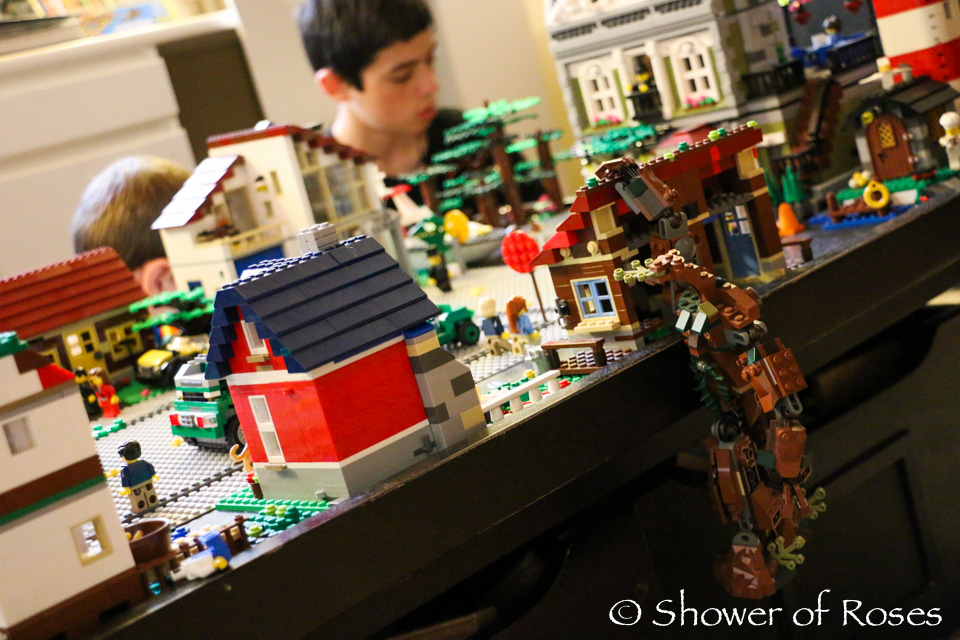 One of my favorite things…
the wi-fi function on my camera! I finally figured out how to enable the wifi and transfer a photo from my camera directly to my iPhone using the EOS Remote app. I ❤ this feature!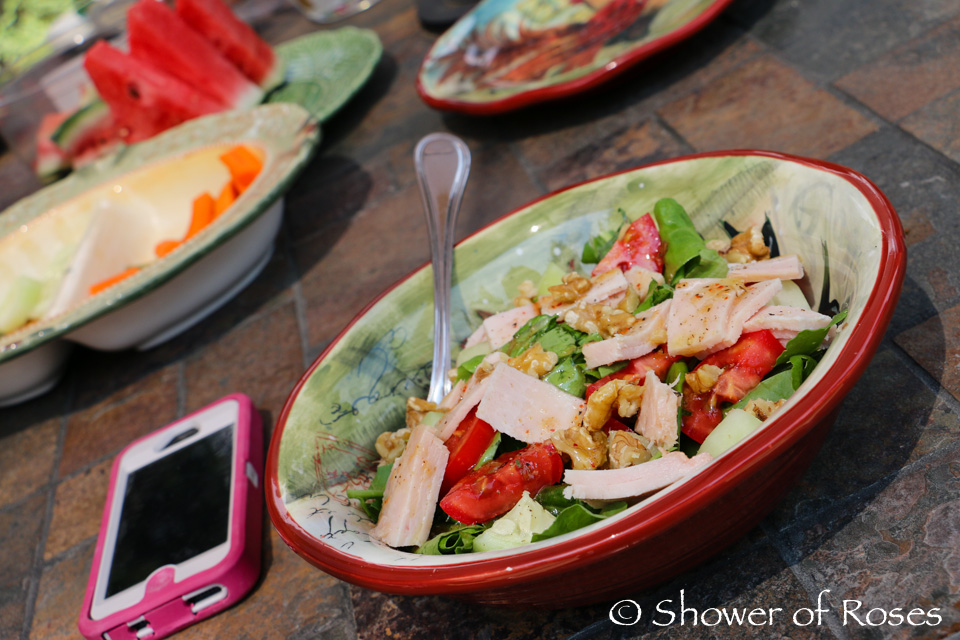 This week's plans…
We have a camping trip with friends coming up and I am praying that I can still pull it off without Sean's help. Please say a little prayer for me!
A little peek at my day…
My youngest brothers pulled out there Slow Stick Airplanes yesterday to show their nieces and nephews, then played a game of Frisbee Golf before the smoky skies started getting worse and it was time for us to go home. It was such a fun day!