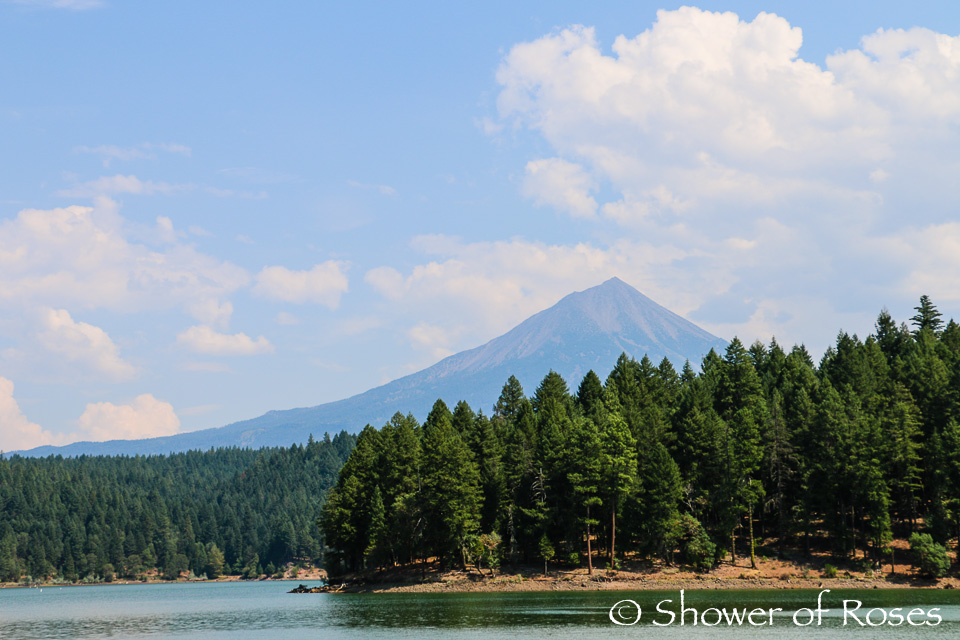 Outside my window…
We arrived home again yesterday afternoon, after spending four beautiful days and three nights with some friends and family at Willow Lake, a wooded escape set at the base of Mt. McLoughlin.
I am thinking…
The last (and only) time I had ever been to Willow Lake was fifteen years ago this summer, when Sean and I were engaged. We drove out for the day, sat on the banks of the lake, talked for hours, and read a few chapters from Three to Get Married. *This post contains affiliate links.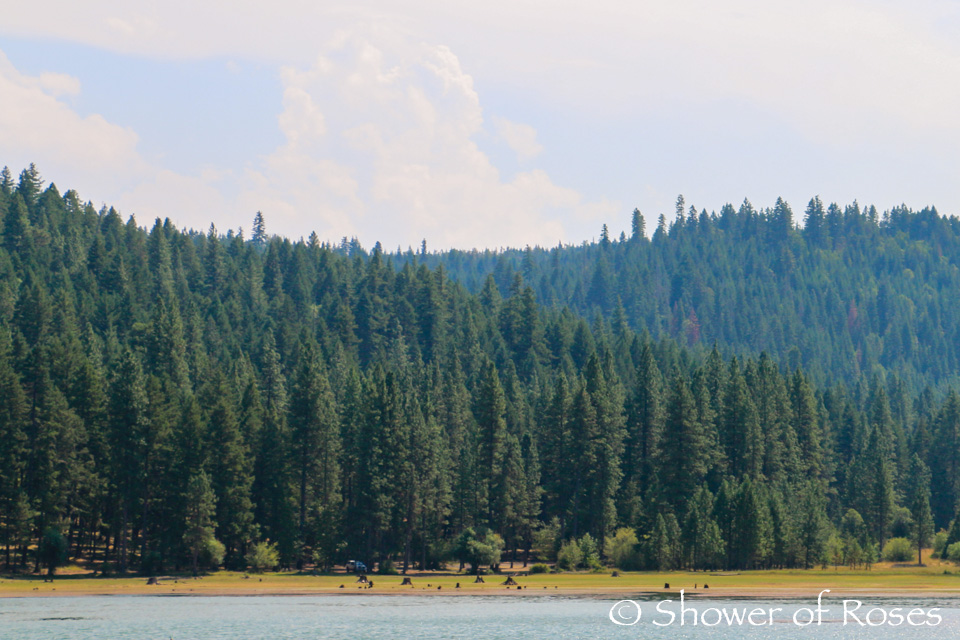 I am thankful…
Sean was able to camp with us! His boss called him off the engine and back to the office for some meetings this past Wednesday-Friday. He was able to get off work Friday at noon to make the 12:05 Mass for the Solemnity feast of the Assumption and then we headed to the campground! He is back in the office today and will most likely be heading back out soon on another fire assignment.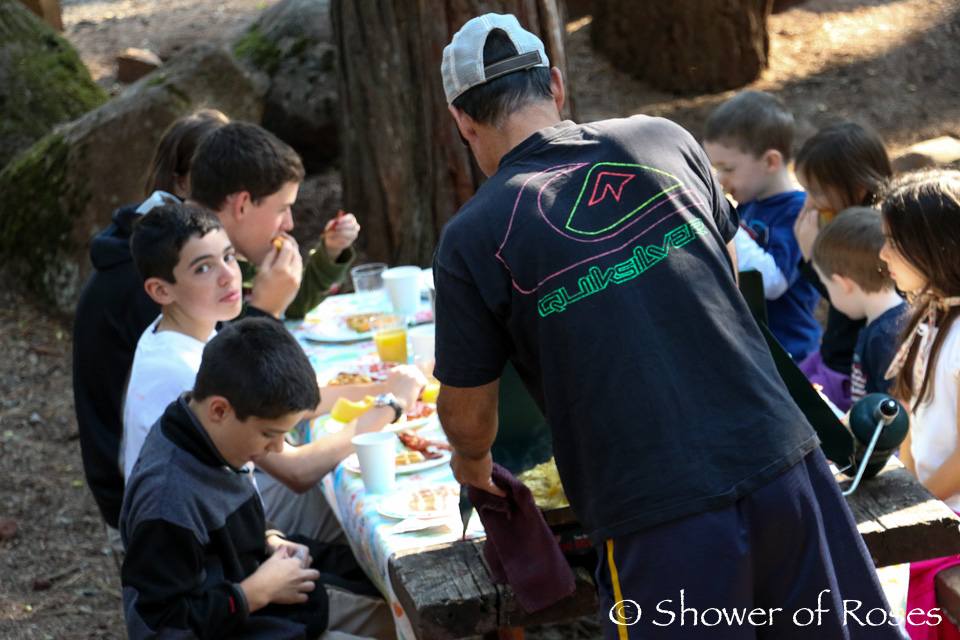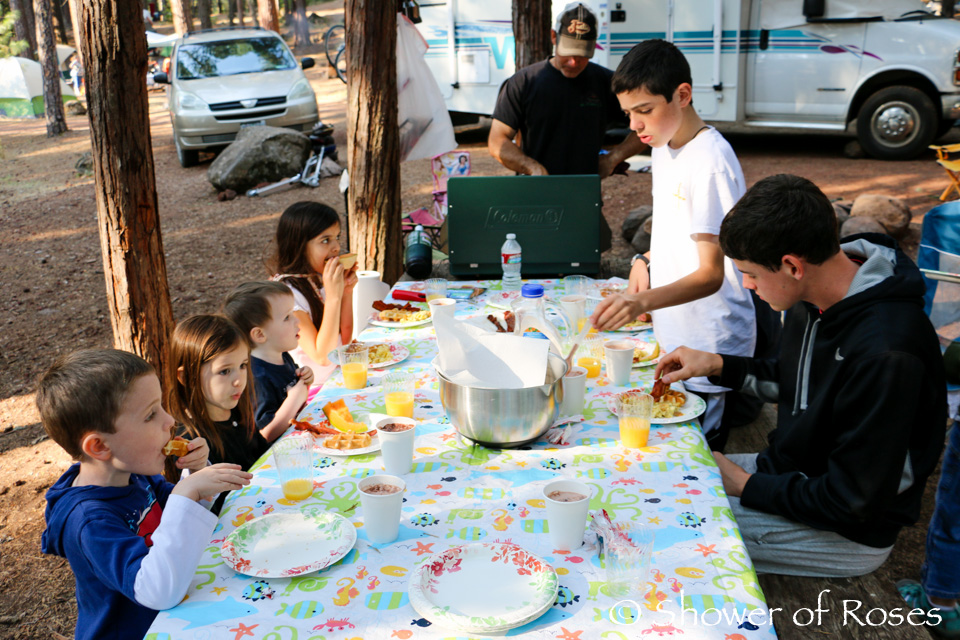 Learning all the time…
My youngest brother also went camping with us and two of his good friends from college drove out on Saturday with their jet ski and two-rider tube (like this one). I loved jet skiing as a teen, but that was years ago and this was the first time for our three oldest. It was also their (our oldest three) first time being out on a lake (other than a couple boat rides when they were younger) and their first time tubing. Oh my, did we have a BLAST! Even I went for crazy ride on the tube with my brother. I think he was trying to kill me and kept telling his friend to speed up and spin us while I clung to the handles with all my strength. . . I'm still sore!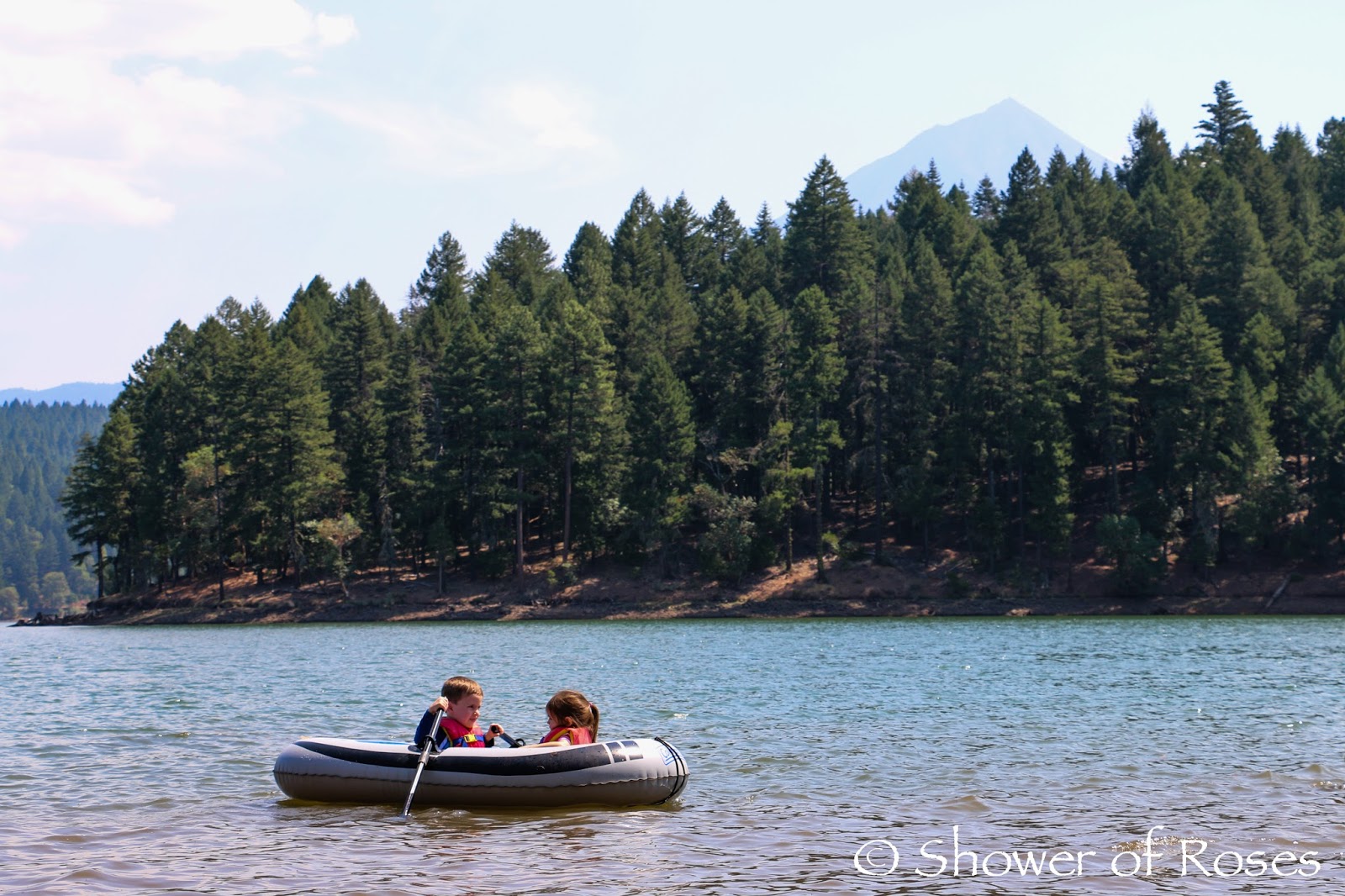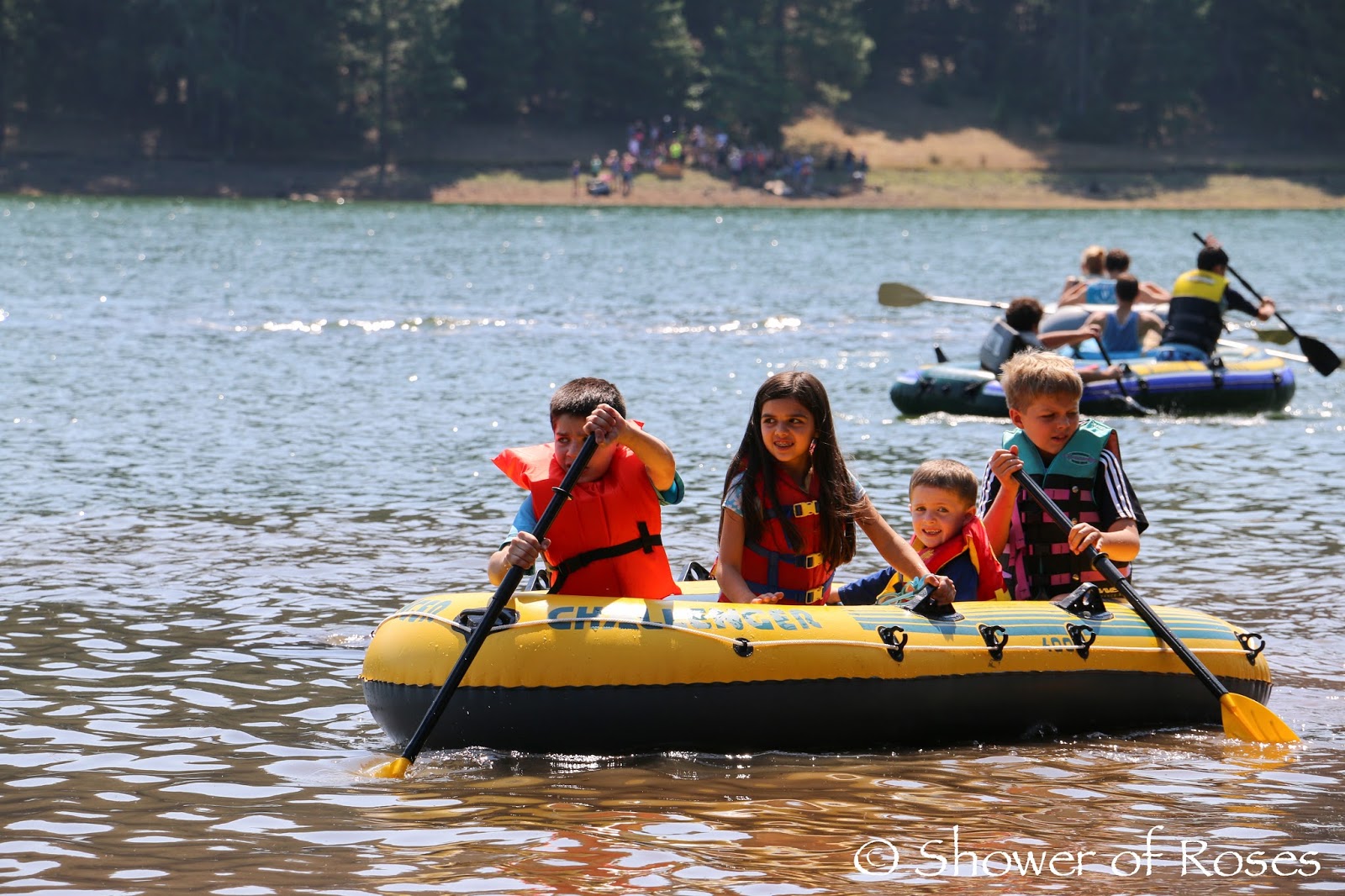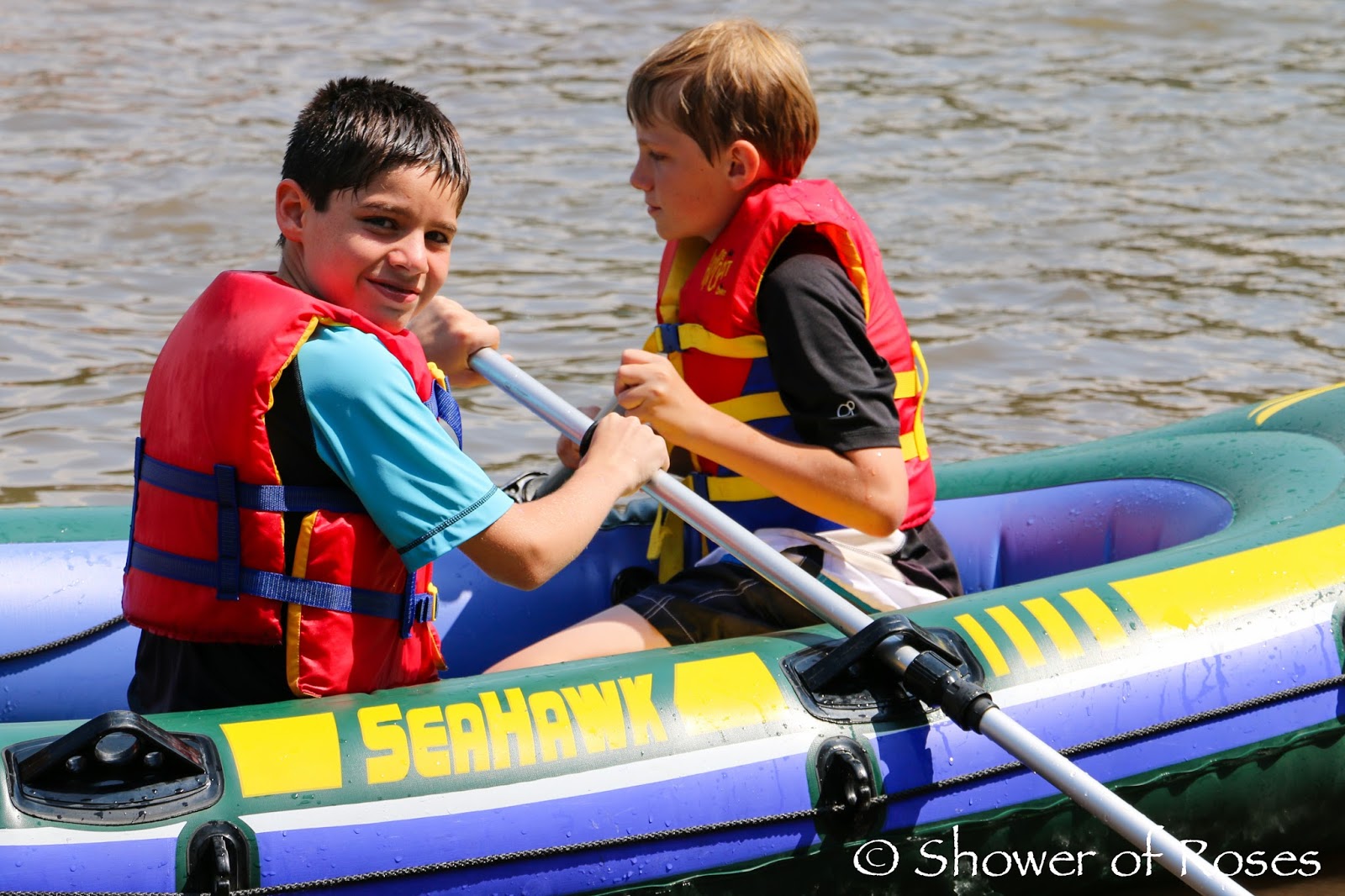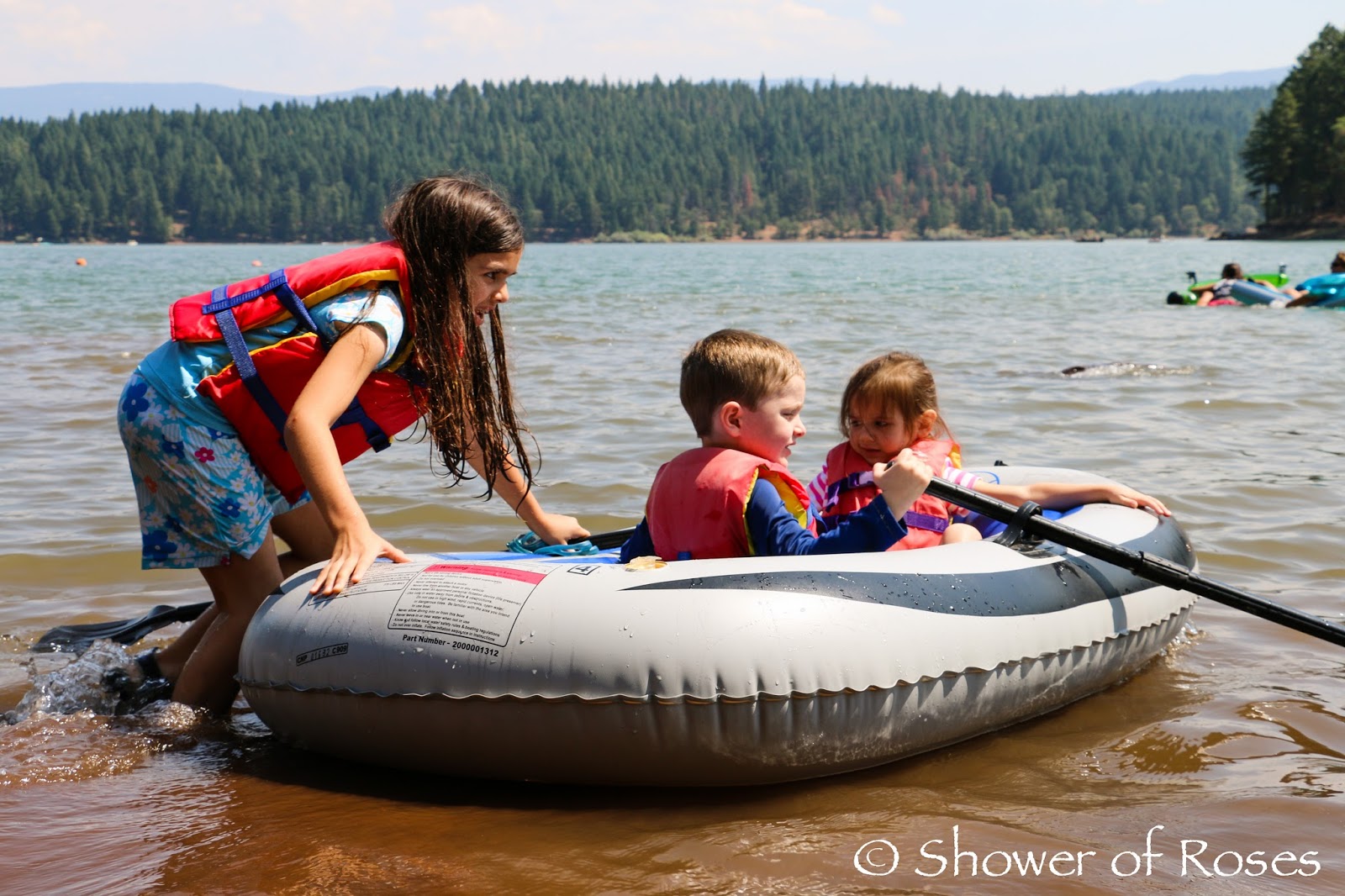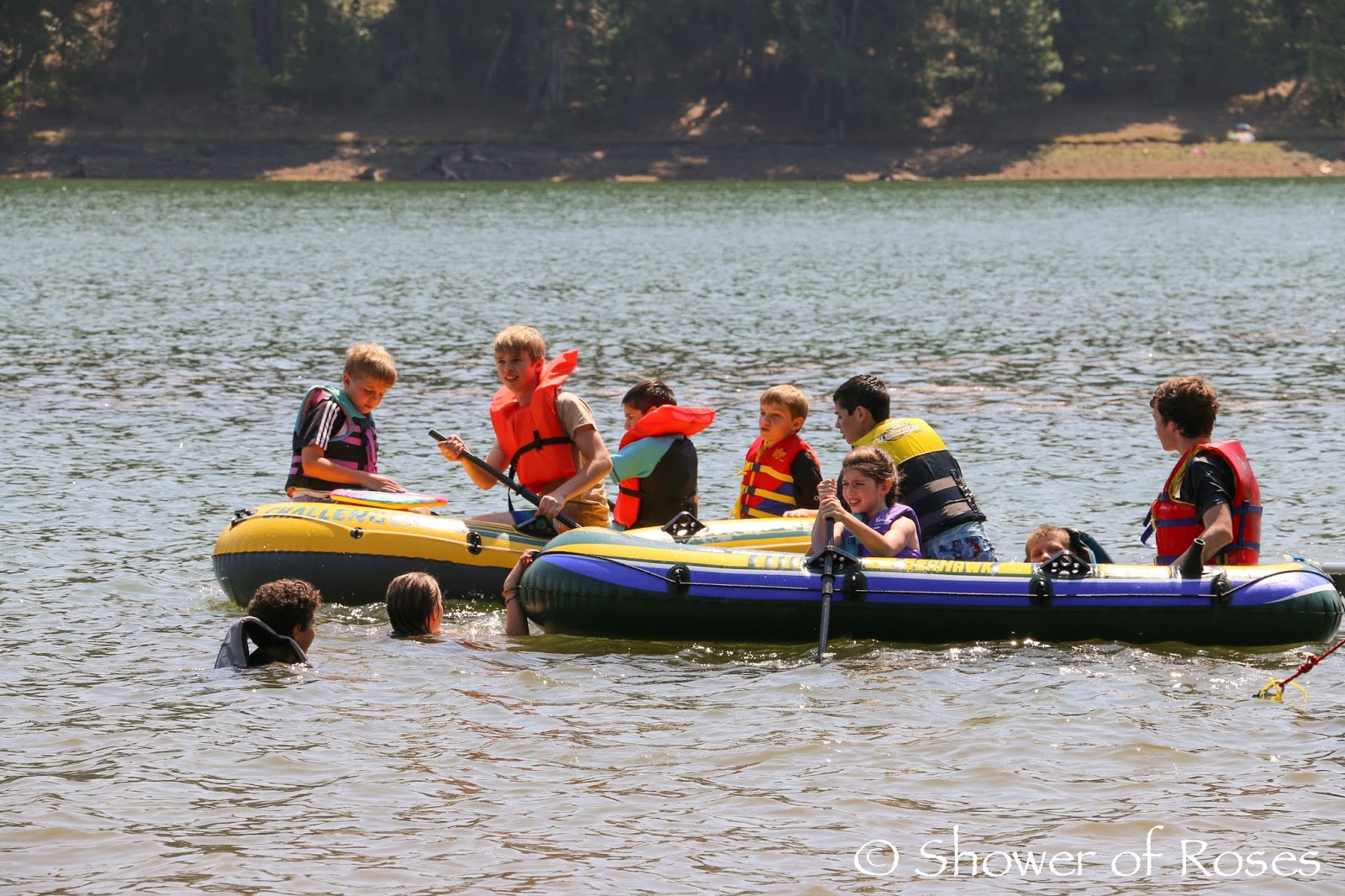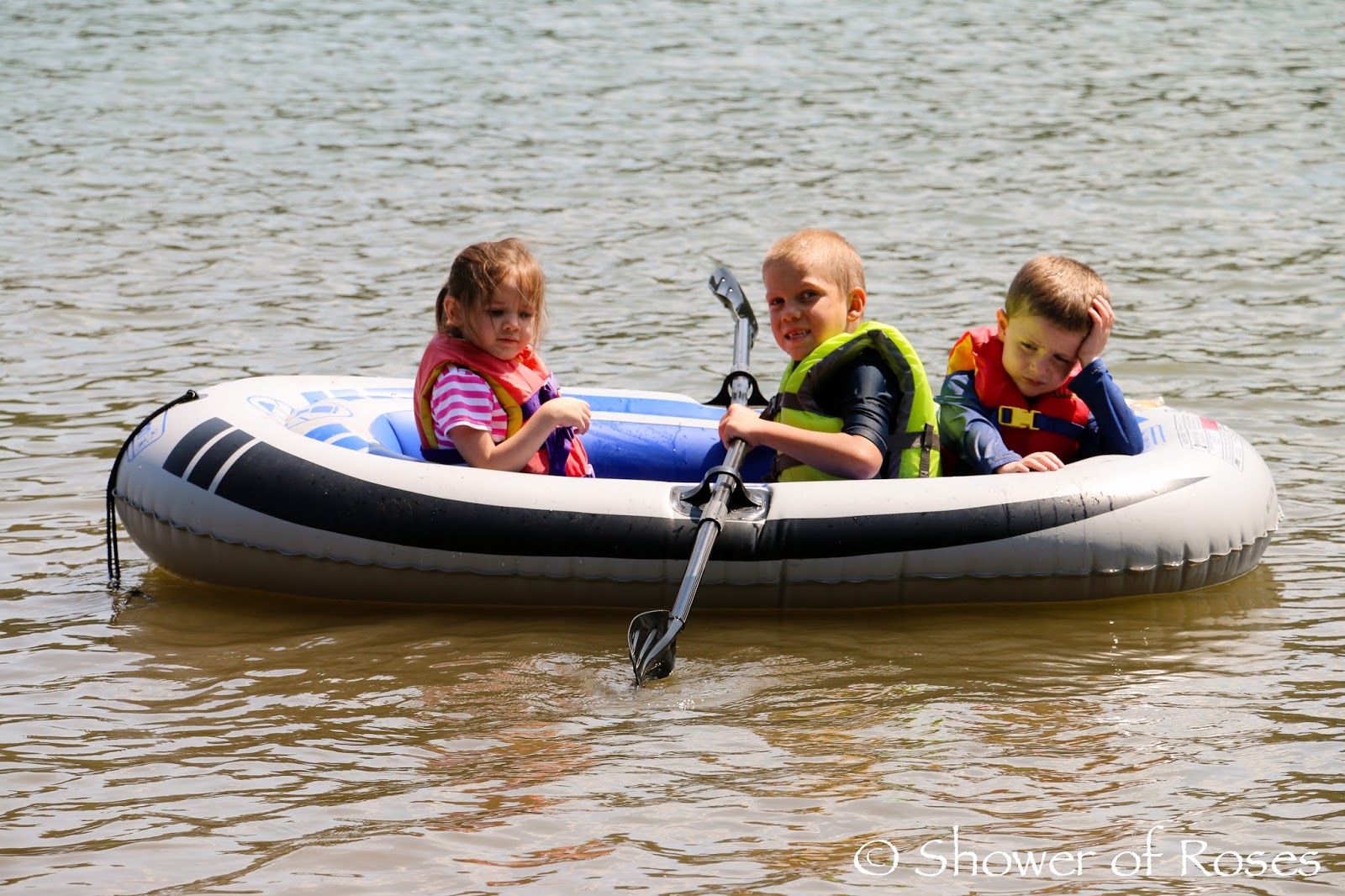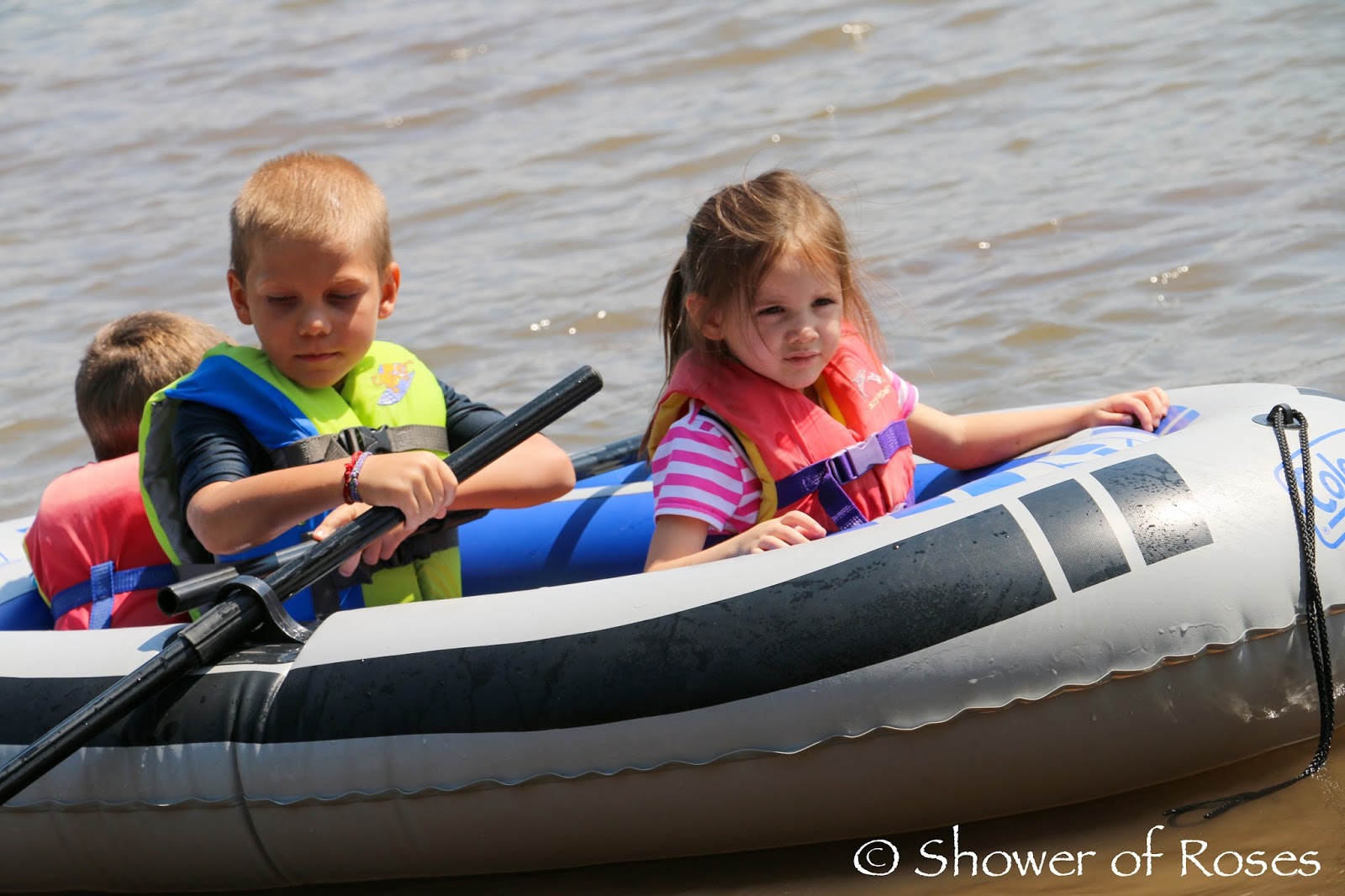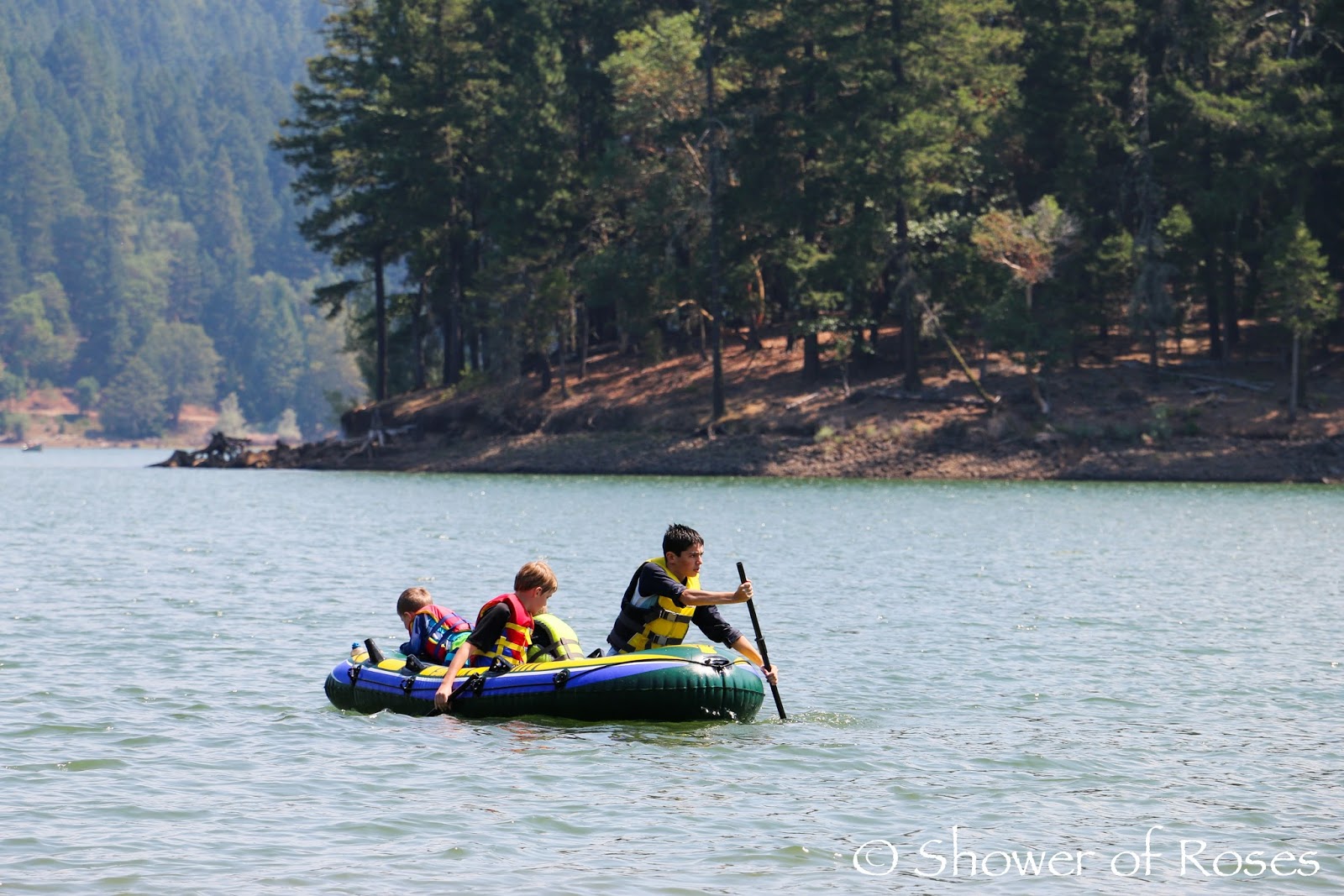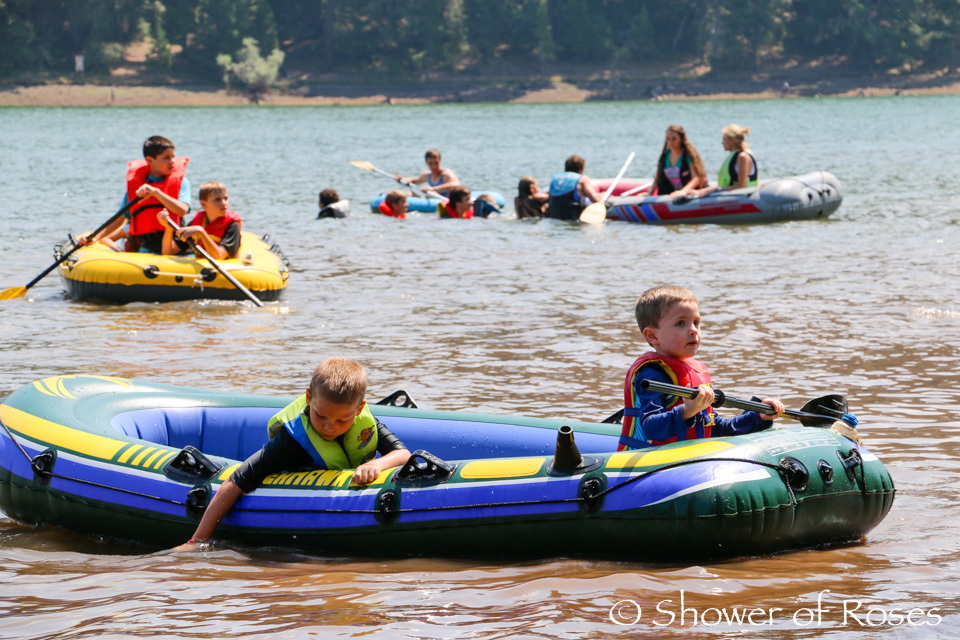 I didn't have my camera down at the lake when we were jet skiing, but I did take some pictures of the children enjoying the rafts (brought by friends of ours) each afternoon.
Celebrating the liturgical year…
It was such a blessing to have a priest drive out to the campground to offer Mass for us on Sunday evening!
From the kitchen…
On our way out of town I stopped at a local farm to pick up a couple dozen ears of sweet corn to go along with the Hamburgers and Hotdogs one of the other families provided following Mass on Sunday. We soaked the corn in water for about an hour and then Sean cooked them over our campfire. It was amazing!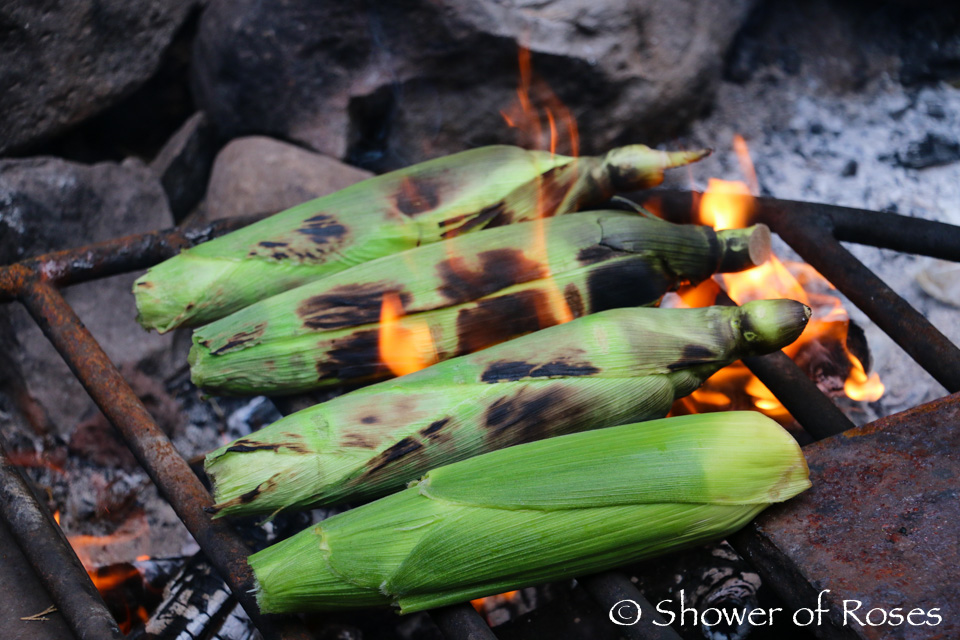 I am working on…
responding to emails… I had "No Service" on my cell phone up at the lake and came back to "160 New Messages" and a Catholic Digest deadline on Monday night! I did manage to send my November submission off at 11:22pm last night, but it might take me a little while to answer some of the emails.
I am creating…
a list of things we need for the motorhome. I need to get a collapsable hamper for laundry, baskets to hold various things in the cupboards, some extra utensils and potholders, extra toothbrushes for each of the children, and a number of other random things that would make traveling a little easier.
I am going…
to try not to lose the list this time!
I am hoping…
that we are able to take a few more camping trips this fall, after fire season ends.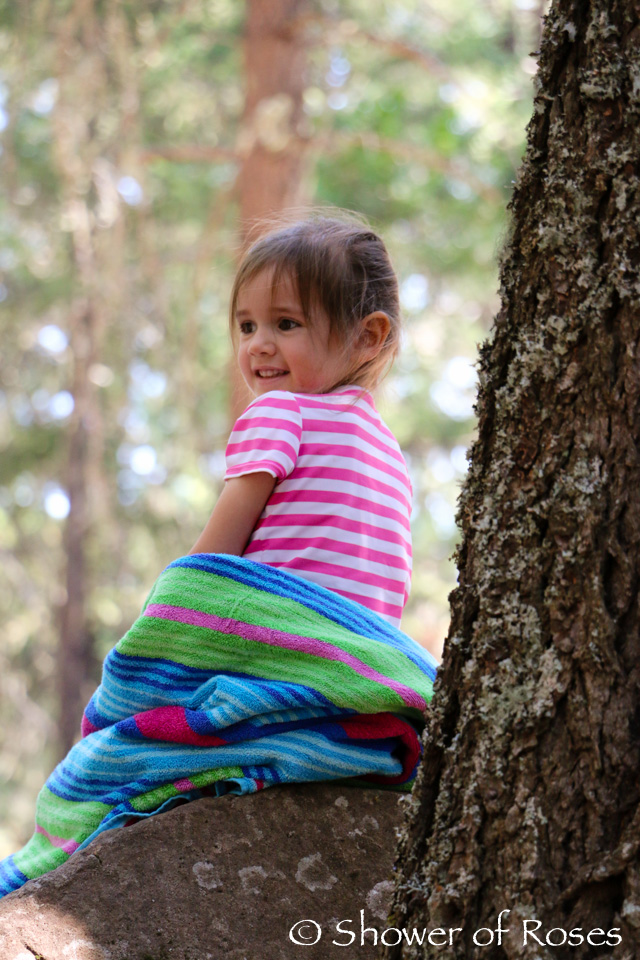 Our sweet little "Rose" enjoyed camping so much more this time… though I lost track of how many times I found her in the motorhome cleaning the dirt off her feet with baby wipes!
I am praying…
for my husband's safety, and for the safety of all our firefighters.
I am reading…
I downloaded Full Steam Ahead to my iPad's Kindle App before we left and actually managed to finish reading it over the weekend while camping! I have always enjoyed reading historical romances, but it had been awhile since I've spent time reading anything "just for fun." Hopefully I can squeeze in one or two more books before the end of summer!
Pondering these words…
I also picked out a little book for myself when I was placing an order for school books from Sacred Heart Books and Gifts last month. I've been reading a couple pages or so each day and Searching for and Maintaining Peace: A Small Treatise on Peace of Heart is such an excellent and inspiring book!
I am listening…
to Bud talking all about the "rocks, rocks, rocks… and BIG ROCKS!" He played with the rocks for hours while we were camping, stacking them on his daddy and on his head!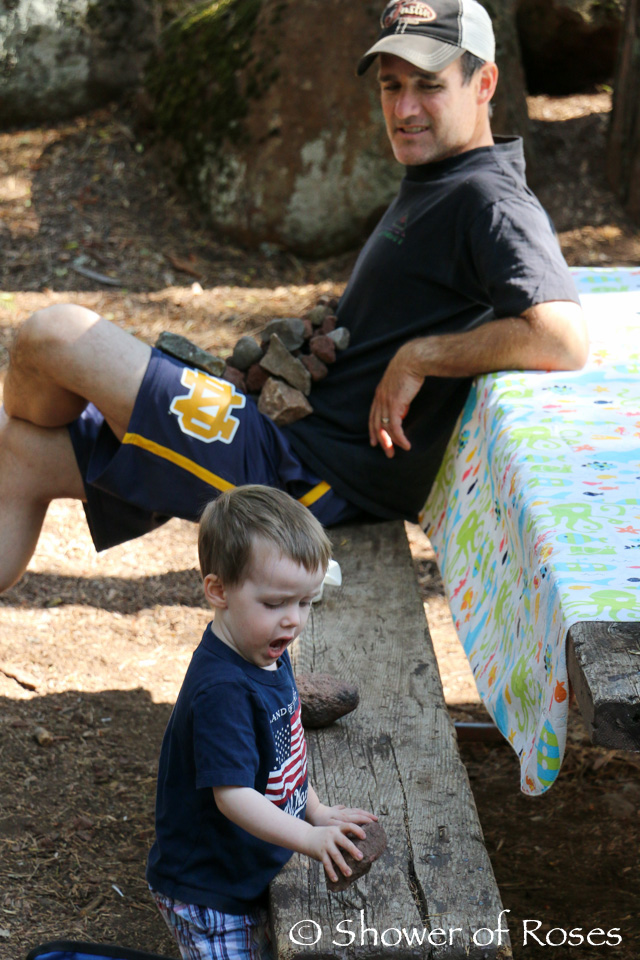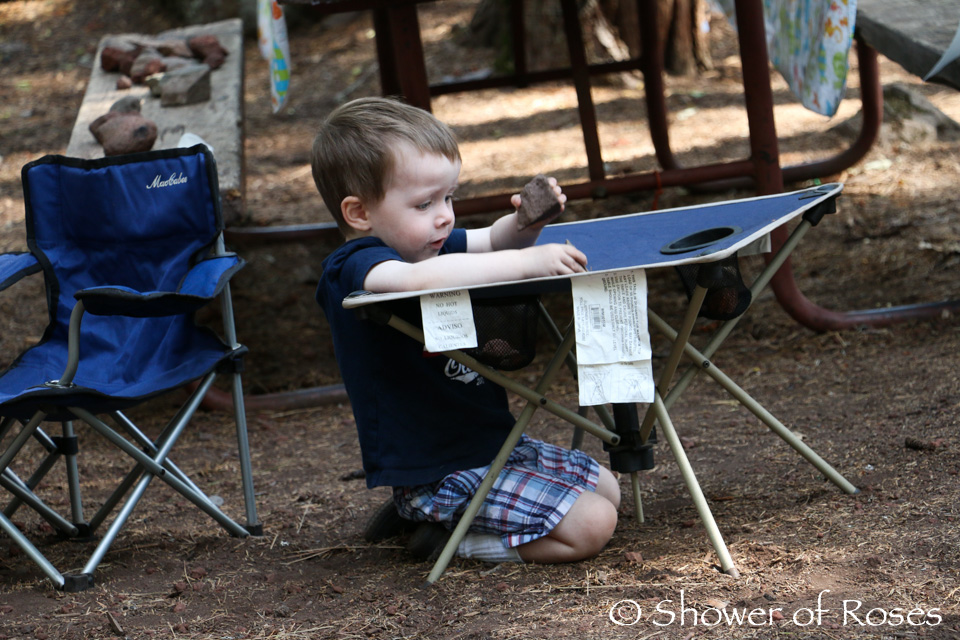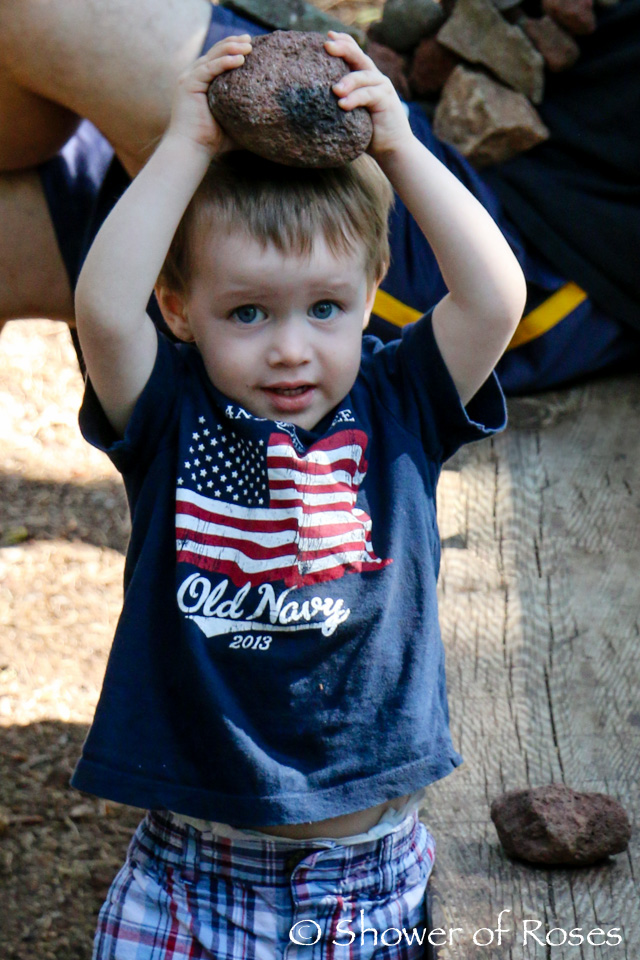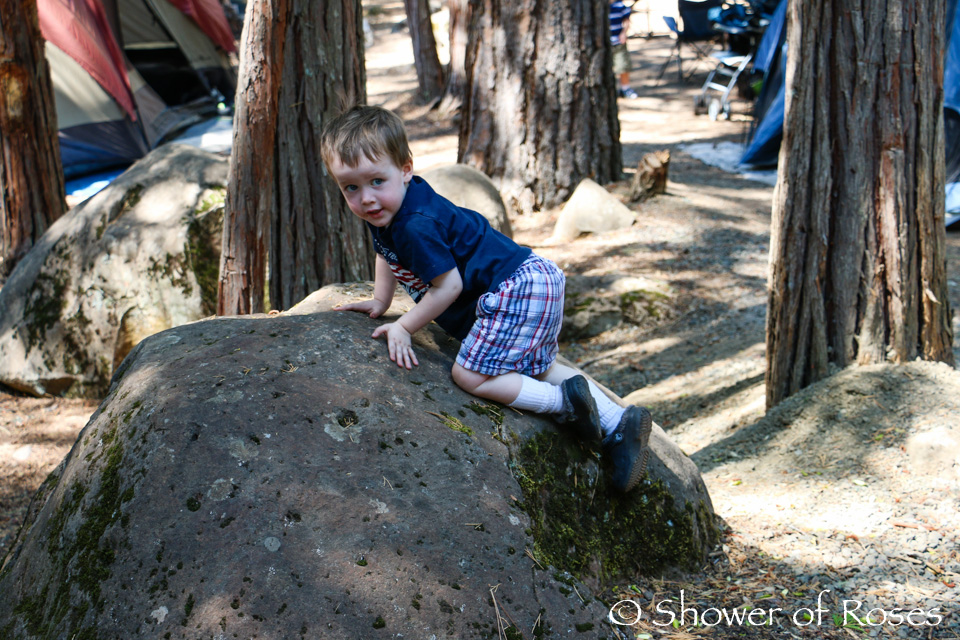 Around the house…
LOTS of laundry and boxes of new school books! I've been having fun looking through the new books in between loads of laundry.
One of my favorite things…
I love seeing my girls playing sports in their bonnets. Last week I shared
a picture of Twinkle Toes playing baseball in her bonnet
and while we were camping Chiquita was playing 500 with all the boys wearing her
bonnet
.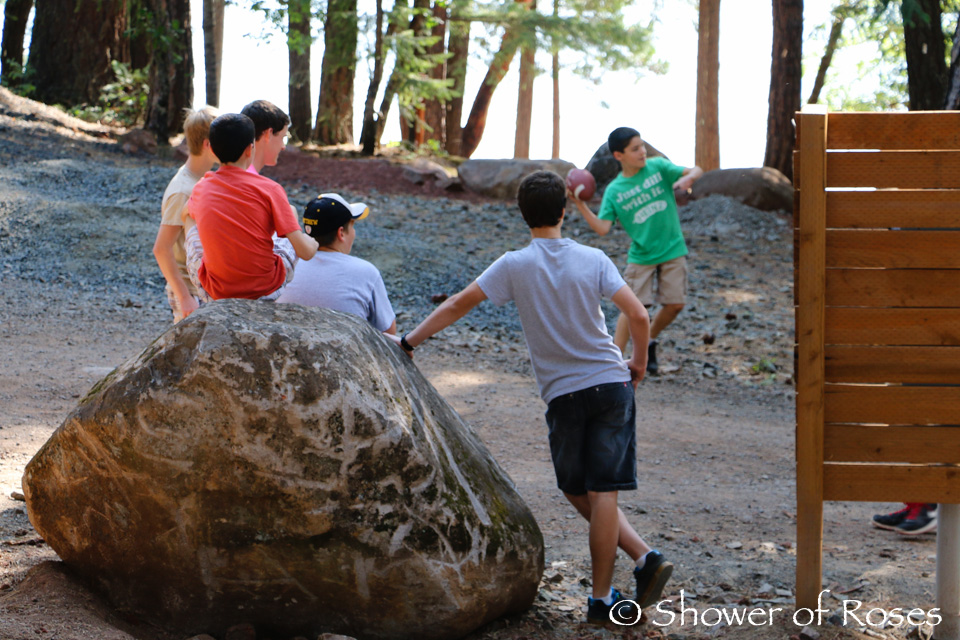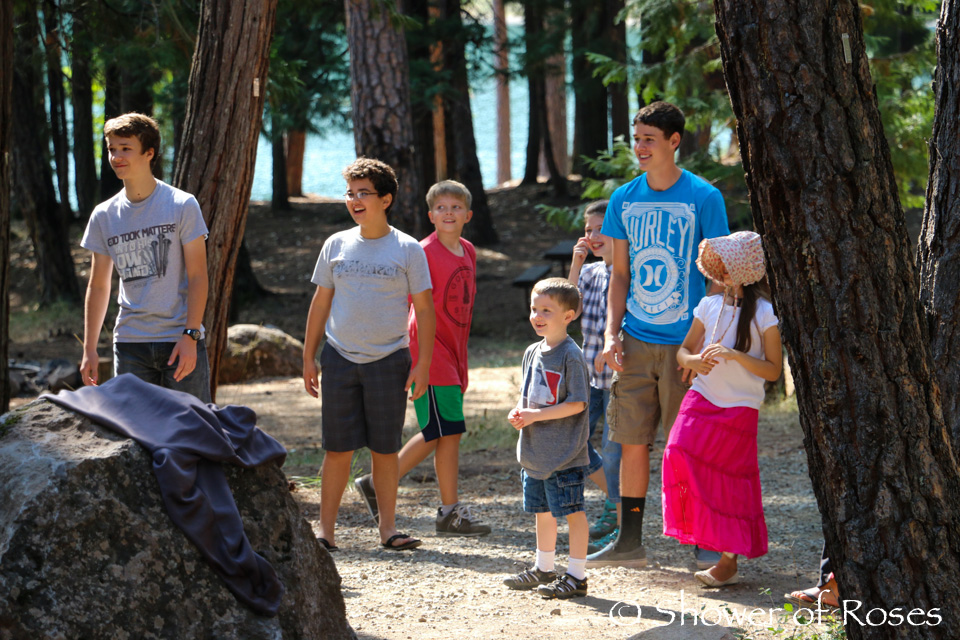 This week's plans…
Visit from my cousin and her family!
Dentist Appointments
Back-to-School BBQ
Meet with potential Piano Teacher
A little peek at my day…
We had such a great time and didn't want to come back home… Hopefully it won't be too long before we can go camping again!