This post is shared at the request of my little sister JoAnn, who is currently one of my two siblings studying at Oregon State University. JoAnn is a table discussion leader – teamed with Juan Pablo, a seminarian from Argentina – for The Fragua Course. They are struggling to raise the funds needed to continue this program, and she has asked if I could pass on the request for donations to my visitors here at Shower of Roses. All donations are tax deductible and will go directly to the St. John's Society, the organization of priests who help run the Newman Center and Campus ministry at Oregon State.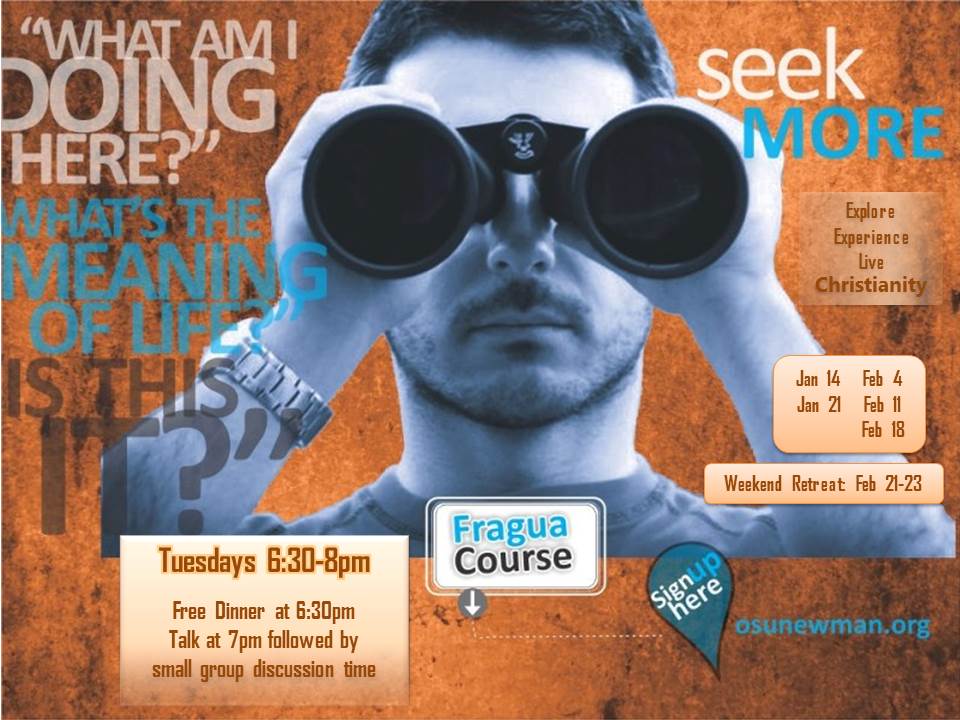 The Fragua Course is a program that is run through the Newman Center at Oregon State University. The course is designed for those curious minds wanting to seek more in life. It is for those who have not been to church in long time, have questions, or just want to explore more of the Catholic faith. Each session includes a free dinner, a short talk, and time for discussion in small groups where participants can openly discuss and share their thoughts.
Experience a night at the Fragua Course:
Why you should give:
Your gift will go towards supporting the Fragua Course.
Fragua's vision is the evangelization of college students for the transformation of society.
Fragua is geared toward college-age students who are at a key time in their lives.
Fragua takes participants wherever they are in their faith, and transforms them.
Your gift always goes further. Volunteers and prayers of others make your gift touch many lives and have a significant impact.
Fragua is only possible through generous gifts from people like you, who support the new evangelization and the transformation of our society.
The OSU Newman Center is a non-profit organization, so your donation is tax-deductable.
Make sure your write

"FRAGUA"

in the comments so we know your donation is specifically for Fragua.
If you prefer to write a check and mail it, Make payable to St. Mary's Parish and in the notes write "Newman Center/Fragua". Mail to: St. Mary's Catholic Church 501 NW 25th St Corvallis, OR 97330 Any Questions? Please call us at (541) 752-6818 or Contact us. Thank you!
Please keep The Fragua Course in your prayers!