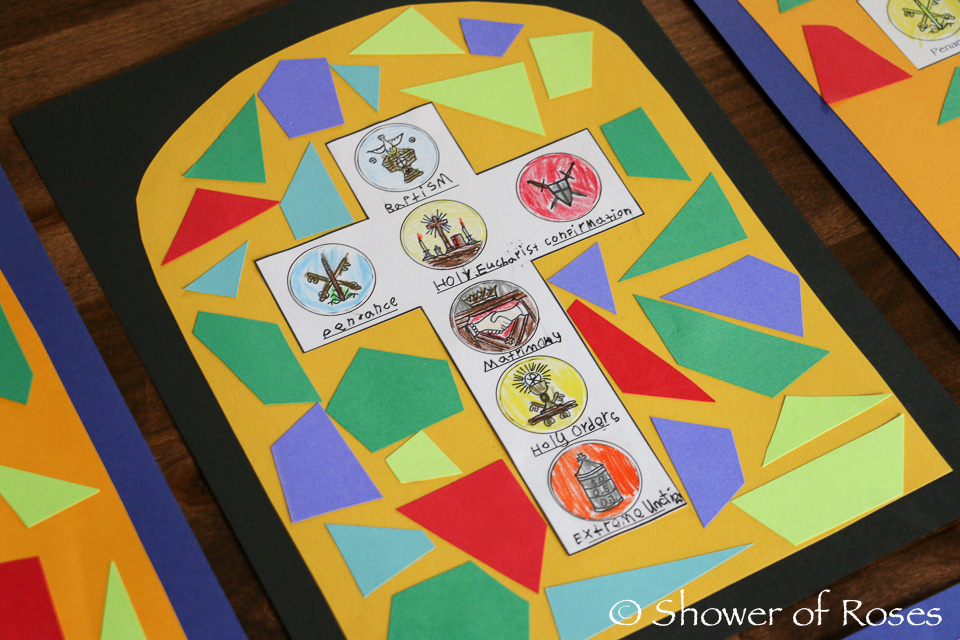 The Seven Sacraments Stained Glass Window Catechism Craft
"And the Word became flesh and made His dwelling among us, and we saw His glory, the glory as of the Father's only Son, full of grace and truth." ~ John 1:14
This year our seven year old is preparing to make his First Confession and First Holy Communion! Earlier this month we spent some time studying the Seven Sacraments and creating a "Seven Sacrament Stained Glass Window."A sacrament is an outward sign instituted by Christ to give grace. There are seven sacraments: Baptism, Penance, Holy Eucharist, Confirmation, Matrimony, Holy Orders, and Extreme Unction. This fun and colorful craft provides an excellent opportunity to teach children more about the sacraments instituted by Jesus Christ and how they receive their power to give grace from God, through the merits of Christ's Redemption on the Cross.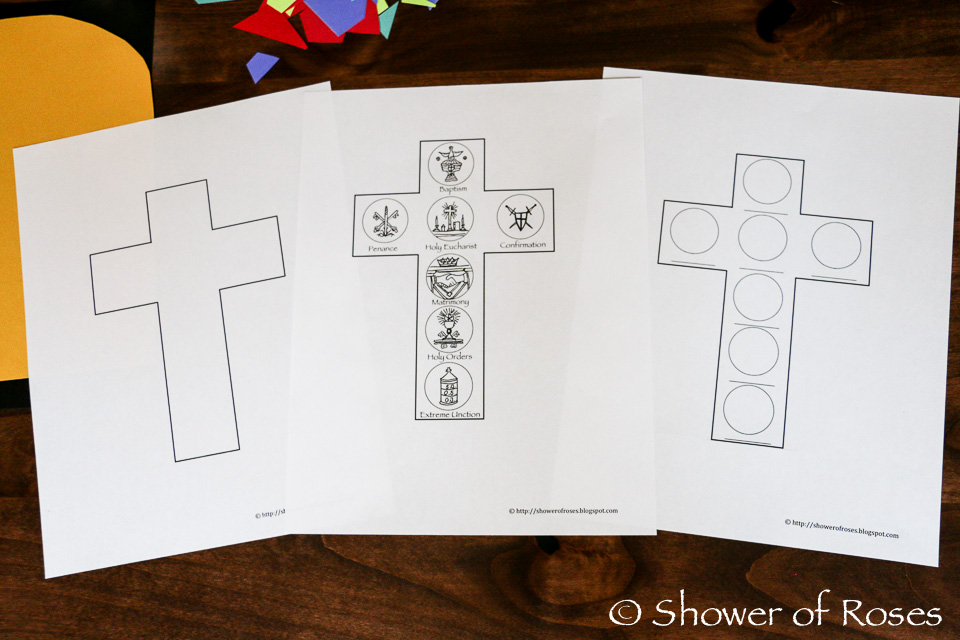 Originally I was just going to use a blank cross for this craft and have my son list the Seven Sacraments on the cross, but then I decided to try and add some illustrations for my son to color, and then lines for him to write the names of the sacraments. All of my other children ended up asking to create one too! Here are the links to all the documents I created in the process. You are welcome to download them for your own family/class if you'd like: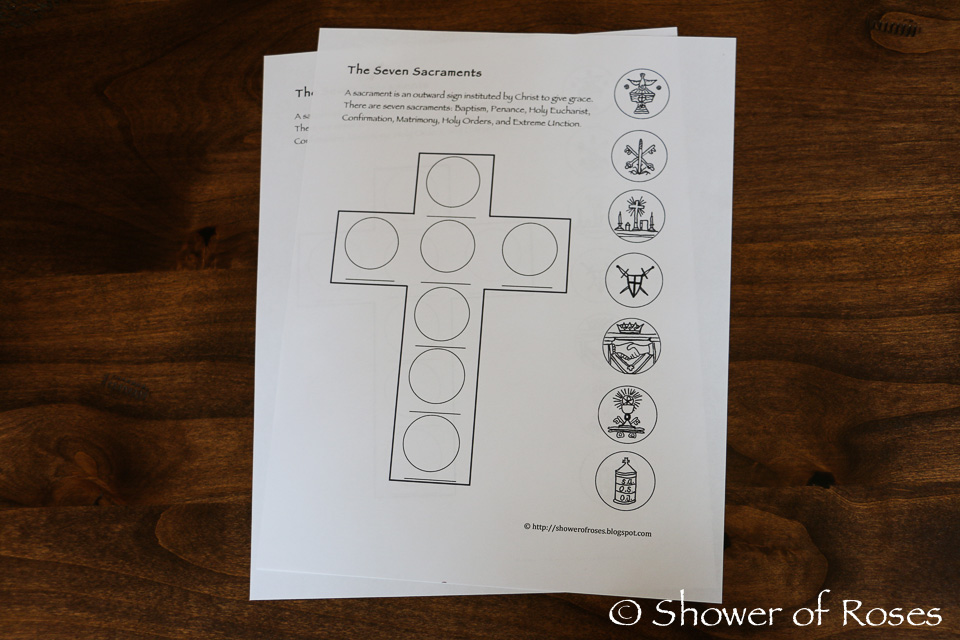 Seven Sacraments Stained Glass Catechism Craft
Supplies:
Black or Dark Blue Card Stock or Construction Paper
Yellow Card Stock or Construction Paper (cut into the shape of a stained glass window)
Seven Sacraments Cross Printable (additional options can be found listed above)
Colored Card Stock or Construction Paper, cut into small one inch shapes
Colored Pencils, Crayons or Markers
Pencil or Black Gel Pen
Scissors
Glue Sticks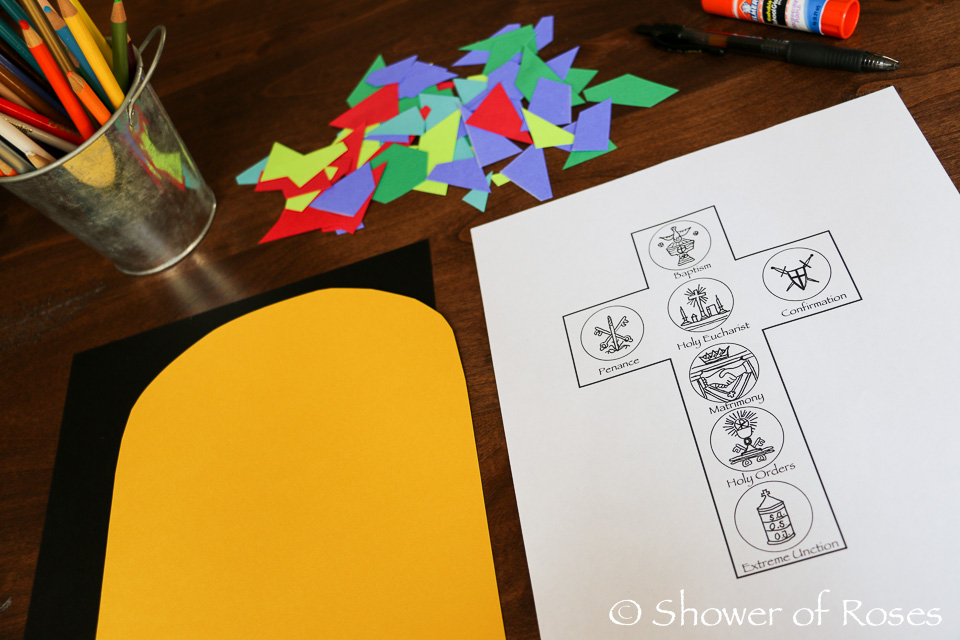 Directions: 
1. Write a list of the Seven Sacraments onto the white cross or color the illustrations if you are using the printable. Another option is to have the children copy a bible or saint quote onto the cross.
2.  Have the children glue the yellow window shape to a piece of black or dark blue paper.
3. Glue the cross to the center of the yellow window.4. Next, have the children glue the small pieces of colored paper to the window shape, creating the "Stained Glass Window."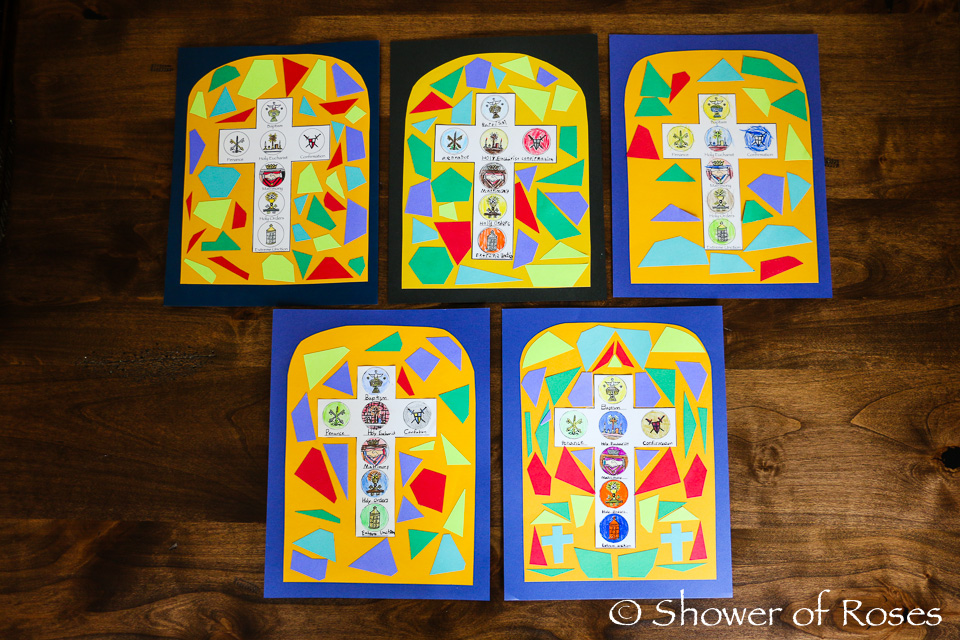 Additional Reading, Coloring Books, and Songs on the Seven Sacraments: 
We adore Thee O Christ and we bless Thee, 
because by Thy Holy Cross Thou hast redeemed the world.