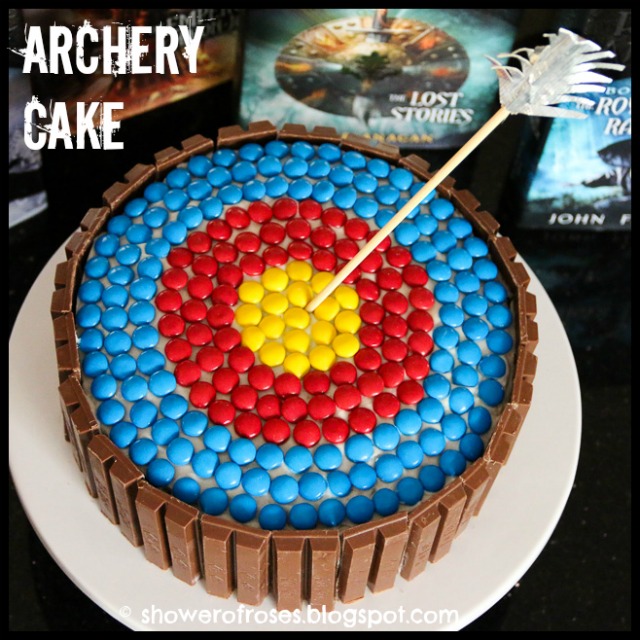 "Will was in the open meadow behind Halt's cottage, practicing. He had four targets set up at different ranges and was alternating shots at random between the four of them, never firing at the same one twice in a row."
~ Ranger's Apprentice, Book 1,
The Ruins of Gorlan
This past weekend we celebrated our "Ranger's"13th birthday! Our boys love all the books written by Australian author John Flanagan and we thought it would be fun to celebrate with a Ranger's Apprentice themed party this year.
I considered making a castle and cabin combination
like this
Ranger's Apprentice birthday cake, but thought it was a little "too childish" for our newest teen, and wanted to "keep it simple" for myself! I ended up deciding to try and create an Archery Target Birthday Cake using candy instead of fondant. It was so easy to decorate and the boys said I "hit the bull's-eye with this cake!"
Supplies:
2 – 9″ Round Cakes
Buttercream Frosting (or white frosting of your choice)
11 KitKat Candy Bars, Full Size
Yellow, Red and Blue M&M's
Bamboo Skewer, Duct Tape & Scissors (for arrow)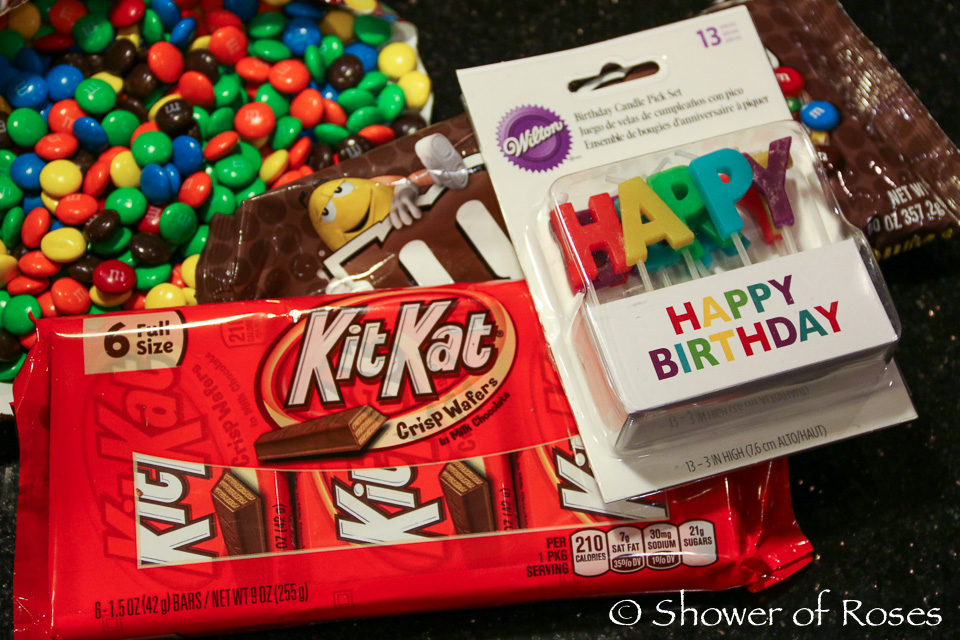 Directions:
Prepare and bake cakes according to directions. Cool.
To make the top of the cake nice and flat I trimmed the rounded tops off each cake. I placed the first cake on the center of the platter and then turned the second cake over, placing it bottom side up and centering it on the trimmed top of the first cake. Cover the cake with frosting. Since it was going to be covered with candy, I didn't worry about any crumbs in the frosting.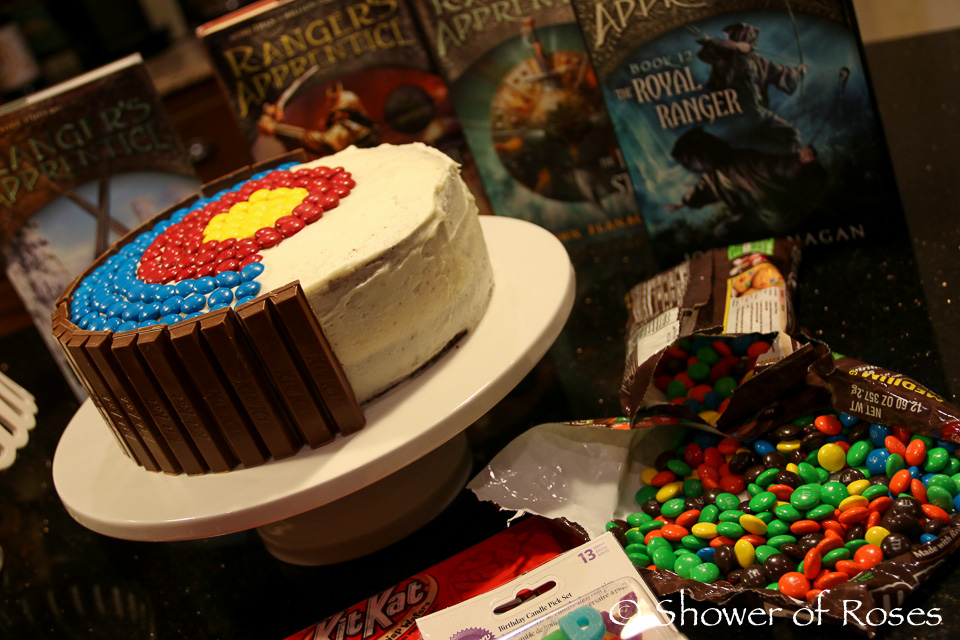 I decided to trim one side of the KitKat bars so that they wouldn't stick up too far above the top of the cake. I also broke them in half (sections of two) before wrapping them around the cake.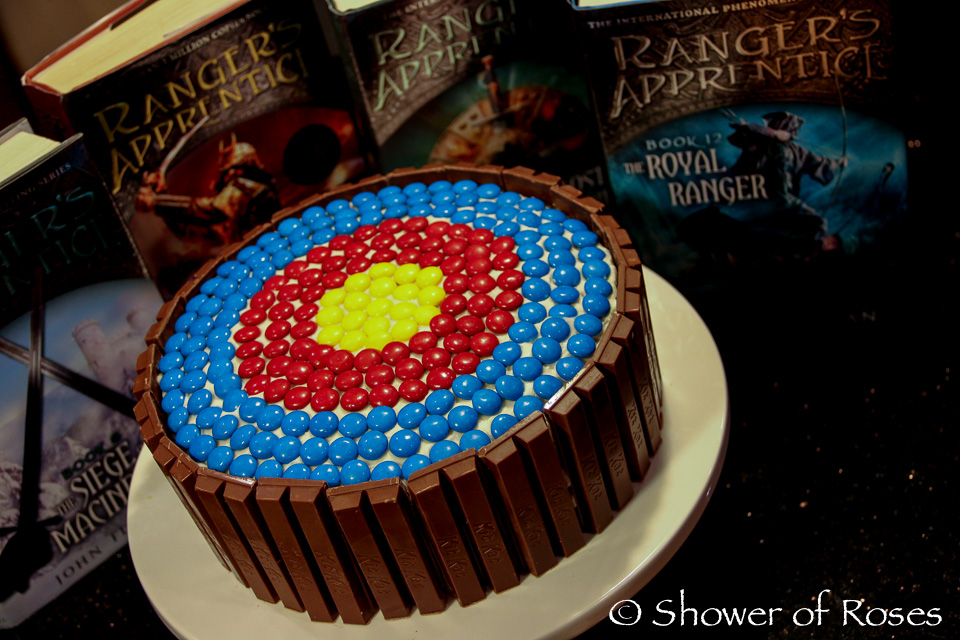 Using yellow, red, and blue M&M's I created the archery target's concentric rings on the top of the cake.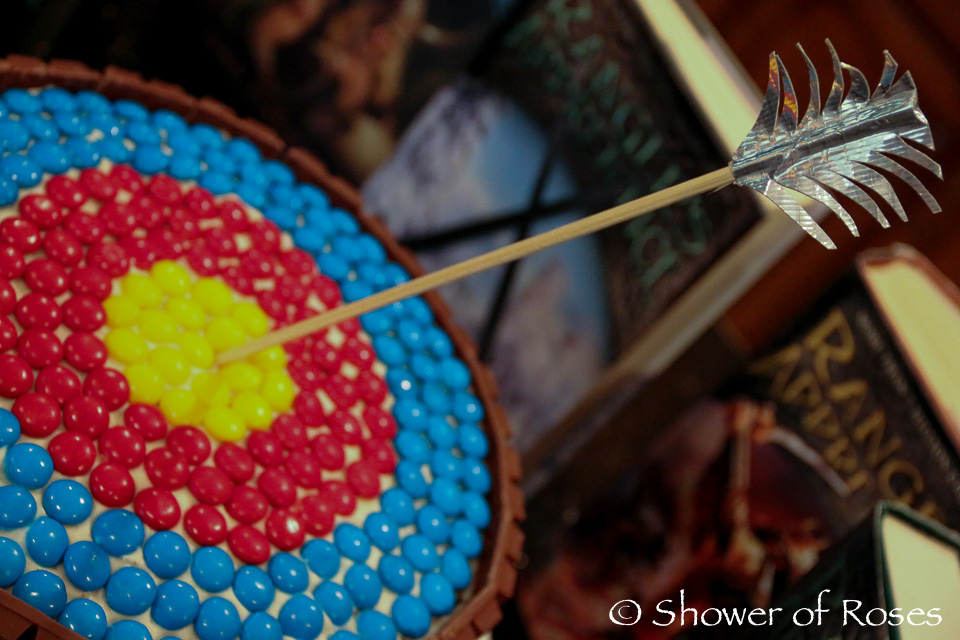 To create an arrow for the center of the cake, I used a Bamboo Skewer with a little
Metallic Chrome Duck Tape
. I folded a piece of Duck Tape over the end of the Bamboo Skewer and then trimmed it with scissors to resemble the end of an arrow, before sticking into the center of the cake.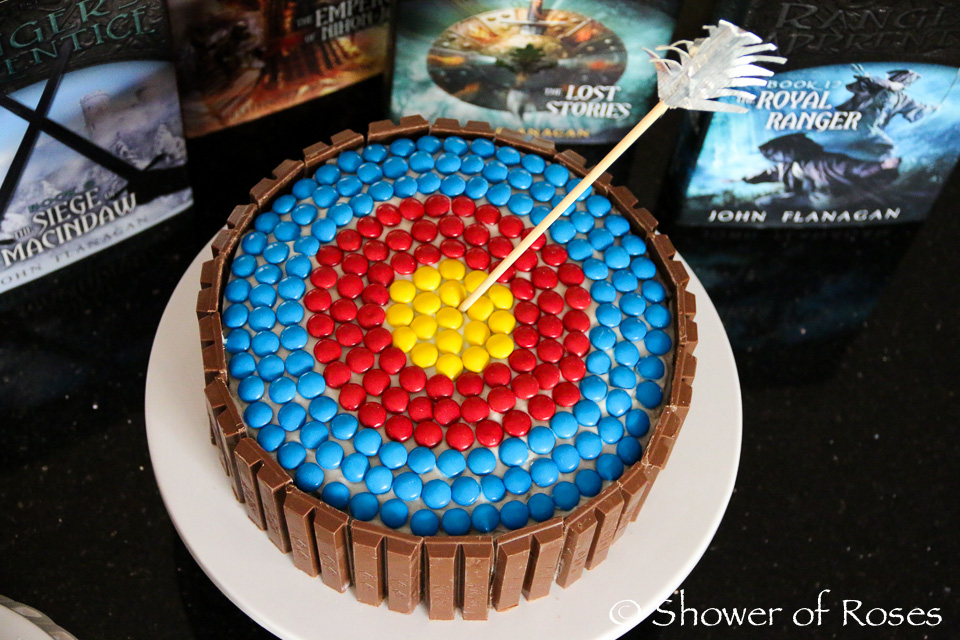 "Will, his quiver empty for the tenth time that morning, stopped to survey the results. He nodded in satisfaction. Every arrow had hit a target, and most of them were clustered in the inner ring of the bull's-eye itself. It was shooting of an exceptionally high quality and it proved to him the value of constant practice. He wasn't to know it, of course, but there were already few archers in the kingdom, outside of the Ranger's Corps, who could have matched him."
~ Ranger's Apprentice, Book 1,
The Ruins of Gorlan