Well… Our schedule has been so full lately and, despite ordering books and picking up some chocolate coins and our favorite candy canes, I wasn't as prepared for the feast of St. Nicholas this year as I would have liked! I realized Saturday morning that I only had one new pair of slippers for our oldest… (Giving our children each a new Christmas picture book along with a new pair of shoes or slippers has always been our personal family tradition.) I had ordered a couple pairs of slippers over Thanksgiving for our two youngest (which finally arrived today! Good thing their birthdays are next week…) and I hadn't been able to get out shopping for the rest. I thought I would go shopping sometime on Saturday, but the three boys had hockey games in the morning from 8:00-12:00, I worked at my Dad's office from 12:00-2:00 (last week was my third week working part-time for him), then took the girls to confession and out with my mom, before hurrying home for dinner then back to the rink with the whole family (and some friends!) for the older boys very first High School game that started at 8:30 pm. I ended up sneaking away during the break between the second and third periods and was able to quickly pick up four more pairs of new slippers (at great prices!) along with some Santa Hat Hershey Kisses and Cherry Pie Filling at a store across the parking lot. Whew!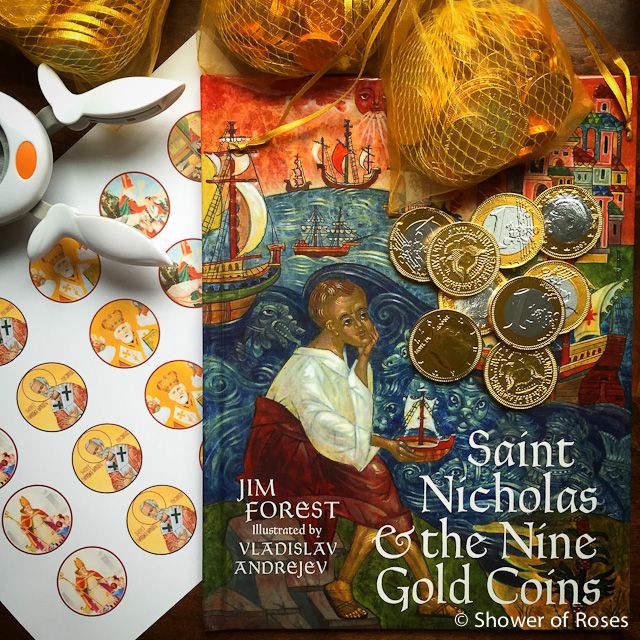 When we got back home, sometime just before midnight, I quickly finished this year's St. Nicholas Chocolate Coins to go along with our new book, filled each candy bag with three large decorated coins (I'm saving the rest of the large coins for Christmas or O Antiphon Coins), the rest of the small coins, and a handful of Santa Hat Hershey Kisses each, so that they would all be ready for St. Nick when he arrived. 😉 Somehow it all came together!
You can find my review along with additional pictures of Saint Nicholas & the Nine Gold Coins here.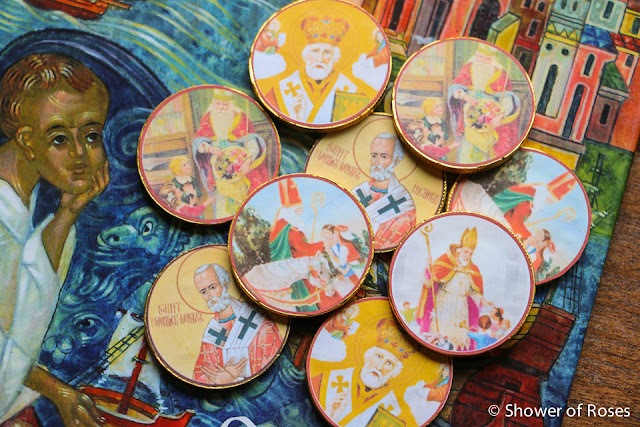 After being out so late on the eve of the feast of St. Nicholas, everyone woke up late with no time to spare before leaving for morning Mass and our local parish's anniversary brunch. All the treats were still waiting for them when we got back home!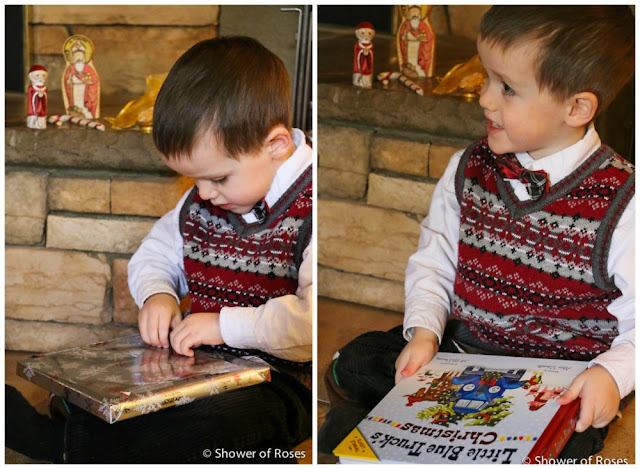 "Daddy! You read it to me?!"
"Mom, look! He's holding my candy cane as his staff!"
The older boys also loved their new books, Confederate Night Before Christmas and An Irish Night Before Christmas. The themes were perfect for them and they have enjoyed reading them to their younger siblings. You are never too old for picture books, right?