It is time to start filling our book basket with books for March. As always, I love choosing one or two books to add to our family's ever growing collection each month.
I'm actually saving this first book for one of the boys' Easter baskets, but with the feast of St. Benedict coming up on March 21st (as well as July 11th on the traditional calendar) I thought I would share it with you now. This brand new release from Ignatius Press on The Life of St. Benedict was written by Br. John McKenzie, O.S.B., a Benedictine monk from The Monks of Norcia in Norcia, Italy, the birthplace of St. Benedict. He made his solemn profession in 2009 and is currently studying theology in Rome. Br. John explains why he decided to write a children's story about his order's founder, saying, "The life of St. Benedict is filled with great imagery and authentic monastic wisdom. The Benedictine Monastic Life expands over 1,500 years of lived tradition and it has a home on all continents of the world! This book was simply put together so that families, most especially kids, can get a chance to understand the greatness and uniqueness of my holy founder, not to mention his twin sister St. Scholastic who also plays a central role in this book. In short, I wanted to show just how cool St. Benedict really is." It looks like it is going to be a great addition to our collection!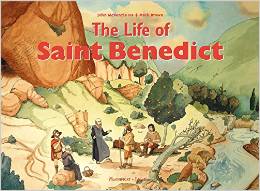 The Life of St. Benedict
(Also available directly from Ignatius Press.)
Children and parents alike will be delighted by these stories and illustrations about the famous Saint Benedict. Based on his biography by Pope Saint Gregory the Great, and told by a Benedictine monk living today in Italy at the birthplace of Benedict, these stories and pictures are rich with interesting details. The holiness of Benedict, his wisdom, his great impact on the world, and his miracles will intrigue and inspire everyone in the family. Also included are stories involving his twin sister, Saint Scholastica.


+ + +
After I finished reading aloud Their Hearts Are His Garden, I decided to move on to Jesus of Nazareth: The Story of His Life Written for Children by Mother Mary Loyola. We started reading this book on Ash Wednesday and, with just over 40 chapters, my plan is to read at least a chapter each day (or rather five chapters each week depending on our daily schedule) and finish it by Holy Saturday. I read chapters 6-10 to the children yesterday and everyone is really enjoying this beautiful story of the life of Our Lord!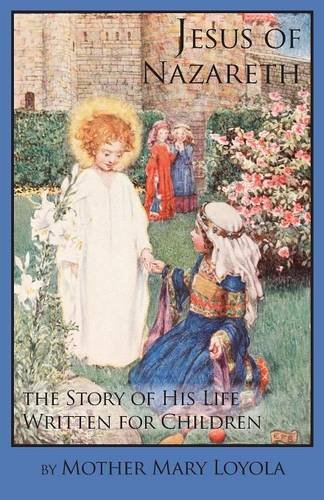 (Also available directly from St. Augustine Academy Press.)
James Cardinal Gibbons was Archbishop of Baltimore when he asked Mother Loyola to write this story of the Life of our Lord. As a revered author himself, and considering the number of such stories available even then, we can only imagine the admiration he must have held for Mother Loyola's rare talent for narrative. She does not disappoint in this story, for as always, she brings to life the most vivid images of our Lord, such that the children who read it will feel almost as if they were following the dusty paths our Saviour trod. Now enhanced with an abundance of contemporary engravings and lithographs, this newly typeset edition is an invaluable means of impressing upon the minds of young children the reality of our God become Man.
Who is Mother Mary Loyola? My first introduction to her was through her wonderful allegorical work, The King of the Golden City. You can read more about her at St. Augustine Academy Press and help spread her story by sharing their GoFundMe page here. St. Augustine Academy Press is currently offering rewards for various levels of donations. Please consider helping if you can!
+ + +
After skimming through Fiona's Lace earlier this week at a local book store, I've been considering purchasing it to add to our collection of Irish themed picture books for March. If not, I'll at least check it out from our local library.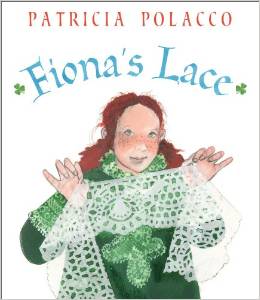 Fiona's Lace
An Irish family stays together with the help of Fiona's talent for making one-of-a-kind lace in this heartwarming immigration story from the New York Times bestselling creator of The Keeping Quilt.
Many years ago, times were hard in all of Ireland, so when passage to America becomes available, Fiona and her family travel to Chicago. They find work in domestic service to pay back their passage, and at night Fiona turns tangles of thread into a fine, glorious lace. Then when the family is separated, it is the lace that Fiona's parents follow to find her and her sister and bring the family back together. And it is the lace that will always provide Fiona with memories of Ireland and of her mother's words: "In your heart your true home resides, and it will always be with you as long as you remember those you love."
I'll be back sometime in the next couple days with the list of books I choose for this year's Easter Baskets, in addition to another basket of books I have to give away! In the meantime, you can find our complete list of books for the month of March here: