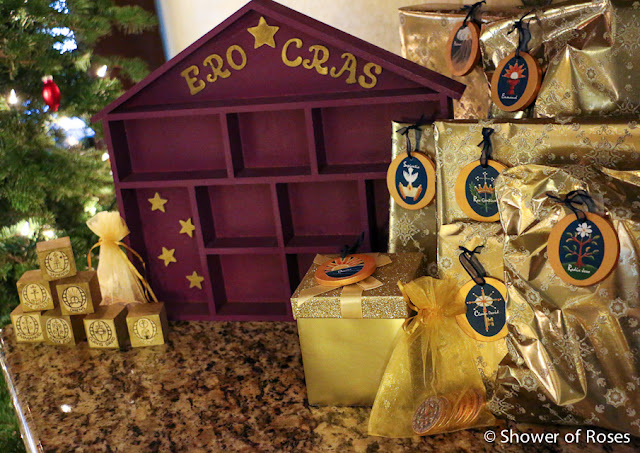 Ever since our oldest children were very little, we have been implementing an old monastic custom in our home by providing special treats, representing each of the "O Antiphons" on the days leading up to Christmas. The O Antiphon prayers begin on December 17th and end on the 23rd, which is the last Vespers of Advent, since the evening prayer on the 24th is the Vigil of Christmas.
The Benedictine monks arranged these antiphons with a definite purpose. If one starts with the last title and takes the first letter of each one – Emmanuel, Rex, Oriens, Clavis, Radix, Adonai, Sapientia – the Latin words ero cras are formed, meaning, "Tomorrow, I will come." Therefore, the Lord Jesus, whose coming we have prepared for in Advent and whom we have addressed in these seven Messianic titles, now speaks to us, "Tomorrow, I will come." So the "O Antiphons" not only bring intensity to our Advent preparation, but bring it to a joyful conclusion.
Each night, following our family rosary, we pray the O Antiphon for the day, sing O Come, O Come Emmanuel, which was inspired by this ancient tradition, and then give the children a special treat.
The "treats" have varied from year to year. Some years it has been little gifts or activities for the family, some years it is all food related, and some years it is a mix of both, depending on our schedule and budget. Sometimes the treats are a bit of a stretch, but my goal is try and find gifts that will either help increase our faith (Catechism books, holy family, saints, prayer, etc) or encourage family time (games, puzzles, going to look at Christmas lights, etc). You can find some of our past O Antiphon treats by scrolling through the archives and visiting Catholic Cuisine.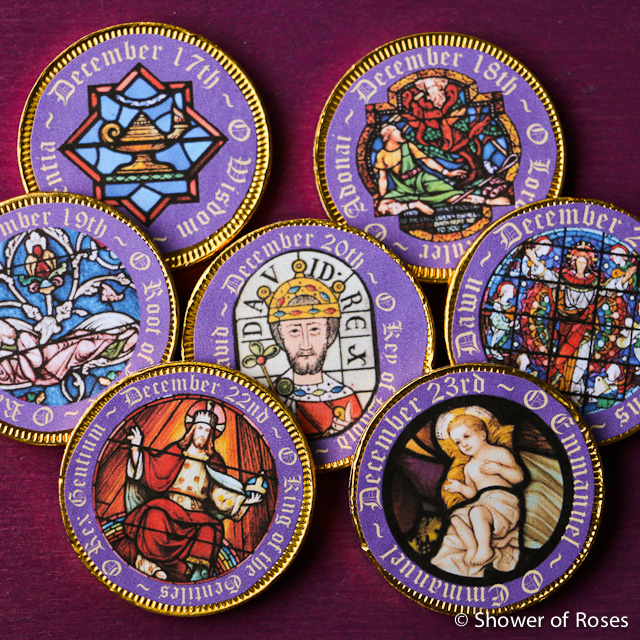 This afternoon the girls and I also made some simple candies for each day. I posted more pictures along with all the details here: O Antiphon Chocolate Coins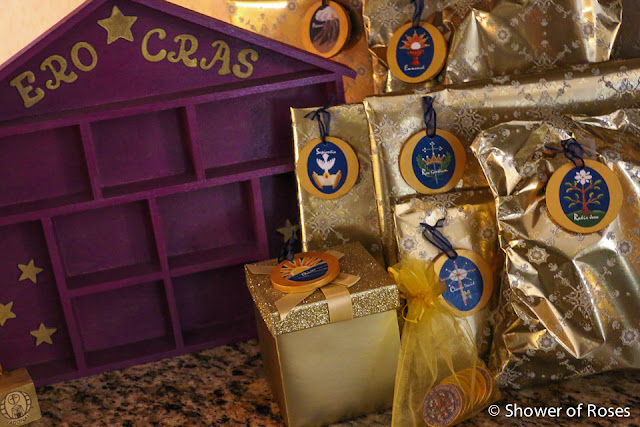 Our family loves this tradition. It is such a fun way to teach the children about these beautiful prayers of the church and also increase their excitement as Christmas gets closer. Oh, and since we have seven children now, they each get to unwrap one of the gifts!
(Note: One of our older boys unwrapped this book this evening and really enjoyed looking through it with some of his siblings. We really love that the book includes scripture passages for each topic! The book is filled with beautiful images, however some of them are definitely scary. I'll be picking and choosing which pages to share with our little ones.)

In the past those books have included this illustrated book of saints, Around the Year: Once Upon a Time Saints, the beautiful A Catholic Child's Picture Dictionary, Novena: The Power of Prayer, new children's prayer books for Mass, a craft kit to make Christmas Bookmarks, and this new Catholic Trivia game.
Since this is initially a monastic tradition, and on this night, the monk in charge of the wine cellar would provide a special bottle of wine. We usually always serve a special drink with dinner. Sometimes I also serve a Key Lime Pie as well. One year I purchased a couple key hook rails from Target to use to hang our Rosaries (you can see them in our home in this post), another year we gave the children this Key Puzzle/Brainteaser, and last year it was tickets (the Key!) to A Christmas Carol at the theatre.
This year, in addition to a special drink with dinner, I picked out some Tiny Saints Key Hooks plus a copy of the Tiny Saints board book for our youngest. I had actually planned to put these in their stockings but they are perfect for this O Antiphon.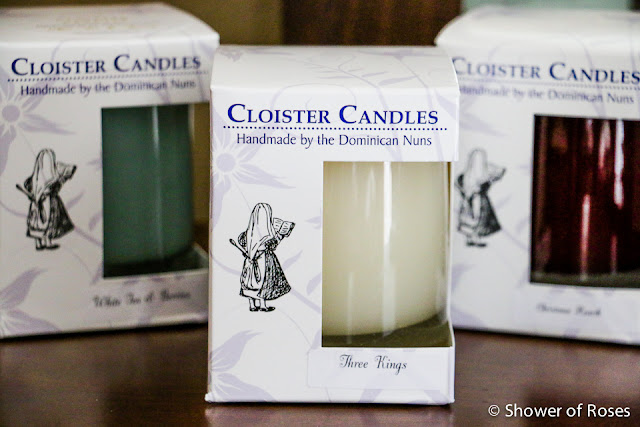 Our favorite tradition for this O Antiphon is to pile in the car after dinner with hot cocoa and drive around to look at all the Christmas lights. In the past we have also given the children this set of sun blocks, decorated our own house or tree with Christmas lights, enjoyed "O Dayspring Ice Cream," added the Kurt Adler 10-Light Candle with Gold Dish Light Set to our Christmas Tree, or decorated our Christmas Candle using a tiny wax baby Jesus I purchased years ago along with Stockmar Gold Decorating Beeswax.
Back when I ordered this year's Advent Candles, I ordered additional candles from the cloister as well. I ended up wrapping the Christmas Hearth candle for this O Antiphon and will save the Three Kings candle for Epiphany!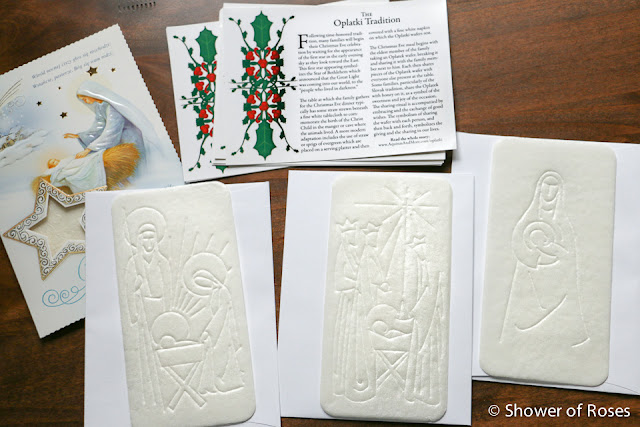 Last year we introduced our children to the Polish tradition of Oplatki Wafers and are continuing that tradition in our own home again this Christmas Eve:
On Christmas Eve the Polish people celebrate a traditional vigil supper called "Wigilia" which means "to await". The children of the family look for the appearance of the first star at dusk and then to begin the meal members of the family break up pieces of Oplatki and give them to each other with a blessing. Then the actual supper begins. (Read more at Aquinas and More.)
I recommend this set from Aquinas and More. I have also ordered this set (with greeting cards to give to extended family) from the large selection of Oplatki Wafers over at Amazon.