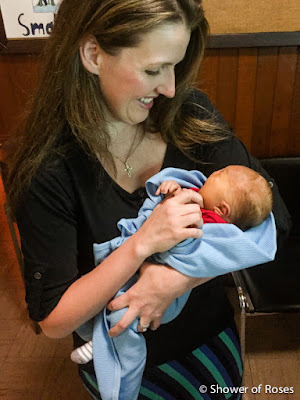 Yesterday morning, after daily Mass, I had the privilege of getting to meet and hold a little miracle.
Patrick Gabriel Snodgrass, who many of you have been praying for since last Easter when his dear mama found out that he has trisomy 13, was born alive on August 8th at 5:51 AM weighing 7lb. 5oz and 18.5 inches long. He was baptized immediately after birth. You can see pictures of him with his family on his birthday over at Facebook.
Due to his health issues, he is not expected to be staying with his family on this side of heaven for very long. They don't even know if he will make it through the weekend.
Please pray for a miracle, but also for peace and acceptance of God's holy will for this amazing family who has already been through so much with
the loss of their daughter Julianna
last summer.
May God reward you for your prayers!