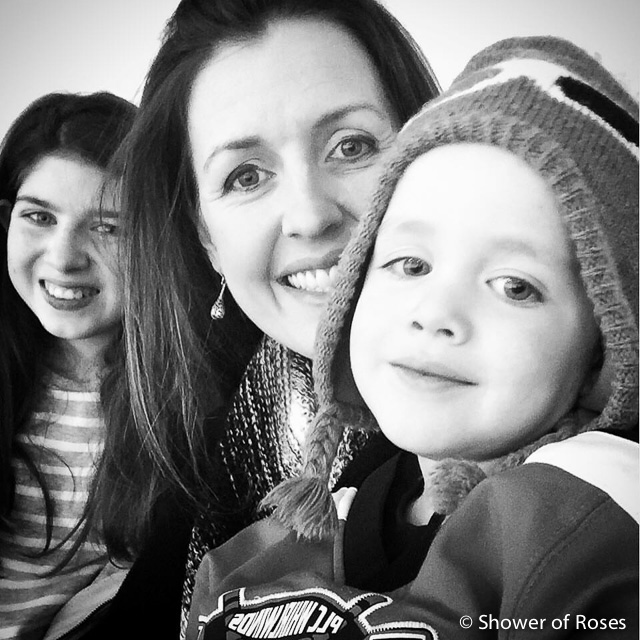 A picture from Bud's 4th Birthday Saturday night, posted to Instagram on Sunday:
Note to self: Next time DO NOT leave purse in car during high school hockey game, especially after getting paid for the month… Added to wish list: New drivers license, bank account, credit cards, replace shattered car window, new car seats, purse, wallet, chapel veils, favorite rosary, makeup, sunglasses, camera lens, and so much more… #workingondetachment #tryingnottoletitstealmyjoy
In addition to some last minute Christmas shopping (a little hard to do with all my credit cards cancelled… Thankfully most of it was completed before Advent while I was putting together the list of Christmas Gift Ideas!), writing Christmas Cards (might not happen now this year, at least not before Christmas), and mailing gifts to the rest of our Godchildren, there was so much I was hoping to blog about – two fun birthdays, more on the O Antiphons (the treats and chocolates have been a hit!), last minute Christmas preparations, and that post about the books on the boys' bookshelf that I started last year (you can find the girls books here) – but it is going to have to wait for now…
Instead I spent yesterday canceling our bank account and credit cards and itemizing the long list of things I had in my purse. My husband has been reminding me that my purse is NOT intended to be used as a safe or a suitcase! 😉 My husband is right, I live out of that thing, especially lately with the boys' school and sports schedule! It is really weird to not have a purse anymore… Today we spent the morning at the DMV and bank, and are now waiting for a call to schedule the Suburban's window replacement and working with our home owner's insurance
again
– we are still recovering from a power surge last month that did lots of damage at home including
killing the dryer
.
It's been such a huge hassle, but I keep reminding myself that it could have been so much worse… My family wasn't hurt and, even though some of the things I lost were special and not easily replaced, they are just
things
. I had been especially worried that my planner was in my purse, with our full schedule listed for the next few months, but thankfully I had forgotten to put it back when I took it out on Friday. (Thank you, Guardian Angel!) Nevertheless
I did want to ask you to offer a little prayer for our family's safety and peace of mind.
One of the next things I need to do, now that we have access to our bank funds again, is purchase new car seats for our two youngest who just turned six and four this past week. It's been over four years since we have even looked at carseats and I was hoping some of you might have some suggestions/recommendations for us. The two carseats we have now were both gifts: a Britax (I'm not sure if it's the Roundabout or the Marathon and (I think) a pink Graco 3-in-1, both older versions of course. I'm going to vacuum off the glass and look a little closer for the model numbers in the morning.
My question… If you had to go buy two new carseats with insurance to help cover the cost (they will pay the replacement value on new versions of the brands/models we have, we pay our deductibles and any excess if I choose different versions on all the items that were stolen) what would you choose? I'm so tired right now and would love some help deciding if anyone has a favorite to suggest. Thank you in advance!