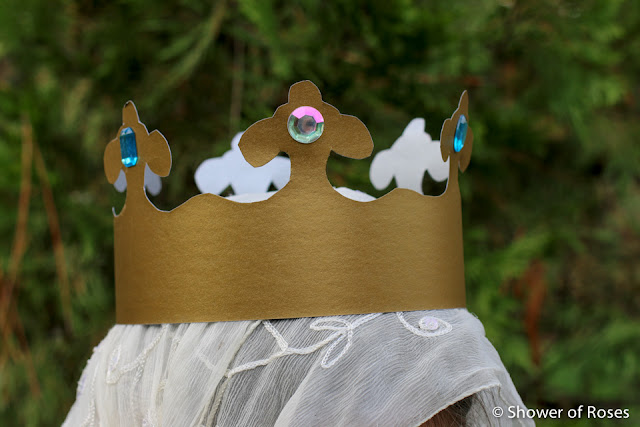 Last year I had elaborate plans to make the girls lace princess crowns (like these) for their saint costumes using lace ribbon, fabric stiffener, and glitter paint. I ran out of time and the bag of supplies is still sitting in my closet…
Instead,
just
before
our party
started, I printed out a couple templates and quickly cut out crowns from some gold/silver poster board I happened to have on hand. They were so easy to make and turned out lovely!
Supplies:
Pencil
Scissors
Stapler and Staples (or use a Hot Glue Gun)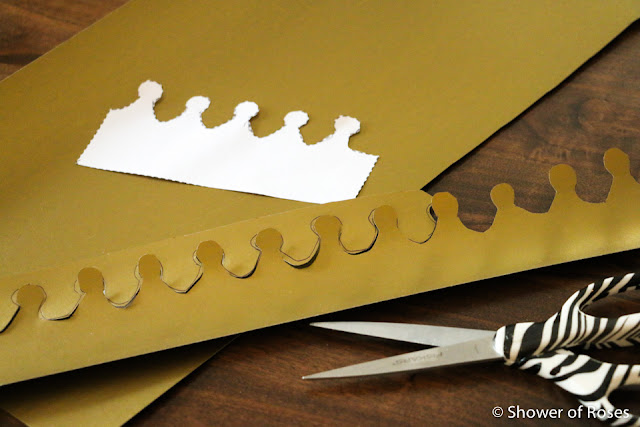 First I cut out the template and traced it onto the poster board until it was long enough to wrap my daughters head and connect together, overlapping a bit. I cut just inside of my traced lines so that they wouldn't show while wearing it – whether on the front or inside, you can see both. I overlapped the edges a bit and stapled it together. A hot glue gun would have looked a little better, but I was short on time! 😉
My oldest daughter decorated her crown with acrylic gems.
My youngest daughter left her crown plain gold for Our Lady of Mount Carmel and we created a smaller crown for Baby Jesus using the scraps from cutting out her crown. It worked out perfectly!