The figure of Saint Nicholas stands apart from nearly every other Christian saint: his fame spread across empires and generations to make him one of the most recognizable Christian saints in history. But the popular perception of Saint Nicholas today diverges greatly from his original veneration as a compassionate almsgiver and defender of the poor. Saint Nicholas has been reduced to the pop culture figure of Santa Claus, a jolly old man who brings presents to good little boys and girls. This book reacquaints those boys and girls with the authentic Santa Claus Nicholas, a man who found greatness not simply in spreading "good cheer," but in being a true icon of Jesus Christ in word and deed.
The feast of St. Nicholas is coming up on December 6th, a week from tomorrow! I already shared the list of new Christmas books our children will be receiving this year and you can find lists of our additional St. Nicholas theme books in my Advent & Christmas Book Collection, in my post of Christmas Gift Ideas, or in our December Book Basket (which I still need to update for this year).
Saint Nicholas & the Nine Gold Coins, an Eastern Orthodox "retelling of the legend of Saint Nicholas illustrated in exquisite iconographic style", is still temporarily out of stock, but they are saying they will have it back in stock on December 1st (there should still be enough time to get it for his feast day with prime shipping!!!) and the price has dropped 14% from the full MSRP of $20 down to $17.28, PLUS right now you can save an additional $5.18 (30% off one book, up to $10 and one time use so make it count!) with coupon code HOLIDAY30 (good through 11/30/15) which would bring it down to only $12.10.
Here is a little peek inside our copy for those who would like a closer look…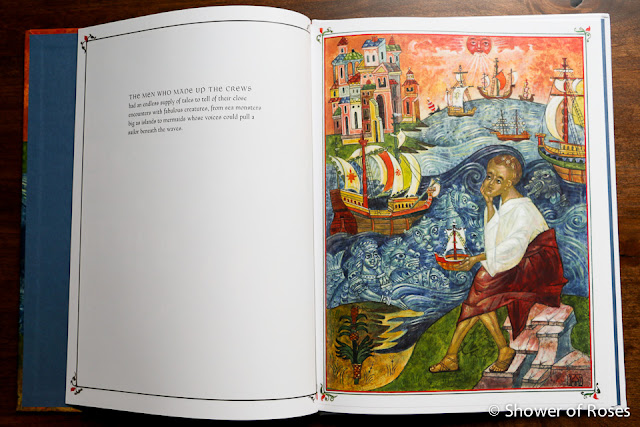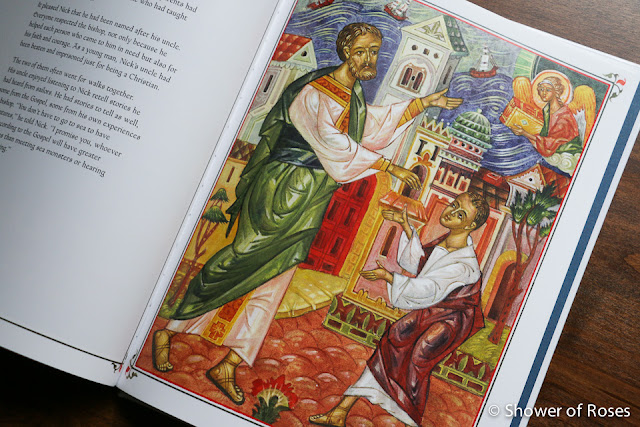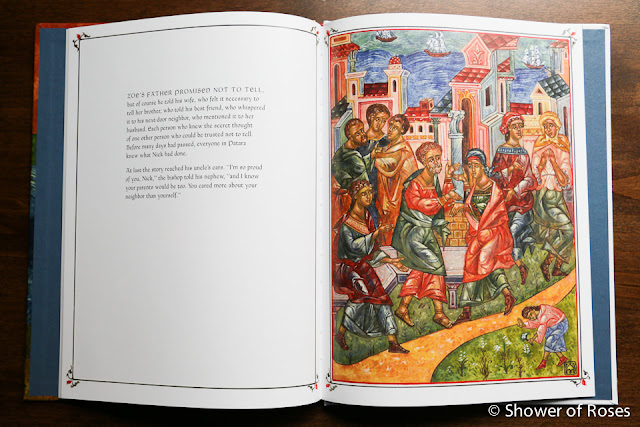 ZOE'S FATHER PROMISED NOT TO TELL,
but of course he told his wife, who felt it necessary to tell her brother, who told his best friend, who whispered it to his next-door neighbor, who mentioned it to her husband. Each person who knew the secret thought of one other person who could be trusted not to tell. Before many days passed, everyone in Patara knew what Nick had done.
At last the story reached his uncle's ears. I'm so proud of you, Nick," the bishop told his nephew, "and I know your parent's would be too. You cared more about your neighbor than yourself."
(This page made me laugh, and will present a great opportunity to talk to the kids about how easily "secrets" and rumors can spread, especially in small communities.)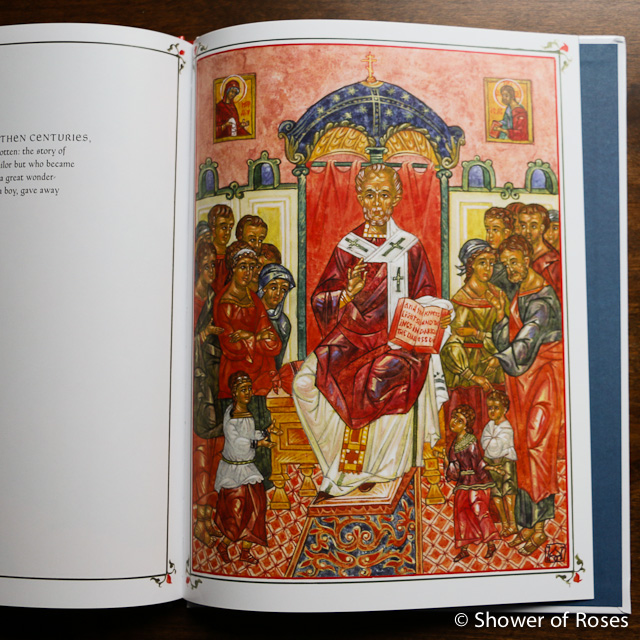 It is a beautiful and inspiring book. I'm looking forward to unwrapping and reading it on the feast of St. Nicholas this year!