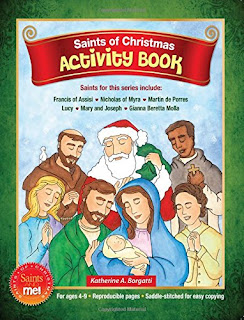 The Saints of Christmas Activity Book
includes fun activities and coloring pages for all six saint books included in the Saints and Me! Christmas Series: Mary and Joseph, Nicholas of Myra, Francis of Assisi, Gianna Beretta Molla, Martin de Porres, and Lucy. With 96 reproducible pages, this coloring and activity book will makes a great resource to use over and over again! The variety of activities enables children to relive the story and learn through activities that correlate to the story (such as word searches containing the words in the story, coloring sheets of pictures from the story, reflective material on the saint as a role model). This is an excellent way to introduce these Saints of Christmas to children, helping them to understand their virtues and desire to live holy lives. Activities are varied enough to be used with preschool (4-year-olds) through second or third grade. An answer key is provided.
I haven't seen a copy of this activity book in person yet, but just ordered a copy for this Advent since it is currently 69% off! I love that it includes 96 reproducible pages so that I can order one copy for my children to share.


+ + +
I'm slowly working on finding books to give our children as gifts on the feast of St. Nicholas and for Christmas this year. I'm also working on creating an updated version of Our 2014 Advent Book Basket and Printable Labels and will be sure to share those with you all when they are ready, hopefully in the next week or two!
Holy Heroes is currently offering "3 for the price of 2" on pre-orders of their 2015 Advent Adventure Activity Book. I haven't ordered them for this year, but our children really enjoyed using the Activity Books last Advent. (You can find a list of our Advent & Christmas Favorites from Holy Heroes here.)

I also wanted to mention that Regina Martryum Productions just released another new audio download! For today only if you purchase a copy of The Poor Outcast – Blessed Margaret of Castello you can choose another story to download for free with coupon code MARGARET15.
Oh! One more thing. My friend Aleesa just shared a FREE Sts. Louis & Zelie Martin Coloring Page. Could you please offer a little prayer for Aleesa? She is currently on bed rest recuperating from surgery. I need to go back and add the coloring page link to my post on Commemorating the Canonization of the Parents of Saint Thérèse, Saints Louis and Zélie Martin and print out a few copies for my little ones to color sometime this week.
I think that is it for now… I hope your week is off to a great start!