This year I have been working on updating all my original Little Flowers Girls' Club Notebook Pages and creating pages for the new Wreath IV!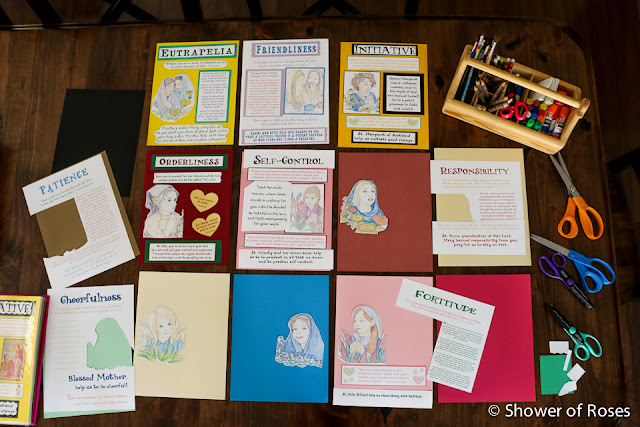 Note: The Wreath III Crafting Pages feature the lovely saint illustrations by Michelle Mahnke, matching the coloring pages found in the Wreath III Member's Guide.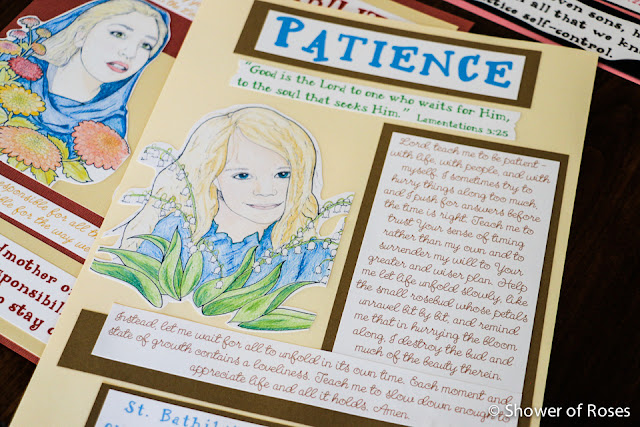 It has been inspiring going back through all these pages again and rediscovering the quotes and prayers I originally chose to include for each virtue. I especially love this Prayer for Patience in Accepting God's Will which is included on the crafting page featuring the St. Bathildis and the virtue of Patience.
Lord, teach me to be patient – with life, with people, and with myself. I sometimes try to hurry things along too much, and I push for answers before the time is right. Teach me to trust Your sense of timing rather than my own and to surrender my will to Your greater and wiser plan. Help me let life unfold slowly, like the small rosebud whose petals unravel bit by bit, and remind me that in hurrying the bloom along, I destroy the bud and much of the beauty therein.
Instead, let me wait for all to unfold in its own time. Each moment and state of growth contains a loveliness. Teach me to slow down enough to appreciate life and all it holds. Amen.
Speaking of patience… Thank you all for your patience with me as I work on finishing the necessary updates. I'm about half finished with the sample pages for Wreaths I and II and am hoping to have them all completed by the end of this week.