I had every intention of sharing our 2015-2016 Curriculum Plans last fall. However, once our school year got underway, shortly after our month long summer road trip, I needed to focus on actually completing the plans with our children, rather than blogging about them… 😉 We successfully finished the year and I'm working on plans for 2016-2017 now, but first I wanted to pull this post out of my draft folder and finish it up for my own records at least.

This past school year our children were in 9th, 9th, 6th, 5th, 3rd, Kindergarten, and Pre-K.

Ranger actually started the year as an 8th grader, even though he has been studying at the same level as his older brother for a few years now, but by the end of September we made it official and he was moved up to 9th grade!

Our children have been enrolled in a home-based charter school for a number of years now. We've jumped through the required hoops (testing, weekly samples, etc) in the past in order to be able to use the "allotment" our children receive to pay for extra-curricular activities, sports, and tutoring.

Originally I thought Ranger would be able to earn high school credit in 8th grade for his high school level courses, but that wasn't the case. If he wanted to earn the credit he had to be enrolled as a high schooler by the end of the year. We had three options that we considered:

1. Leave him in 8th grade and basically have him complete 5 years of high school, filling in the graduation requirements with advance classes or dual-credit classes at the community college. (He wasn't thrilled about this option.)

2. Move him up to 9th grade at the end of the school year depending on how he did in the high school classes. (This is what the charter school director was suggesting, but we didn't like that it would mean that he would miss out on a year of high school sports, if he ended up being moved up from 8th to 10th at the end of the school year.)

3. Move him up to 9th grade at the beginning of the year, with approval from the school depending on his beginning-of-the-year test scores. (My youngest two brothers did the same thing: Kevin was held back a year due to his Auditory Processing Challenges, just like our oldest son, and David skipped 8th grade, just like our second son. They are 22 and 20 now and will both be seniors in college this fall with full golf scholarships! I had quite a few conversations with my mom on whether it was the right thing to do or not. We also had conversations with Ranger about whether or not he wanted to be a little older his senior year – mainly due to the competitive sports – and if he wanted to have a year in those sports without his older brother. Not to mention that going this route meant we would have our oldest two leaving for college at the SAME time!)

We ended up going with the 3rd option and Ranger had a great school year! He was at the top of his Science class, had the best test scores in the school (he scored in the 96 percentile of all 9th graders statewide at the end of the year on the state math test), and finished the year with a 4.0. We also had the added benefit of having a built in tutor as well. Late at night I'd often find Ranger explaining math concepts to his older brother. Such a blessing! The Regional Varsity golf tournament was hard for him. I had to remind him that not only were he and his brother some of the only freshman out on the course that day, he was by far the youngest, and he didn't come in last – far from it! We were so proud of them for their hard work and just qualifying to complete with all the older Varsity players from all the other schools with so little experience! (Other than week long summer golf camps, this was their first year playing golf.) In addition to earning the Varsity Award for hockey and golf, the boys both received Athlete-of-the-Week during golf season and Kiwanis Student-of-the-Month Awards!

The charter did have quite a few challenges though… I'm not going to go into them all right now, but I will say that we have decided to withdraw at least our boys. We have already enrolled our high-schoolers in Kolbe Academy for this upcoming fall! I think it will be a perfect fit for our family and they will be working towards the Magna Cum Laude Diploma.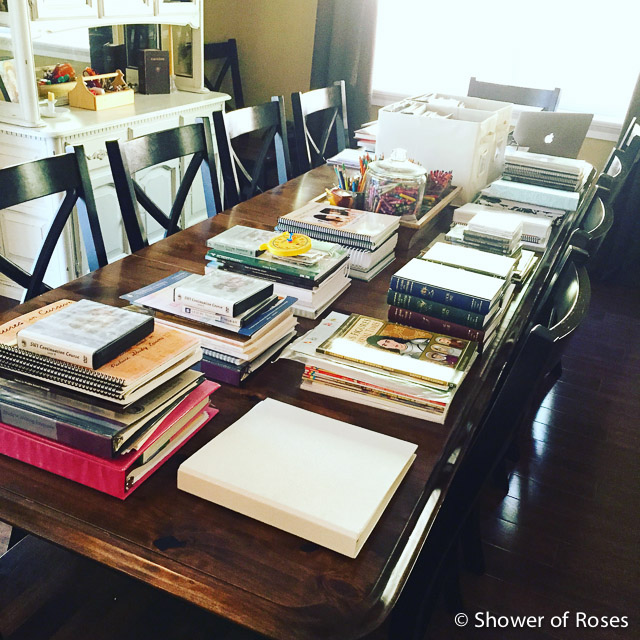 We continued using Saxon Math with all the children, as well as courses from Institute for Excellence in Writing (IEW) and All About Learning (AAL) for Language Arts, Focus on Science Geology from Real Science for Kids, Latin from Memoria Press (making changes for next year), portions of Connecting with History from RC History, and Meet the Masters for Art.
I'm not going to list all the supplemental resources we used this past year, but here is an overview of all the core texts for each of our children:
Captain and Ranger :: 9th Grade
Theology:
Our Quest for Happiness: Our Goals and Our Guides (with Dad)
The History of the Church (supplemental reading)
Christ 101 (partially completed, plan to continue)
Additional resources:
Beginning Apologetics
Catechism of the Catholic Church
Ignatius Catholic Bible (Compact)
Imitation of Christ
English:
The Elegant Essay: Building Blocks for Analytical Writing (1st Semester)
Speech Boot Camp (2nd Semester)
Fix It! Grammar: Frog Prince, or Just Deserts (all year)
Phonetic Zoo, Level C (all year)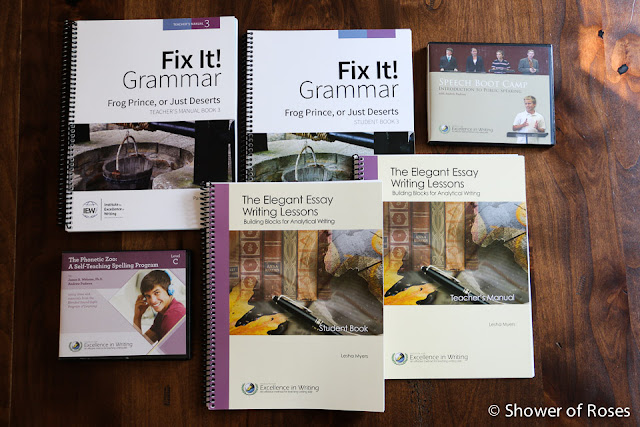 History & Literature – World History I:
A Light to the Nations, Part I: Development of Christian Civilization
Tests from A Light to the Nations Student Workbook and Teachers Manual
Additional Literature chosen from Connecting with History Volume 2 (starting at Unit 5) and Volume 3 for Independent Reading, various Audio Books, and Family Read-Alouds – I will try and share the booklists and checklists I created for them for the year.
Mathematics:
Saxon Algebra 1 with Art Reed DVDs and 1-2 hours of weekly tutoring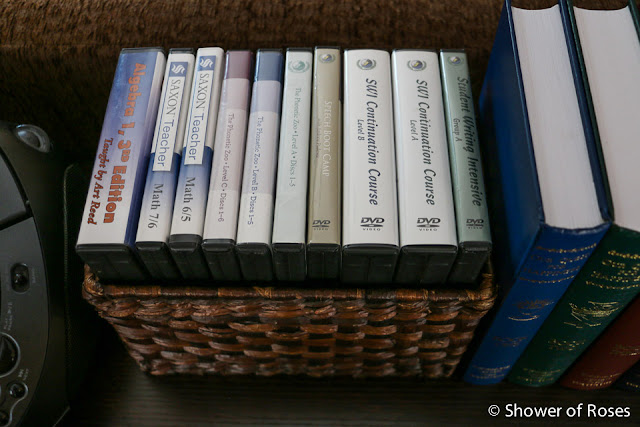 We had been using the Saxon Teacher CDs (which were working fine) but switched the older boys to the Art Reed DVDs for 2015-2016. They are excellent! I've already ordered the Art Reed DVDs for the girls for next year.
Science:
Physical Science: Concepts in Action with Earth & Space Science
with weekly science labs at our local charter school
Latin I:
First Form Latin with DVDs and Quizzes & Test Booklet
(We will be making changes for 2016-2017. I'll share the details when I post our curriculum plans.)
Electives:
High School Robotics
Drivers Education (summer – Captain only)
Fine Arts:
Meet the Masters: Tracks B & C (8 artists, 4 per semester)
Physical Education:
High School Hockey – Varsity Team (winter)
In-House Hockey League (Oct-Mar)
High School Golf – Varsity Team (spring)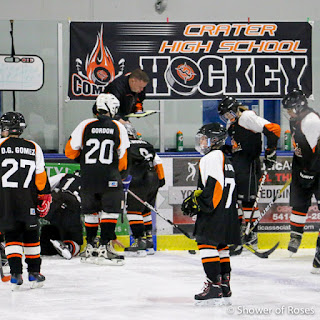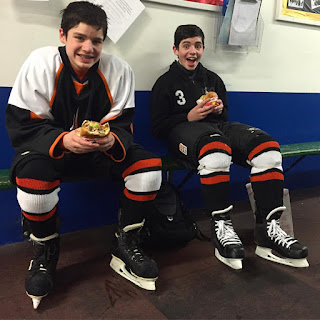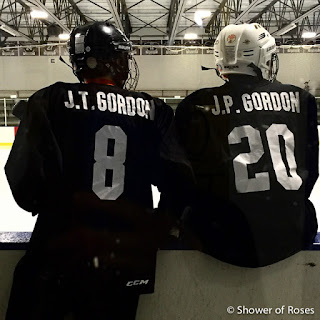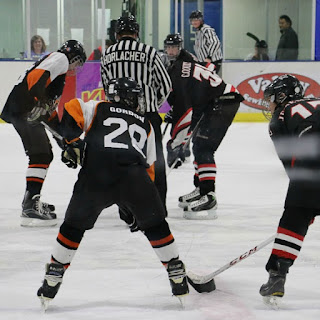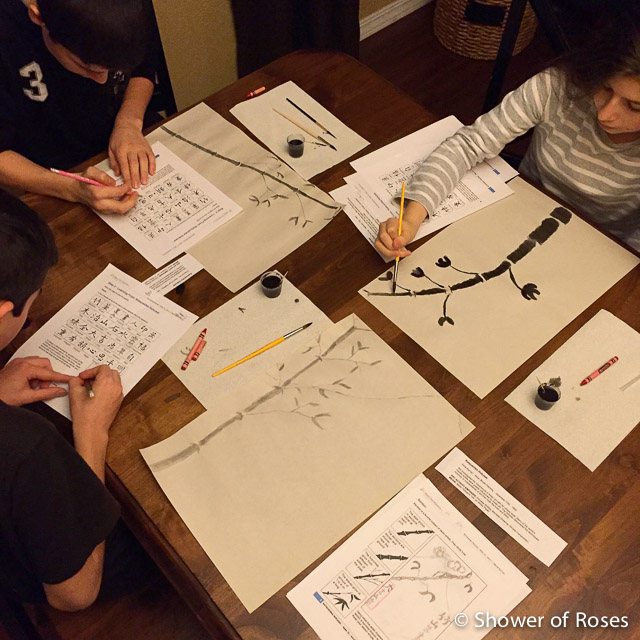 Chiquita :: 5th Grade
Religion:
Saint Joseph Baltimore Catechism No. 2 (with Dad)
Mathematics:
Language Arts:
Science:
Life Is Precious: A Culture of Life Unit Study for Elementary Students
Focus on Middle School Geology
with
Laboratory Workbook
, Quizzes, and
Teacher's Manual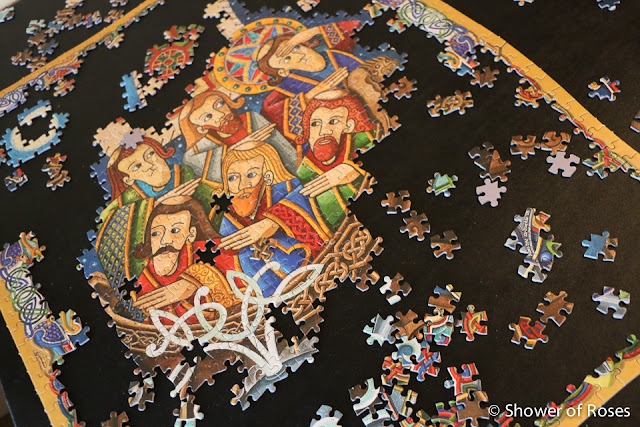 Snuggles :: 3rd Grade
Art: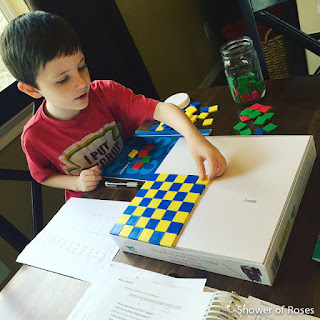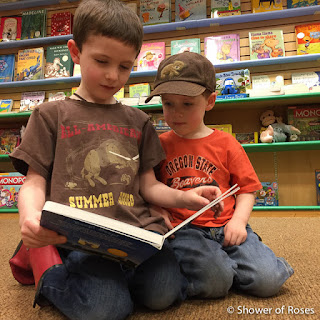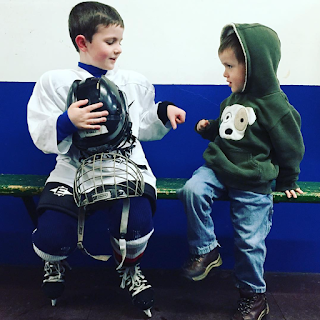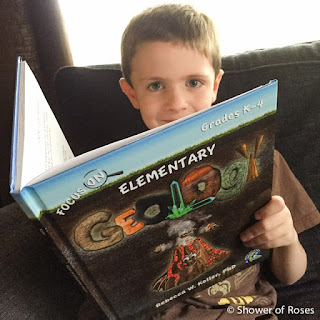 Rose :: Kindergarten
Art: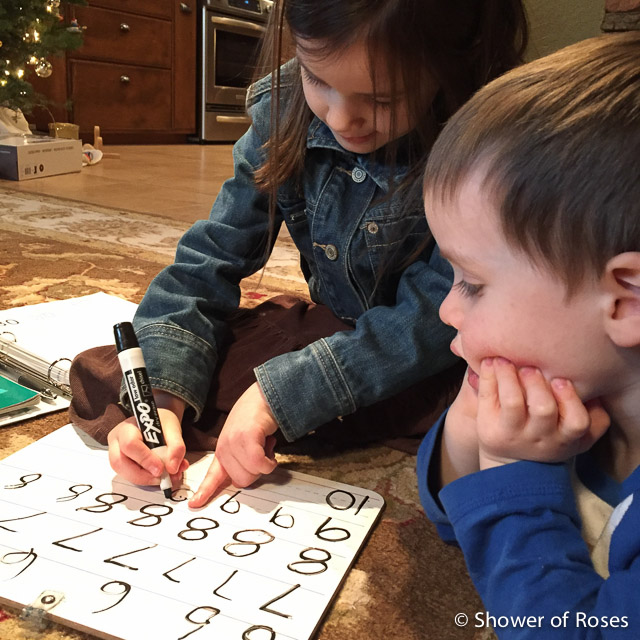 Bud :: Pre-Kindergarten
In addition to the
Life Is Precious: A Culture of Life Unit Study for Elementary Students
we incorporate lots of picture books, family field trips, educational games, and religion lessons with Daddy each week. Our pre-schooler also loves
celebrating the saints
and participating in
our family art classes
. He still has one more year before he will officially begin Kindergarten in 2017-2018.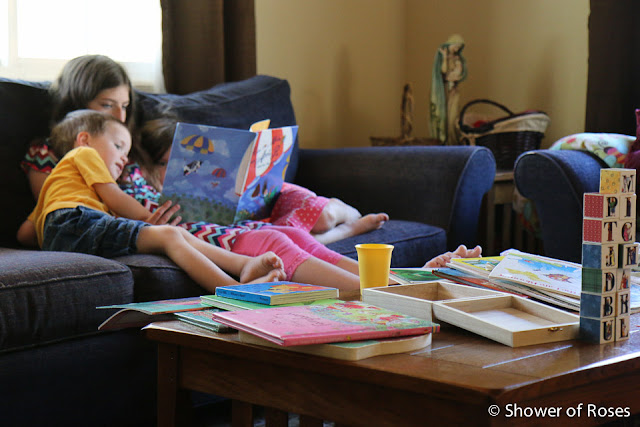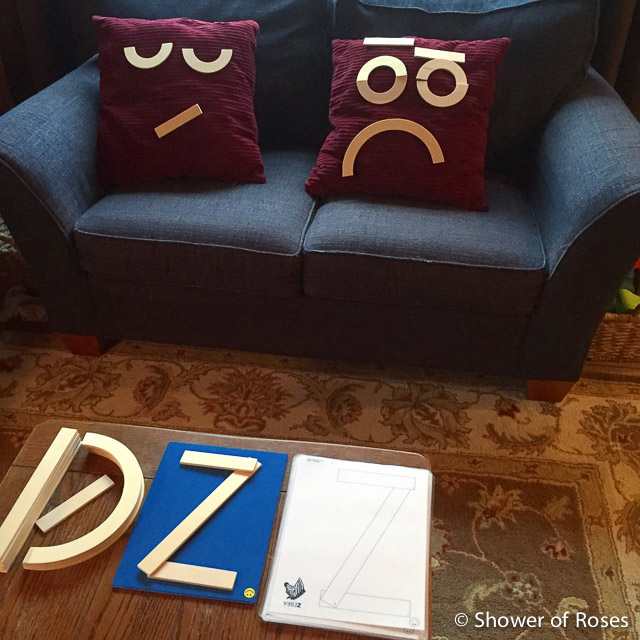 Looks like one of my teens had some fun with the handwriting manipulatives.
#handwritingwithouttears #highschooledition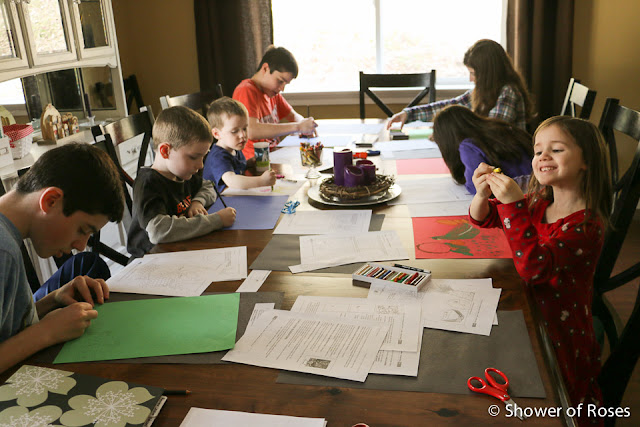 I have come to realize that just because I haven't been able to keep up with my own hopes and expectations for our younger children, it doesn't mean that the education they are receiving is lacking.
Our younger children's "curriculum" may not include all of the same fun activities that our older children enjoyed while learning with "Little Saints" and "The Alphabet Path" but that doesn't mean that it isn't just as enriching, especially with so many fun and amazing older siblings to help teach them and include them in their own enrichment activities!
But we'll see… Maybe this next school year will be the year that I'll be able to add more of that back in to our plans.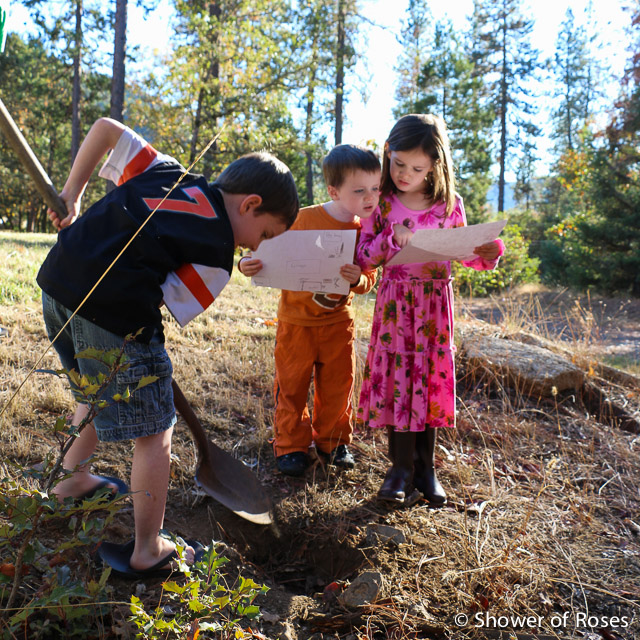 Searching for "Hidden Treasure" courtesy of their older sisters whose geology experiment this week included burying a treasure, creating a map, and giving that map to a friend.

#homeschoolingrocks

#focusongeology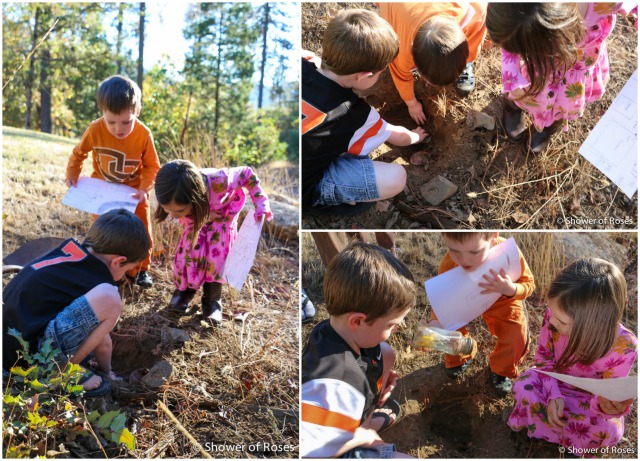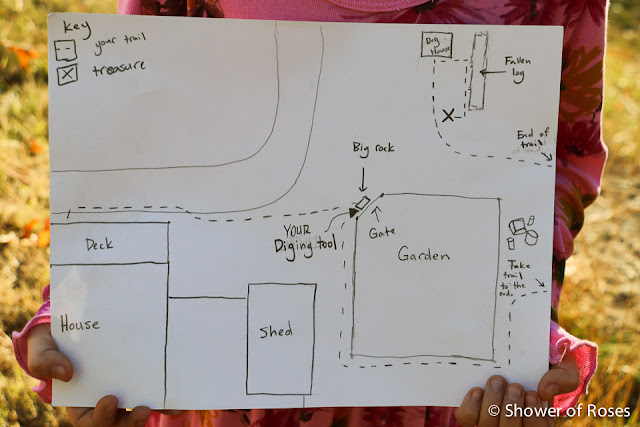 I will be making a few small changes for this upcoming year, which I'll do best to share soon!
I also have a WHOLE SET (Text Book, Test Book, Activity Book, Teacher's Manual, Timeline, Dramatized Audio Book, and video lecture series – a $154.70 value!) of The Story of Civilization: Volume 1 – The Ancient World from TAN to review and giveaway (I'm looking forward to using this when we get back to Ancient History in a couple years) so be sure to watch for that in the next couple weeks.
Also, don't forget Sacred Heart Books and Gifts when ordering your curriculum! I have a shopping cart going right now as I finalize our plans for this upcoming year. Not only does Linda offer great prices, you can also get free shipping on orders of $40+ with coupon code JMJFS OR free shipping and $5 off on orders of $60+ with coupon code JMJFS5 good through August 3, 2016.