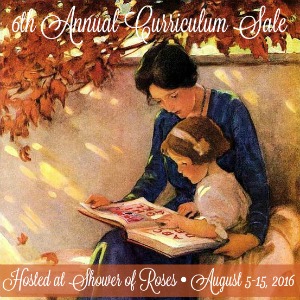 Do you have any curriculum collecting dust and taking up precious space on your bookshelves?
One of the ways I save money on schoolbooks each year is by reselling any curriculum that either we won't be using again in the near future or which didn't work for our family. This way, I can make some of the money back that I paid and put it towards any new curriculum purchases needed for the new school year, make a little room on the (always overfull) bookshelves, and give other families the opportunity to purchase what they might be needing at a discounted price.
The annual blog hop I host here at Shower of Roses is a great place to sell your books and it's coming up this Friday. Get your blog posts ready to link up!