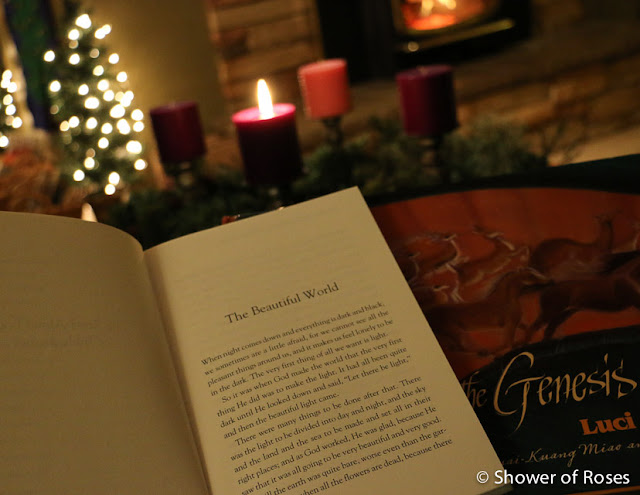 Happy First Sunday of Advent! I had hoped to have one last giveaway all ready to go for this weekend, but between hosting Thanksgiving dinner for twenty (thankfully I had help!) combined with the nausea I've been fighting (thank you all so very much for the prayers, love, and support!), I'm a little behind and haven't even started the post… I will do my best to get it up on the blog sometime this week. In the meantime, I thought I'd share our Jesse Tree plans for this Advent.
Advent varies in length from 22-28 days, beginning with the Sunday nearest to the feast of St. Andrew the Apostle (November 30th) and embracing four Sundays. The first day of Advent can fall as early as November 27th or as late as December 3rd. This year we, with Advent beginning on November 27th we get the longest Advent possible with four complete weeks!
The Jesse Tree provides a meaningful way for us to count down the days until Christmas. Moreover, it increases our understanding of this portion of salvation history and is an effective way to prepare spiritually for Christmas.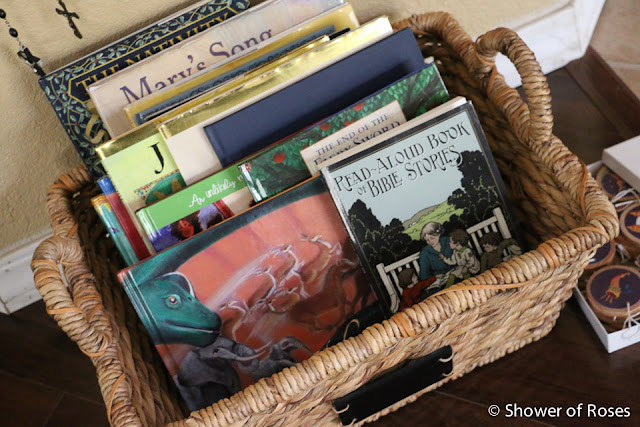 Optional: Additional Picture Books
"There shall come forth a shoot form the stump of Jesse, and a branch shall grow out of his roots. And the Spirit of the Lord shall rest upon him, the spirit of wisdom and understanding, the spirit of counsel and might, the spirit of knowledge and the fear of the Lord." ~ Isaiah 11:1-2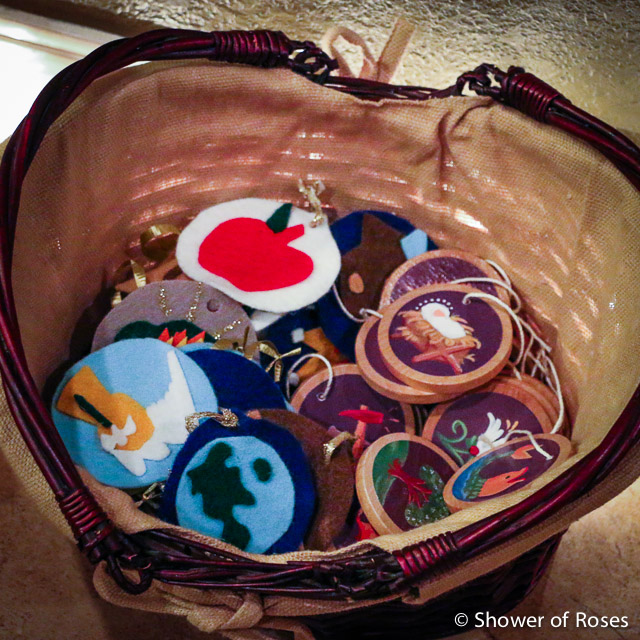 Here is our plan for this year's twenty-eight days of Advent:
1. Creation
Felt Symbol: The Earth
Wooden Symbol: The Earth
Read-Aloud Book of Bible Stories: The Beautiful World, Pages 3-5
Picture Book: The Genesis of It All
2. Adam & Eve
Felt Symbol: The Apple
Wooden Symbol: The Apple
3. Noah
Felt Symbol: Ark
Wooden Symbol: The Ark
4. Abraham
Felt Symbol: Stars
Wooden Symbol: The Camel
Read-Aloud Book of Bible Stories: The Story of Abraham, Pages 15-19
Picture Book: The Ballad of Matthew's Begats
5. Isaac
Felt Symbol: Bundle of wood
Wooden Symbol: The Ram
6. Jacob
Felt Symbol: Ladder
Wooden Symbol: The Ladder
Read-Aloud Book of Bible Stories: Jacob and Esau, Pages 29-36
7. Joseph
Felt Symbol: Joseph's Coat of Many Colors
Wooden Symbol: The Coat
Picture Book: Exodus
9. Moses
Felt Symbol: Ten Commandments/Stone Tablets
Wooden Symbol: The Tablets
Read-Aloud Book of Bible Stories: Moses, the Great Leader, Pages 59-64
Picture Book:
Exodus
(continued)
10. Joshua
Felt Symbol: Sword & Trumpet
Wooden Symbol: The Horn (Joshua)
Read-Aloud Book of Bible Stories
:
The Story of the Spies
, Pages 67-75
and
Gideon, the Soldier
, Pages 77-87

11. Ruth
Felt Symbol: Sheaths of Grain
Wooden Symbol: The Wheat
12. Samuel
Felt Symbol: Oil Lamp
Wooden Symbol: The Oil Lamp
Read-Aloud Book of Bible Stories
:
Samuel, the Little Server
, Pages 97-104
and
Jonathan, the Soldier Prince
, Pages 105-114
Felt Symbol: Shepherd's staff
Wooden Symbol: The Tree
Felt Symbol: Harp
Wooden Symbol: The Harp

15. Solomon
Felt Symbol: Scales of Justice
Wooden Symbol: Use Isaiah's "Scroll" for Solomon

16. Elijah
Felt Symbol: Raven
Wooden Symbol: The Stones
Read-Aloud Book of Bible Stories
:
Elijah, the Hungry Prophet
, Pages 141-148
18. Jeremiah
Felt Symbol: Stone
Wooden Symbol: The Clay Pot
20. Esther
Felt Symbol: Queens Crown
Wooden Symbol: Use Solomon's "Crown" for Queen Esther
Read-Aloud Book of Bible Stories
:
Queen Esther
, Pages 181-189
Picture Book:
The Story of Queen Esther
21. Nehemiah
Felt Symbol: Walls of Jerusalem
Wooden Symbol: The Temple
22. Zachary and Elizabeth
Felt Symbol: Angel
Wooden Symbol: The Prayer Shawl
Read-Aloud Book of Bible Stories: The Messenger of the King, Pages 199-204
23. St. John the Baptist
Felt Symbol: Shell with water
Wooden Symbol: The Shell
24. The Angel Gabriel
Felt Symbol: Angel with lily
Wooden Symbol: The Angel
26. Blessed Virgin Mary
Felt Symbol: Lily
Wooden Symbol: The Lily
Felt Symbol: Infant Messiah
Wooden Symbol: The Manger
Picture Book:
The Nativity