Earlier this week we celebrated a 9th birthday! How is my snuggly little baby already NINE?! I was still pregnant with him when I started this little blog… He is such a fun, thoughtful, hilarious, and loving little guy and has been such a blessing to our family!
The older boys were gone all week attending Quo Vadis Days, our diocesan vocations retreat/camp, and we thought about saving the themed birthday party until they returned, but on the morning of his birthday we decided to just have it on his actual birthday, as we always do, even though I hadn't even started preparing. I loaded all five of the younger children into the Suburban and we headed to town for supplies. I don't go shopping with all of them very frequently anymore and we had a fun morning. Our first stop was at the coffee drive-thru for his free birthday smoothie, then on to the party store to pick up a piñata (they were out of dragons but she sold me the store display at a discount!), and our last stop was the grocery store for drumsticks, veggies, candy/snacks for the piñata, and some cake decorating supplies. Sometimes the best and most enjoyable celebrations are thrown together at the last minute!
The girls covered the table in a red table cloth and set up the little boys' Medieval Castle and some of their Schleich Crusaders as decorations, while I hung up the banner I made for our last Medieval Birthday party (you can download my printable Knight Banner document here), adding some Fleur De Lis Whirls (see first picture) to it this time as well.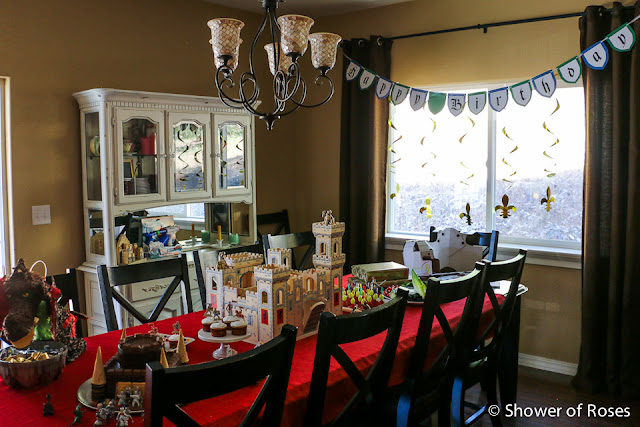 It was a hit!
I also made some hamburger patties and mac-n-cheese.
After dinner it was time for the piñata!
Bud especially loved the dragon and has requested one for one of his next birthdays…
"After the soldier birthday!"
He also named the dragon "Chocolate!" I thought it was because he was filled with lots of chocolate, but that wasn't the reason… "Because he is the same COLOR as chocolate!"
We filled the piñata with fruit snacks and some chocolates that the kids picked out:
THREE MUSKETEERS
DUKE OF YORK Peppermint Patties
Hersheys GOLD Nuggets
and
PRINCESS Kisses
It only took Twinkle Toes one swing to take the head off the dragon.
We tied the rest of the body back onto the rope and the kids insisted that Sean and I each try as well.
I'm going to skip ahead to presents and then go back to the cake and candles…
The second set we gave him (also on sale right now!) was the LEGO Creator Lakeside Lodge. The kids all pointed out the moose which immediately reminded them of our trip to Grand Teton and Yellowstone last summer. Such a great vacation!
He was so funny to watch as he opened and read aloud his card from Grandpa and Grandma G:
"OHHHHH, yeaaaaahhhhhhhhh!!!!!!"
"I'm a WINNER!!!"