My mom has been asking all summer if I was going to host another book sale this year. A couple of my sisters, the twins, have been helping her clean out her attic this summer. The other night JoAnn dropped off a few books for me to sort through and list for sale….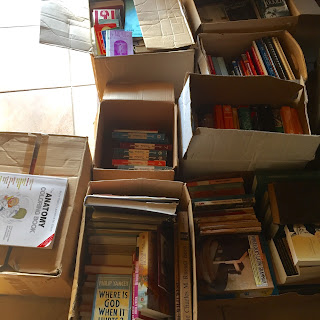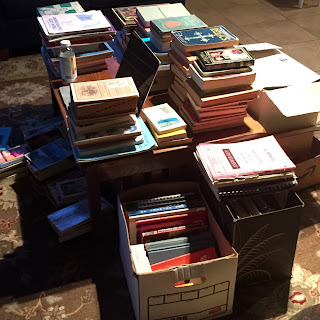 The majority of these books are old, have been used by many children, stored in boxes in an attic, and are not in the best shape. I've priced them accordingly.
If there is anything you are interested in for your family or have any additional questions, please leave a comment listing the books you would like, along with your email address. (The email address box is now part of the comment form here at Shower of Roses and it won't be displayed publicly.) I will send you a private email with your total, including shipping, along with payment information.
The books in this post will be shipped directly from my mom, Josephine. Paypal payment is preferred, though contact me privately if this isn't an option. Out of consideration for myself and anyone else who might like to purchase books from this post, please only request items that you intend to purchase and are able to submit payment for promptly, unless other arrangements have been made. If multiple visitors request the same book it will be sold to the first request. Comments are moderated, but I will do my best to approve them as quickly as possible.
Shipping will be a flat rate of $5.00 for 1-3 items and $7.00 for 4+ items, to cover the cost of packaging and media rate postage in the U.S.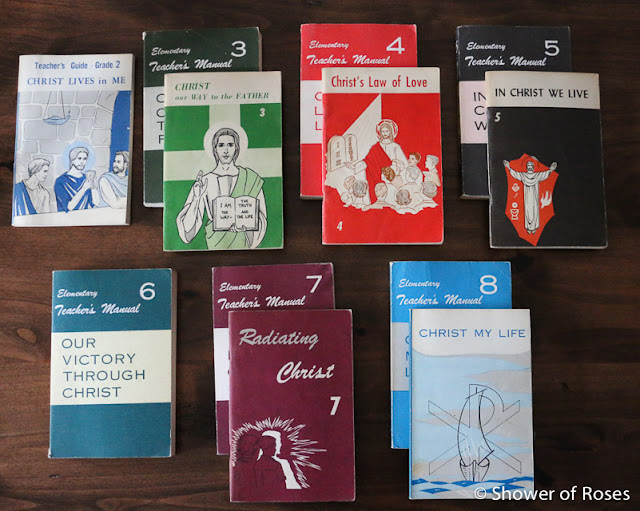 The St. Paul Way, Truth and Life Series, Set of books pictured above $45.00 Reduced $30.00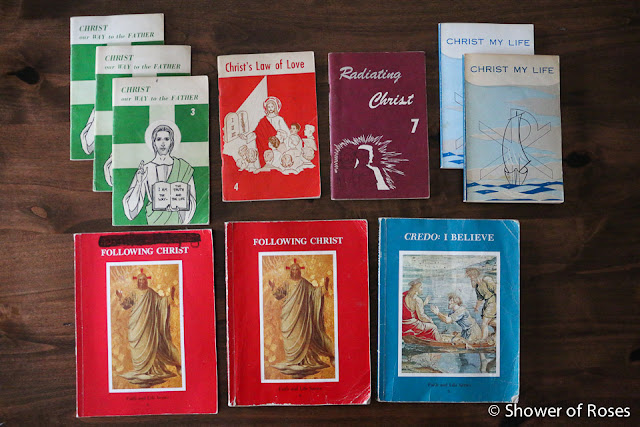 Christ: Our Way to the Father, $5.00 each, 3 available
Christ's Law of Love, $5.00
Radiating Christ, $5.00
Christ My Life, $5.00 each, 2 available
Following Christ, $5.00 each, 2 available
Credo: I Believe, $5.00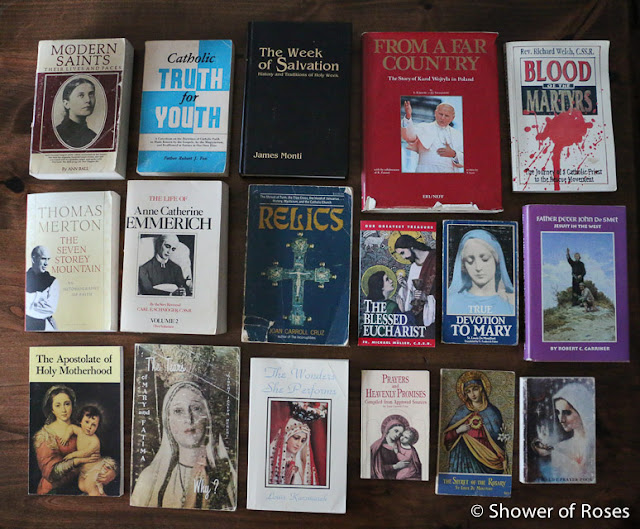 Modern Saints, $2.00
Catholic Truth for Youth, $4.00
The Week of Salvation, $4.00
From a Far Country, $2.00
Blood of the Martyrs: The journey of a Catholic priest to the rescue movement, $2.00
The Seven Storey Mountain, Thomas Merton, $2.00
The Life and Revelations of Anne Catherine Emmerich Vol 2, $5.00
Relics, $2.00 (Sold)
The Blessed Eucharist, $4.00
True Devotion to Mary, loose cover, $1.00 (Sold)
Father Peter John de Smet: Jesuit in the West, $8.00
The Apostolate of Holy Motherhood, $6.00 (Sold)
The Tears of Mary and Fatima, $3.00 (Sold)
The Wonders She Performs, $4.00 (Sold)
Prayers and Heavenly Promises, $2.00
The Secret of the Rosary, $2.00
The Pro-Life Prayer Book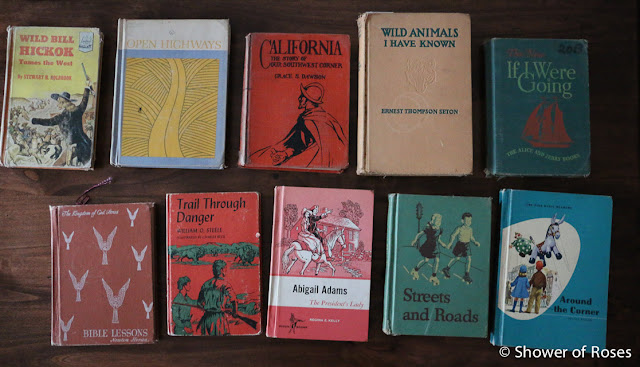 Wild Bill Hockok Tames the West by Stewart H. Holbrook, Lots of Cover Wear, ©1952, Asking $2.00 (Sold)
Open Highways
, School reading textbook from the 1960s, $5.00
California: The Story of Our Southwest Corner
by Grace S. Dawson, ©1939, Cover split and taped together, Asking $2.00Wild Animals I Have Known, ©1926, Spine loose from age, wear to cover, Asking $10.00
The New If I Were Going
, ©1936, 1951 Edition, Asking $5.00
The Kingdom of God Series,
Bible Lessons
, William Newton & Ellamay Horan, ©1937/1942, Good,
Asking $5.00
Trail Through Danger, Asking $2.00
(Sold)
Abigail Adams: The President's Lady by Regina Kelly, ©1962, Good, Asking $5.00
(Sold)
Streets and Roads, Basic Readers 1946-1947 Edition, Acceptable, First Page is falling out/half, Asking $5.00
(Sold)
Around the Corner, ©1957, Good, Asking $5.00
(Sold)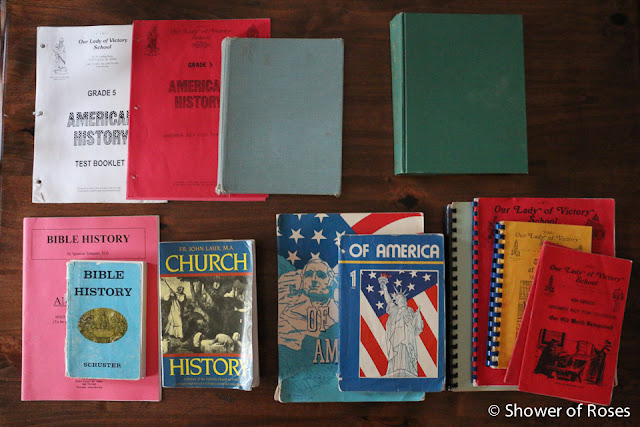 American History, ©1970 with Test Booklet and Answer Key, Asking $10.00
Quest of a Hemisphere, ©1970, Asking $6.00
Bible History by Ignatius Schuster and OLVS Answer Key for Part One, Asking $3.00
Church History, Asking $6.00
(Sold)
Of America Vol. 1 and Vol 2, Asking $4.00 for the set
Our Old World Background Answer Key for Textbook, $3.00
Our Old World Background Answer Key for Test Booklet, $1.00
The Old World and America Answer Key, $3.00
The Story of the Church Test Booklet
Following Christ in the World, Seton, $6.00
Answer Key to Science and Living in God's World Test & Quiz Booklet, $1.00 (Sold)
Investigating God's Orderly World Book Two Unit Tests, $1.00
Investigating God's World, Answer Key for Textbook, $1.00
Earthquake Games, $1.00
Abeka Biology: God's Living Creation, Asking $4.00
Abeka Earth Science with Test Booklet and Answer Key, Asking $4.00
Abeka Basic Science, Asking $4.00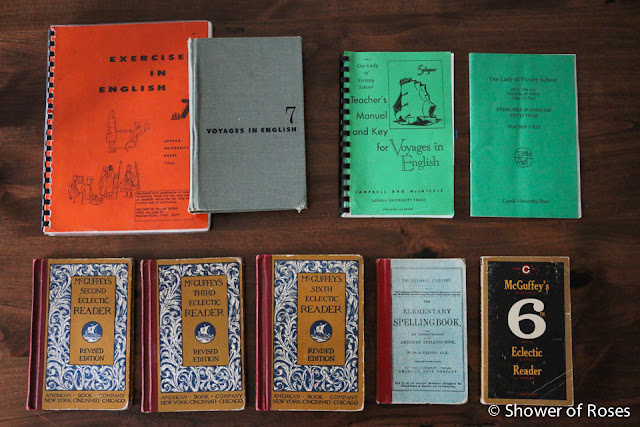 Voyages in English 7 Hardcover with Exercises in English 7, ©1960, some writing in pencil that has been erased, Asking $10.00 for the set
Voyages in English 5 Teacher's Manual, Asking $2.00
Exercises in English Fifth Year Teacher's Key, $1.00
McGuffey's Second Reader, ©1920, $5.00 (Sold)
McGuffey's Third Reader, ©1920, $5.00 (Sold)
McGuffey's Sixth Reader, ©1921, $5.00 (Sold)
Elementary Spelling Book (Sold)
McGuffey's 6 Eclectic Reader, $1.00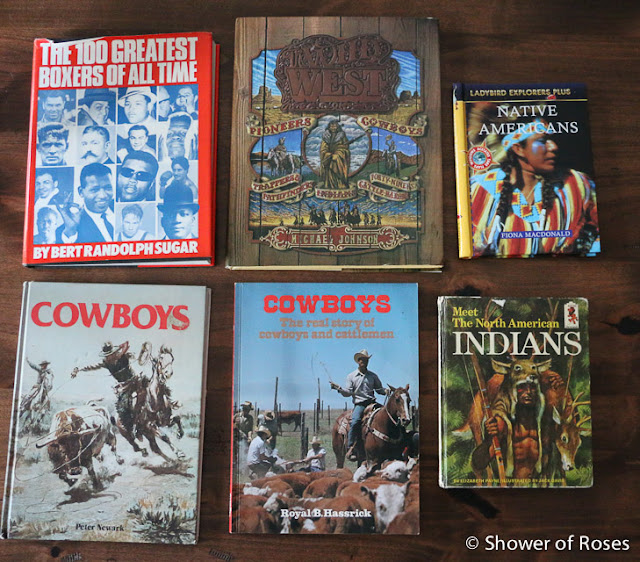 The 100 Greatest Boxers of All Time, $2.00
The Wild West, $2.00 (Sold)
Native Americans, $2.00 (Sold)
Cowboys by Peter Newark, $2.00
Cowboys: The real story of cowboys and cattlemen, $2.00
Meet The North American Indians, Asking $2.00 (Sold)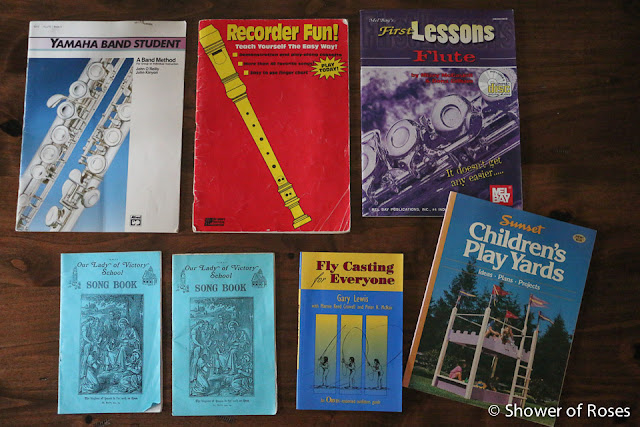 Recorder Fun!, $2.00
OLVS Song Book, $1.00 each, 2 available