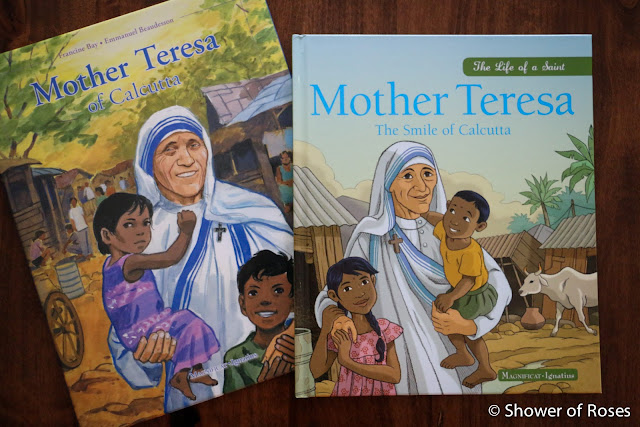 I love collecting picture books about the saints! These brand new picture books about Mother Teresa, sent from Ignatius Press for us to review, will be a welcome addition to Our September Book Basket this year, just in time for her canonization on September 4th.
.: Mother Teresa: The Smile of Calcutta :.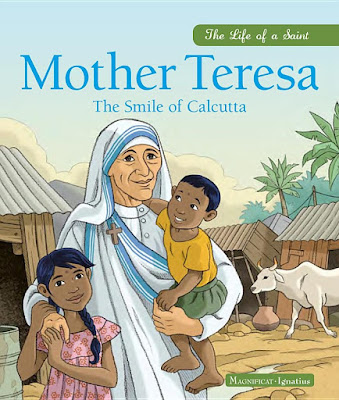 Excellent for every age, the timely book Mother Teresa: The Smile of Calcutta is another touching addition to The Life of a Saint series.
Written for children, the story of soon to be canonized Mother Teresa, will certainly move readers of all ages and be treasured by adults and children alike.
The book gives readers an in-depth look at the life of a modern day saint and her example provides us a model, foundation, and remedy against modern injustices against life. Mother Teresa's devotion to the Blessed Sacrament, the Blessed Virgin Mary, and unwavering defense of life at all stages is evident in this little story. Mother Teresa's ability to see God in suffering souls and lift them up from despair and rejection and regain the dignity and hope that God desires in all His children is captured here with soul stirring effect.
The reader will be inspired by her charity and her timeless statements quoted throughout the book, such as: "It's enough to turn toward Jesus and say, 'I love you, my God, I have trust in you, I believe in you, I need you.' Little things as simple as that. These are wonderful prayers." Strongly encouraged for readers of all ages.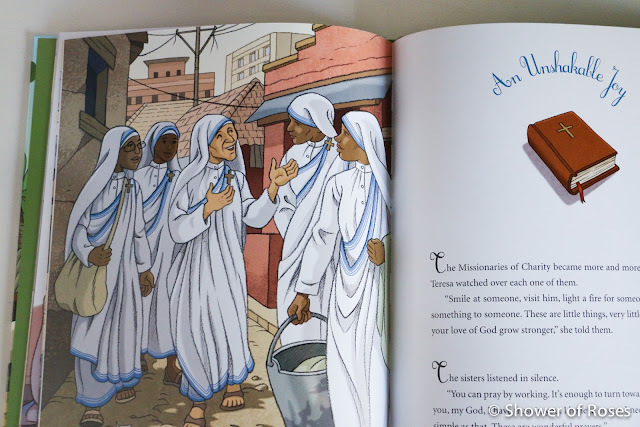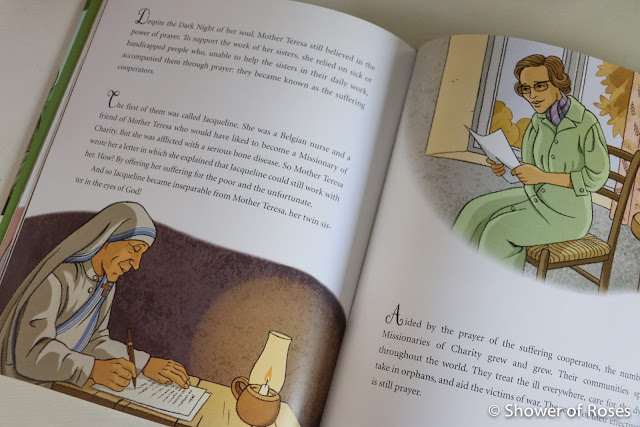 Other books in the series include: Therese: The Little Flower of Lisieux, John Mary Vianney: The Holy Cure of Ars, and Bernadette: The Little Girl from Lourdes which can all be found in our book baskets, as well as Francis: The Poor Man of Assisi and Peter, Apostle of Jesus which are on our "wish list."
.: Mother Teresa of Calcutta :.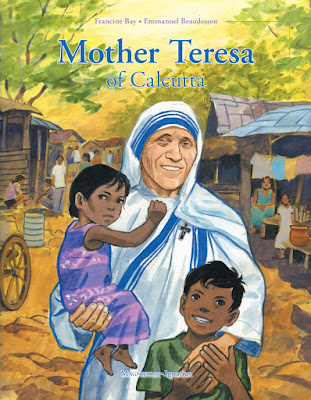 The full color illustrated book Mother Teresa of Calcutta details the life of this soon to be canonized saint of our modern times.
Written for ages 9 and up, Mother Teresa of Calcutta records significant events in the life of Mother Teresa that readers of all ages will find inspirational and appealing.
This picture book shows its readers how with nothing but a burning love in her heart to serve God through the suffering souls in her midst bearing His image, Mother Teresa was able to change the face of an entire region and impress upon the modern world the living Gospel of Christ in action. Catholics will find intriguing facts of how Mother Teresa formed her Order, even explaining in detail the choice of the simple habit and colors Mother Teresa chose for herself and her sisters. The book details significant chapters of Mother Teresa's life including a section under the heading "All Life Is Sacred" where Mother Teresa is quoted saying, "Life is God's life in us, even in an unborn child."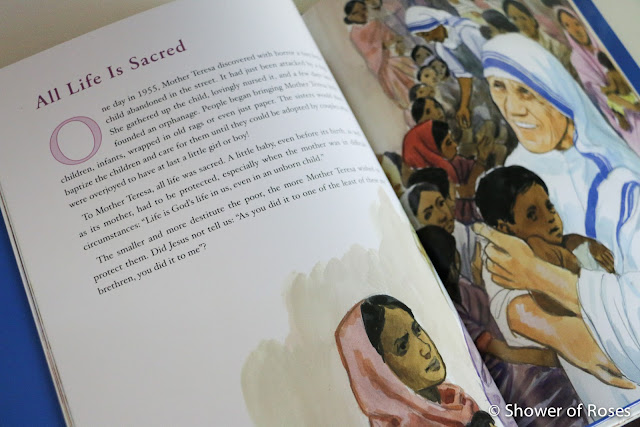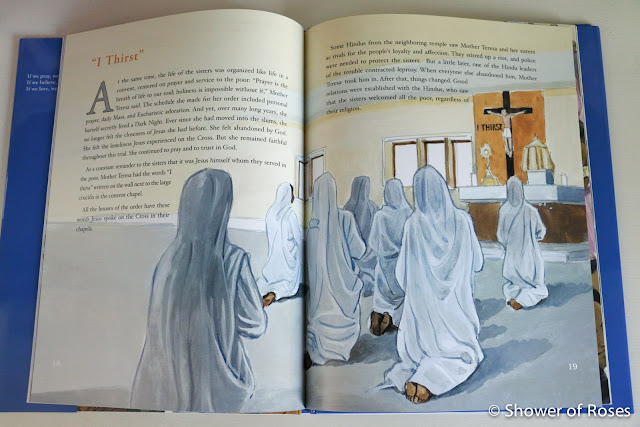 The final pages of Francine Bay's book display a timeline of her life from birth to canonization, a prayer to St. Teresa of Calcutta invoking her saintly intercession, and ending with this beautiful Meditation of Mother Teresa:
"The fruit of silence is prayer.
The fruit of prayer is faith.
The fruit of faith is love.
The fruit of love is service.
The fruit of service is peace."

Ignatius Press has offered to give away one of each of these brand new picture books to my visitors here at Shower of Roses as we prepare to celebrate the canonization of Mother Teresa! Two winners will be selected, one for each book.
(Giveaway has ended – Congratulations Abigail!)
(Giveaway has ended – Congratulations Carrie!)