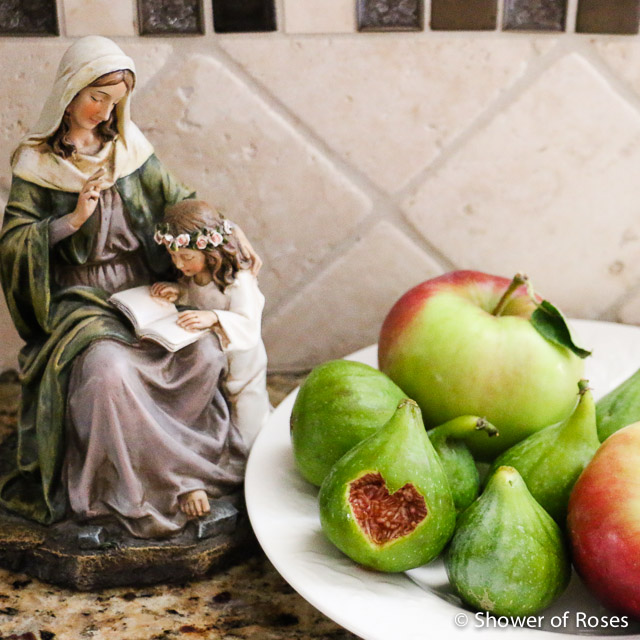 According to Catholic Tradition, "Saint Anne has two colors, red and green, one for love, the other for rebirth, as she bore the New Eve, Mary. No artist is bound to paint the mother of Mary wearing these two colors, and a number of holy cards do not do so, but it is more often the case that Saint Anne is seen with one or both of these colors in her robes. Like the Virgin Mary she usually has a white lily for purity in the scene and often roses, too, again a parallel with the Virgin. The other symbol is an open book because it is she who steeped the Mother of God in the holy mysteries."
St. Anne is one of the saints I choose when I was confirmed. We had a full day today, starting with Driver's Ed this morning for our 16 year old, lunch at the park, and then I spent the afternoon at the office working. One of my brothers happened to show up at the office with all sorts of freshly-picked goodies to share from one of the job sites. Mmmmmmmmmmmm…. Fresh figs taste SO
amazing
! Especially on a hot summer day. They made a perfect {
AIP approved
} treat for today's feast!
.: From the Archives :.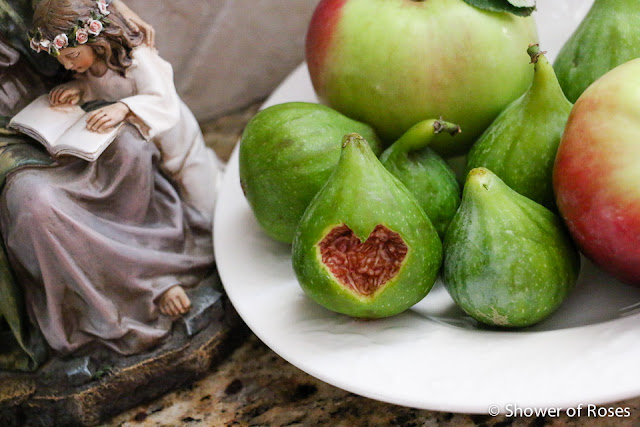 O models of pious and virtuous married persons, St. Joachim and St. Anne! Through the wondrous blessing with which God rejoiced you when He chose you as the parents of the ever blessed Virgin, the mother of our Savior, obtain for us, we beseech you, the grace to desire nothing but virtue and piety; that, in fidelity and love, we may share each other's joys and sorrows, and together with our children lead such a life as to insure our entrance into the kingdom of heaven! Amen.
Happy Feast of Sts. Joachim & Anne!